For those that don't mind braving the Dutch springtime weather, a trip to Amsterdam in April can be a real treat. You'll be able to experience the capital's wealth of culture and explore its iconic sights during its quieter shoulder season. And if that wasn't quite enough, April offers the perfect opportunity to see the Netherlands in full bloom. Just be sure to pack for the weather!
Visiting Amsterdam in April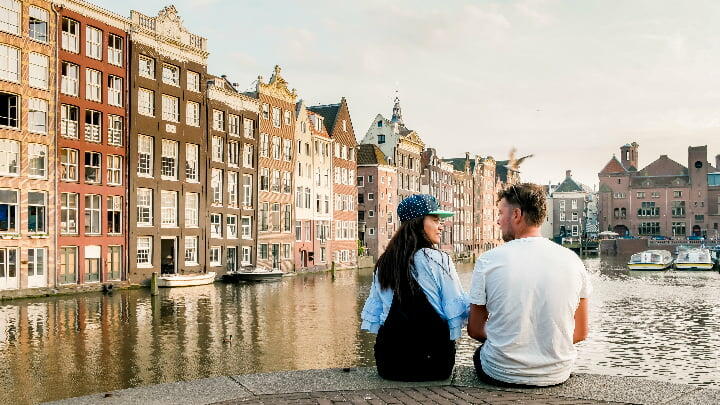 Average Temperature: 39 - 54°F • Average Rainfall: 12 days/mth • Average Sunshine: 5 hours/day
Should you happen to visit Amsterdam in April, you'll find yourself perfectly in the middle of the country's springtime shoulder season. While the city will certainly be bustling, it should still be quiet enough for you to explore its top attractions without quite so many crowds. What's more, you'll have the beautiful added perk of off-season hotel rates and airfare!
With temperatures between the high-30s and low-50s, you're looking at a mild month at best. Spring may be reaching its peak, but you'd be best advised to continue wrapping up for April. Be sure to pack an umbrella and maybe some waterproofs, too, as you can expect around a third of the month to be dominated by rain.
Things to Do in April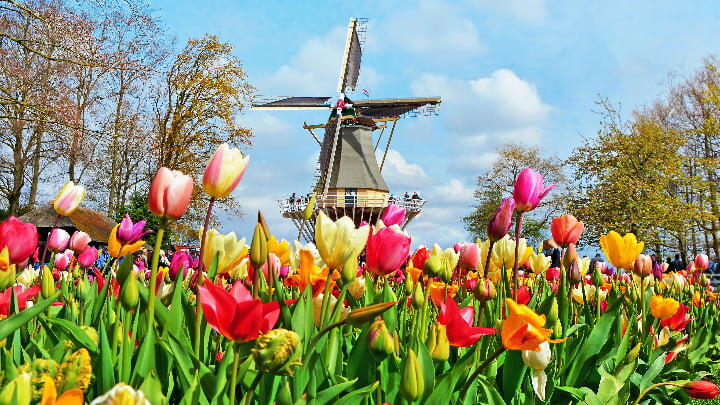 Art Galleries & Museums
No guide to Amsterdam is complete without mentioning some of the city's famous cultural hubs. Towering over much of the city center, the Rijksmuseum's impressive Gothic-Renaissance exterior hides an even more impressive selection of artworks and historical artifacts within. Among its vast collection are renowned pieces by the likes of Vermeer and Rembrandt.
Second only to the Rijksmuseum, Amsterdam's Van Gogh Museum is a monument to the famous Dutch painter's life and works, housing one of the largest collections of his pieces. Just down the road, the MOCO Museum offers an exploration of modern and contemporary art, from Banksy to Hirst to upcoming independent artists.
Aside from its wealth of art, the Dutch capital is nothing without its rich and diverse history, which it makes sure to publicly chronicle. The Amsterdam Museum is your best resource if you're looking to discover the history of the city from the middle ages, while the Anne Frank House serves as a potent documentation of life in the Netherlands during World War Two, told from the eyes of the famous Jewish diarist.
Outdoor Activities
If you find yourself in Amsterdam on a clear day or simply want to brave the springtime weather, there are few better ways to explore the city than on your own two wheels. With more bikes than residents, Amsterdam is literally built for cycling. You'll find a wide selection of bike rental shops dotted throughout the city where you can typically rent a bike for somewhere around €10/day.
Bikes aren't the only iconic symbols of the Dutch capital. If you're looking for a truly alternative way to explore the city, then a canal boat tour is the way to go. Suitable for any weather, with both open- and closed-top options available, these tours offer a new way to see the city from its famous waterways. Audio commentary will often accompany the tour, providing unique insights into Amsterdam's key sights and history.
On the topic of Dutch icons, there are few things more emblematically Dutch than the graceful tulip, and visiting Amsterdam in April lands you slap-bang in the middle of tulip season. If you're up for a delightful day out, then make your way to Keukenhof Park, known also as the Garden of Europe, where you'll find one of the Netherlands' best displays of tulips and other flowers.
Events in April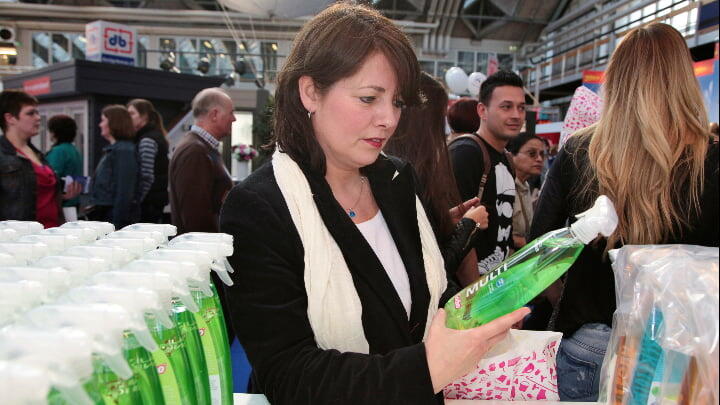 Easter
As a majority Catholic country, the Netherlands is no stranger to its share of Easter celebrations. Easter in the Netherlands looks very much like it does in many countries. The weekend is dominated by festivities for those that celebrate, with many bakeries and retailers brimming with all manner of Easter goodies, gifts and flowers.
Those visiting with children will find a wealth of local Easter activities, from egg hunts to Easter decorating. The nearby ARTIS Royal Zoo puts on a whole program of Easter-themed events, including hands-on workshops with the animals.
Be sure to note that Easter Weekend is likely to be very busy when compared with the rest of April. Hotel rates will often be higher, and many parks and markets will be more crowded. Easter Monday is also a public holiday in the Netherlands, meaning many businesses and services will be closed for the day.
Huishoudbeurs
The word gezellig is a unique Dutch term with no direct equivalent in English, though it's often used to describe something cozy and warm. And it's without a doubt the best word to describe Huishoudbeurs. Held over the course of roughly a week in April, this fair is one of the Netherlands' most anticipated annual events.
Best summarized as a household and lifestyle expo, the event converts the RAI Amsterdam convention center into one giant household. Hundreds of exhibitors set up shop each year to offer their individual lifestyle products, while a selection of vendors also offer refreshments for every palate – often with an emphasis on vegan and vegetarian alternatives.
Alongside the feast of shopping potential, the event is also host to a diverse program of activities. Visitors can participate in workshops to learn about the likes of meditation and yoga, while various performances and demos from popular artists and industry experts offer insights into good housekeeping practices.
KunstRAI
The longest-running art fair in the Netherlands, KunstRAI is a love letter to modern and contemporary art forms. The event serves as a leading platform for artists and art aficionados alike to come together to discuss their shared passion and explore developments in the art world.
Formerly known as Amsterdam Art, KunstRAI consists of two major parts. On one hand, the event serves as a gallery and exhibition in which to showcase various works of modern art, from sculptures to photography to mixed media pieces. On the other side, it's also a major forum for buying and selling new artworks from both established and upcoming artists.