Should you happen to visit Amsterdam in December, you'll find the city transformed in an embrace of the festive season. You'll see the streets decorated with all manner of lights and holiday displays, and many of the city's key squares become host to a number of festivals and markets.
Visiting Amsterdam in December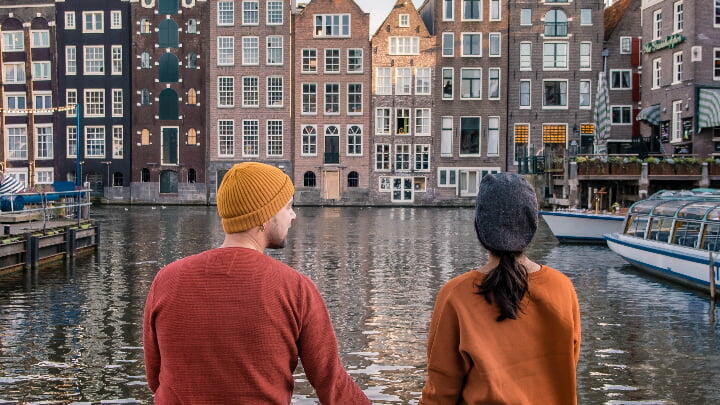 Average Temperature: 36 - 43°F • Average Rainfall: 7 days/month • Average Sunshine: 1 hour/day
While many other cities see a significant dip in tourism by the winter period, this is not so much the case for Amsterdam. In contrast to destinations like Barcelona, where much of their appeal is dependent on their peak summertime weather, Amsterdam's charm comes entirely from its evergreen historical and cultural value.
Of course, you can still expect a noticeable drop in visitors, with many tourists and families visiting exclusively in summer. Naturally, that also means you may benefit from lower accommodation than in summer. However, Amsterdam in December is far from quiet, particularly given its festive appeal around the holiday season.
Amsterdam's festive appeal comes in part from the weather in December. With average temperatures resting between 36°F and 43°F, you can expect a winter chill, but little chance of snow. Be sure to pack both warm and waterproof clothing, as you're likely to encounter at least one day of rain per week.
Things to Do in December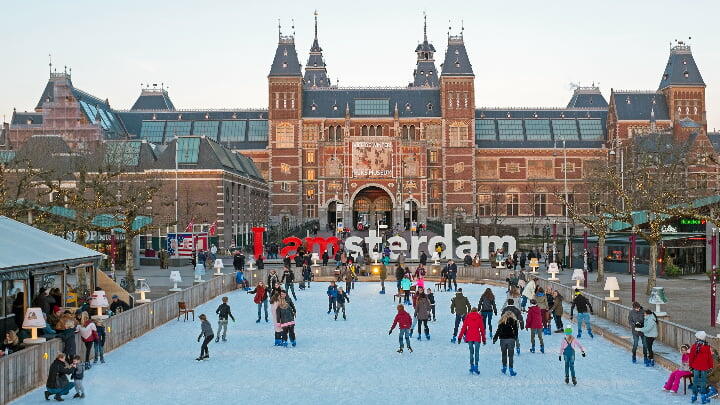 Pair the colder and wetter weather with limited sunshine and shorter days, and you've got a recipe ideal for either embracing the outdoor winter spirit or keeping warm indoors. Fortunately, Amsterdam caters to both preferences in droves.
Those looking for a piece of Amsterdam's famous holiday festivities should head to Ice*Amsterdam on the Museumplein. Between mid-November and January, this popular square transforms into a veritable winter wonderland, with an impressive ice-skating rink at its core. You'll also find a number of market stalls and festive bars where you can grab a cup of hot chocolate and a winter snack.
If you're looking for a little more excitement, then the Amsterdam Winter Paradise is the event for you. Complete with fairground rides, ice-skating rinks, snow tubing and cross-country skiing across real snow, as well as all of the market stalls and carnival games you'd expect from any Christmas event, this is an event for all ages to enjoy.
If you'd prefer to keep warm and dry, then Amsterdam's wealth of renowned museums should be more than enough to keep you busy. Explore more than 8,000 artworks and historical artefacts at the Rijksmuseum, and awe at the 1,400-strong collection of Van Gogh's works at the Van Gogh Museum. Or for your modern art fix, head to the MOCO Museum to discover the popular works of Banksy and his contemporaries.
Events in December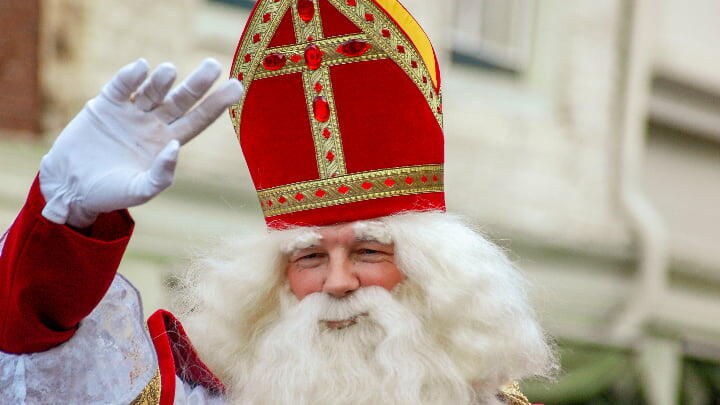 Sinterklaas
Should you happen to visit Amsterdam in the first week of December, you'll be instantly aware of the ongoing festivities taking place throughout the city. In the lead-up to Sinterklaas on December 5, the Netherlands is host to a series of parades welcoming Sinterklaas himself (Saint Nicholas) to the country.
You'll find stores filled to the brim with all manner of Sinterklaas-themed treats alongside all of the other festive fare. Among the most common of these are pepernoten and kruidnoten (tiny gingerbread cookies), large solid chocolate letters, schuimpjes (foam-like sugary candies), speculaas cookies and various marzipan-based cakes.
If you get the chance, be sure to attend one of the festive parades, where Sinterklaas and his helpers, known as Pieten (Peters), greet the onlooking families and visitors by throwing candies and treats out to the crowds.
Don't fret if you don't have anybody to celebrate with on the day of Sinterklaas, as it isn't a public holiday, so most cafés, bars and restaurants will still be open if you want to share in the festivities!
Christmas Markets
As you'd expect from just about any major European city, Amsterdam is no stranger to its fair share of festive events and Christmas markets. If you're looking for traditional markets, then the Amsterdamsche Kerstmarkt is the event for you, offering just about everything you'd expect – mulled wine, local artisan crafts and unique festive gifts galore.
In the same vein, Amsterdam's monthly Sunday market also offers up two festive-themed editions of its Westergasfabriek market throughout December. The first runs alongside or slightly ahead of Sinterklaas, and the other takes place shortly before Christmas Day. Alongside their regular assortment of stalls, these editions of the Sunday market are also host to various holiday treats and gifts made by local artists and designers.
Amsterdam Light Festival
Running alongside the holiday season, the Amsterdam Light Festival illuminates the Dutch capital with impressive light displays by designers, artists and architects from around the world. Taking place throughout December and January, the festival typically showcases around 30 unique art installations, bringing an even more magical touch to an already festive city.
One of the most popular activities of the Light Festival is to take a canal cruise in the evening. These boat tours offer a chance for visitors and locals alike to see the city from a different perspective, offering unique insights into the history of prominent neighborhoods while also exploring the artworks lining the banks of the canals.  
New Year's Eve
As one of the most popular European cities for tourists to ring in the new year, Amsterdam offers a whole host of events to cater for all manner of preferences. You'll find everything from black tie events to buzzing raves to rooftop parties taking place throughout the city. Many restaurants and bars also offer special bookings as a more intimate way to see out the year.
Among some of the most widespread New Year's traditions in the Netherlands is the consumption of oliebollen (fried dough balls) dipped in icing sugar and washed down with a hearty glass of champagne. You'll find street stalls selling these treats all over Amsterdam on December 31.
If you're feeling really adventurous, head to the likes of Zandvoort aan Zee just west of Amsterdam early on January 1, where thousands of locals and visitors alike get ready to take part in the New Year Swim in the North Sea. This freezing dip is considered a refreshing way to celebrate the New Year, after which you can grab a hot cup of pea soup to restore your shivering spirits.