A trip to Amsterdam in June offers a unique combination of a bustling city atmosphere and nightlife scene with the last remnants of a quieter period for the city. With the weather on an upward trend, the Dutch capital truly begins to come into its own throughout this period, making it an ideal time to see the city at its best. What's more, June serves as the opening act to Amsterdam's summertime festival season, giving you plenty of options for making your visit a truly exciting one.
Visiting Amsterdam in June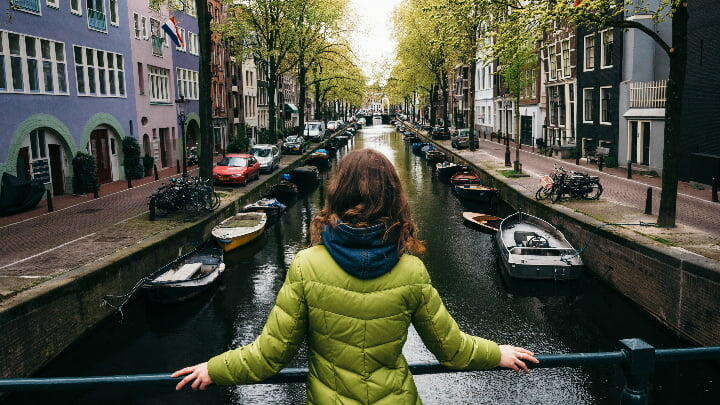 Average Temperature: 50 - 64°F • Average Rainfall: 9 days/mth • Average Sunshine: 7 hours/day
With spring now in the past, Amsterdam prepares for its busiest period of the year. June marks the last days of the tourism shoulder season, meaning you can still benefit somewhat from the shorter queues and occasional lower accommodation rates, but the city will be quickly filling up as the month moves along. This increase in traffic feeds into Amsterdam's famously bustling nightlife scene, giving the city a real buzz throughout this period.
Likewise, the weather in Amsterdam also begins to gear up for summer during this period. Throughout June, you can expect mild to warm days, often complemented by relatively clear conditions – perfect for exploring the city's iconic streets and squares. It's still advisable to pack an umbrella and some waterproof layers, but if you're lucky, you might not have to whip them out during your stay.
Things to Do in June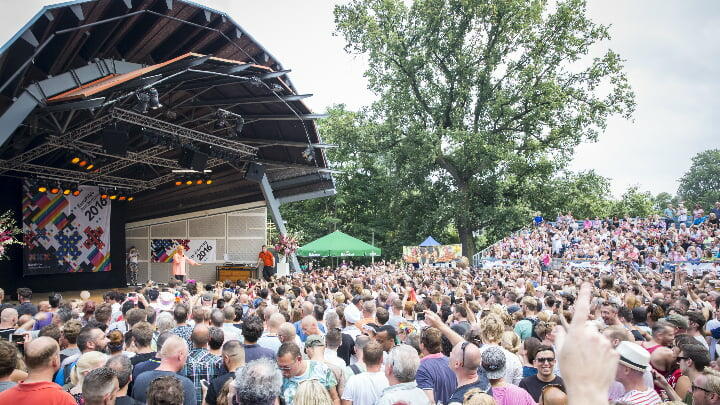 One of the best things to do in Amsterdam year-round is to explore its world-renowned cultural hubs. The Rijksmuseum proudly towers over the Museumplein, housing within its Gothic-Renaissance exterior the country's largest collection of artworks and historical artifacts. Most notable among the museum's art pieces are a number of celebrated works by Rembrandt and Vermeer.
Serving to chronicle the Dutch capital's diverse history, the Amsterdam Museum documents the city's growth from as far back as the middle ages to the modern day. Most popular, however, is the Anne Frank House, originally the home where the famous wartime diarist evaded German capture and now a monument to both her life and the lives of many others like her during the Second World War.
Known as a city rich with art and culture, Amsterdam is also replete with a vast selection of major art galleries. The Van Gogh Museum, for example, stands as one of the largest collections of the renowned Post-Impressionist painter's works, while the MOCO Museum next door celebrates all manner of modern art, from Damien Hirst to Banksy.
To make the most of the milder weather in June, there are few better ways to explore the city than on your own two wheels. With more bicycles than people, Amsterdam is a city literally built for cycling, complete with over 470 miles of cycle lanes throughout. You'll find a variety of bike rental stores dotted throughout the city where you can typically grab your own bike for around €10/day.
Another unique way to see the Dutch capital from a new angle is by cruising along its characteristic waterways. There are multiple agencies and organizations operating a variety of boating tours and excursions on the canals, offering a different way to get around while also providing engaging insights into the cultural and historical significance of many of Amsterdam's key points of interest.
If you find yourself looking to spend a pleasant day in the great outdoors, head over to Amsterdam's Vondelpark where you'll find a theater stage set up shop for the summer. Between June and September, the Vondelpark Open Air Theater offers a vast program of live performances, ranging from kids' shows to classical music concerts to appearances from some of the latest Dutch and international pop artists.
Events in June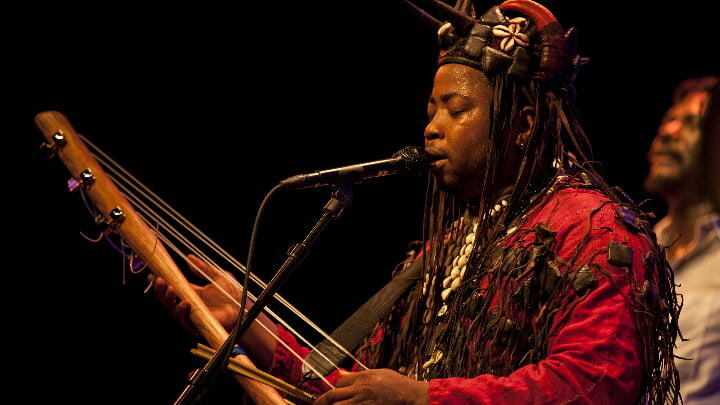 Holland Festival
Running throughout June, Holland Festival is the Netherlands' largest performing arts festival. This theatrical festival takes place across several venues throughout Amsterdam and offers a wealth of performances from multiple mediums. Acts are held to the highest artistic standards, making for an incredibly talent-rich program across the board.
As a leading international theatre festival, you can expect performances in theatre alongside music, opera, film and visual arts, many of which are offered in a variety of languages. Disciplinary crossovers are highly encouraged among acts, often bringing together otherwise isolated art forms into something new and modern.
Taste of Amsterdam
Over four days in June each year, Amstelpark is taken over by a hearty festival of food, drink and live entertainment. The Taste of Amsterdam food festival is a paradise for foodies, bringing together top Amsterdam chefs to serve their specialty dishes across multiple categories of cuisine.
This open-air feast is accompanied by an impressive program of live events, including music performances, wine tasting workshops, cooking demonstrations and, most anticipated of all, a live cook-off between the guest chefs.
Amsterdam Open Air
Amsterdam Open Air takes place over two days in June and serves as a combined music, arts and culinary festival. Setting up shop in Gaasperpark, the event brings together some of the city's hottest promoters for a weekend of good food, great tunes and stunning visual aesthetics.
Gaasperpark's vast open spaces offer fantastic greenery within which to relax beside scenic rivers and among hundreds of old trees. The open-air festival makes good use of the park's space, providing a camping area for visitors who choose to stay on site for the duration of the event.
Amsterdam Roots Festival
One of the biggest events focused primarily on non-western music, the Amsterdam Roots Festival brings together around 25,000 visitors each year to revel in some of the world's best musical performances. The festival combines multiple languages and musical genres, bringing to the spotlight some of our planet's more overlooked musical gems.
Taking place across multiple different stages and areas, the event also brings in elements of circus performance, with musical performances accompanied by the talented acts of international entertainers and dancers. Visitors can also attend a wide selection of workshops, activities and presentations on a variety of themes and from a vast range of disciplines.
Open Garden Days
On the third weekend of June, Amsterdam's Museum Van Loon opens up a part of Amsterdam which is otherwise invisible to tourists throughout the rest of the year. During this weekend, more than 25 of Amsterdam's canal house gardens are opened to the public, giving tourists and locals alike the chance to freely roam some of the city's most beautiful green spaces and floral displays.