As the final hoorah to its peak tourism season, September serves as Amsterdam's busiest month for the rest of the year to come. Families and younger crowds make way for generally more mature and individual demographics, making for an overall more thriving and intimate atmosphere. Throw in some of the year's hottest cultural events and a globally renowned nightlife scene, and a trip to Amsterdam in September is not one to be missed.
Visiting Amsterdam in September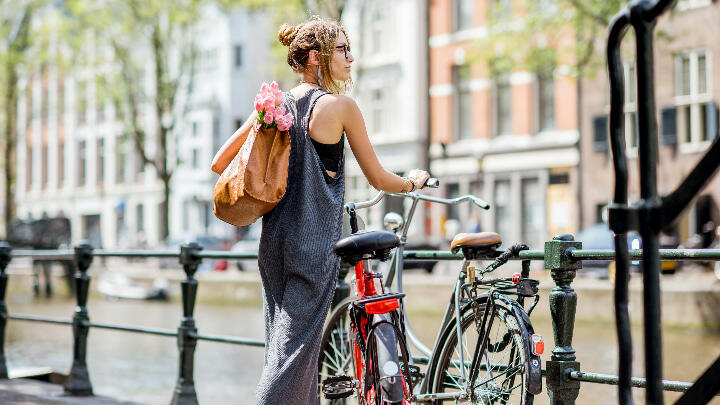 Average Temperature: 50 - 64°F • Average Rainfall: 10 days/mth • Average Sunshine: 5 hours/day
Marking the final hoorah of Amsterdam's peak tourism season, September sees sustained masses of visitors throughout the month. While you're less likely to come across families at this point, many individuals and groups tend to fill their place in hopes of joining in on the high season spirits.
As such, many top attractions and activities are likely to remain busy, with significant queues and waiting times almost guaranteed. Airfare and accommodation rates will also often stay high until later in fall. However, so long as that doesn't deter you, September can be one of the best times to visit, with nightlife thriving like never before and the city as a whole offering an overall electric atmosphere.  
With summer on its way out, average temperatures begin to dip very slightly, making for a generally mild climate across the board. Most days should be clear and warm enough to offer great conditions for exploring Amsterdam's iconic streets and squares, though if you're lucky, you may even get a few days of real summertime heat. One thing that's certain, however, is the Netherlands' unpredictable changes in weather, so it's never a bad idea to pack an umbrella just in case.
Things to Do in September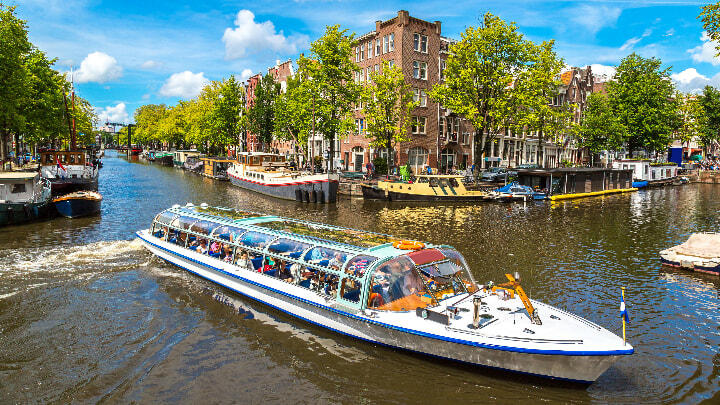 No matter the time of year, any trip to Amsterdam would be incomplete without discovering at least some of its famous cultural hubs. Taking precedence is the emblematic Rijksmuseum towering over the Museumplein, housing a vast collection of renowned artworks and historical artifacts. Where historical insight is concerned, the Anne Frank House stands as the most potent recounting of life in the Netherlands during the Second World War.
As a city with more bicycles than people, there are few better ways to explore Amsterdam than on your very own pair of wheels. Over 470 miles of cycle paths make up the Amsterdam Bicycle Network, making for a fantastic excuse to take a more physically active approach to exploring the capital. Many bike rental stores offer daily rates somewhere in the region of €10.
There's no better time than summer to make the most of Amsterdam's many sprawling green spaces. The weather in September offers a perfect opportunity to take a stroll among Vondelpark's ancient trees and stunning lakes, and grab a seat at one of its many charming park cafés. Equally, why not have a picnic in Westerpark, make the most of its live summertime events and shows, or even catch a viewing at its very own arthouse cinema?
Second only to cycling, Amsterdam's emblematic waterways offer a uniquely alternative means of seeing the city. You can choose from a large variety of tour operators offering their own canal boat excursions, often including tours of the capital's key landmarks accompanied by local insights into their cultural and historical significance.
Amsterdam's nightlife scene is never better than in summer, when you can expect most bars and clubs to be brimming with life. Popular venues can be found throughout the city, but as a general rule of thumb, the old area of Jordaan is typically very popular with young people for its trendy bars. Leidseplein and Rembrandtplein are particularly popular for their club offerings, while the street of Nes often attracts more of an intellectual theater crowd, particularly around this period.
Events in September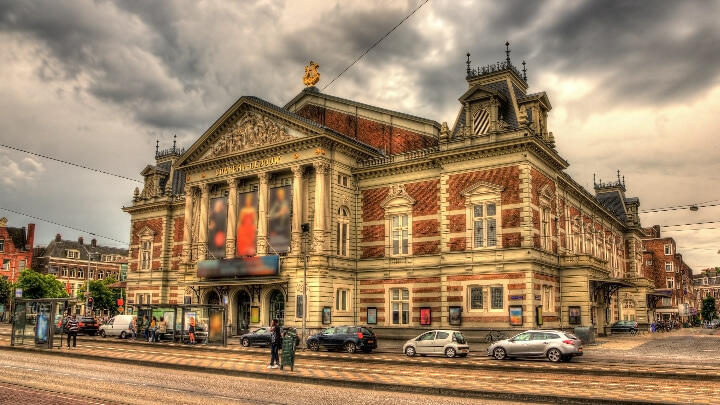 Dutch Theater Festival
Each September, the Dutch Theater Festival sets up shop to revisit the best theatrical offerings of the season. One of the biggest industry events in the Low Countries, the festival typically takes place over 11 days and offers a rich and varied program exploring the latest developments in the performing arts.
Showings take place across multiple venues throughout Amsterdam's theater district in and around Leidseplein and Nes. A number of performances are accompanied by English subtitles, while others are aimed at a younger crowd, making for a wide selection of options for different audiences. A number of exclusive events also invite the presence of some of the biggest names in Dutch and Belgian theater.
Amsterdam Fringe Festival
Running simultaneously with the Dutch Theater Festival, the Amsterdam Fringe Festival stands as its counterpart's quirky sister event in its emphasis on avant-garde theater. With a central focus on promoting total artistic freedom, the festival encourages visitors to explore the fringes of both the performing arts and the city, with performances taking place in all manner of venues, from open stages to obscure garages.
Thanks to the emphasis on artistic independence and experimentation, performers of all disciplines and backgrounds help to offer up a vast, open program of entirely unique and unpredictable performances. Many shows are suitable for English audiences, while others are entirely absent of language barriers.
Valtifest
Held within a former waterfront dockyard at Kaap Oost, Valtifest is considered the wild child of Amsterdam's summer festival scene. The event takes place on the first Saturday of September and brings together an impressive roster of established DJs for an openly whacky party punctuated by house, electric, dance and hip-hop beats. A vast program of sideshows and performances also runs throughout the festival.
Each year, the organizers of Valtifest establish a central theme for the event, which attendees take very seriously in deciding on their festival costumes. Past themes have included Folklore, Seven Deadly Sins and All in the Family, and visitors never fail to pull out all the stops. For one of the most electric festival vibes of the year, this is the event to
Open Monumentendag
As part of the European Heritage Days event held during the second weekend in September, the Netherlands opens the doors of thousands of the country's most significant heritage-listed buildings and houses in a nationwide event known as Open Monuments Day. With most of these buildings accessible free of charge, visitors have the chance to explore some of Amsterdam's most iconic historical buildings.
Alternatively, with more than 80% of the country participating in the event, those interested can also explore the likes of the political heart of The Hague, the renowned theaters of Leiden, the fortifications of Utrecht and the medieval churches of Maastricht. Many open buildings also offer unique activities, tours and exhibitions exclusive to this event.