They say breakfast is the most important meal of the day. And when you're vacationing in a new city and plan to do a heap of exploring, they might be onto something. So if you're visiting Amsterdam and want to know the best breakfasts available, how do you get to them using the city's brilliant public transport system? Read on, and find out!
Including:
Omelegg
Ted's
Coffee & Coconuts
G's Brunch Boat
The Breakfast Club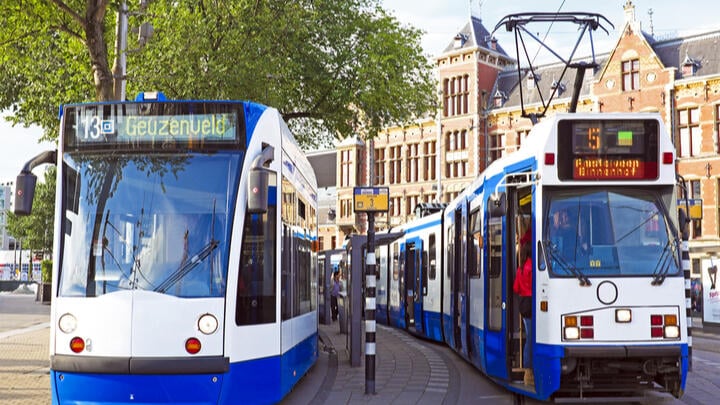 Getting around Amsterdam
Let's start things off by giving you a quick guide to public transport in Amsterdam. You have a number of options available to you that we've talked about in greater detail here. But for the most part, as you'll find the best breakfasts in the city, you'll only be using buses, trams, the metro, bikes, or your own two feet to reach them. 
For trams, buses, and the metro, you can buy 1-hour, 24-hour, and 48-hour travel tickets at every Metro station, on the tram when you board, or at one of the many ticket machines you'll find at bus stops, tram stops, or at Centraal Station. 
Alternatively, if you're going to be traveling for longer than 48 hours, you might want to pick up an OV Chipcard. This travel card lets you any amount of money you want, and then you simply swipe when you board and alight, and top it up when you're running low.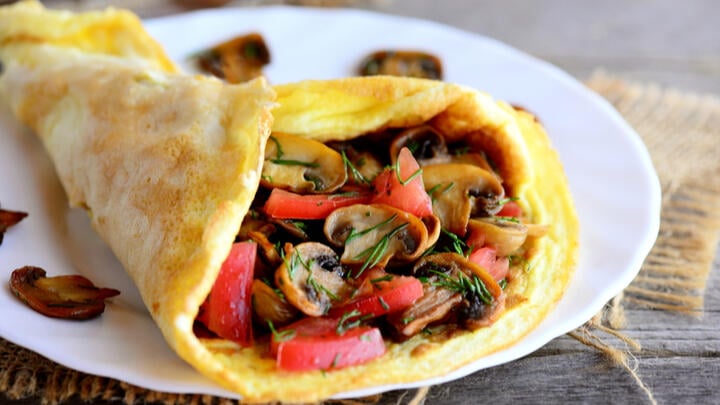 An omelet oasis
If you like your eggs folded over a host of delicious fillings and toppings, then you'll love Omelegg; they specialize in the stuff. 
They offer quality omelets from 7AM on weekdays and 8AM on weekends, so you can definitely get your belly filled before your day truly begins. 
You'll discover their menu is filled with choices inspired by cuisines from all over the world. The Nordic-inspired Viking Fisherman sits aside the nationally-minded Dutchie. And if their savory offerings don't tempt you, then go for the Banana Peanutbutter - a sugary delight featuring honey, cinnamon, and egg cake.
How to get there on public transport
You'll find a handful of Omelegg locations all over the city. 
Their De Pijp location is just down the street from the De Pijp Metro station, as well as the De Pijp and Amsterdam, 2e v.d.Helststraat tram stops. And their City Center location is a five-minute walk from Centraal Station.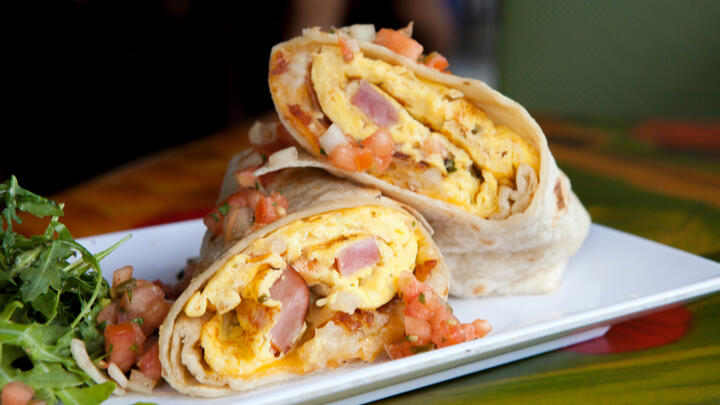 Theodore, you spoil us
If you want an all-day breakfast and brunch spot with some meatier meals to fuel your exploring, head to Ted's. 
Their bright and burgeoning menu offers all the breakfast treats you'd expect from a top spot. You've got an entire menu dedicated to eggs, featuring the usual affair of Eggs Benny and Eggs Florentine alongside more creative offerings like a bacon, egg, and fried chicken burrito, as well as the magnificent Triple Omega, which sounds like a Transformer but with more eggs, salmon, and sourdough. 
But, if your stomach is looking for something more substantial, go for one of the french toast varieties, or dip into their fantastic sandwich menu. 
How to get there on public transport
You'll find two Ted's locations in Amsterdam. 
The Jordaan spot is a short walk from the Anne Frank House, and a 3-minute walk from the Westermarkt tram and bus stops. 
The Oud-West spot is equidistant from both the Kinkerstraat tram and bus stops and the Overtoom tram and bus stops. Either will leave you with a 3-minute walk.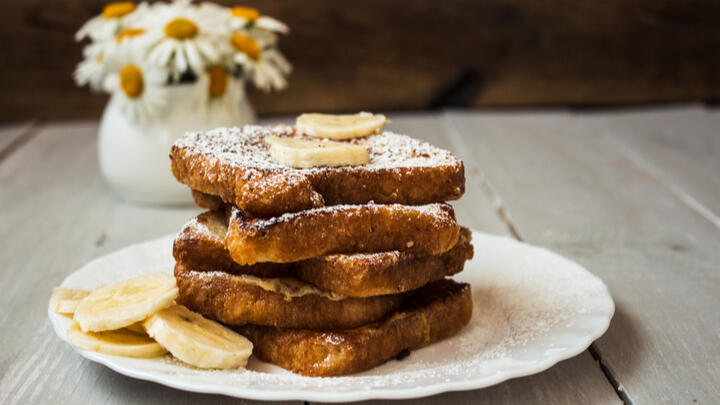 Beans and bigger beans
If you're looking for one of the city's coolest spots to be your breakfast backdrop, start your day at Coffee & Coconuts. 
With a wealth of coffees, teas, juices, and even stronger drinks on offer, you can have your beverage your way. They roast and squeeze everything on-site, so you can be sure you're getting nothing but the freshest morning brew.
As for food, they offer breakfast all day, with burritos, pancakes, french toast, coconut bowls, and scambled eggs just some of the things available. Or, from midday, you can dip into their fantastic Deli menu and chomp on some unique sandwich combinations. 
How to get there on public transport
C&C's only spot is located in De Pijp. It's right across the street from the De Pijp Metro stop and a minute's walk from the De Pijp tram stop.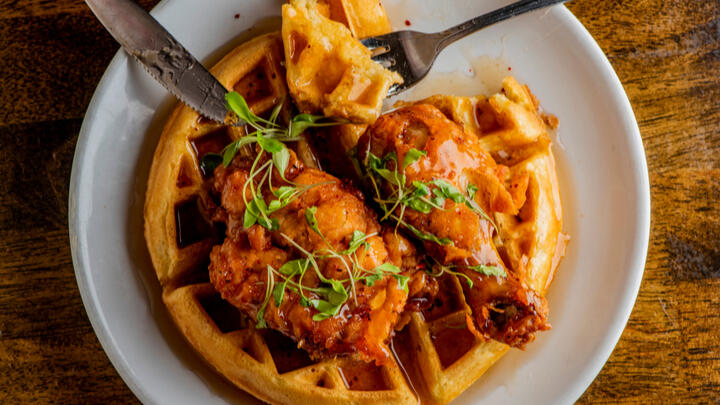 Krunk Boat
A seaside breakfast is one thing. A seafaring breakfast is another entirely. That's what you get at G's Brunch Boat, and while it might not exactly be sailing the seven seas, it does make its way along Amsterdam's beautiful canals. 
Oh, and did we mention that you can opt into a bottomless brunch? That's right, party animals. Who said breakfast needed to be boring, or on dry land? Hop onto the party boat and let the good times roll. 
Choose from one of their many tasty menu dishes - chicken and waffles, eggs benny, breakfast burrito, or even oysters, and then either pair it with a drink, or go for the bottomless choice and have at it. Bloody Mary's, Mimosas, Prosecco, beer, or wine are all on offer. And, for 75 minutes, you'll have your fill. Considering the spectacle of it all, it's easily one of the best breakfasts in Amsterdam!
How to get there on public transport
Once you've booked your ticket, head to the pickup point near the Anne Frank House. It's a 5-minute walk from the Westermarkt tram and bus stops.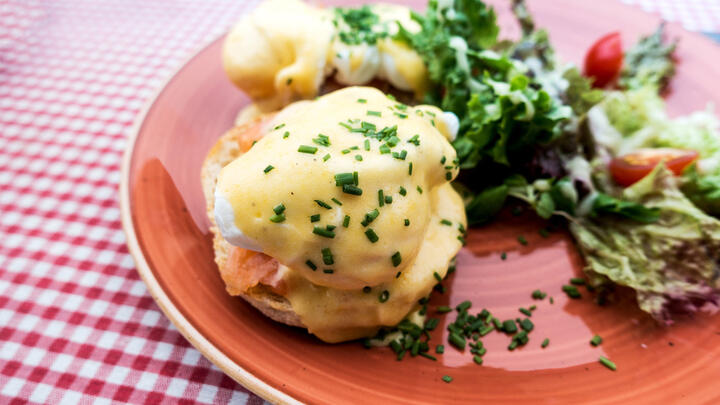 Don't you forget about me
And finally, we end on a franchise that's taken the world by storm. Named after the eponymous 80s high school film, you'll find Breakfast Clubs in plenty of cities these days. 
They have a load of breakfast types, burgers, pancakes, eggs, sandwiches, and smaller bites on offer, as well as an envious sweet selection. Couple that with a delightful coffee, tea, or other beverage, and you've got yourself a guaranteed good time. 
How to get there on public transport
With six locations all around the city, rather than bore you with all the details here, we'll simply leave a link to their website that gives you every address and shows you which stops are near it!
And that's our list of the best breakfasts in Amsterdam, and how to get there by public transport!