Greed. Gordon Gecko said it was good. We'd argue he was right, but not for the same reasons. See, sometimes it's good to be greedy for more. But not money. No, we're talking about the greed and need for experiences. Prepare for the segue, because we're talking about journeying outside of Amsterdam and discovering the wonders that lie beyond. Did that make sense? Not really. Will our guide to the best day trips from Amsterdam open your mind and blow your socks off? Quite possibly. Read on, and discover the hidden - and not so hidden - gems that lie a short trip from Amsterdam's shores!
Including:
Zaanse Shans
Edam
Keukenhof Gardens
Brussels
Rotterdam
and more!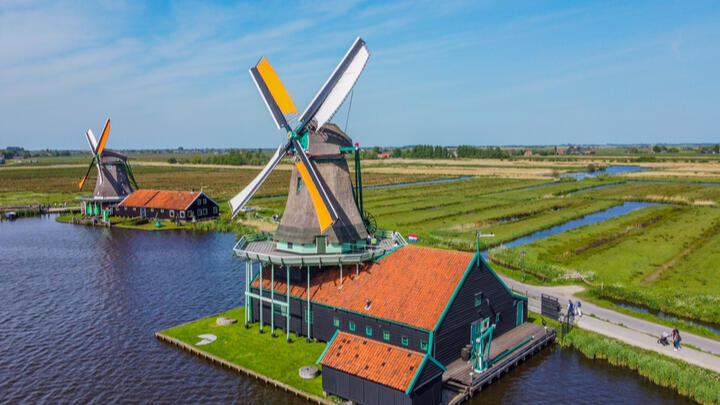 Windmills, glorious windmills
Let's kick things off with a blast from the past. Zaanse Shans is a village stuck in time, transporting visitors back to the pre-industrial days. Simpler times, for sure, but certainly more arduous. While it may appear that Zaanse Shans is a giant, open-air museum, it is, in fact, a community. So don't go prodding any life-like statues; those are people. 
Just a fifteen-minute train from Centraal Station, this charming village is full of explorable windmills, museums, and shops where you can pick up authentic cheeses, grains, and condiments milled on-site. On top of that, Zaanse Shans is simply a beautiful travel destination brimming with photo opportunities. Do yourself a favor and pick up a Zaanse Schans Card, which gives you access to all the good stuff for one low price.
Plus, you can see everything in about half a day, giving you more time to make the most of your Amsterdam vacation! 
Alternatively, take a bus tour of Zaanse Schans and the surrounding towns to sate your rustic fix in a single day! So, if you're looking to take your foot of the gas and relax, it's one of the best day trips from Amsterdam!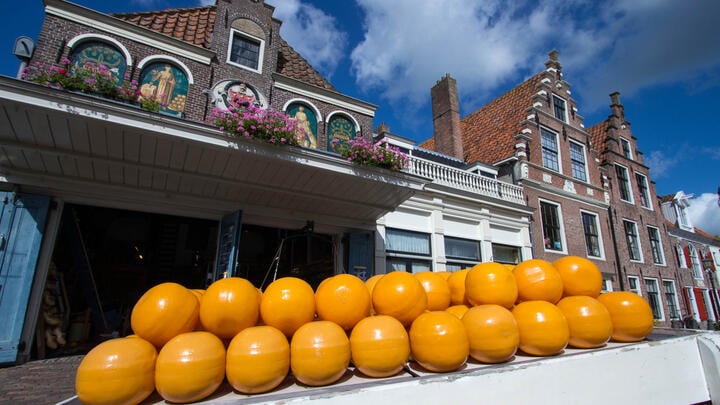 A bit cheesy
Next on our tour of fun beyond Amsterdam's walls is a town famous for its biggest export - Edam. Yes, Edam isn't just a cheese; it's a cheese named after the town that birthed it!
Just a 30-minute drive, or a 40-minute train trip north of the city, you'll find this delightfully rustic town, cloaked in medieval brick and mortar. You'll only need a short stay to see everything, as it isn't exactly a tourist hotspot. However, the cobbled streets, centuries-old bridges, and aforementioned medieval decor do make it a breath of fresh air after staying in the Netherlands' biggest city. 
On every Wednesday over the summer, Edam holds a cheese market that attracts connoisseurs from far and wide, so plan your trip appropriately and go sample the town's crumbly delights!
If you want a more curated experience, why not take a bus tour from the city that will let you hit up all the rustic glory of Amsterdam's satellite towns in a single day?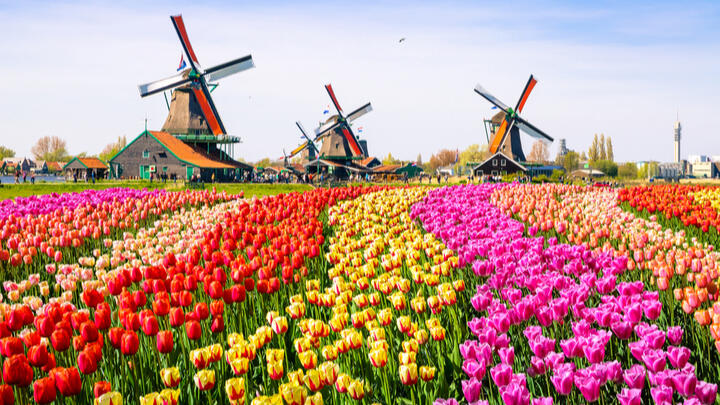 Tulip Town
If you want some of the most romantic sights in the country, head to Keukenhof. Famous for its rolling fields of colorful tulips, it welcomes nearly one million people every year. 
A 30-minute drive, or bus tour from the city, Keukenhof boasts the biggest flower garden on the planet. Comprising over a million bulbs, you'll see all sorts of beautiful flowers alongside tulips, such as hyacinths, daffodils, and other spring flowers. 
If you take the bus tour, you'll have the chance to explore the fields on foot as you wander along 15km of footpaths. Many gardens make up Keukenhof, with each representing different landscapes across the globe. English, Japanese, and Dutch are just some of the many on display. 
Keukenhof is well worth a visit if you want to squeeze a bit more beauty out of your vacation!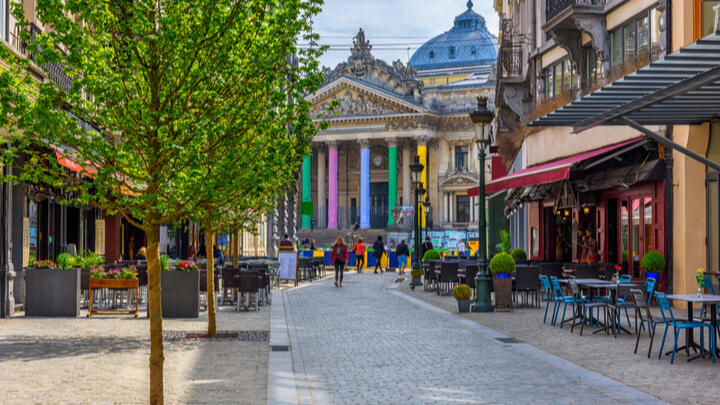 Brussels
Now, you may be wondering why Brussels is on this list. Isn't it in Belgium, after all? Well, yes, it is. But the beauty of Amsterdam is that you're a stone's throw from the border!
Brussels is a beautiful city, with its mix of medieval and modern, the abundance of cafes, bars, and museums, and plenty of other things to do too. It is a 2-hour train ride from Centraal Station, so you'll want to make the most of it. However, if you want to cram your vacation full of as many sights and sounds as possible, why not make the trip?
While English isn't as ubiquitous in Brussels as it is in Amsterdam, you'll still be able to fumble your way through food and drink orders if necessary. Just point at the menu and give a thumbs up. Or don't do that, and maybe learn the basics you need to get about and try your best. It's entirely up to you. 
As it's a long trip, plan ahead and make sure you know what to do when you get there. The last thing you want is to waste your precious time coming up with an itinerary on the fly!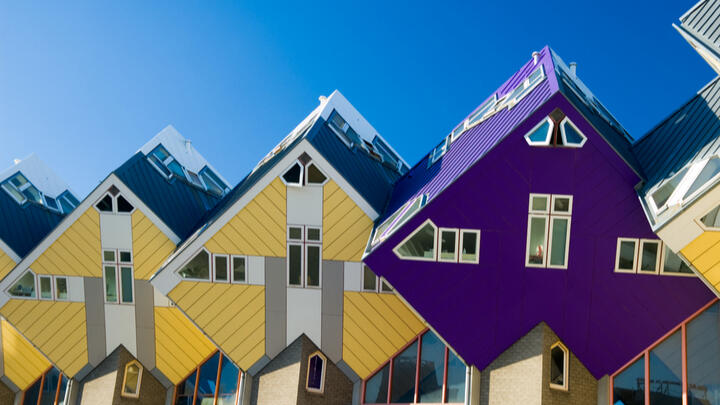 Rotterdam is anywhere? 
Amsterdam's growing sibling, Rotterdam is well worth a trip if you want to see something new. A mix of old and new like much of the Netherlands, it's a picturesque place with plenty to do and see. 
Rotterdam is home to the largest harbor in Europe, so why not take a tour by sea and see it from a different perspective? You'll also find a bunch of places to eat, drink, and shop, and a heap of museums if you want to learn more about the city's history. 
For the architecturally-minded, you'll be fascinated by the Cube Houses (or Kubuswoningen). These lob-sided square houses need to be seen to be believed. And, if you're looking for tasty food in an awe-inspiring setting, head to Market Hall (or Makthal) and pick up something delicious.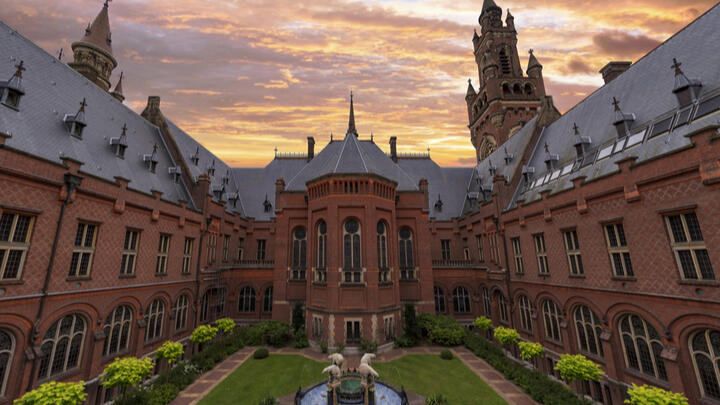 Hague. No, not William
And finally, we end our list of the best day trips from Amsterdam with a journey to the center of the Dutch government. But don't worry, it's not all politics. The Hague has plenty for budding adventurers to explore. Take a 45-minute train from Amsterdam, or hop on a bus to tour the surroundings. 
See the famous Girl With the Pearl Earring up close at The Mauritshuis, stroll past the Peace Palace - where international law is presided over, and enter the topsy-turvy world of M.C Escher. 
Oh, and did we also mention there's a beach there? The Hague is also a stunning seaside town, so if the weather's good, go get your tan on!
And that wraps up our list of the best day trips from Amsterdam!