Who doesn't love a tasty pancake? Not you, that's for sure, or you wouldn't be here reading these words. Those fluffy, sweet, tasty treats are championed in lands far and wide, including the Netherlands. So, if you're vacationing in Amsterdam, you'll want to know which are the best pancake houses in the city? Right you are, and read on to find out our picks!
Including:
Pancakes Amsterdam
The Pancake Bakery
Moak Pancakes
The Breakfast Club
Coffee & Coconuts
and more!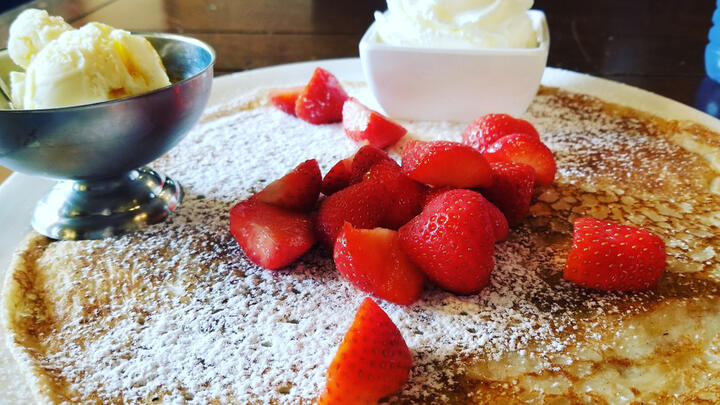 Pancakes Amsterdam
If you're looking for the best pancake houses in Amsterdam, why not first try one that's literally named after the city? That would be Pancakes Amsterdam, and their selection of tasty battered treats will nd easily sort your fix. 
Rather than sticking to the tried and tested Dutch style of pancakes, they take influences from pancake styles across the globe. That's just as true for their kitchen too, which is opened up to visitors. That way, you can see your delicious sweet treats being created in real-time, just how the gods intended. 
Oh, and why not indulge in a free pancake tasting session - on us, of course. You're free to choose anything from their massive selection. And, if one's simply not enough, go grab a table and tuck into many, many more.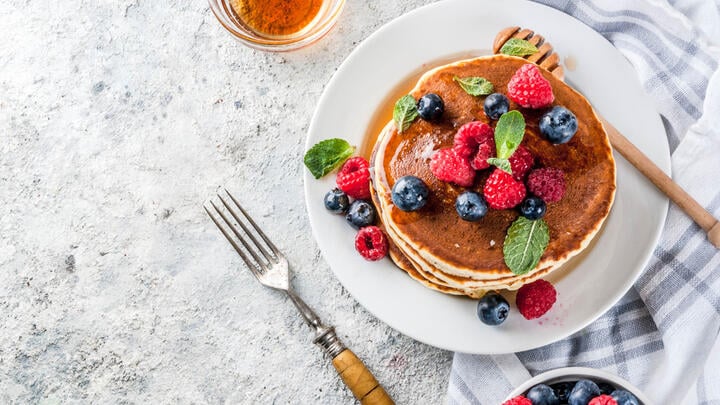 The Pancake Bakery
After nearly 50 years in the egg, flour, and butter business, it's no wonder that The Pancake Bakery has made quite the name for itself in Amsterdam. 
Offering a selection of international pancakes from the likes of America, Chile, Norway, and Mexico, in a variety of sweet and savory varieties, you're certainly not spoiled for choice. Couple that with a massive omelet menu, starters, desserts, and even a kid's menu, and you've got yourself one handy pancake paradise. 
Oh, and if none of the menu options take your fancy, you can even create your own masterpiece. Ham, mushrooms, and cherries? Why not, you absolute grot monster.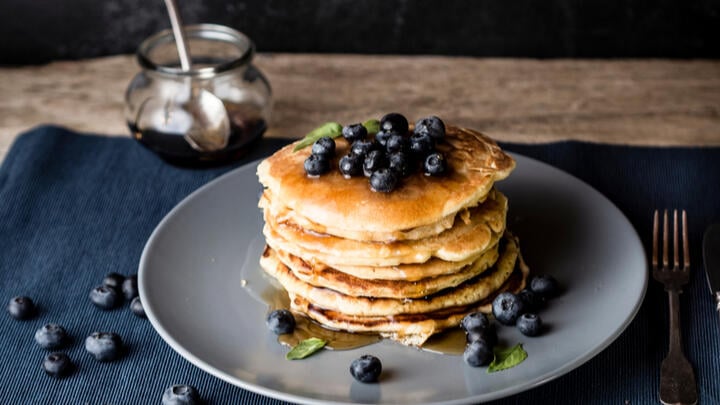 Moak Pancakes
Moak started out in Oud-West, but has now made its way to multiple locations across Amsterdam. Its humble facade may betray its awesomeness, but the inevitable queue outside should put those fears to rest. 
Over two floors, you'll find packed tables full of guzzling pancake fanatics. A relatively new joint, having only popped up in 2016, they still smash it left, right, and center. The focus here is on the classic American pancake, with an entire subsection of the menu dedicated to various sweet and savory American delights. If you're feeling fruity, you can also partake in a glass of Champagne, or mix it up with a Mimosa. 
Their piece de resistance is unarguably The Gold Digger - a huge stack of pancakes topped with three 22-carat gold leaves, Champagne on the side, and served with Versace cutlery. This testament to American extravagance will set you back €100, mind. 
Definitely one of the best pancake houses in Amsterdam!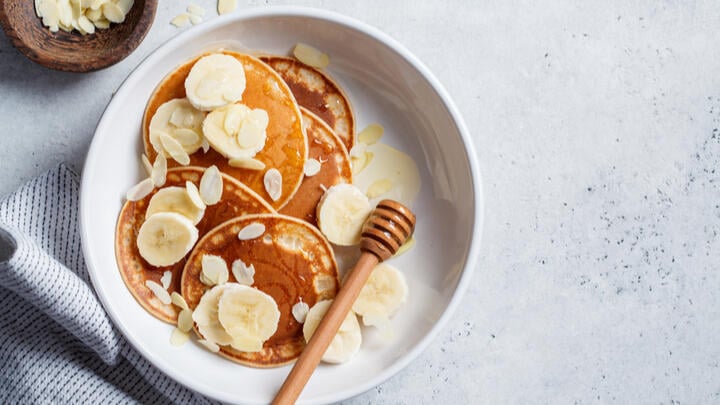 The Breakfast Club
Cheekily named after the classic 80s hit, The Breakfast Club is a worldwide brand at this point. You'll find them in cities all over the world, so it's hardly surprising they've made their way to Amsterdam's shores. 
With a massive offering of breakfast treats, from full English breakfasts to eggs of all shapes and sizes, you can really take your pick. But we're talking about pancakes here, so focus, guys. They have a pretty solid offering of American-style pancakes, with a bevy of toppings to get your sweet tooth truly tweaked. 
However, it's worth mentioning that pancakes is hardly The Breakfast Club's specialty, so you won't have the limitless options you do at the other places on this list. Having said that, if you're with a group and they're not looking to dip their toe in the pancake game. The Breakfast Club will likely serve their needs too.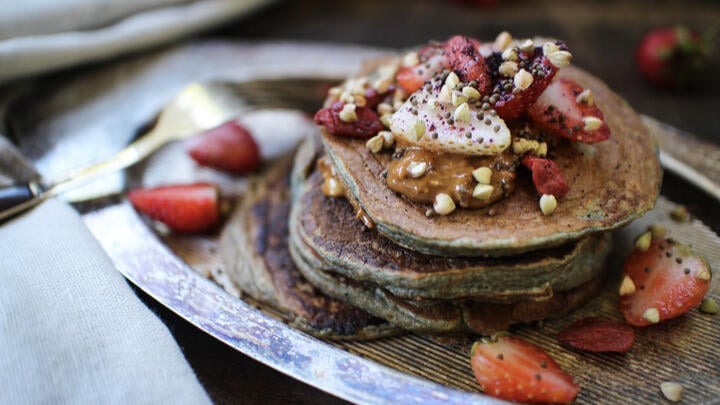 Coffee & Coconuts
One of the fancier joints on this list, Coffee & Coconuts is one of De Pijp's trendy hotspots. The setting - an old 20s theater. The cuisine - divine. Like The Breakfast Club, Coffee & Coconuts caters to feeders of all sorts, and their pancake offerings may amount to a single choice. However, this choice is one of the best on this list. 
The appropriately named Coconut Pancakes mix almond and buckwheat flour for the base, then dollop on some banana, berry compote, coconut chips, coconut cream, and top it all off with lashes of maple syrup. Sign us up. 
Plus, with three pages of menus dedicated to coffee, teas, wines, beer, and anything else worth drinking, you can be sure to pair your pancake with the perfect beverage.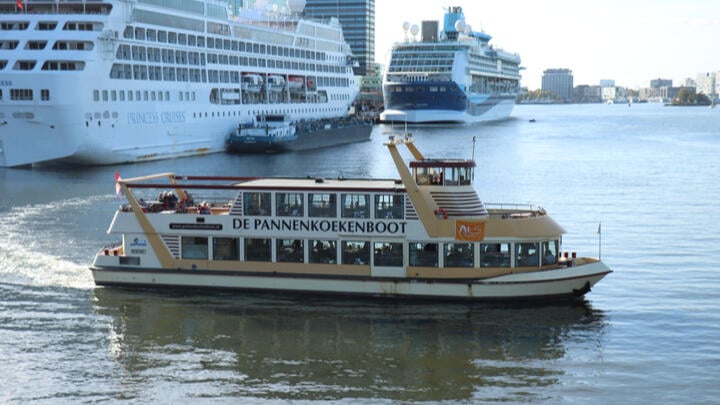 Photo courtesy of StudioPortoSabbia/Shutterstock
The Pancake Boat
Yes, you read that right. They didn't just pick that name out of a hat. It's called The Pancake Boat because it's located on a freaking boat. But wait, there's more!
Not only will you sail the seven seas (or canals in this case) while you eat, you'll be eating whatever you can, because this bad boy is an all-you-can-eat cruise. 
Set your phone's stopwatch to 75 minutes, start your engines, and then eat, eat, eat. Just make sure you're belly is seaworthy - the last thing anyone wants is for you to bring all the fluffy, syrupy goodness back up. What a disappointment you'd be. Easily one of the best pancake houses in Amsterdam, if you can call a boat a house. Well, houseboats exist...so, yes?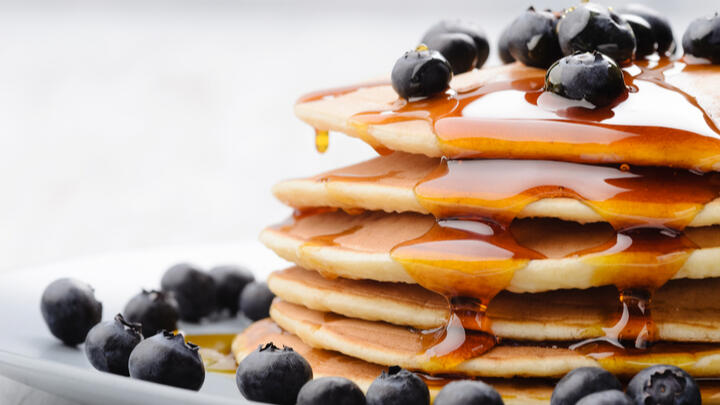 Bakers and Roasters
With locations near the Rijksmuseum and in De Pijp, Bakers and Roasters are just getting started. The brainchild of a New Zealander and a Brazilian, the franchise's great food and commitment to hospitality will surely see them reach all corners of the city and beyond before long. 
But enough flirting, what about the pancakes? Well, they only have room on the menu for one choice, but it's a choice you won't soon forget. American-style blueberry pancakes cooked to perfection, glazed with syrup, and topped with blueberries and chopped bananas.
Feeling fancy? Add an unusual side to go with it. Sure, you can lean on the ol' reliable bacon. But why not try chorizo, jalapenos, and cottage cheese? Or don't, you know, you do you.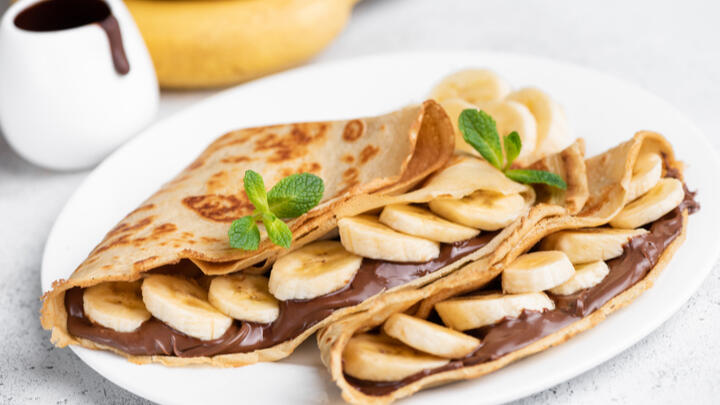 Carousel Pancake House
Located on a former fairground carousel, and a stone's throw from the Heineken Experience, you'll find the appropriately named Carousel Pancake House. A unique setting, for sure, but what about the pancakes?
Well, they have a delicious menu full of the beauties, including a whole section dedicated to Nutella variants. Delightful. Couple that with a burgeoning menu of waffles, baguettes, burgers, and beers, and you've got yourself a top place. 
And that's our list of the best pancake houses in Amsterdam!