Amsterdam is a city swimming in waterways, canals, and connecting bridges. While not as damp as the likes of Venice, it's about as close as you can get without the stilts. And with so much water, one of the best ways to see the city is by boat. Whether you're looking to see all the biggest landmarks, enjoy a bottomless brunch with your friends, or have a romantic meal on the water, Amsterdam has some amazing boat trips and canal tours to experience in the city. So, which are the best? Well, read our handy list and discover for yourselves! These are our picks for the best boat trips and canal tours in Amsterdam!
Including:
100 Highlights Cruise
Hop on-Hop off Boat Tour
G's Brunch Boat
Candelight Cruise
Pizza Cruise
and more!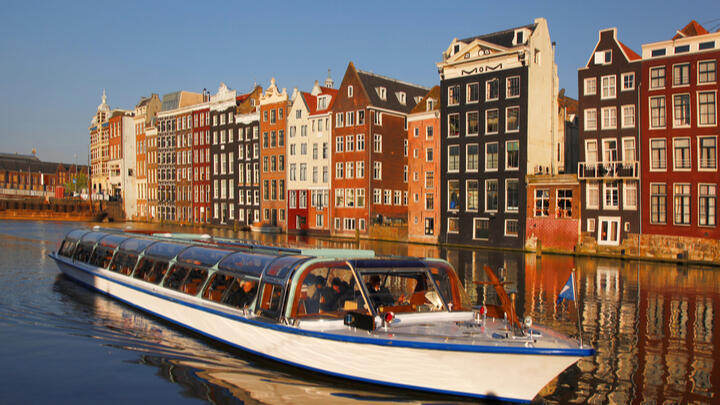 Everything, everywhere, pretty much in one go
If you want to see all the sights Amsterdam has to offer in one fell swoop, consider hopping aboard the 100 Highlights Cruise. Pack your camera and get ready to snap the likes of the Anne Frank House, Westerkerk, and so much more.
Thanks to the audio guide you'll get when you board, available in myriad languages, you'll learn all about the city and canals' history, as well as the highlights of each landmark you pass. It's the perfect introduction to Amsterdam's waterways and gives you the chance to learn about landmarks you might want to visit on land afterward!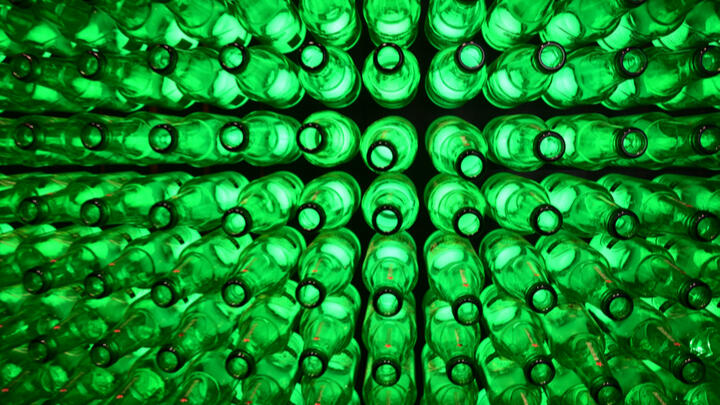 Hop to it
If you're hoping to see the sights up close, then check out a Hop on-Hop off boat tour instead! You're in complete control, so you board when you want, leave when you want to see one of the amazing landmarks that Amsterdam has to offer, and then hop back on the next boat to continue one. It's that easy!
You'll pass the likes of the Rijksmuseum, the Heineken Experience, A'DAM Lookout, and the Anne Frank House, which are all well worth exploring on foot. 
So, if you want the freedom to go and see what you please on dry land, a Hop on-Hop off boat tour is one of the best boat trips and canal tours in Amsterdam!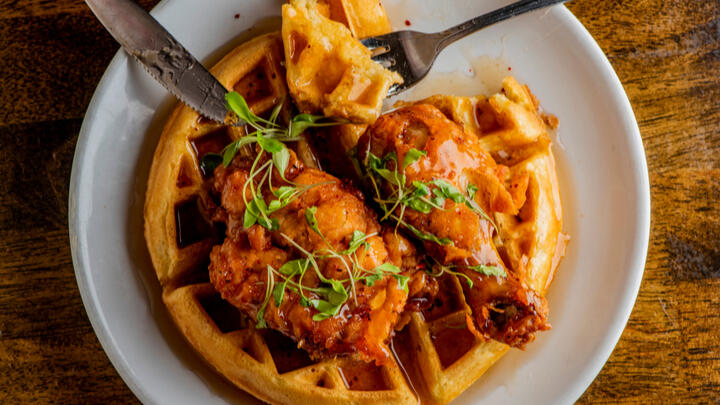 Boat brunch like a G
Sure, you could spend your tour of Amsterdam's canals sightseeing. Or, you could enjoy a brilliant bottomless brunch courtesy of G's Brunch Boat!
Two options await you on your watery adventure. Either pick a drink and one of the amazing brunch options from G's impressive menu. Or, go all-in on the bottomless brunch, help yourself to as many cocktails, beers, wines, or proseccos as you like, and top it all off with a meal from the menu. 
Food-wise, you'll find brunch classics like Eggs Benny, and breakfast burritos alongside meatier options like chicken and waffles, chicken burgers, and salmon-topped brioche. 
Then, sit in for 75 minutes of amazing views, amazing drinks, and amazing food. Does it get any better than that? Probably not.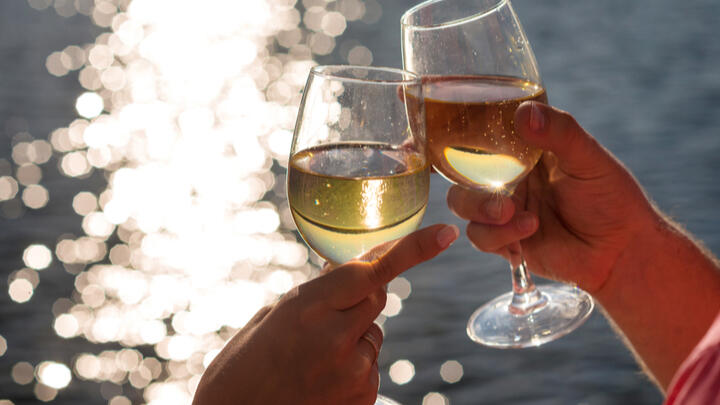 Romance on the waves
If you're visiting Amsterdam with that special someone, or you're a resident who wants to impress their significant other, consider a romantic canal Candlelight Cruise!
You and your muse will sit down to a delicious selection of traditional cheese and meats as your tour guide waxes lyrical about all the landmarks you pass. Sip on unlimited drinks, with beers, wines, and soft drinks on offer. 
It's a great way to get the lay of the land, while enjoying the lights reflecting off of the water. And your partner's eyes, of course. Romance, right? Top stuff.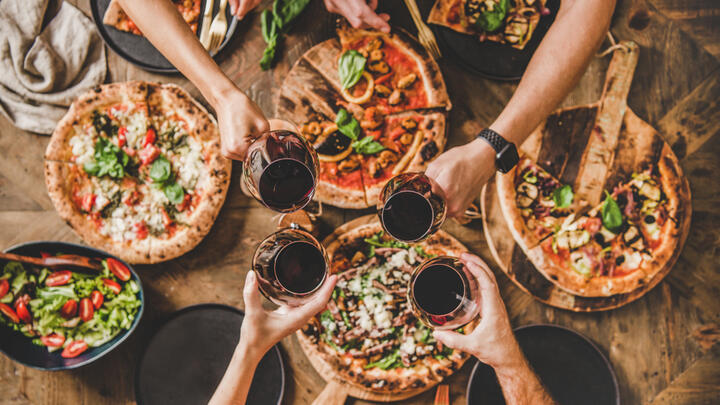 A pizza paradise 
Boats and pizza - typically not two things you'd associate with one another, but when has that stopped humanity from making things happen? We created bacon mayonnaise, after all. So, why not see pizza and boats beautifully combine on a Pizza Cruise of Amsterdam!
Served by one of the city's favorite pizza chains in New York Pizza, you'll get to choose a pizza of your choice before you set off along Amsterdam's beautiful canals. Your guide will regale you with tales of the sights and sounds you see along the way, all while you tuck into your slices and a couple of drinks to boot. 
Ideal if the sun is shining and you have a group of friends with you, this 1.5-hour tour is easily one of the best boat trips and canal tours in Amsterdam!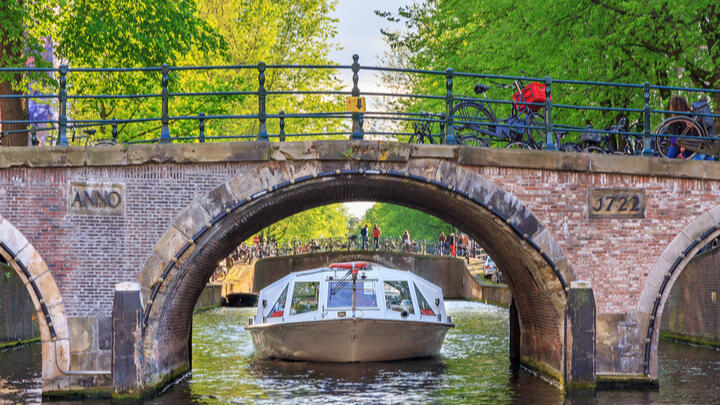 Learn on the water
What if you could combine your love of water and boats with a sprinkling of learning and culture? Well, we have great news for you. You can, thanks to the Museum Line - Amsterdam's best museum cruise!
Following a set schedule, you'll glide along Amsterdam's canals, stopping off at major museums such as the Rijksmuseum, the Anne Frank House, and the Hermitage. At each stop, you'll have the chance to explore and learn, filling your withered brain up with key information. 
There'll even be the opportunity to do some shopping, should you require tributes to the in-laws back home. And all of that in one-and-a-half hours. Not bad! Not bad at all.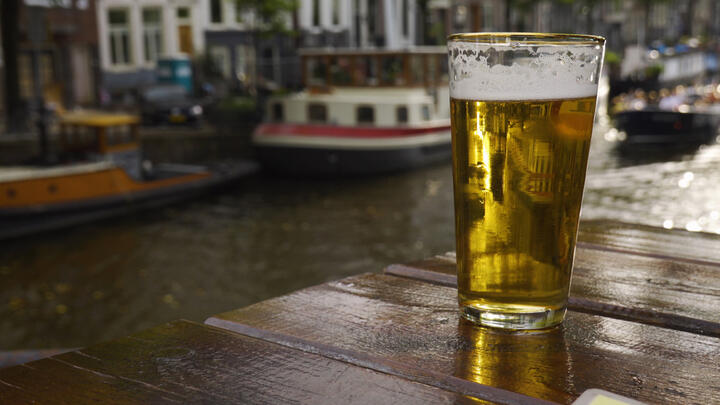 Sail like a semi-pirate 
And finally, we'll end this list of the best boat trips and canal tours in Amsterdam with an old classic - the booze cruise. Yes, even Amsterdam's beautiful waterways are graced with these bad boys. So why not take a pub cruise and explore the more exciting parts of the city? 
Your trip will take you through the red light district, where the eponymous lights will dance off of the canals. Beautiful, right? You'll also be free to drink beer, wine, and munch on a variety of snacks as you go, in case all that booze leaves you with cravings!
And that was our list of the best boat trips and canal tours in Amsterdam!