The concept of paying nothing for something intrigues many of us, like moths to a flame. So if you're visiting Amsterdam and are a little strapped for cash, you might be wondering what free things there are to do in the city. Well, wonder no more! Here are our picks for the best free things to do in Amsterdam!
Including:
Exploratory boat trips
Park hangs
Market browsing
Walking tours
Film fun
and more!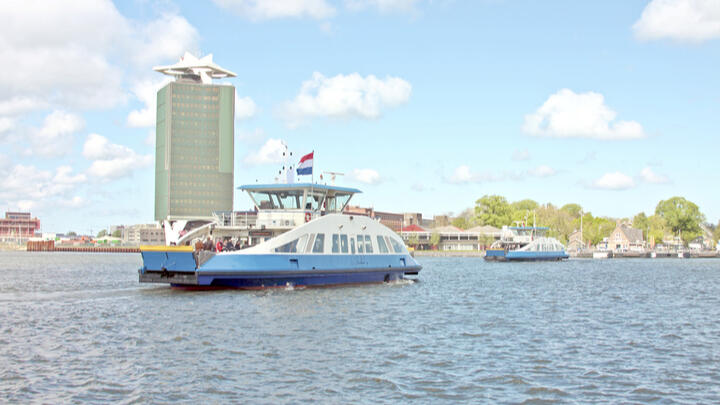 Ferried Away
One of the Amsterdam's best-kept secrets is a river away. Even if you arrive in the city via Centraal Station, either by Eurostar or an airport-connecting train, you may pass right by and never even realize they exist. But they do. We're, of course, referring to the free ferries that run all day, every day, over to Amsterdam Noord. 
Not only is boarding a ferry fun, because ferries are fun, but it also takes you to a completely different part of the city. Pay nothing, hop off, and go explore the northern neighborhood for yourself. There are bars, restaurants, clubs, street art, breweries, parks, and much more just a free ride away. And best of all, they run until around midnight, and if you miss the last one, you can simply book a taxi to take you the long way round back to town.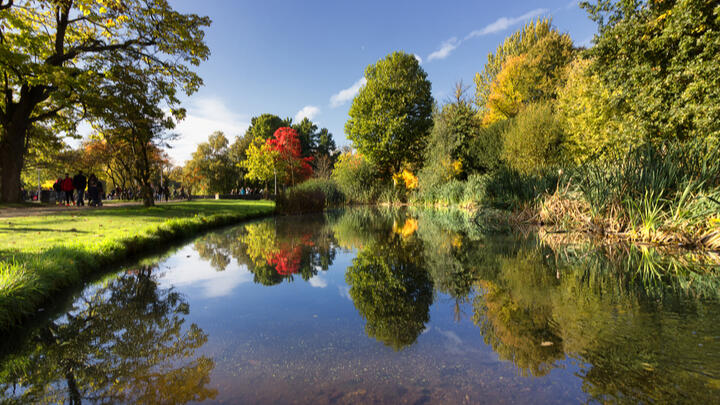 Explore Amsterdam's beautiful parks!
Amsterdam prides itself on its fantastic green spaces. Whether you are, you're probably a 10-15 minute walk from one, so pull up your map and see what's close!
Our picks are Amstelpark which has fantastic facilities for kids, including a massive playground; Westerpark, a sprawling space full of picnic spots, bars, restaurants, cafes, and entertainment; or Vondelpark, with its looping paths and live entertainment. 
But those are just three of the best. Really, there are too many to talk about here. So go out and explore them for yourself.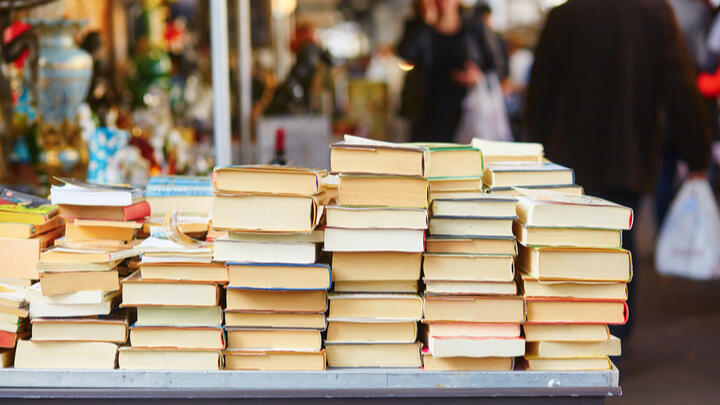 Check out the city's market scene
Like many modern cities, Amsterdam has a bunch of markets to choose from, no matter what you're in the mood to peruse. And yes, while none of them will give you anything for free, window shopping won't cost you a dime. 
If you're in the market for fresh produce to cook up a storm, try Nieuwmarkt in Central, or Noordermarkt-Boerenmarkt in Jordaan. In the market for some rare books or other paper-related artifacts? Check out Boekenmarkt. Feeling peckish and want a world of foodie goodness in one place? Foodhallen's got you covered. 
Or, if you're looking for something else, check out our guide to the city's best markets.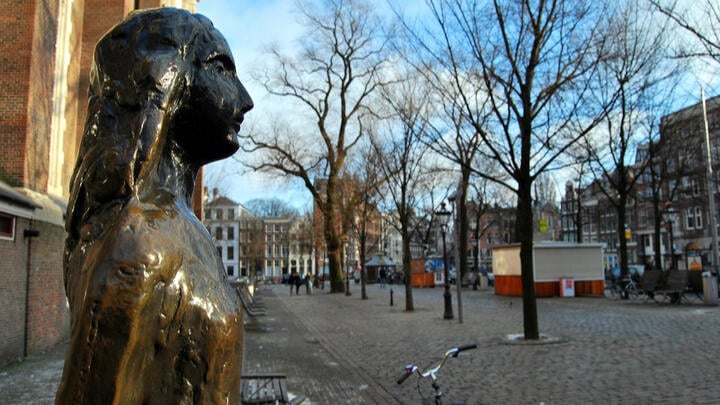 Free walking tours
If you're looking for informative walking tours to learn more about Amsterdam, you can even get them for free! 
Sanderman's offers free tours around some of the city's biggest landmarks, from the Red Light District to the Anne Frank House. Their young yet experienced guides rely on tips to pay the bills, so while these are technically free, you really should tip them. You're not a monster, after all. Unless you are, in which case no, you should still tip these fine young men and women for teaching you facts and feeding your curiosity. 
See, we weren't lying when we said there were free things to do in Amsterdam!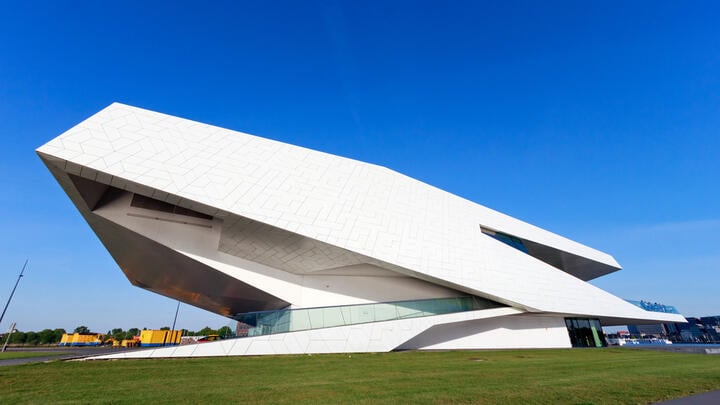 Image courtesy of VanderWolf Images/Shutterstock
Visit the EYE Film Institute
You'll need to board one of those sweet free ferries to sample this next bite of free Amsterdam fun. You'll even see the EYE Film Institute from across the water. This strange, towering monument emerges from the ground like a robotic bird's head. 
Step inside, and you'll find free film goodness in the form of interactive displays about Dutch movies. And, if you like them enough or want to show your support, you can pay a small fee to see whatever arthouse wonders they've got on rotation. Or, if you need more information about the institute, you can pay to explore the main exhibitions. Despite all that, getting in is still free, so it counts.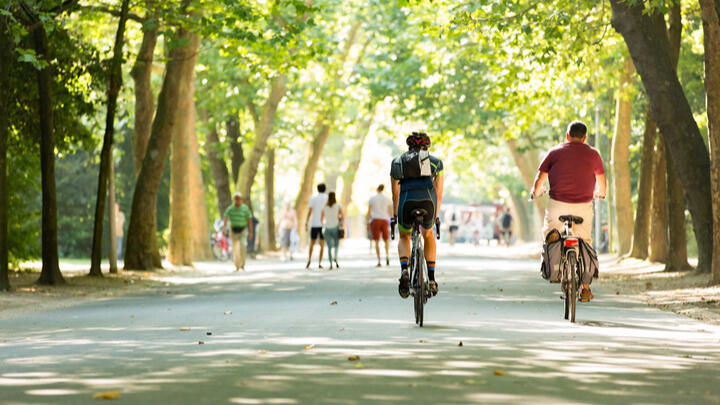 Get on your bike
It's no secret that Amsterdam is a city designed around cycling. Everywhere you'll look, you'll find packed cycle lanes which help keep the air clean and the roads free from anything but the most intense traffic jams. 
Cycling is simply the best way to get around a city, so if you have yours handy, go out and explore on your two-wheeled wonder. You'll make quick work of Amsterdam's more compact size, whizzing and darting to every landmark imaginable in a matter of hours. Just make sure to snap some pics of your discoveries to leave all your social media 'friends' green with jealousy.
Given the city's affinity for the humble bike, riding around is easily one of the best free things to do in Amsterdam.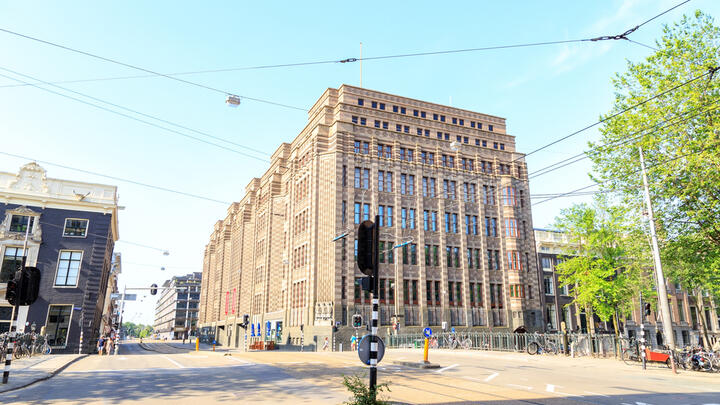 Image courtesy of Maykova Galina/Shutterstock
Free museums
Yes, even some of Amsterdam's museums have free areas you can explore with light pockets. While you'll be turned away from Amsterdam Museum, you will very much be welcomed into the Civic Guards Gallery, where you can gaze upon the opulent portraits of the city's elite through the centuries, as well as the wonderful sculpture depicting the biblical tale of David fighting Goliath. 
Or, learn more about the city's history at the Amsterdam City Archives. The Treasure Room is a splendid time capsule of city artifacts that date from the mid-1920s through to today. And yes, it's free. Free as a bird.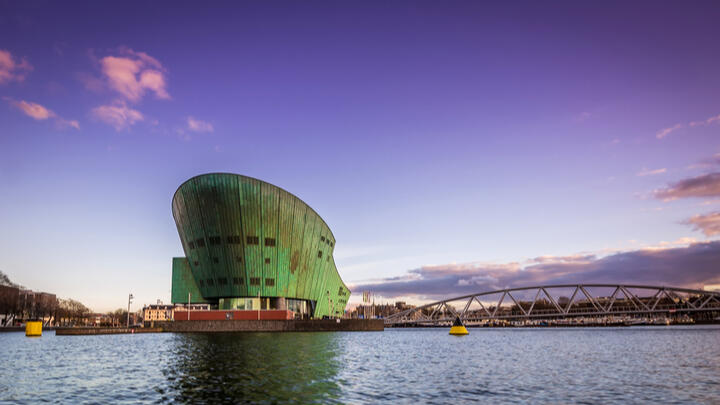 Great views of the city
Amsterdam is a city with undeniable beauty, from its many rivers and canals to its architecture. So, if you're looking for great views of the city without touching the piggy bank, then we've got you covered there too. 
Head to the Amsterdam Central Library (for free), make your way up to the 7th floor (free), and then enjoy amazing views of the city from the panoramic terrace (for free!). 
Or, scale the NEMO Science Centre, emerge onto the room, and look out upon the city, and marvel at its brilliance. There are also some free science exhibits up there, though you're missing a trick by not paying and seeing the entire museum.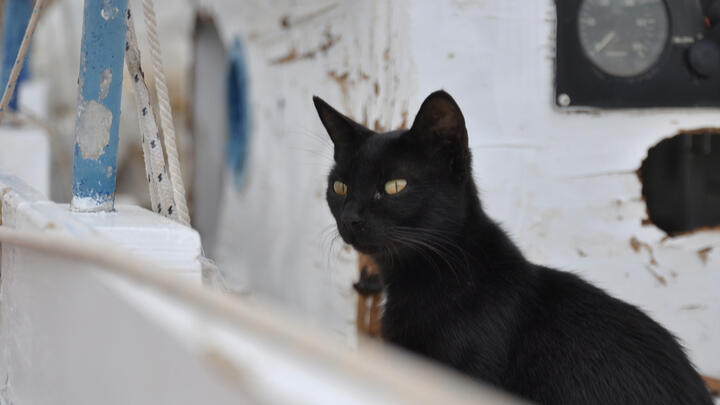 Cat boat!
Known as Poezenboot, this floating cat sanctuary has taken care of strays since the Sixties. It's pretty self-explanatory, what with it being a boat full of cats up for adoption, but it's nonetheless a great trip for those of you with feline sensibilities. 
While it's free to board and browse, the sanctuary does rely on donations to keep afloat (pun intended, we'll take credit for fantastic wordplay whenever we can). So do toss them a few coins if you want to hop on.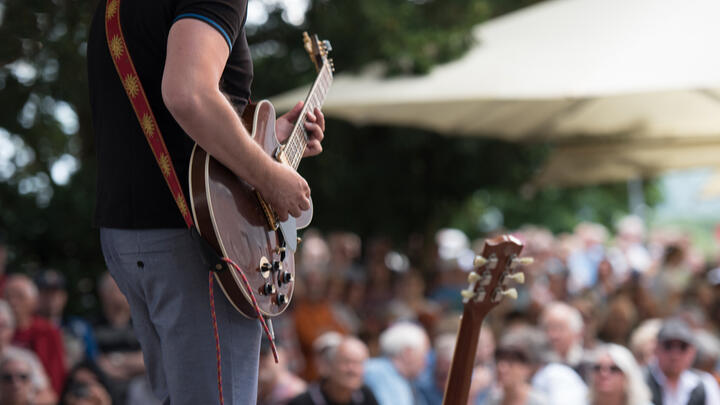 Free gigs!
Yep, you can even find free gigs on most days of the week if you know where to look. If you know your tenor from your senor, you might appreciate the free Tuesday concerts courtesy of the National Opera & Ballet. Or, if you like to get a little more hands-on, Bimhuis offers at least one free evening concert, workshop, or jam session every week.
And those are our picks for the best free things to do in Amsterdam!