Visiting Amsterdam and looking for more info about this "Kings Day" you keep reading about? You've come to the right place. Here, we'll give you all info about Kings Day you'll ever need, as well as a quick guide to getting around Amsterdam on this most celebrated of days. Read on, learn things, and be merry.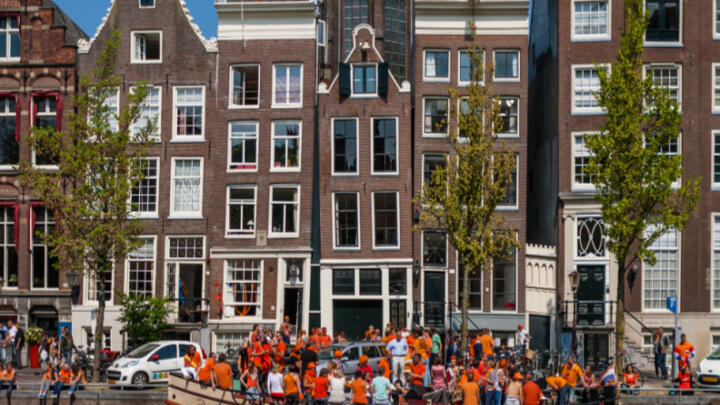 Getting Around Amsterdam
So, let's look at the most common ways people get around Amsterdam. Cars are out of the question, because many of the streets become car-free party zones. 
Bikes
Bicycles are a huge part of Dutch culture, with much of the country's travel infrastructure designed around our two-wheeled friends. This is precisely true for Amsterdam, too, with countless cycle lanes and cycle-friendly zones prevalent across the city. 
While bringing or buying one might be out of the question for a short stay, why not rent a bike? That way, you get all the benefits without any of the hassle! 
Just make sure you lock it up securely, as Amsterdam has prevalent bike theft problems. Plus, if you haven't ridden in a while, maybe take it for a practice spin before braving the cycle lanes. Riders won't appreciate the proverbial training wheels - they've got places to be!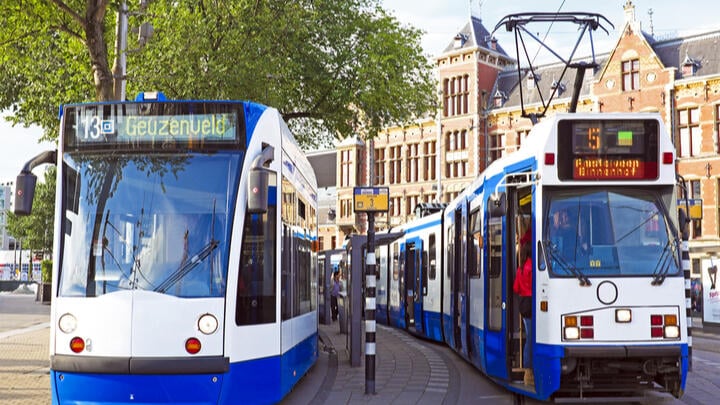 Trams
Many overground tram and bus routes are also closed off during the celebrations. A few routes tend to be available from Centraal Station, but do check before you plan your trip. 
If you do luck out and find a route that suits you, you can buy a one-hour, 24-hour, or 48-hour ticket on any tram, and they work on buses and the subway too. 
Or pick up an OV Chipcard. These travel cards can be picked up from Centraal Station, let you swipe in and out of stations, trams, and buses, and can be topped up at machines at many pickup spots or stations.
Buses
Similar to trams, Amsterdam's great bus coverage is heavily diminished on Kings Day. So plan your route and see what's available before you head out. 
You can't buy tickets on the bus itself, but many stops have ticket machines near them. You can also use your 1, 24, or 48-hour ticket one them, as well as your OV Chipcard. 
Air-conditioned with plenty of space and tinted windows to block the sun, they're a great way to get around the city. 
Metro
Given Amsterdam's size, the subway doesn't operate in a similar vein to larger cities. There are only a handful of stations in the city center, so unless you want to travel further or somewhere specific like the trendy De Pijp district, you may not need them. 
You can use a 1, 24, or 48-hour ticket one them, as well as your OV Chipcard top tap in and out of the station gates. 
Boats
Yep, you can even use boats to get about the city. Amsterdam's many waterways emanate from Centraal Station, and you can hire a boat to take you around the scenic canals. 
And, if you want to visit the urban-industrial paradise in Amsterdam Noord, you can hop on a free ferry at the back of Centraal Station to cross the river.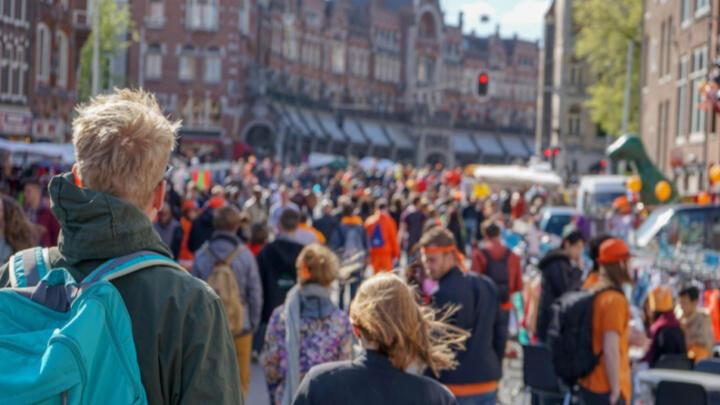 Legs
Walking is definitely one of the best ways to get around Amsterdam on Kings Day. Most people will be walking or cycling, so why not join them on their two-footed adventure? 
So, now you're all caught up with traveling in Amsterdam! So, let's provide you with some info on Kings Day.  
What is Kings Day? 
Kings Day is a public holiday celebrating a very special birthday. Who's, you ask? Why, the King of The Netherlands, Willem-Alexander, of course! Yes, the Dutch have a national holiday to celebrate a king's birthday. And yes, it's awesome.
When is Kings Day? 
King Willem-Alexander was born on April 27th, so that's when Kings Day is every year. And yes, that means it can end up right in the middle of the week. And yes, when the monarch is a woman, the name changes to Queens Day, and will fall on her birthday. 
What happens on Kings Day? 
As a public holiday, you can expect a lot of activity on Kings Day. 
It's customary to wear orange when you leave the house, and this could be a hat, a t-shirt, or even a bandana. But why not go one step further and buy an all-orange outfit to really show your appreciation? 
Then, you're wearing the appropriate attire, go and find where the fun's at. 
Kings Day markets
Markets are big in the Netherlands, so it's no surprise that they make an appearance on Kings Day too. 
In fact, people take it upon themselves to put up their own markets outside their front doors! It's called the 'Free Market', and it tends to be rather lighthearted. Don't expect to find any gems, because you're more likely to find jokey offerings. 
On top of that, you'll find a huge market across three streets in South Amsterdam around Beethovenstraat, Stadionweg, and Apollolaan. This is a more traditional market, where you can buy things you might actually need!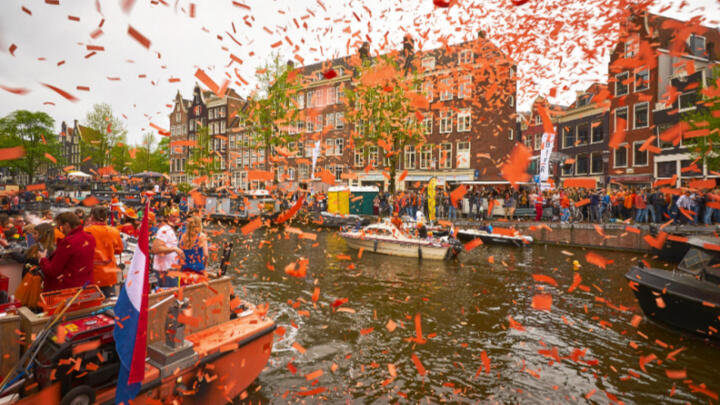 Kings Day parades, parties, and other festivities
While the whole city is akin to one big party, you will find other fun things in the city on Kings Day. 
The night before the big day is called Kings Night, when the heaviest partying takes place - followed by a chilled, recovery-filled Kings Day. 
You'll also find a massive Kings Day Boat Parade that makes its way along the Prinsengracht canals in the afternoon. Alongside the accompanying boats, you'll find groups gathered on the bridges above celebrating alongside them. 
You'll even find live music all over the place. Museumplein is well known for impromptu concerts and the like on days like this. 
So now you know everything you need about getting around Amsterdam on Kings Day and info on the day too! If you're spending a few days in the city either side of Kings Day and you want to see everything the city has to offer, why not check out Go City? With our All-Inclusive Pass or Explorer Pass, you can see all of Amsterdam's best bits when and how you want.