Romance. Is it dead? Not on our watch. Prove to your loved one just how romantic you are and find the perfect thing to do in Amsterdam. But romance is hard, just like researching romantic plans. But don't worry! We've done all the hard work for you! So sit back, lothario, and focus on the gift-buying, as we explore the best romantic things to do in Amsterdam.
Including:
Picnic in the park(s)
Sensational strolls
Couples bike ride
Romantic boat trips
Loved up meals
and more!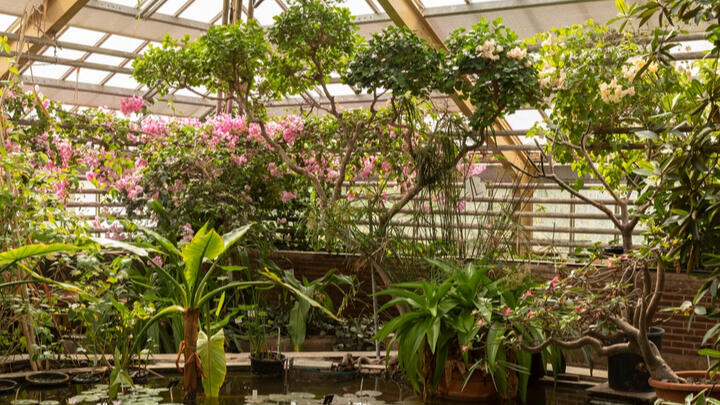 Park perks
What's more romantic than picking up your partner, carrying them to a park, placing them on a blanket, and forcing them to enjoy a lovely picnic? Nothing. Nothing at all. So, do your relationship a favor and do the thing. 
Amsterdam has some wonderful green spaces all over the city. No matter where you're staying, you're probably only a short walk or cycle from one. Any of them make for an ideal picnic location, but we have some favorites too.
Westerpark is the perfect mix of rolling grass and trees, bars, restaurants, and entertainment. You'll find plenty of space to spread out and set up a romantic picnic for two, and if you run out of any nibbles or drinks, you can always move proceedings to one of the nearby restaurants or watering holes. 
For a similar vibe, check out Vondelpark. Alongside all the picnic-ready grass, there are a handful of restaurants and stalls selling drinks and bites, and even some live music on occasion. 
Or, combine a picnic with some horticultural exploration at Hortus Botanicus, where you can combine a romantic picnic with an equally romantic stroll around the park's tropical greenhouses. It might sound like a euphemism from a Monty Python sketch, but Hortus Botanicus is so much more.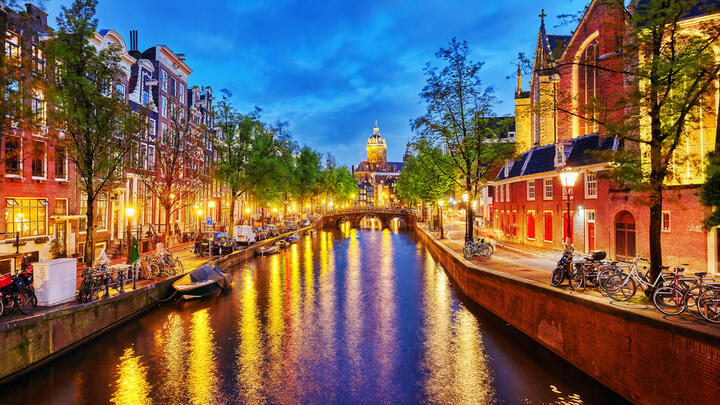 Walk and talk
There's denying the beauty of Amsterdam. It's one of the most picturesque cities in Europe, with its abundance of clean air (thanks to all the cyclists), a wealth of waterways, and a blend of old and new architecture. And since the city is relatively small, it's the perfect excuse to take your partner's hand and drag them around the city on foot!
So get your walking boots on! Pick a destination and go wander. While some parts of the city are arguably prettier than others, we'd recommend you take a stroll around Jordaan. Positioned just outside of the tourist belt, you'll find tons of beauty, as well as cafes, bistros, and bars with seating by the water. That way, you can end your stroll with a successful sitdown!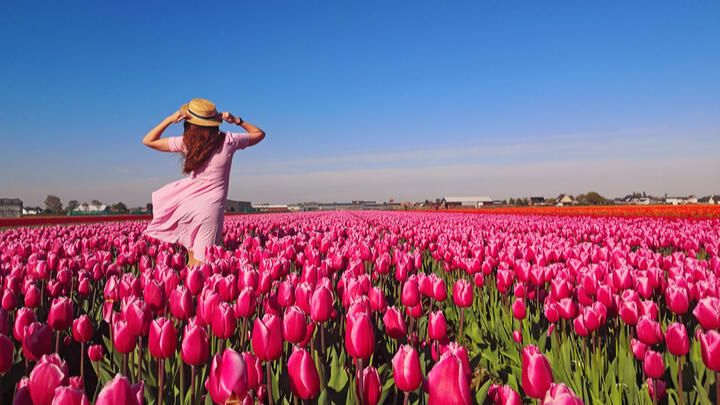 Ride into the sunset
As if you needed reminding, but Amsterdam is a cyclist's metropolis. Literally. You'll find cycle lanes everywhere, from cobbled residential streets to freeways. We've already talked about the difference they make to the city - cleaner air, less traffic, and fewer cars are just some of the many benefits. 
Now, turn those benefits into brownie points with your beloved. Rent a couple of bikes, take them on a bike ride around the city and show them how great the city looks on two wheels! You'll be able to go anywhere both in the city and into the outskirts. Why not cycle to the Keukenhof Tulip Gardens and see the fields of the beautiful wonders? While they're located around 25 miles from the city, since the freeways have safe, dedicated cycle lanes, you can make a day of it! It's easily one of the most romantic things to do in Amsterdam, if you've got the stamina for it!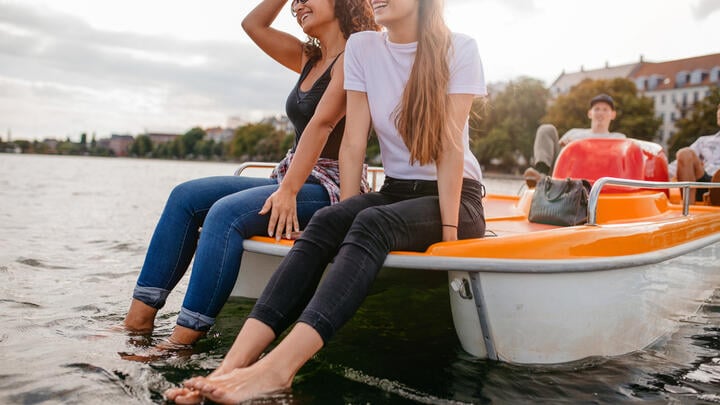 Pedal to the romance
Or, swap two wheels for no wheels and hop on a pedal boat! They're a great way to see the city's sights. Follow the canals, pass under bridges, and stop off wherever you like. And really, is there anything more romantic than pedaling together, knowing that at any time, one of you could steer the boat to certain doom? 
Of course, not everyone has the foresight to bring a pedal boat with them on vacation. But don't worry! Amsterdam's got you covered. Simply hire a pedal boat, get on the water, and make a day of it. A romantic day of it.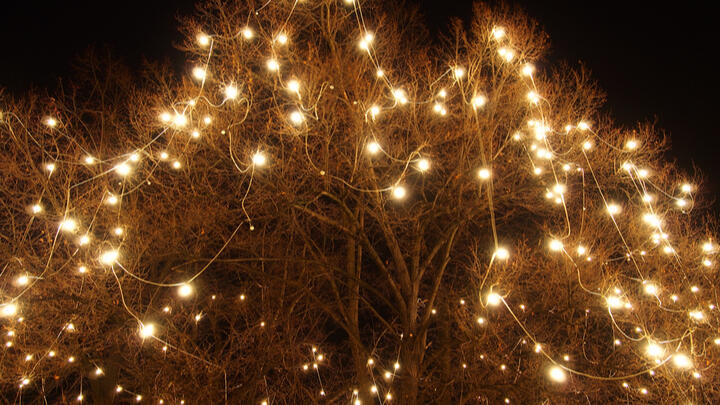 Love bites
Of course, nothing could be more romantic than having an intimate meal for two. You stare into their eyes; they stare into yours. You're so engrossed in their gaze that your fork misses your mouth, a moist meatball tumbling down that brand new white number you've got on. You laugh, they laugh, and the waiting staff forces a laugh as they clean up the mess. You walk home with your red stain proudly displayed. You don't care; you're in love. 
Make this dream a reality at one of Amsterdam's romantic restaurants! De Belhamel in Jordaan offers French and Italian-inspired dishes in an intimate art-deco interior, or take the party to the beautiful canal-side decking. 
Or, dine beneath the stars at Cafe Restaurant De Plantage. But wait, those aren't stars; they're fairy light-bedazzled sycamore trees! Surely one of the most romantic things to do in Amsterdam? Besides the mesmerizing decor, you'll love their nouveau cuisine offerings, with a number of meat, fish, and veggie meals inspired by worldwide cuisine.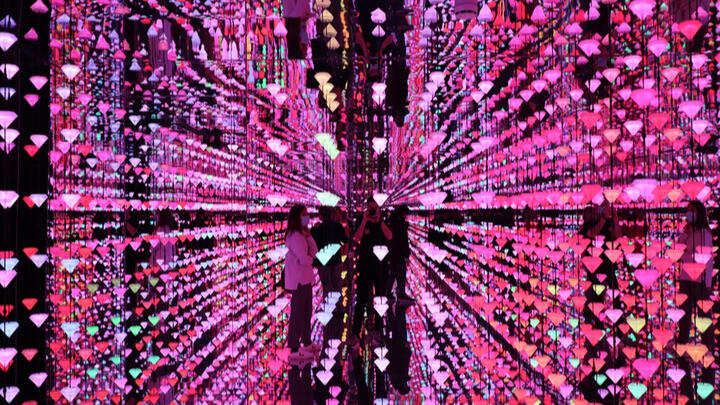 Get cultural
Sometimes, knowledge can be the sexiest thing of all. We didn't just make that up, so why not put it to the test? Amsterdam has some great museums to wander through with your partner. Just make sure they're into it before dragging them along. 
There's the Rijksmuseum, the Dutch home of classical art. See the likes of Rembrandt, Vermeer, and other national luminaries strut their stuff. Not literally, of course; they are all long dead.
Or, for a cooler, more hip experience, check out the Moco Museum and their street art extravaganza featuring works from Banksy and other celebrated modern artists. 
Alternatively, head to the home of the late, great Van Gogh, who's lucky enough to have an entire museum dedicated to his work. It was rumored he cut his ear off due to unrequited love, though this was later proven false. Perhaps you should ask your love if they would cut their ear off for you? If they refuse, dump them on the spot; they don't deserve you.
And those are our picks for the most romantic things to do in Amsterdam!