Vacationing in Amsterdam and have some extra cash you want to burn through? You'll need a guide to shopping in Amsterdam. But where will you find one that you can trust? Here, of course. Just scroll down and see what an authentic guide to shopping in Amsterdam really looks like!
Including:
De Bijenkorf
Magna Plaza
Nine Little Streets
Haarlemmerstraat
Albert Cuyp Market
and more!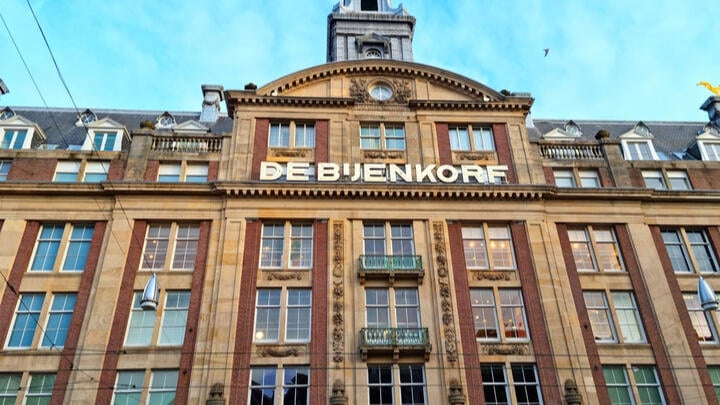 Image courtesy of Travel-Fr/Shutterstock
Where the labels lie
Let's kick off our guide to shopping in Amsterdam with the big guns. If you're the sort to drip yourself in nothing but the biggest names and designer labels, spend your money more wisely! Just kidding, no judgment here. The good news is that Amsterdam more than caters to your opulent lifestyle choices thanks to De Bijenkorf, a chain of high-end department stores. They have stores all over the Netherlands, but you'll find their massive Amsterdam branch looming over Dam Square like a wealthy obelisk. 
Step inside its inviting revolving doors, and you'll be blown away by the number of floors on offer. Brands carve out their own territory here, defending it fiercely from neighboring competitors. Many, like Gucci, are so 'exclusive' that you'll have to wait by a rope cordon to be let in. Like a club, but no one's dancing or having fun. 
Still, if it's designer brands you want, it's designer brands you'll get, with countless big names calling this mausoleum to untethered consumerism home.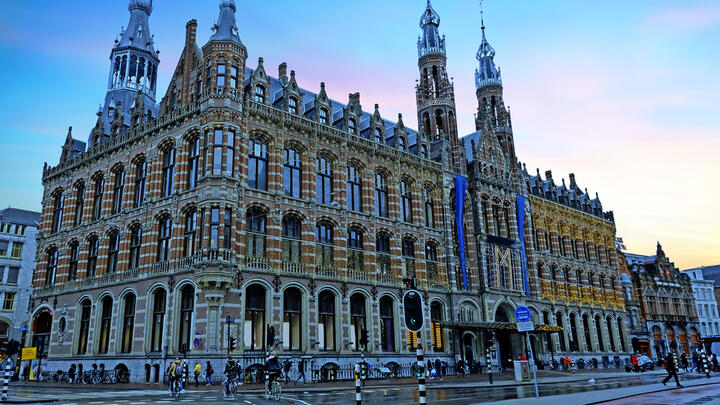 A massive plaza
Another structure that towers over Dam Square is the appropriately titled Magna Plaza, which roughly translates to Really Massive Place. Maybe. This grandiose building mirrors London's Parliament buildings, which was by design. 
Inside, you'll find a more rounded shopping experience, with food stores and restaurants cohabiting with fashion brands, cosmetics shops, and jewelry boutiques. And all of that sweet, sweet shopping is backed by the Magna Plaza's stunning interiors, which give every trip a sense of regality. Your bank account will feel pretty regal, too, because shopping is addictive, and you may have a problem. 
If you sit in Dam Square and squint hard enough, you can pretend that Magna Plaza and De Bijenkorf are facing off against one another, determined to be the best shopping complex on the block. Don't worry; they can't hurt you.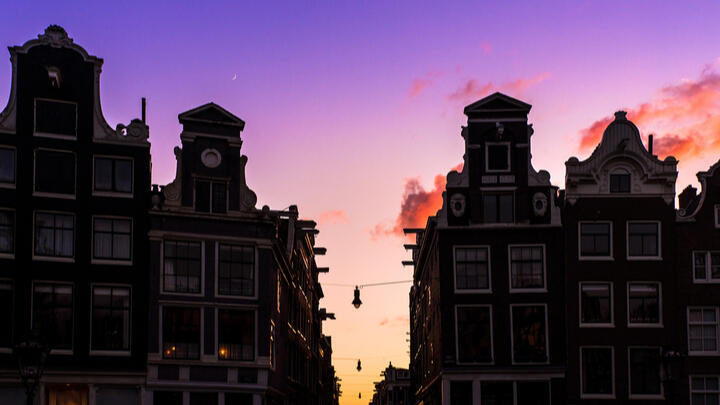 Nine streets for nine treats
Away from the hustle and bustle of Amsterdam Central, you'll comfortably find some of the best shopping in the city. And better yet, given the city's size, you can easily walk there from Centraal Station in about 15 minutes. 
The Negen Straatjes, or 'Nine Little Streets' are, well, nine streets that emanate from Amsterdam's canal ring - colloquially called 'the ring'. Walk along these revered streets, and you'll find a wealth of unique boutiques, smaller designer shops from all over the world, as well as cafes, bars, and restaurants where you can rest your burdened feet. 
The perfect answer to the busyness of the aforementioned department stores, these streets are as much residential zones and daytime hangout spots as they are shopping destinations. So, head there, shop to your heart's content, and breathe in all that space and calm. Nice.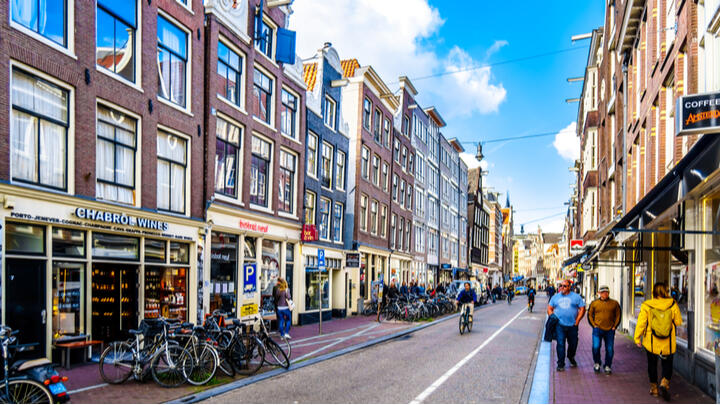 Image courtesy of Harry Beugelink/Shutterstock
Sound the Haarlem!
Just a stone's throw from Centraal Station to the west, you'll find a quirky, calm, and clean shopping paradise to rival Nine Little Lanes! It's called Haarlemmerstraat, and along with its brother Haarlemmerdijk, it's one of the city's often overlooked gems. 
With a whole host of boutique shops, salons, and an underrated bar scene, it's a great place to spend your day, do some shopping, eat some food, and then experience the nightlife. Plus, you're so close to the water you might as well have a wander to Amsterdam's shores - you'll find even more bars, cafes, and restaurants there!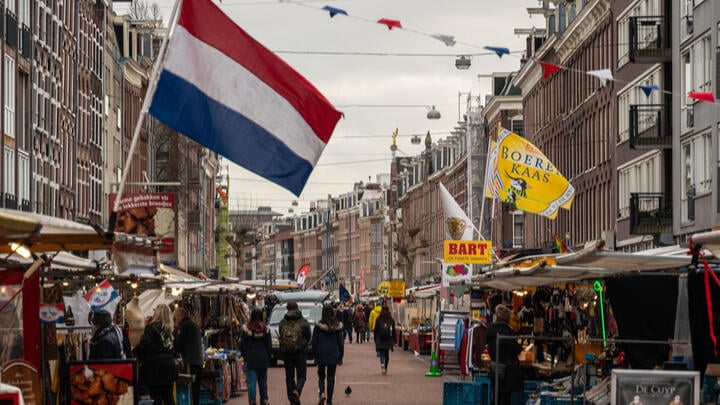 Image courtesy of AsiaTravel/Shutterstock
On the cuysp of greatness
Of course, department stores and packed high streets aren't the only places for you to flex your plastic. You forgot about markets, silly. No self-professed guide to shopping in Amsterdam would be worth a thing without mentioning the city's brilliant market scene. And arguably, the jewel in its market crown is the Albert Cuypmarkt. 
Located in trendy De Pijp, it's one of Europe's biggest open-air markets, offering visitors and would-be shoppers a whole host of foods, clothes, accessories, and even flowers. 
If you're staying in an Airbnb, it's the perfect place to buy fresh groceries to cook up your own delights. Or, if the hotel is taking care of all that for you, go try some of the freshly cooked foods on offer! You'll find many uniquely Dutch treats available, including stroopwafels - the country's best.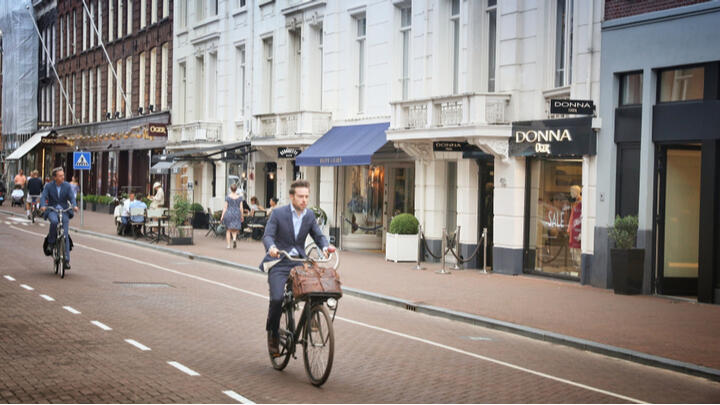 Image courtesy of Tupungato/Shutterstock
Hoof it up the street
Fashion seekers, beware. Some of Amsterdam's best shopping can be found at PC Hooftstraat, a short walk from the city's museum district. 
Arguably Amsterdam's most affluent shopping district, you'll find a wealthy world of designer brands from across the globe. Need some Mulberry in your life? Jonesing for some Chanel? PC Hooftstraat's got you covered. 
Plus, its location is a massive bonus if you want to combine your shopping shenanigans with a little culture. The Rijksmuseum, Moco Museum, and the Van Gogh Museum are right around the corner. And let's be honest, after all that swiping, you might require some calm and inspiring sights.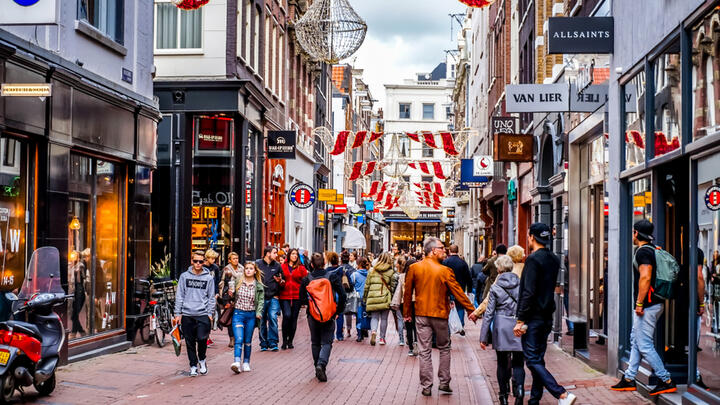 Image courtesy of Harry Beugelink/Shutterstock
Kalvern Klien? Kinda
Another of Amsterdam's famous shopping streets, Kalverstraat is a more modest shopping experience. You'll find its beginning at the foot of Dam Square, because of course you will. Dam Square - the hub of many shopping opportunities. 
This one is arguably the busiest on the list, so strap in for some shambling. Unlike some of the others on this list, Kalverstraat is a more typical high street affair, with sneaker shops, affordable clothing stores, and well-known cosmetic spots. Nike, Lush, and Zara are just some of the many global brands you'll find on this list. 
While you could spend the whole day here, we'd recommend you know where you're going, get in, and get out - it simply draws too big a crowd to be considered a fun day out.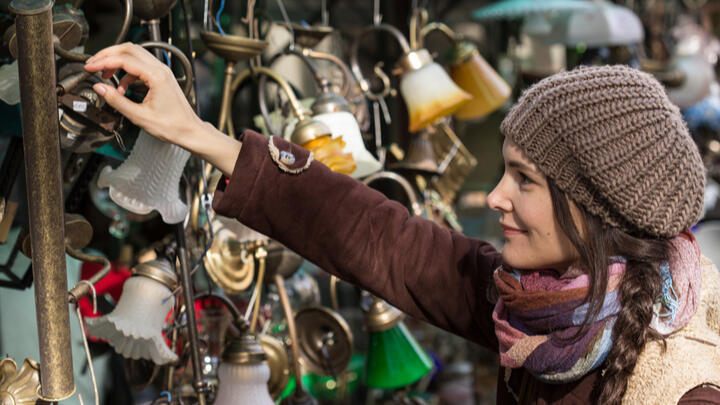 Waterloo, baby
We'll end this list on a bit of an oddity. Unlike Albert Cuypmarkt, Waterloopleinmarkt is a bit of a free-for-all. This flea market lets anyone come and set up a stall to flog their undesirables, so expect garage sale energy. 
However, anyone who's dared enter the realm of the garage sale knows this is no sleight. In fact, you'll find things at Waterloopleinmarkt you may not find anywhere else. Bargain hunt for rare toys, antiques, furniture, and other unwanted (and unvalued) items, snap them up in a pinch, and then sell them on to become a multi-billionaire. Chin up - anything is possible. 
And that's our guide to shopping in Amsterdam!