Teens; the loveable, distracted youth are one of a kind. You may remember being them, but things have changed. Technology has reshaped the teenage landscape and altered the rules of engagement. So, how do you deal with them in the 21st century? Well, by winning their hearts, mind, and attention with the biggest and best entertainment you can find! So, if you're vacationing in Amsterdam, what are the best things to do for teens in the city? We'll tell you, right now.
Including:
THIS IS HOLLAND
A'DAM LOOKOUT
Moco Museum
Pancakes Amsterdam
Anne Frank House
and more!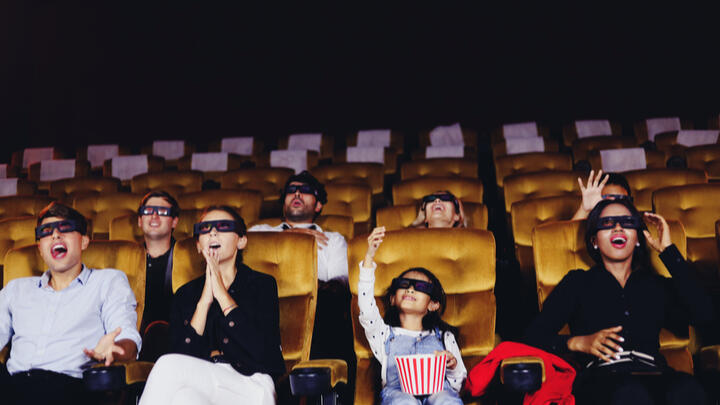 Nederland, but not as you know it
Seeing a city from the ground is one thing, but exploring it from the sky is something else. Have you ever flown over a city like a bird? If you answered yes to that, you might need to speak to someone. Unless, of course, you've already taken a spin on THIS IS HOLLAND!
This 5D flight simulation experience lets you soar over the Netherlands, looking down on its most famous landmarks. Even teenagers with remarkably short attention spans won't be able to look away. Thanks to state-of-the-art steam and wind technology, they'll feel the mist on their faces as they skim the ocean's surface. The wind will ruffle their middle parting as they duck and dive through a forest. They'll also learn about the country's past and present, but in a dynamic, exciting way, not a school way. 
Even if you trick them into the theater, they'll soon discover that learning can, in fact, be fun.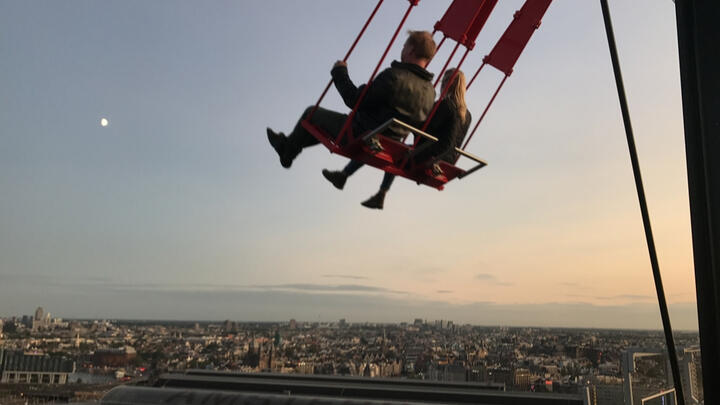 LOOKOUT below
Speaking of seeing cities from unique perspectives, teenagers will love looking down on Amsterdam from above. After all, they probably think they're better than the average "old" person, right?
Well, their prayers have been answered. Simply take your bundle of trouble up to the 360 Sky Deck at A'DAM LOOKOUT and let them live out their overlord dreams. Dance routines and pouty selfies for all! But if that wasn't enough, there's also 'Over The Edge'. What's that? Well, it's a giant swing that dangles over 320 feet in the air. And, if you're teen is a daring sort, they can sit on it and prove their bravery once and for all. 
Or, if they don't feel like this death-defying feat, they can hop on a VR rollercoaster through the city, and then learn about Amsterdam's history, thanks to a slew of brilliant interactive exhibits! Whichever challenge they choose to undertake, A'DAM LOOKOUT is easily one of the best things to do in Amsterdam for teenagers!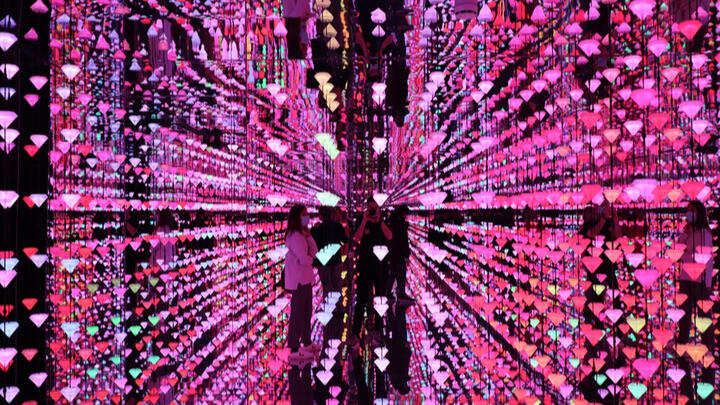 Stencils in the stone
Art has changed, there are no two ways about it. And rightfully so - art has always evolved through the centuries. From cave paintings to marble sculptures, art has evolved as we have. Art's current revolution has taken things to the streets, with art staining the very walls we call home. So, if you're teen's into the street art revolution, go get them immersed at the Moco Museum.
Curated by none other than Banksy himself, the Moco Museum explores modern-day life through a critical lens. Featuring works from internationally-renowned artists like Damian Hirst, JR, Koons, Kusama, and KAWS, your not-so-little ones will spend a good couple of hours seeing all the sights and sound this eclectic museum has to offer. 
Plus, phone-savvy teens can even pull out their devices to interact with some exhibits, thanks to augmented reality (or AR). And that's not even mentioning the endless photo ops for the emaciated social following.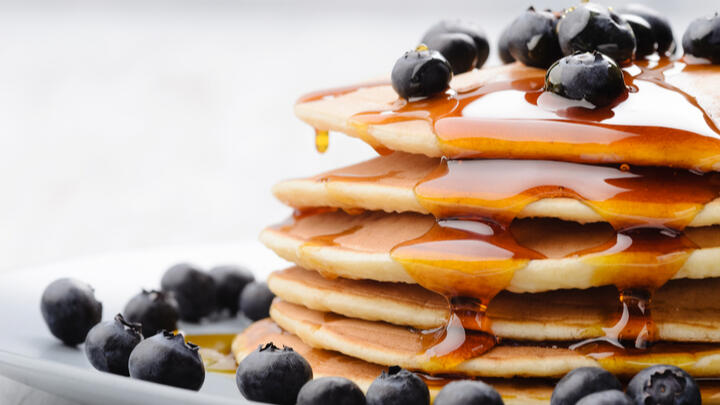 Everybody Loves Pancakes
It doesn't matter how young or old you are, pancakes are universally loved by everyone. Absolutely everyone. If you don't like pancakes, you're going on the list. 
The simplest of ingredients combine to create mouth masterpieces. And one of Amsterdam's pancake houses is so good that they named it after the city. That would be Pancakes Amsterdam, and your teen will love it. 
You'll get a free pancake tasting, where they can pick from myriad ingredients and toppings to make their own mouthwatering masterpiece. On us, of course, because we care. And, if one simply isn't enough, grab a table, pull out a menu, and order like a normal customer. Whether it's a morning treat, a midday snack, or a dinner replacement, your teen will dig the pancakes at Pancakes Amsterdam. See what we did there? Dig? Yep, we're down. With them. Down with them. Exactly.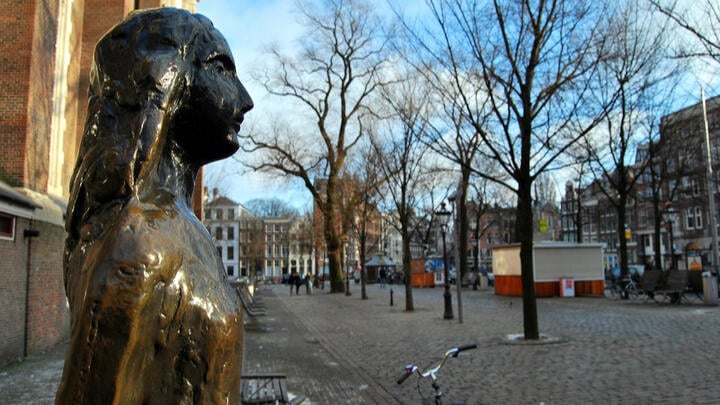 A must-visit Memorial
On a more serious note, vacations are often fact-finding missions. You learn about another culture, immerse yourself in the local cuisine and customs, and discover a country's history while you're at it. Amsterdam has a lot of history, and not all of it is good. 
However, there's no denying that the Anne Frank House is worth a visit. Though she didn't live to tell the tale, Anne Frank's diary offered the world a candid view into the lives of Jewish people who struggled during the German occupation. Anne Frank was a teen herself when she hid, so it's easy for fellow teens to relate to the everyday struggles she faced on top of the very real threat to her life. 
In the house itself, they can learn about the family, their history, and the people that helped them hide. Easily one of the most thought-provoking things to do in Amsterdam for teens.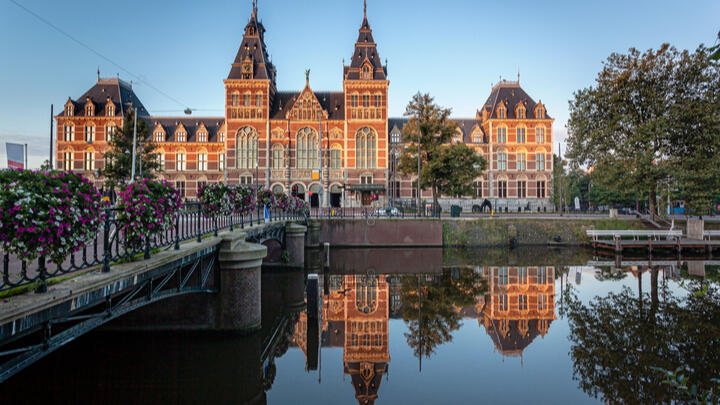 Nothing but the classics
Even if street art is the de facto art form these days, nothing quite beats the classics. And if you want your fill of 8,000 classic artistic artifacts, head to the Netherlands' most famous museum - the Rijksmuseum.
Discover famous masterpieces from the Dutch Golden Age, including masterworks from Hals, Steen, Rembrandt, and Vermeer. 
Show your young one how they did it way back when, and brace yourself for multiple age-related jokes. It's okay; after the first barrage, they'll subside. The art speaks for itself.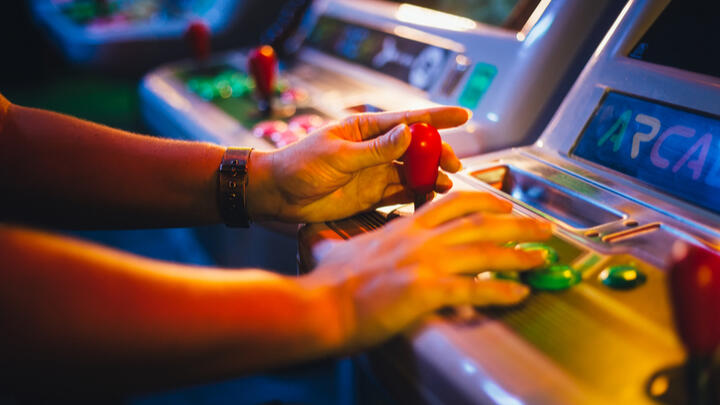 Bright games for brighter minds
And finally, we end our list of the best things to do in Amsterdam for teens with some fun and games. And not just any games, but arcade games. 
At the TonTon Club, they'll discover a world of digital giggles. These days, every young person likely plays some videogames, so let them loose and try to keep up. They'll find classic arcade hits, more modern gems, and even just regular games like Mario Kart on offer. 
Buy them up some tokens and let them do their thing. Trust us, they'll appreciate it. 
And that was our list of the best things to do in Amsterdam for teens! We hope they enjoy their vacation as much as you do.