Home to some of Europe's most important cultural hotspots and one of the best nightlife scenes on the continent, Amsterdam truly offers something for everyone. With many of its top attractions and best venues housed within a compact city center, you'd be hard pushed to find a better European city break than a weekend in Amsterdam.
Nightlife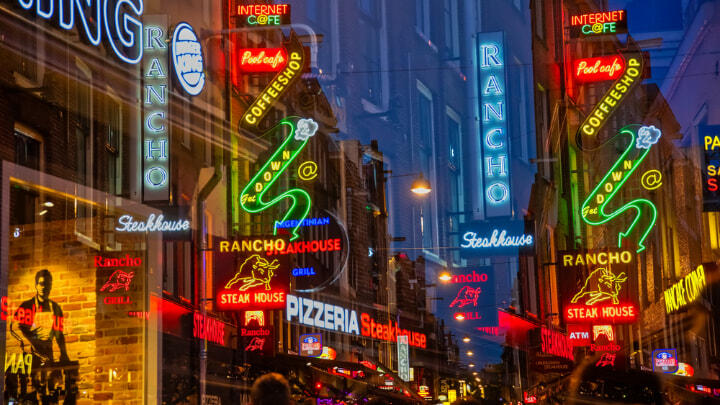 Few destinations in Europe are as lauded for their vibrant nightlife scene as Amsterdam, and that isn't without good reason. Much of the city center is replete with charming restaurants, classy bars and bustling clubs, making it a perfect weekend destination for young tourists looking for some of the best evening atmosphere on the continent.
One of the most popular areas to start a night of drinks is the infamous Red Light District, known officially as De Wallen. Aside from renowned after-dark shows and other such hedonistic appeal, the area is also home to a host of popular pubs and bars. Most notable are the Café Hill Street Blues, with its grungy, street-art interior, and The Old Sailor, adorned with all manner of traditional nautical instruments.
Another regular haunt at the beginning of the evening is the Jordaan area, for its vast selection of trendy bars and cafés. Among these are the vibrant speakeasy Bar Oldenhof, the warm and cosy De Zotte and the stylish JD William's whisky bar for more of an intimate evening.
If you're looking for a true weekend of partying in Amsterdam, then you're bound to find yourself looking for some of the city's most vibrant clubs. Some of the most bustling and tourist-packed clubs can be found on Leidseplein and Rembrandtplein, with the likes of Paradiso, Melkweg and Escape truly taking the cake.
Retail Therapy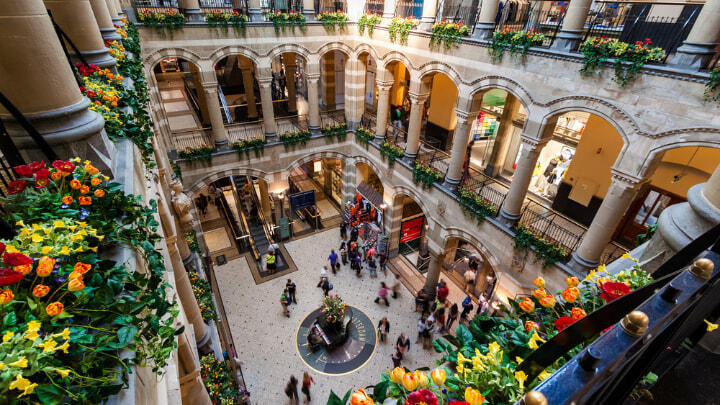 A weekend in Amsterdam is the perfect opportunity to try to pick up some local bargains, a souvenir or two or even some high-class European fashion. Spread throughout the city are a number of spots where you can quench your shopping thirst, from quaint streets lined with traditional independent stores to sprawling malls populated by top brands and retailers.
While exploring the city's famous canal district, you're bound to stumble across the Negen Straatjes, or 'Nine Streets'. These narrow, historical streets are home to a variety of charming cafés and restaurants, alongside a variety of stores from unique independent businesses to chain boutiques.
If you're serious about shopping, though, then Kalverstraat and Leidsestraat are the places to be. Undisputedly the beating heart of Amsterdam's retail offerings, the two are also connected by the Kalverpassage shopping mall, offering smooth passage between streets alongside a variety of top retailers.
For more of a typical mall experience, the Magna Plaza is a stunning building inside and out, lined with a handful of charming shops offering everything from souvenirs to fashion products. De Bijenkorf is your one-stop shop for all things luxury, with its vast collection of haute couture brands complemented by a selection of luxury beauty treatments.
Cultural Hotspots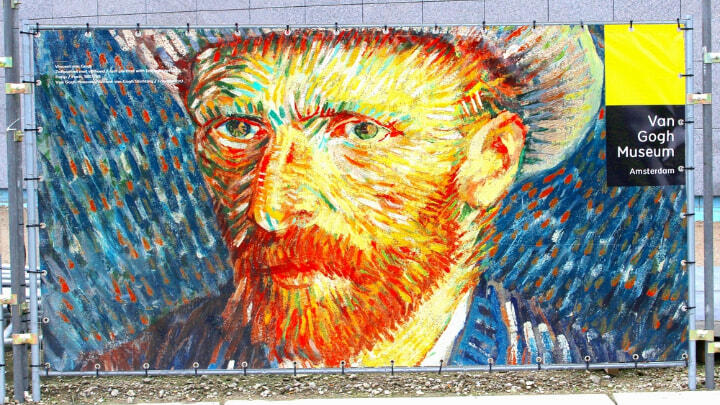 While many come to Amsterdam for a weekend of partying and pleasure, that isn't to say you can't enjoy more of a quiet and cultured trip away from the raucous crowds. One of Amsterdam's greatest boasts is its vast selection of world-class museums and art galleries dedicated to its wealth of complex national history and celebrated artistic output.
Taking pride of place is the renowned Rijksmuseum, whose sprawling Renaissance- and Gothic-style halls boast an impressive collection of historical artifacts and famous artworks. The most important museum in the Netherlands, its collection chronicles over 800 years of Dutch history, complemented by the works of such artistic legends as Rembrandt, Vermeer and Van Gogh.
Nothing reflects Dutch artistic accomplishment quite like the Van Gogh Museum, standing as a tragically ironic juxtaposition to the artist's anonymity in life. The museum houses over 1,400 of the Post-Impressionist painter's works, from paintings to letters, amounting to the most complete collection in the world by far.
The various grand artistic claims of the Netherlands often overshadow its extensive and complex history. The Amsterdam Museum serves to remedy that, documenting the development of the Dutch capital from original settlement to the modern metropolis we know today, exploring periods of nautical domination and ground-breaking progressiveness.
Easily the most visited historical site in Amsterdam, though, is the Anne Frank House, housing a museum dedicated to the victims of Nazi persecution within the very same canal house in which the family of the famous wartime diarist escaped German capture. Although the site now stands empty of most original furnishings, it remains a potent reflection of life during one of the darkest periods in recent European history.
Iconic Activities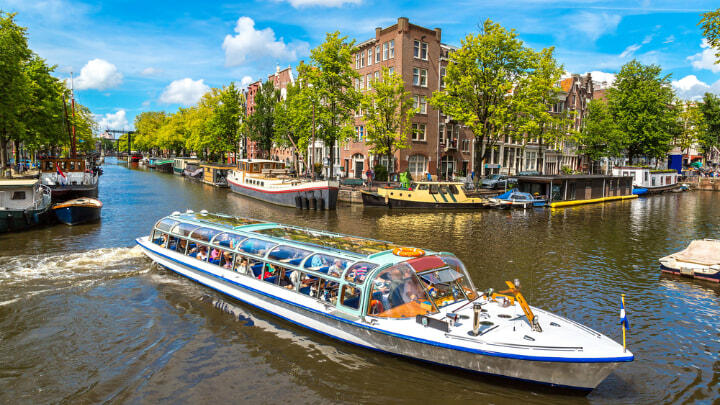 Although Amsterdam is largely famous for its iconic streets, squares and waterways, it also offers a variety of engaging activities for visitors of all shapes and sizes. Whether you're a family looking for a great day out or a couple with a taste for Dutch pilsners, there's plenty on offer to keep your weekend trip jam-packed.
On the topic of Dutch pilsners, few have quite the same worldwide reach and rapport as Heineken. Those with an interest in the brand or Dutch beers in general are likely to find the Heineken Experience a real thrill. Visitors are offered a tour of the Heineken brewery along with insights into its entire production cycle, rounded off in style with a refreshing bottle of the beer at the heart of it all.
If you're looking to explore the best sights in the city, there are few better ways to do so than atop its iconic canals. Various operators offer canal boat tours throughout the popular canal district, complemented by local insight into some of the city's top attractions. Alternatively, a hop-on, hop-off boat tour offers much the same, with the added benefit of allowing you to get on and off at various points to better discover the areas that most interest you.
Something bound to offer families, couples and individuals alike a great day out is the ARTIS Royal Zoo. Combining a gorgeous botanical garden filled with endangered plant life with a vast zoological garden housing over 900 animals from all corners of the globe, the site is a great place to discover many of the wonders of the natural world, or simply sit down for a picnic and rest on a pleasant day.