No trip to the city would be complete without a venture out into the famous Amsterdam nightlife.
When the sun goes down, the fun don't stop! Amsterdam is a city made for night-owls, with cafes, bars and clubs staying open till the early morning hours. Discover some of the best of Amsterdam nightlife with our guide. 
Amsterdam Nightlife
Famed for its coffee shops and cultural hotspots Amsterdam also boasts an energetic and fun nightlife that has something for everyone no matter the taste or budget. We'll break down the where to go depending on your mood, taste and affordability.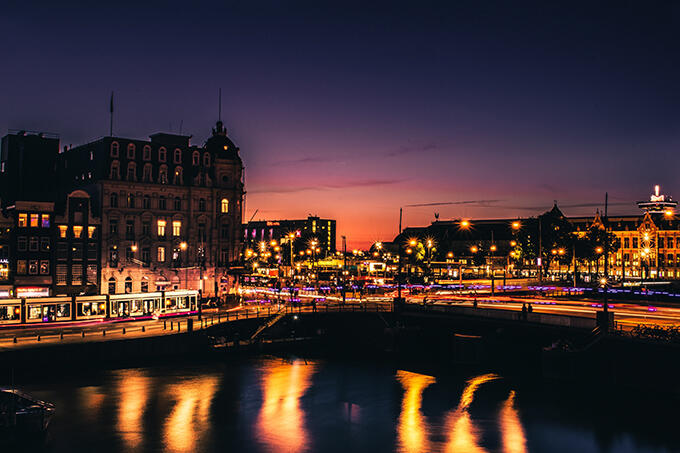 Amsterdam clubs: Chill out at Canvas op de 7e
Housed on the roof of the entertaining Volkshotel, this restaurant-cum-club gives visitors the chance to enjoy a deliciously affordable cocktail while looking over Amsterdam. The venue starts out as a chill place to eat, grab a drink and converse with friends before becoming a unique night time dance floor.
With a collection of different genres for different nights of the week, Canvas op de 7e is one venue that will have something for you whenever you're in town. Its roof top terrace is a great place to enjoy drinks in the summer, particularly as the sun sets and you can get those great Instagram pictures.
Amsterdam clubs: Have a cultured night out at OT301
If you're looking for something a bit different to just drinking and dancing, then OT301 is the place to go. Originally a squat, the former film academy building was opened to the public in 2007 when it became an official hotspot for all things creative. 
If you're looking for something more mentally enriching, OT301 has an eclectic range of nights on with concerts, art exhibits, film screenings and dance performance being just a handful of events that take place. They even have a free weekly ping pong night where you can go alone or with some friends and enjoy playing, drinking and listening to the weekly DJ.
OT301 also houses a great vegan kitchen as well as a small bookshop, giving the place a real sense of variety for all your creative needs.
Amsterdam clubs: Get Industrial at Warehouse Elementenstraat
Sometimes we just need to let loose and dance the night away to some heavy hitting house music or EDM. Well Warehouse Elementenstraat is the perfect place to go to get your fill of big beats and cool surroundings. 
Built across four different halls, the club caters to people searching for all things techno, house and other electronic music genres. Be able to hold up to 2,500 people, this night out is held within an industrial venue with an awesome array of lighting set ups and late night parties. Some even go on to finish at 8am in the morning so be sure to have a nap before you visit.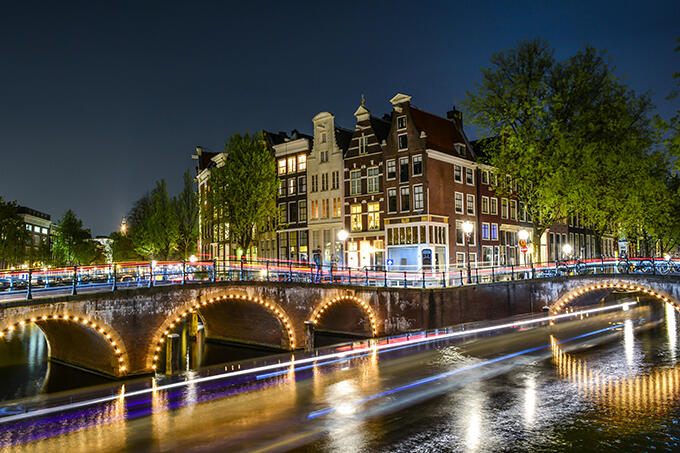 Amsterdam clubs: Get in exclusive Jimmy Woo
One of the most exclusive clubs in Amsterdam, Jimmy Wood has an eclectic style with inspiration ranging across Asia. Notable tables from Indonesia sit alongside Japanese screen doors. 
Usually host to some big name DJs, the club is also a hotspot for celebrity spotting, but that's if you can get in. The strict door policy is an enigma so come prepared to be turned away.
However, if you do make it in the cellar bar boasts a whopping 11,700 light bulbs on the low hanging ceiling making it one of the coolest dance floors in the city.
Amsterdam clubs: Experience a traditional experience at De Dokter
Known as a Bruin Café De Dokter is labelled as the smallest pub in Amsterdam. Sitting at just 18 square metres or 193 square foot, the bar is well loved for its cosy atmosphere. 
A traditional watering hole for local doctors and students, De Dokter has been run by the same family since 1798 with six generations acting as the quaint café's landlord or lady. The dark veneer and wooden furniture go hand in hand with the old school lighting and spiral staircase to make this feel more like a vintage shop than a drinking establishment. Perfect for those who want an old-fashioned night out.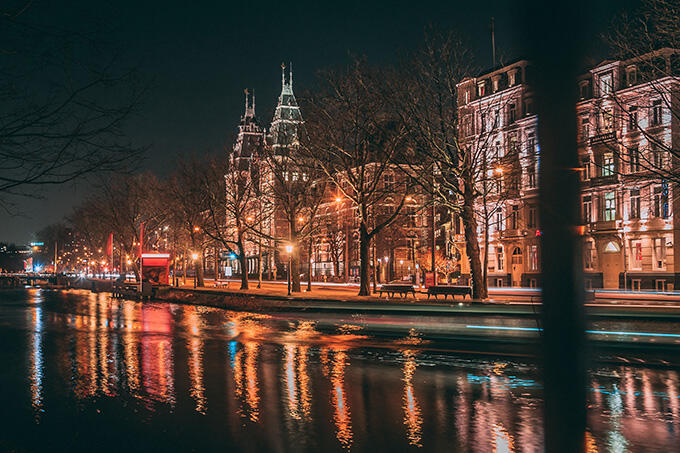 Interesting facts about Amsterdam nightlife
Amsterdam is a city that loves to party on to the early hours with clubs staying open until 3am on weekday nights and 4am on weekends. Even bars and cafes enjoy long opening times with many staying open until 1am weeknights and 3am on the weekends.
"Bruin Cafes" are the more traditional café-turned-pub with their oaken wall panels and old school vibes, seek out Jordaan for a whole host of these.
Beer and wine used be enjoyed by patrons as young as 16 but a recent change in the law has seen the drinking age raised to 18 in line with many other European countries.
Top tips for travellers
Not all bars in Amsterdam are created equal with some excluding visitors under the age of 21, so be sure to check your desired venue's age policy.
Unless you are visiting the likes of Jimmy Woo, most bars and clubs have a casual dress code within reason. If you turn up in dirty chinos and a torn t shirt you will be shown the exit.
Most clubs and bars require you to pay an entrance fee so make sure you have the correct cash with you prior to entering.
Don't be tempted to head to the Red Light District for a clubbing experience. Swamped with tourists and the usual scenes, the area is actually a fairly quiet part of town.