Visiting Rijksmuseum
The Rijksmuseum in Amsterdam is one of the city's most iconic sights and is filled with history, culture and art.
While an art museum may not be first on your Amsterdam travel plans - a visit to the famous Rijksmuseum should be included on your itinerary. This Dutch national museum is dedicated to the arts and history of Amsterdam. Displaying over 8000 artefacts, paintings and sculptures from their total collection of over 1 million objects from 1200 - 2000 including masterpieces by Rembrandt, Frans Hals and Vermeer, find out what you can expect with a visit to the Rijksmuseum with our comprehensive travel guide below.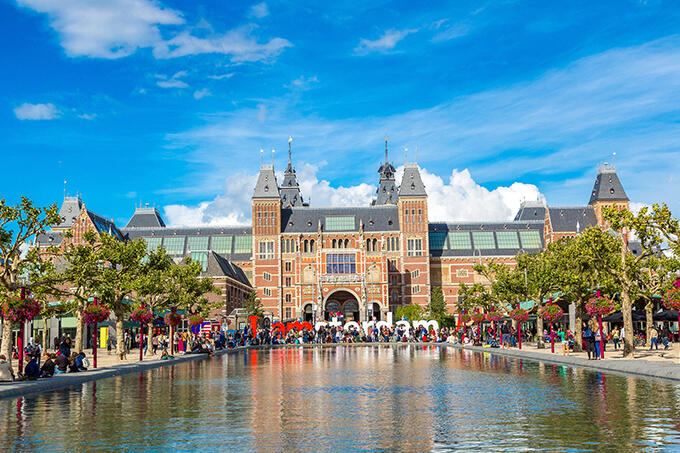 Rijksmuseum Amsterdam: What is it?
Originally founded in The Hague in 1800, the Rijksmuseum is one of the Netherland's national museum. Curating  the country's largest collection of art, the Rijksmuseum's current housing is situated just outside the city's canal ring in a building that was constructed in 1885.
The eclectic collection on offer isn't just revered Dutch painters like Rembrandt and Bruegel but also showcasing over 800 years of history. Everything from archaeological artefacts to more contemporary items of cultural significance, the Rijksmuseum is the best place to go if you want to learn more about the Netherlands.
If you're a fan of architecture too, the building itself is a masterpiece built by Pierre Cuypers in an amazing neo-Renaissance style. Adding to the overall grandeur is the noticeable neo-Gothic details.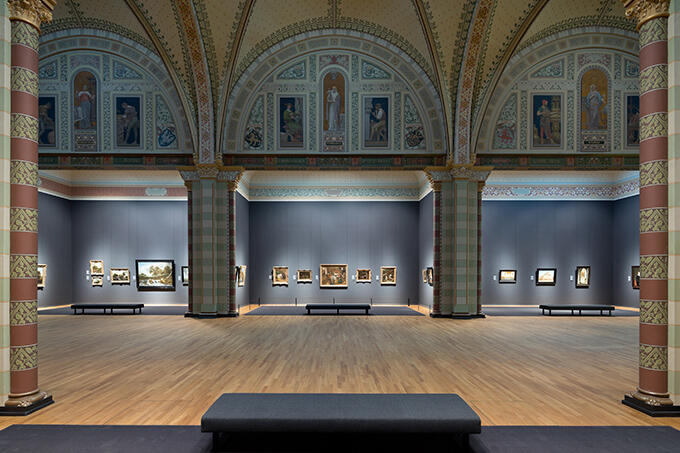 What to see at the Rijksmuseum?
With new exhibitions also scheduled for the institution, the Rijksmuseum will always have something interesting on. However, its permanent on-display collection of 8000 items means that even if you miss out on an exhibition you will see something special.
The Rijksmuseum's splendour goes beyond its decorative walls into the building's marvellous gardens which have been landscaped as recently as 2013. Filled with sculptures of its own, the garden also plays host to its exhibitions, although these are usually temporary and are only held from spring to autumn.
When it comes to seeing the entirety of the Rijksmuseum, you can spend all day there from the minute the doors open at 9am to when they close at 5pm. However, a good amount of time to give yourself to see this amazing collection of paintings and artefacts would be three to four hours. If you know what you want to see, you can easily give yourself two hours and if you want to see every last thing, five may be closer to a correct estimate.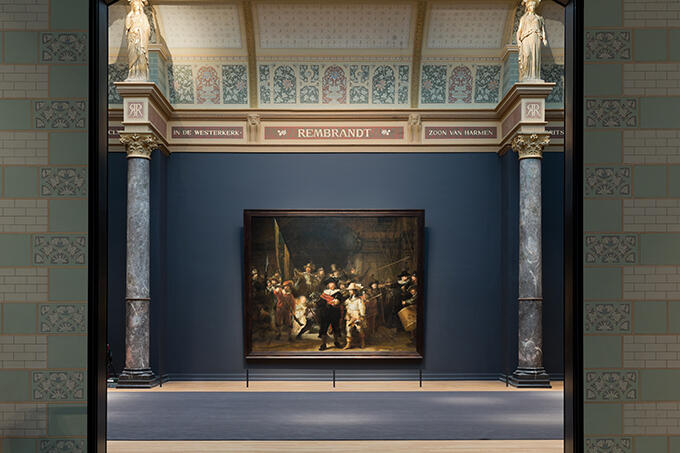 Iconic works at the Rijksmuseum
The museum is home to some special masterpieces including Rembrandt's most famous painting, The Night Watch, which was painted in 1642 at the peak of the Netherland's Golden Age.
Famed for its mammoth size (it's nearly 12ft/3.6m tall) and spectacular use of light, the painting's title is actually a common mistake with viewers wrongly assuming the scene is at night.
It also houses masterpieces such as Johannes Vermeer's The Milkmaid which shows a housemaid entirely absorbed in her work. The painting's depiction of light in a host of tiny dots, gives the 45cm tall painting a smooth gradient on skin tones and her clothing.
Works from Frans Hals, Pieter Brugel, and Vincent Van Gogh also make their way into the esteemed collection too.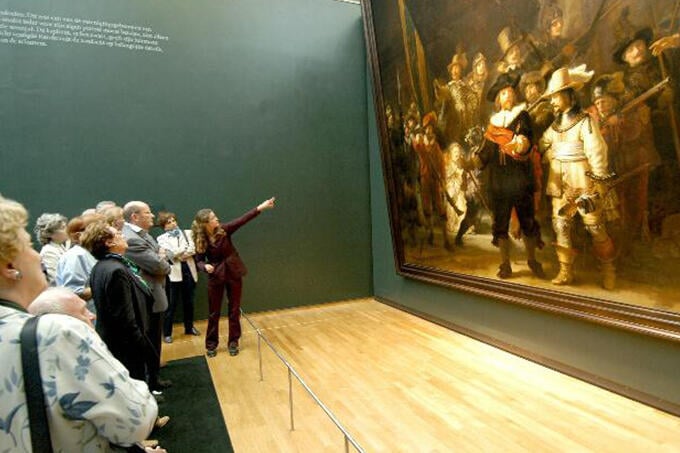 Did you know?
Only a fraction of the 1.2 million items in the museum's collection is on display, showcasing history from the year 1200 to 2000.
The Museum's main building recently finished a ten-year renovation in 2013 that cost €375 million.
The Rijkmuseum was created after Dutch officials marvelled at The Louvre in France.
How to get to the Rijksmuseum
Situated on Museumplein, the Rijksmuseum is at the head of a cultural focal point for the city sitting alongside the Van Gogh Museum and Amsterdam's concert hall, the Concertgebouw.
To get there from the Central station you will need to jump on Tram 2 or Tram 12 and alight at the Rijkmuseum tram stop. If you're heading from the south Zuid station you'll need to look for Tram 5.
If you're coming from Sloterdijk statin you'll want to get on board Tram 19 and jump off at Spielgelgracht tram stop. Coming from Amstel station, you'll need to board Tram 12 or if you are coming via the metro go to Weesperplein then board either trams 1, 7 or 19 and alight at Spielgelgraht tram stop.
Rijksmuseum opening hours
The museum is one of the few sights in Amsterdam that is open 365 day at year, including Christmas Day, Boxing Day and News Years Eve.
Everyday the doors open at 9am and close at 5pm with the Café and Garden staying open until 6pm. The Café and Garden also do not require tickets to enter unlike the main Rijksmuseum building.
UP NEXT:
AMSTERDAM PASS ATTRACTIONS