Guide to Amsterdam's Red Light District
One of the most talked about parts of the city, the Red Light District in Amsterdam is a must see.
Iconic or infamous - whatever the stereotypes, there's a lot more to this historic neighbourhood than its reputation suggests. Learn more with our guide to the Red Light District, Amsterdam and discover the history of the De Wallen district.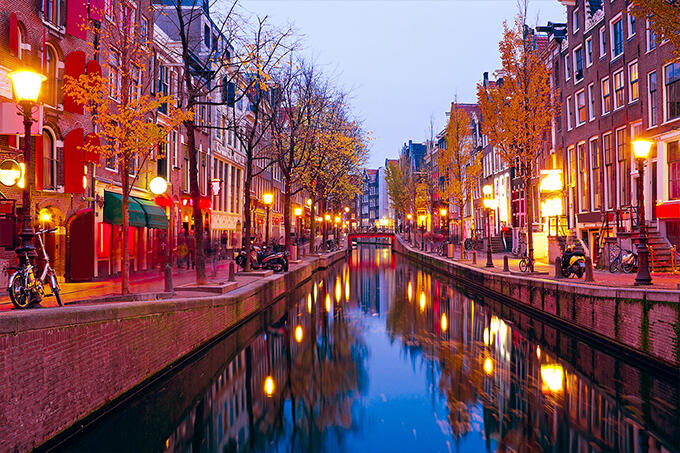 What is the Red Light district?
Situated in De Wallen, Amsterdam's medieval city centre, the Red Light District is a lively part of town that unlike most European city centres offers a whole list of usually taboo services. Everything from prostitution to legalized drugs, as well as sex shows and shops.
Having a close proximity to the city's harbour, the area has long been a destination for those looking for services of a sexual nature whether it be sailors, soldiers or gentlemen since the middle ages. However, gone are the days when it was something to be ashamed of and now sex work is recognised as a legitimate form of employment.
You may question where the name has its origins. The name "Red Light District" comes from the use of neon red lights featured in the doorways of parlours. Street prostitution is illegal in the Netherlands so for many, the use of a red neon light in a doorway is a smart trick to attract customers.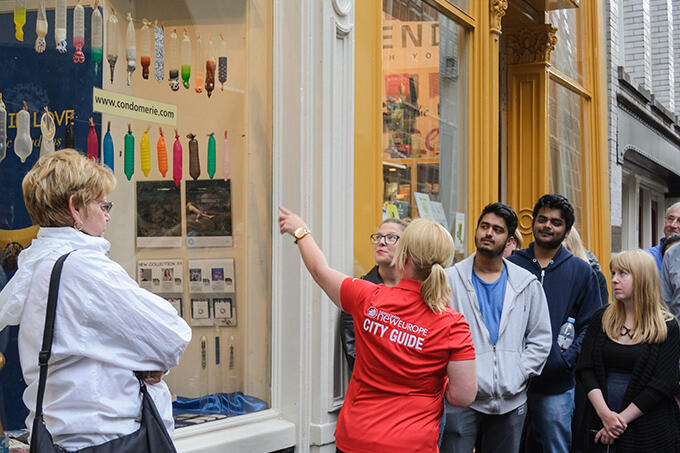 What's on offer in the Red Light District?
The Amsterdam Pass will give you an in-depth tour into the city's most controversial neighbourhood with a plethora of intriguing tales and noteworthy facts of the area. Starting at 7pm, these tours start as the sun sets and the area becomes alive.
Apart from the obvious offerings that spring to mind, the Red Light District also has a host of interesting shops, museums and shows. The majority of these may revolve around vice but there are also opportunities to enjoy fashion and culture.
With a number of former prostitute's windows being transformed in the area, visitors can see a flurry of exhibition spaces and studios housing fashionable clothing stores, with cool shoe and streetwear brands lining the streets.
Did you know?
Regulation of sex workers health was not a recent government policy. Ever since 1810, when Napoleon controlled Amsterdam, prostitution was subject to health regulation with sex workers needing to pertain a permit to acknowledge they were healthy. Unfortunately this wasn't to protect the workers from venereal diseases but rather soldiers, who were more likely to be the source.
There is estimated to be around 25,000 sex workers working in the Netherlands with the majority residing in the Red Light District.
Despite De Wallen being most famous for its Red Light District, it is also home to the city's Chinatown if you're looking for some tasty food from the Far East.
Dotted throughout the neighbourhood are small sculptures and works of art relating to the area's sordid found fame.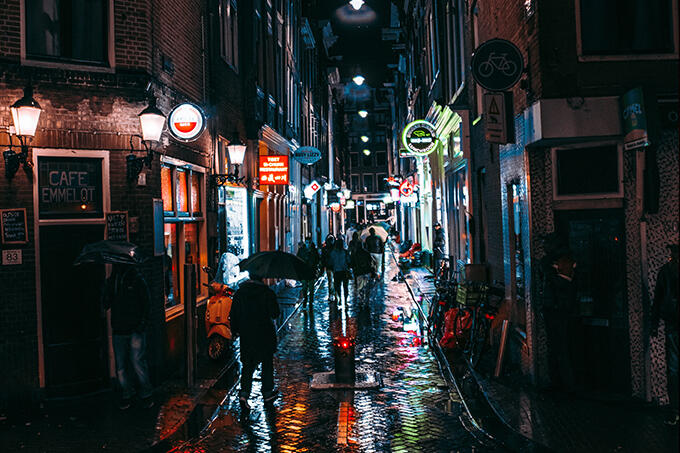 How to act in the Red Light District
For years the Red Light District was a rough place to visit but after the legalisation of prostitution in 2000, the efforts of authorities have ensured that it has become a safe and vibrant place for tourists to visit.
However, there are some unwritten rules to follow. The women (and some men) working here are doing exactly that, work, so it is best not to film them directly or take pictures. In fact, earlier this year it was made illegal to stand and stare at sex workers when in a tour group.
Drinking and taking drugs on the streets in the area are also frowned upon and should be restricted to the numerous bars and coffee shops in the area. You are also reminded to not yell or cause disturbances while there.
Due to the areas affinity with all things vice, you are advised to refuse all offers from traders regarding drugs and bicycles. The police impose hefty fines on both the seller and buyer when caught.
How to get to the Red Light District Amsterdam?
As a popular destination you can take any one of these trams to arrive there: 2, 4, 11, 12, 13, 14, 17, 24 Dam.
Being at the very centre of the old town, it's hard to get lost but be sure to carry a map wherever you go. De Wallen, also known as Rosse Burt is popular part of the city for many who will happily point you in the right direction.