You might be forgiven for believing – given the jungle of steel, glass and concrete that defines modern Bangkok – that there's a dearth of historical attractions to explore. But that's where you'd be wrong, my friend. Peep between the skyscrapers or take a cruise along the wide Chao Phraya River and you'll soon discover an abundance of historic monuments, picture perfect temples and opulent palaces. Here are 10 of our favourite historical places in Bangkok, including: 
The National Museum

The Grand Palace and Wat Phra Kaew

Rattanakosin Island

Wat Arun

Wat Pho

Jim Thompson House

Chinatown and Wat Traimit

Erawan Shrine

Nai Lert Park Heritage Home

Ayutthaya Historical Park
The National Museum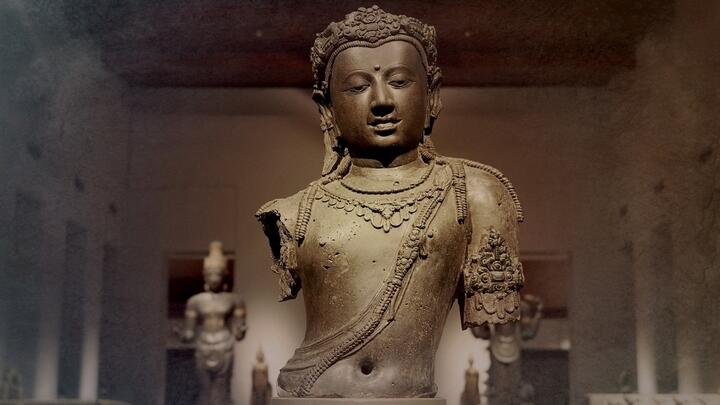 There's no better place to get a crash course in Thai history than at the Bangkok National Museum. Housed inside a former royal palace, the museum contains a quite extraordinary collection of Thai and Southeast Asian art and artifacts, some dating back as far as the Neolithic period. We're talking everything from 8th-century bronzes to ancient Ayutthayan religious art, antique weaponry, traditional period clothing and armor, and royal thrones, chariots and funeral pyres. Not a place to do things by halves, the museum also contains the largest collection of Thai art in the country.
The Grand Palace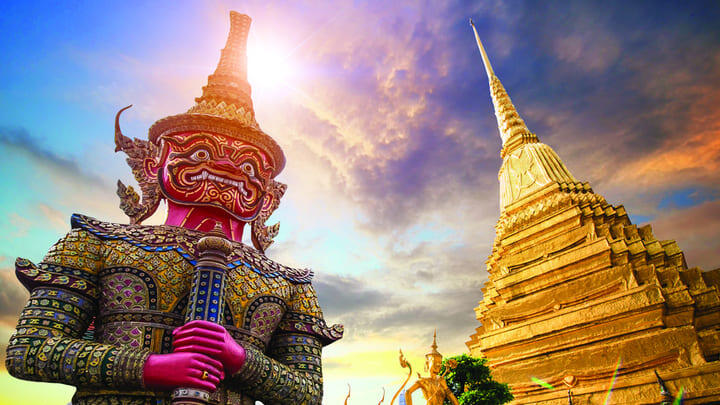 Incurable Instagrammers will find much to enjoy at the Grand Palace. Completed at the end of the 18th Century, not only does this complex comprise some of the oldest buildings in Bangkok, it's also home to many of the prettiest. Eye-candy pavilions and fairytale spires that seem woven from pure gold are par for the course at this royal palace, which is also where you'll find Wat Phra Kaew, aka the Temple of the Emerald Buddha. Inside this opulent chapel is where you'll find one of the country's most sacred historical artifacts, a 15th-century Buddha that only the Thai king is permitted to touch. 
Rattanakosin Island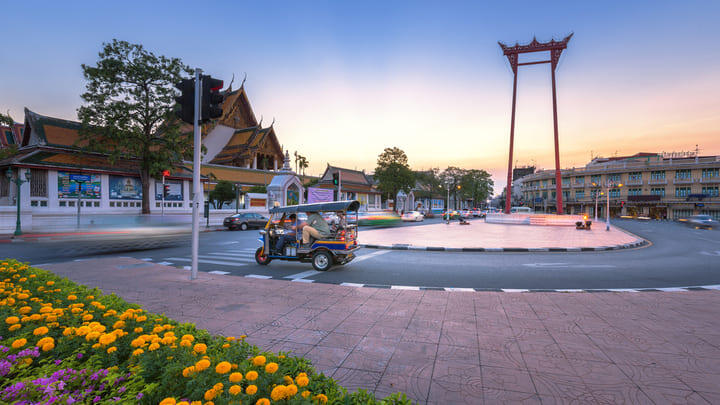 Many of Bangkok's most historical places (the Grand Palace, National Museum and Wat Pho to name just a few) can be found on and around this man made island on the east bank of the Chao Phraya river. Its historic significance has spared Rattanakosin Island the skyscraper treatment, making it one of the few places in town to get a real flavor of old Bangkok. Wander the pretty canalside lanes and pause for selfies at the Giant Swing in front of Wat Suthat, before exploring the quaint neighborhood surrounding it and sampling authentic fried wonton, Hainanese chicken rice and pad Thai in the old town restaurants.
Wat Arun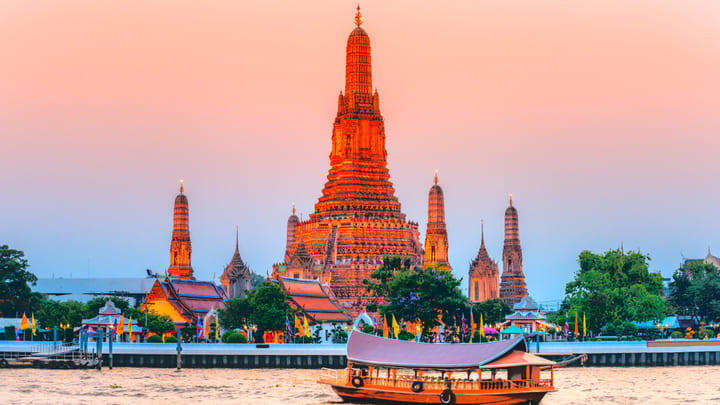 Wat Arun is one of the most-photographed attractions in Bangkok, and with good reason, it's Khmer-style central prang pointing skywards like some giant alien finger beckoning its interplanetary brethren earthwards. Made the palace temple by King Taksin in 1767 (and therefore once the home of the aforementioned Emerald Buddha), this astonishing temple's rich pedigree, plus eye-popping features like a giant pair of demonic chapel guards and a sextet of Chinese-style pavilions, make it one of Bangkok's historical must-sees. The fairytale sunset views from Wat Pho (just across the river) are just about as good as life gets.
Wat Pho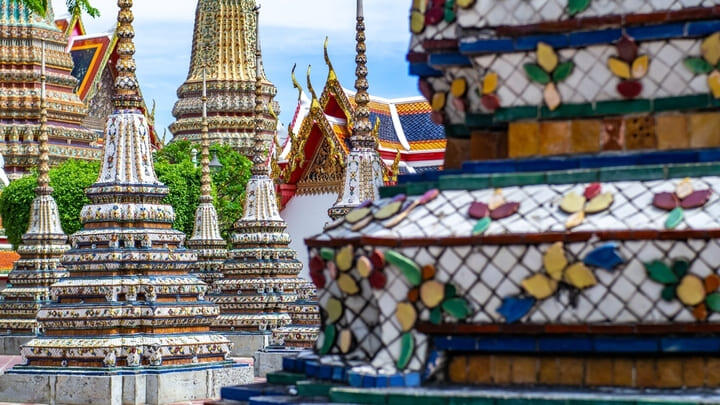 At the risk of ending up all Wat-ed out on your Bangkok holiday, we have one more for your consideration. Wat Pho – also known as the Temple of the Reclining Buddha – is the biggest and one of the oldest temples in town, covering some 20 acres and dating back in parts to the 16th Century. If that's not enough to convince you, how about a collection of over 1,000 Buddha images that includes the largest reclining Buddha in town? That's right: the soles of the resident Buddha's feet alone are three meters tall, so it's little surprise that this much-loved gilded figure barely fits inside its pavilion.
Jim Thompson House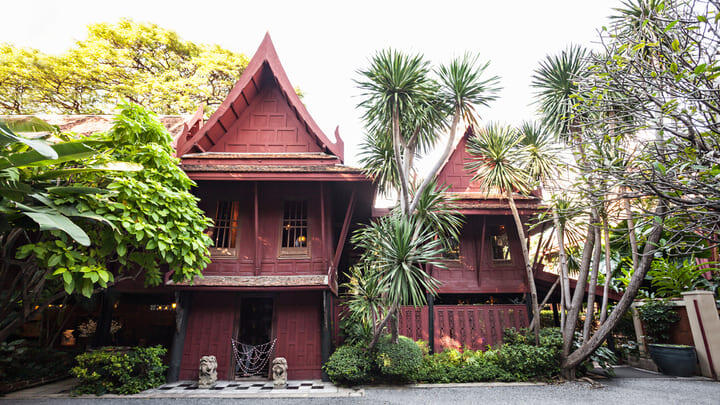 Check out the spoils of American businessman Jim Thompson's Thai silk empire in the museum that bears his name. Thompson's success with his Thai Silk Company gave him the financial freedom he needed to pursue his true passion for Southeast Asian art and artifacts. He assembled his pieces inside what is now the Jim Thompson House museum, a collection of 19th-century Thai houses he had relocated to Bangkok in the 1960s for the express purpose of displaying his collection, which includes Thai paintings, Chinese pottery, Buddha statues and much more.
Chinatown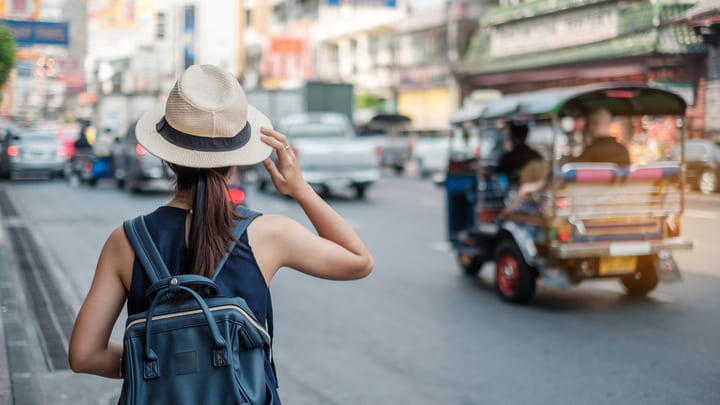 Chinatown isn't just about the food, you know. Although it would be remiss, if you're going there anyway, not to stuff your face with fluffy crab omelet, steamed shrimp buns, roast duck and, well, just about everything really. There's plenty to check out between snacks too, such as the colorful China Town Gate, the croc-infested gardens of the Wat Chakrawat temple and Wat Traimit, Chinatown's premier attraction. Well, apart from the food, maybe. Did we mention the food? Anyway, Wat Traimit is where you'll find the planet's largest seated golden Buddha, a 5.5-ton whopper worth somewhere north of $300m that's (almost) spectacular enough to distract you from your chicken fried rice.
Erawan Shrine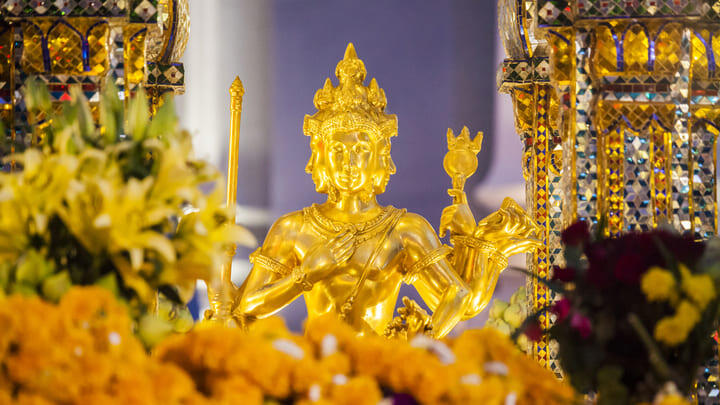 Do you feel lucky, punk? If not, you have two great options in Bangkok: a fortune cookie from Chinatown, or a visit to the iconic Erawan Shrine, said to grant wishes and bestow good luck upon pilgrims. Pay your respects to Phra Phrom, the four-faced Thai version of Brahma, Hindu god of creation, and leave an offering – garland, candle, coin – by way of thanks. Then go and buy yourself a lottery ticket because, well, you just never know.
Nai Lert Park Heritage Home
Fans of splendid 20th-century interiors should make a beeline for this heritage property, built in the early 1900s for businessman Nai Lert, the man credited for introducing ice to the Thais. Pretty cool, huh? The property sits in pretty manicured woodland right in the city center, surrounded by skyscrapers, and feels like stepping into a bygone era. Inside, beautiful teakwood interiors and open-plan spaces house period furnishings and family heirlooms, such as an excellent collection of fantastical walking sticks. Don't miss the vintage bus by the entrance – one of the first buses in Bangkok.
Ayutthaya Historical Park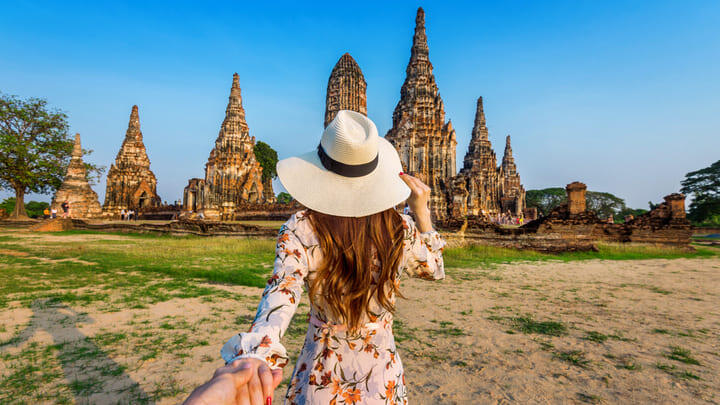 Ok ok, so this stretched the theme of historical places in Bangkok a little thinly, given it's a two-hour coach trip out of town. But no understanding of Thailand's rich history would be complete without a visit to its former capital: the ancient city of Ayutthaya. Founded in 1350 and razed by the Burmese army in 1767, the city contains the archeological remains of some 400 temples, many of which can be visited. A day tour that takes in several of these is a great way to get a flavor of this ancient center of commerce and industry, with its former royal palaces, towering Khmer-style prangs and surprisingly intact reclining Buddha statue.
Save on

Bangkok's historical attractions
Save on admission to Bangkok attractions with Go City. Check out @GoCity on Instagram for the latest top tips and attraction info.