Bangkok is an adventurer's paradise, chock-full of exciting activities designed to increase your heart rate, get the old adrenaline pumping and generally make the hair on the back of your neck stand up. But beware: some of this stuff is really not for the faint of heart. We're talking selfies on sky-high glass observation platforms, skydiving-leaps of faith over the Pattaya coast, trying your hand (and feet) at traditional Thai boxing, and gorging greedily on… live scorpions. Read on for our pick of the most adventurous activities in Bangkok, including:
World-class rollercoasters

Skydiving over the sea

Tuk-tuk foodie tours

Scuba diving at Pattaya

Cycling Bang Krachao

King Power Mahanakhon Skywalk
Adventurous Activities in Bangkok for Thrill-Seekers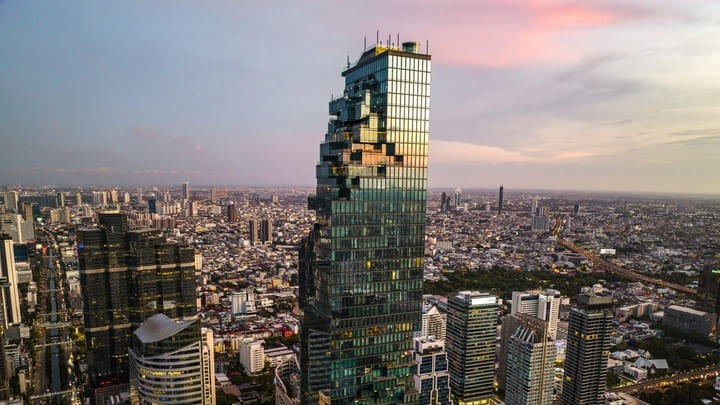 You don't have to look far in Bangkok to find something thrilling to do. Take the King Power Mahanakhon skyscraper, for example. Once the tallest building in Thailand (and still top three, fact fans), the blocky facade of this Bangkok landmark looks a bit like an unfinished game of Tetris. Whiz to the top on one of the world's fastest elevators where, once you've got your breath back, you can have it taken away all over again with a stroll across the transparent glass Skywalk, a heart-stopping 1,000 feet over the city streets.
If you prefer to get your thrills from a relatively comfortable seated position, hit up Dream World for your rollercoaster fix. Thanks to its animal farm, cute miniature towns and sedate toddler rides, this popular theme park is great for kids too. But rides like the Tornado, Hurricane, Sky Coaster and Black Hole Coaster are strictly for thrill-seeking grown-ups.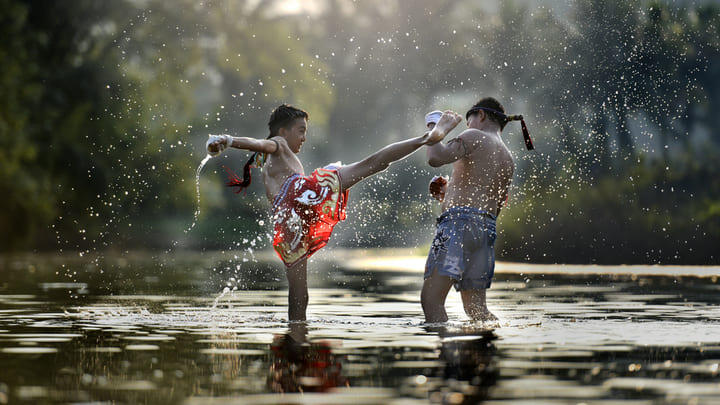 Take it up a notch with a traditional Muay Thai training session at one of Bangkok's many professional training camps. After all, where better to get seriously beaten up than here in the home of Thailand's national sport? Perfect those tricky jump kicks, superman punches and reverse roundhouses and you'll find yourself being headhunted to star in the next Ong-Bak movie before you know it. Or, you know, you can always just watch the experts in action at live boxing events around the city instead.
Not thrilling enough for ya? How about jumping out of a plane 13,000 feet over the Pattaya coast? It's around an hour from Bangkok to this skydiving hotspot, where novices can take tandem jumps with a trained expert (though we can't promise their reassuring presence will make this experience any less terrifying). Thai Sky Adventures and Skydive Pattaya are two of the premier operators in the area.
Get Back to Nature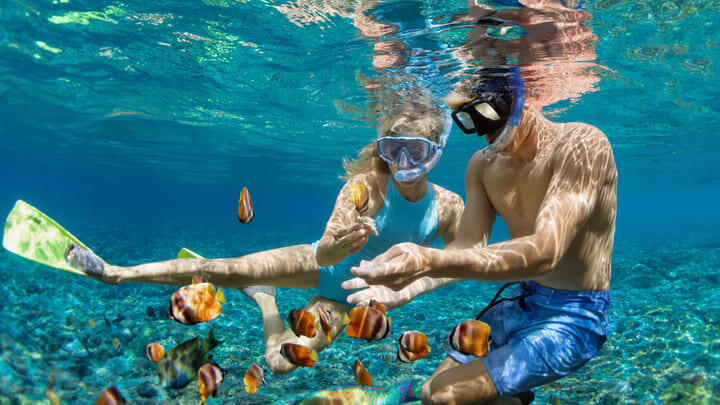 Skydiving isn't the only activity for which Pattaya is renowned. Here in the Gulf of Thailand, there's a thrilling underwater world to discover and explore, with gin-clear tropical waters that fairly teem with colorful marine life. You'll spot glorious creatures galore off this sandy stretch of coast, where coral reefs and decaying shipwrecks provide sanctuary for shy hawksbill turtles, vibrant blue spot stingrays, otherworldly bat fish and many more beautiful species. Diving tours operate all along the coastline here, with boat outings to the best scuba and snorkeling spots that are suitable for experts and beginners alike.
The jungle oasis of Thai Wake Park just outside Bangkok is manna for fans of high-octane watersports. There's some glorious natural scenery to soak up here – assuming you're confident enough to take your eyes off what's happening on the lake, that is. Glide across the water, perform tricks, and thrill to the adrenaline rush as you conquer the many obstacles and jumps on this wakeboarding course.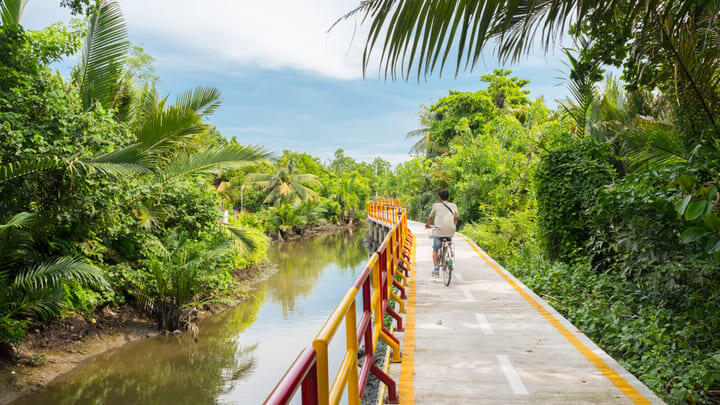 Bangkok itself isn't short of a fab green space or two, and intrepid adventurers can fill their boots at Bang Krachao, an epic green lung in the heart of the concrete jungle, that nevertheless feels a world away from any traditional idea of Bangkok. Hop on a bicycle to coast along the park's elevated walkways, past scenic canals, through lush mangrove forests and beneath vine-draped forests and banana plants. There are even a few hidden temples here and you're all but guaranteed to encounter some of the park's native wildlife – a quiet cacophony of humming insects and chattering birds of paradise. Get there by wooden longtail boat from Wat Khlong Toey Nok temple.
Bangkok Adventures in Food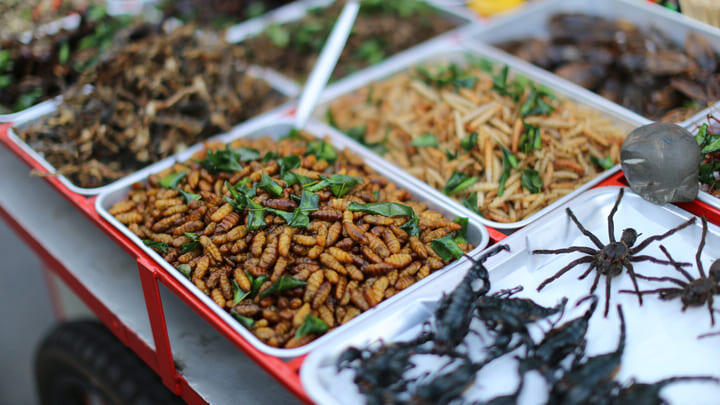 Southeast Asia boasts hands-down some of the finest cuisines on the planet as well as (to Western palates at least) some of the weirdest. If you're feeling brave and can set aside your natural squeamishness for a few days, there are epicurean street food adventures galore waiting for you here. 
Ease yourself in relatively gently with the ever-divisive durian fruit, the flavor of which was described (not inaccurately) by the novelist Anthony Burgess as 'like eating sweet raspberry blancmange in the lavatory'. Make up your own mind: you'll find this ubiquitous spiky-shelled 'treat' at just about any food market or stall in the city – just follow your nose. Then there's the burgeoning fashion for fried insects, a sustainable protein-packed snack that's starting to gather mainstream acceptance worldwide. We're talking crunchy grasshoppers, crickets and beetles served with a splash of soy and a grind of pepper, deep-fried silkworms and even bitter-tasting scorpions, which can be served alive should you so desire (albeit with their venomous stings removed).
Less adventurous gourmands may prefer to give the creepy-crawlies a wide berth and take the more traditional option of a tuk tuk foodie tour to some of the city's best street-food stalls, including a few so good they've even earned praise in the hallowed pages of The Michelin Guide. Speed through the bright lights of Bangkok's Chinatown neighborhood and you won't fail to be enticed by the heady scents of sizzling pork and great steaming woks of fried rice. Sample classic fishball egg noodles, crab-fried rice and more on this whistlestop foodie adventure.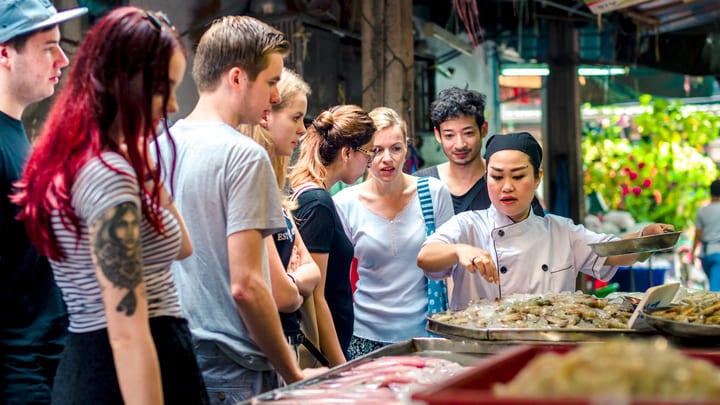 Still hungry for more? Budding Ramsays and Bourdains can add some pep to their kitchen repertoires with a cookery class that should see you banish boring dinners forever. Instead, your dinner parties – featuring zingy Asian faves like pad Thai, sticky rice with mango, classic Thai green curry and, um, red-ant-egg salad – will be the talk of the neighborhood for weeks afterwards, and not just because of the ant eggs!
Save on adventurous

activities in Bangkok
Save on admission to Bangkok attractions with Go City. Check out @GoCity on Instagram for the latest top tips and attraction info.