Pack a pocket poncho and get ready to make a splash in 'monsoon May', one of the wettest months of the year in Thailand. With an average of 14 days' rain in May, Bangkok's hotel prices suddenly become a little more affordable. So, if it takes more than a spot of rain to dampen your spirits, this could be a great time to visit the city: fewer crowds, shorter queues, more spare cash to splash on souvenirs and street food, the occasional refreshing shower in the afternoons… what's not to like?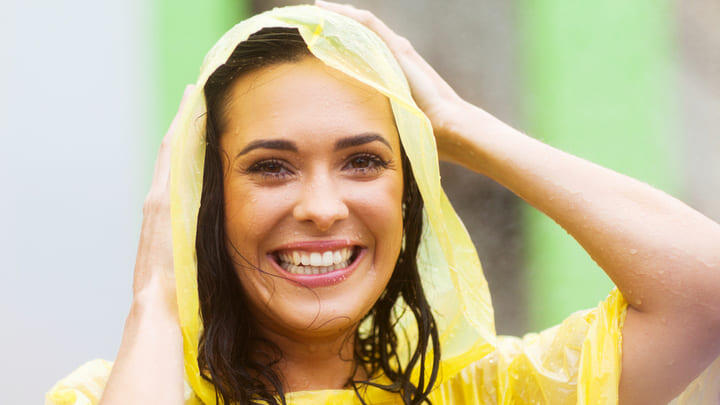 But let's not get too carried away worrying about wet weather: Bangkok in May is also very hot and very humid, so there's also plenty to recommend it to warm weather fiends. The city has oodles of al fresco attractions to enjoy at this time of year and, should downpours or your own perspiring forehead make things just too damned damp to bear, there's also plenty more you can do indoors, inside the sweet air-conditioned sanctuaries of Bangkok's mega-malls, world-class museums and tranquil spas. Check out our favorite ways to spend time in Bangkok in May below, including:
Light exercise in Lumpini Park

Temple tours

King Power Mahanakhon Skywalk

Siam Amazing Park

Jim Thompson House Museum

Bang Kachao

Thai cookery classes

Traditional Thai massage
Limber up in Lumpini Park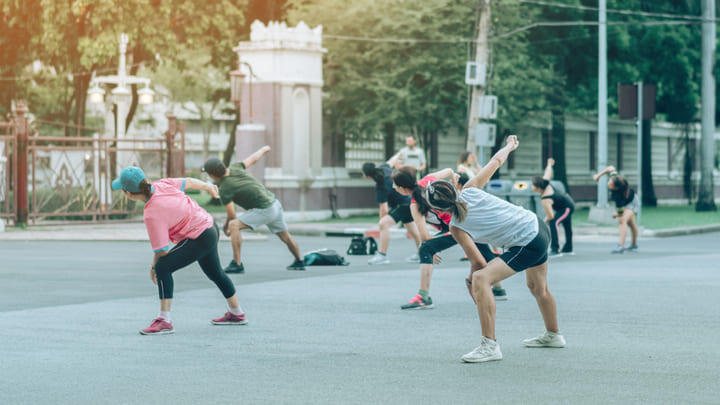 Start your day the right way by joining Bangkok locals in one of their favorite morning rituals. Around sunrise, hundreds of keep-fit fanatics congregate in Lumpini Park for daily aerobics and Tai Chi classes, sensibly doing so before the sun gets so high in the sky that the mere thought of such exertions would turn most mortals into an exhausted puddle. This is a fantastic and very calming way to begin your day, with everyone from toddlers to nonagenarians joining in. At 8AM everything stops for the national anthem, broadcast through loudspeakers to herald the start of the day proper. Top tip: stick around afterwards, when the park more or less empties due to the rising temperatures – there's a lot to be said for sitting quietly alone beneath a shady palm, slurping a coconut ice cream, nodding hello to the resident monitor lizards and, well, just watching the world go by.
Temple Tours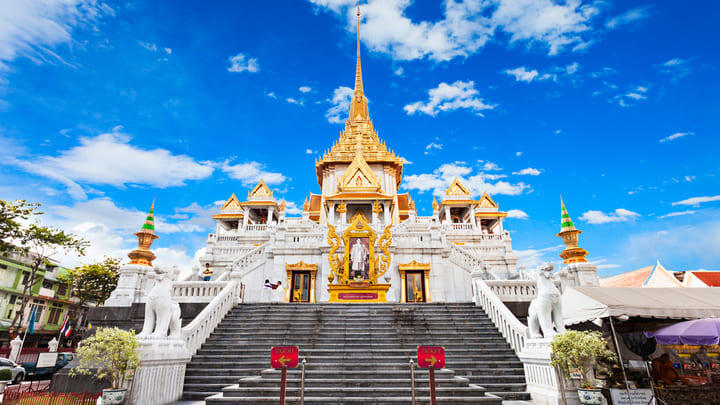 Seek solace from the sun and rain in one of over 30,000 temples across Bangkok. Naturally, of course, you should try to visit at least one of 'the big three'. That'd be Wat Phra Kaew, home of Thailand's most sacred Buddha (located in the grounds of the Grand Palace); Wat Arun with its extraordinary Khmer-style central spire; and Wat Pho, which boasts over 1,000 images of the Buddha including a reclining 46-meter long giant coated in gold leaf. Among the dozens of temples and shrines to be found in Bangkok's Chinatown, Wat Traimit is the most popular. It's here that – in a remarkable feat of religious one-upmanship – you'll find the planet's largest seated solid gold Buddha. Admire this 5.5-ton 14th-century whopper (worth somewhere around $300m, fact fans) and don't fail to take advantage of the pleasant breeze that blows through the dazzlingly white temple's open doors, with views down the hill to colorful Chinatown Gate.
Siam Amazing Park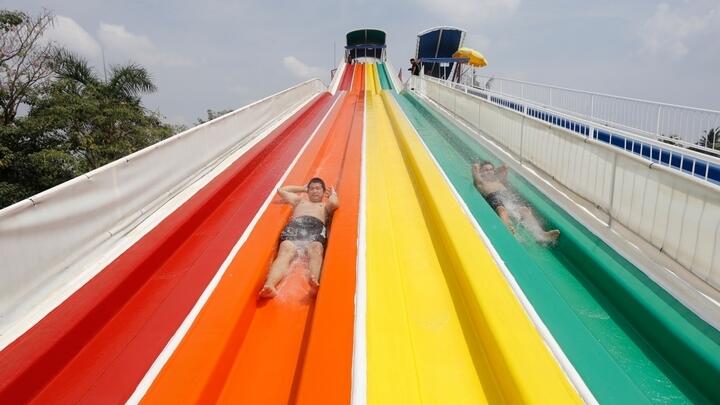 Brace yourself for an altogether different kind of religious awakening at Siam Amazing Park, where some of the thrill rides are so utterly terrifying that even the most hardened atheists may find themselves praying to a higher power. Unfortunately, no god can stop you screaming like a frightened kid as Vortex, Boomerang and the Giant Drop hurtle rapidly earthwards at lightning speed. For something marginally more sedate, hit up the adjoining Water World zone, where scaredy cats can stick to the gentle wave pools and lazy rivers while their daredevil pals risk life and limb on the dizzying spiral flumes and insanely fast seven story high rainbow slide. Yikes.
Jim Thompson House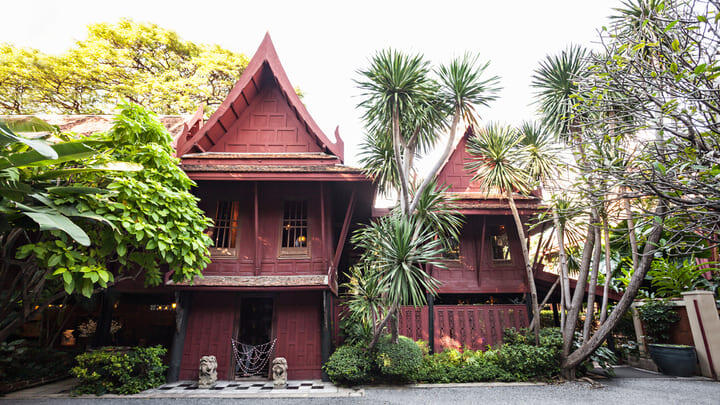 The cool, green grounds of the Jim Thompson House museum, lush and heavy with tropical vegetation, are the ideal antidote to May's searing midday sun. Come for the verdant gardens and stay for the extraordinary collection of Buddha statues, Chinese pottery, Thai art and more accumulated by silk magnate Jim Thompson in the 1960s and now displayed inside a series of traditional 19th-century Thai houses for everyone's enjoyment.
Bang Kachao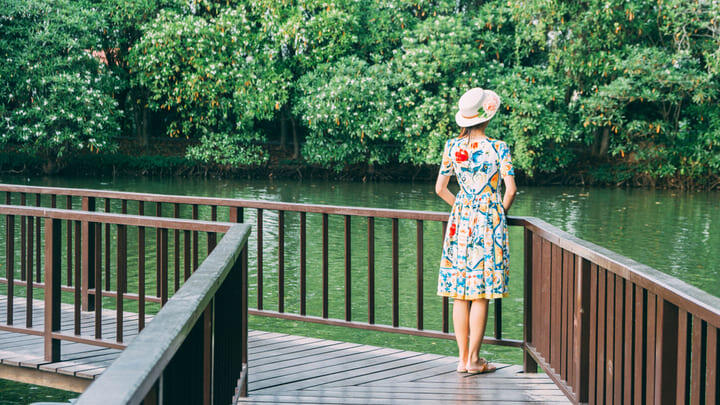 And if the cooling properties of all that plantlife have whet your appetite for more of the same, catch a longtail boat to the old-time enclave of Bang Kachao. This unspoiled tropical paradise is tucked away in a bend of the Chao Phraya river and feels very far from Bangkok's concrete jungle. Here in the city's great green lung, nature reigns supreme. Peaceful canals flanked by lofty tamarind trees and Indian oaks meander through dense mangrove forests and you're more likely to hear the chatter of native birds than the honking horn of a tuk-tuk stuck in traffic. There's a delightful tropical botanical garden to visit, and a floating market where fresh mangoes are a must. Suitably refreshed, rent a bike and while away an hour or two exploring this sleepy rural village via its network of elevated wooden walkways.
King Power Mahanakhon Skywalk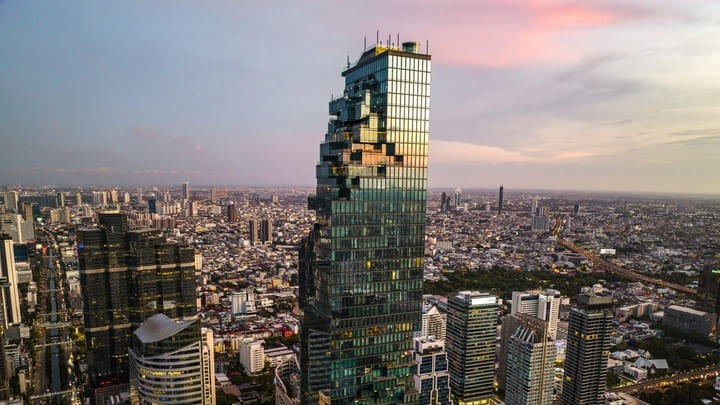 If you're seeking cool, air-conditioned interiors with even cooler views, look no further than the Skywalk on the uppermost floors of the mighty King Power Mahanakhon tower. Once the tallest building in Thailand (and still top three at time of writing), this Bangkok landmark's futuristic facade looks like a half-finished game of Tetris. But don't let that put you off! The elevator is one of the fastest in the world and will whisk you 1,000 feet up before you have a chance to change your mind. What awaits are heart-pumping, knee-quaking, palm-sweating views over the tops of Bangkok's skyscrapers and – assuming you're brave enough to steal a glance through the transparent deck of the open-air 78th floor – straight down onto the city streets below.
Boost your Kitchen Credentials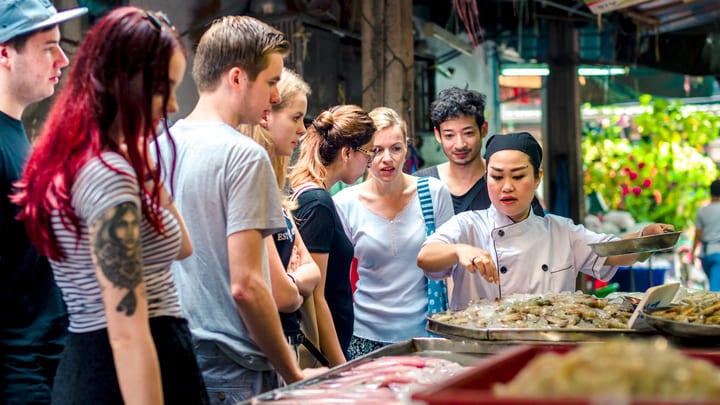 Obviously you'll have sampled some (loads) of Bangkok's world-famous street food on your vacation, right? Right? Right. Well here's your chance to take some of those umami flavors home with you, thanks to this expert Thai cookery lesson which will have you knocking up Michelin-standard green curry, pad Thai and mango sticky rice in no time at all. You need never settle for boring mid-week dinners or tragic takeaways again.
Relax with a Thai Massage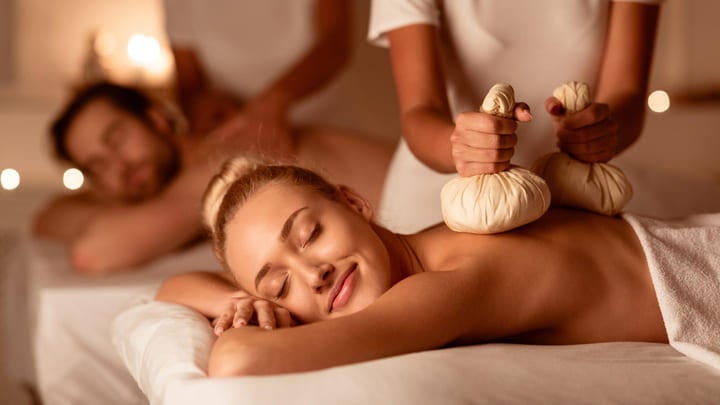 Can you really say you've been to Bangkok if you haven't experienced a traditional Thai massage in one of its famous parlors? No, dear reader, you cannot. The Thais practically invented massage so it's borderline essential that you make time for this classic Bangkok pastime. Hit up one of the many downtown practitioners or dodge the tourist traps and go upscale: every palatial 5-star hotel worth its salt will offer spa treatments, usually coupled with lavish facilities in which to relax and unwind after your pummeling. Splash out on the likes of the St Regis, Mandarin Oriental, Okura Prestige and Siam Kempinski for the win. 
Save on

things to do in Bangkok
Save on admission to Bangkok attractions with Go City. Check out @GoCity on Instagram for the latest top tips and attraction info.