November sees Bangkok wave a less-than-fond farewell to the persistent monsoon rains and high humidity of October, and welcome returning sun-seekers in their droves as Thailand's high season begins in earnest. So yeah, Bangkok's rising vacation-appeal at this time of year means you can expect to get a little less bang for your baht. Indeed, November's accommodation prices have been known to increase by as much as 50% compared to the previous couple of months. Quite the hike for the privilege of staying (mostly) dry, you might think, but it has nothing on Bangkok's 'Goldilocks' moment during January and February when prices (and queues at attractions) really start to skyrocket.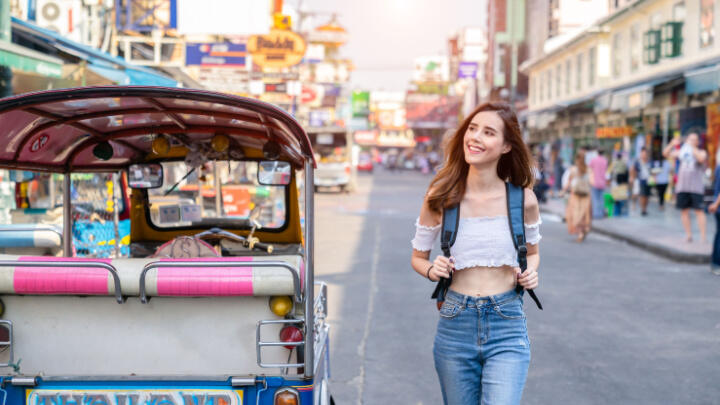 In other words, November is still a pretty savvy time to visit Bangkok thanks to drier and milder weather, highs that still tickle the low-80s and crowds you'd likely describe as 'bustling' rather than, y'know, 'uncomfortable', 'overwhelming' or 'frenzied'. So what are you waiting for? Don your light linens, floppy hats and designer sunglasses and dive in to our guide to the best things to do in Bangkok in November…
Enjoy Bangkok's Great Outdoors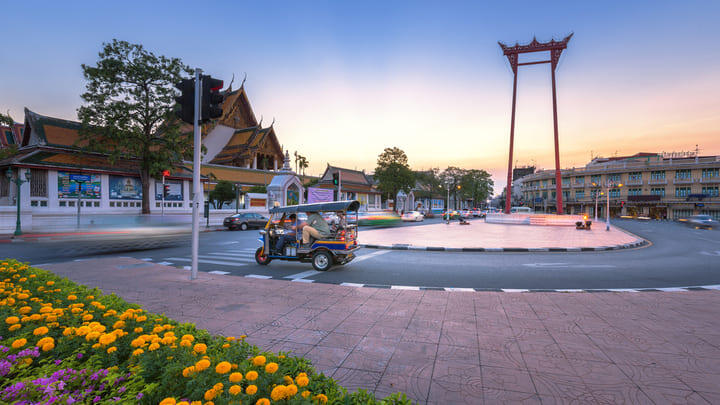 Bangkok is a great city for just grabbing a map and, well, having a wander. The absence of skyscrapers around Rattanakosin Island means you get a real flavor of old Bangkok on a walk round this historic district's atmospheric canalside lanes. This is also where you can visit the fairytale Grand Palace and the extraordinary Wat Pho temple, where the vast collection of 1,000+ Buddha images includes the daddy of them all: only the biggest reclining Buddha figure in Bangkok. Don't forget to nab a selfie by the Giant Swing at Wat Suthat (pictured), then refuel in one of the neighborhood's old-school restaurants, where you can feast on some of the most authentic fried wonton, pad Thai and Hainanese chicken rice in town.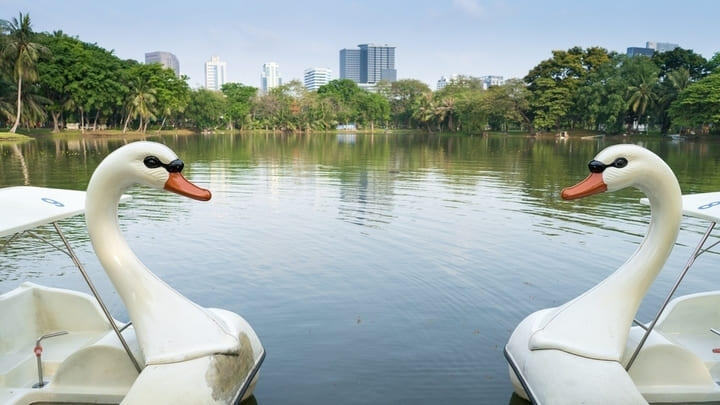 The city's huge array of expansive parks are manna for romantic promenaders and IG addicts alike. We're talking much-loved Lumpini, with its basking monitor lizards, swan-shaped pedalos, topiary elephants and tai chi OAPs; the swoonsome bridges, shady arbors and unmissable weekend market at Chatuchak; Benjakitti's elevated walkways that overlook mangrove swamps and ponds teeming with native wildlife; and the urban jungle that is Bang Kachao, an astonishing unspoiled reserve just south of the river, where the tiny temples, cute canals, soaring banana plants and tropical birdlife feel like a relics of a long-forgotten era. Perfect, in other words, for getting lost in.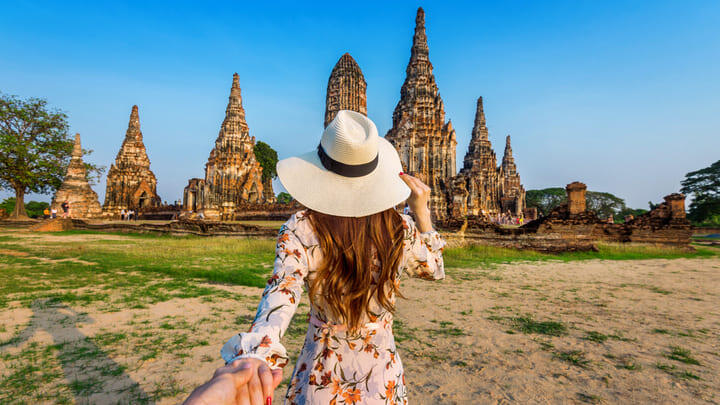 Heck, you could even take a day trip out to one of the fine national parks accessible from Bangkok. Head to Ayutthaya Historical Park if you're not already all wat-ed out. For here in Thailand's former capital is where you'll find the medieval ruins of some 400 temples, many of which are remarkably well preserved. Likewise some of the palaces and (obvs) a giant reclining Buddha. Or try Kaeng Krachan – Thailand's largest national park at a quite enormous 1,125 square miles – for soaring mountain peaks, thundering waterfalls, endless lakes, and rainforests teeming with native wildlife. You never know, you might even encounter a rare wild Asian elephant. 
Get Fruity at Bangkok's Floating Markets
There's no such thing as a bad time of year to gorge on Thailand's tropical fruit bounty, and the good news is that several of the big hitters are in season in November. We're talking fragrant papaya and passionfruit, large juicy pomelos and jam-sweet tangerines that provide much-needed refreshment on hot November afternoons, exotic star fruit and dragon fruit, and the frankly unmissable rose apple. Neither rose nor apple, this crunchy little bright-red blighter is a bit like a sweet pepper with a gentle hint of rose. Try it for yourself at one of Bangkok's famous floating markets, where traders coast the canals in traditional wooden boats and you'll find everything from fresh tropical fruits to local handicrafts and hot'n'spicy street food. The Damnoen Saduak and Amphawa markets are perhaps the best known, but you'll enjoy equally satisfying (and arguably more authentic) experiences at the Taling Chan and Wat Sai floating markets.
November Thrills in Pattaya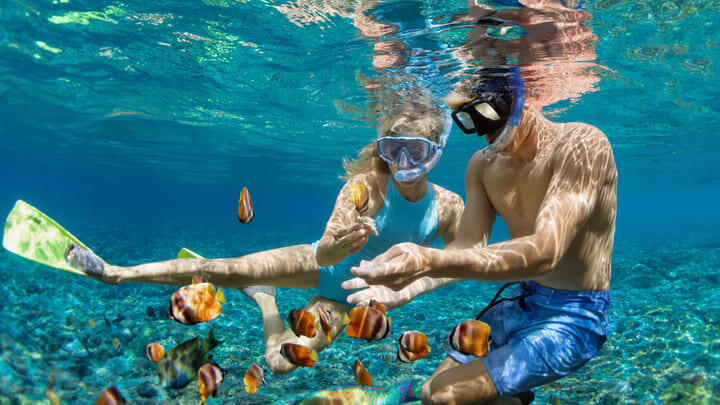 Gin-clear waters, swaying palms and powdery white sands: Pattaya's beaches feel a million miles from Bangkok's bustling metropolis but are, in fact, only about an hour out of town. There's stacks to do out here too. Snorkelers and scuba fiends can expect to come face to fin with all manner of marine critters in warm tropical waters where forgotten shipwrecks and thriving coral reefs provide homes for hawksbill turtles, blue spot stingrays, bat fish and many more eye-popping tropical species. Get a natural high on a hot-air balloon ride over the region's coastal mountains or, if you prefer your kicks a little more high-octane, take a leap of faith on a tandem skydive with the likes of Thai Sky Adventures or Skydive Pattaya and ride the balmy air currents all the way to the ground. Or you could, y'know, just spend an entire November day basking on the beach, rum cocktail in hand, warm water tickling at your toes: paradise.
Take in Bangkok's Best Views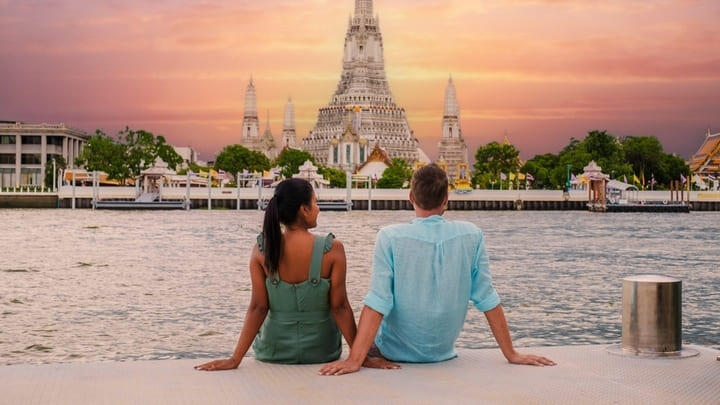 Clear days make for fine views, and Bangkok has stunning vistas in spades! See the city in all its futuristic finery from the King Power Mahanakhon Skywalk, a panoramic observation deck that's a dizzying 1,030 feet above the streets, atop one of Bangkok's tallest buildings. You can see pretty much everything from up here, from the distinctive rooftops of the Grand Palace and Wat Pho temple to the lush jungles of Bang Kachao and even, on clear November days, the Gulf of Thailand. Take a longtail speedboat cruise of Bangkok's canals for extreme close-ups of the Grand Palace and Wat Arun, with its show-stopping porcelain-encrusted prangs that look like something from an alien spacecraft. Sunset views of this architectural marvel are yet more extraordinary still. See it from just across the river at Wat Pho, as the skies cycle through flaming orange, fiery red, flamingo pink and bruised purple behind its soaring towers.
Loy Krathong Festival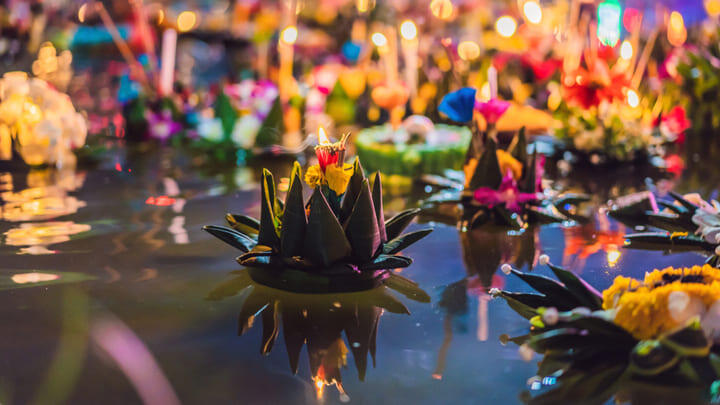 Arguably Bangkok's most beautiful, peaceful and romantic festival (well, it's certainly a far cry from April's massive Songkran water fight!), Loy Krathong sees participants release thousands of little lotus-shaped boats into the city's waterways. You can join in by buying (or making) your own little basket-boat with banana leaves and flowers before filling it with candles and incense sticks and releasing it on a river, pond or canal. As it drifts away, think of everything you want to let go off in your life, be that a worry, a grudge, a bad habit, or just whatever it is that keeps you awake at night. Will it take your troubles away? Who knows, but it sure is a beautiful sight under that bright Bangkok moon, especially when released en masse with dozens of others. The festival also features fireworks and cultural performances all across town and takes place every November in Bangkok. Or at least, it takes place on the full moon-night of the 12th lunar month which falls more often than not (but not always) in November. 
Save on

things to do in Bangkok in November
Save on admission to Bangkok attractions with Go City. Check out @GoCity on Instagram for the latest top tips and attraction info.