Sure, October is one of Thailand's wettest and most humid months, but it's not all just rain, rain and more rain. In fact, October is a great time for the savvy, umbrella-toting traveler to visit Bangkok. The sun-worshiping crowd have gone elsewhere, which makes for lower flight and hotel prices, shorter queues at the major landmarks, and a significantly higher chance of bagging a table at the best cocktail bars and restaurants in town. The monsoons aren't even all that bad, generally just one or two short cloudbursts later in the day. So all you need do is don your waterproof flip-flops, keep a polythene poncho in your pocket and be ready to duck into an air-conditioned restaurant, shop, mall or indeed any of Bangkok's profusion of fine indoor attractions as soon as the heavens open. What's not to like?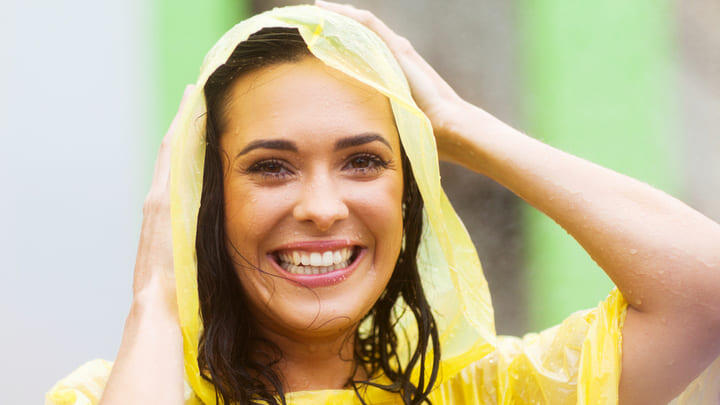 Note that, because the monsoons usually arrive in the afternoon and early evening, it's worth planning your outdoor sightseeing for mornings. This may also help avoid the hottest, most humid parts of the day. Yep, average temperatures are still hovering around the mid-80s here in October. Read on for our guide to the best ways to spend October days in Bangkok, including:
Lumpini Park

Damnoen Saduak Floating Market

Bang Kachao

The Grand Palace and Wat Phra Kaew

Chatuchak weekend market

Bangkok National Museum

Chinatown

Shopping at centralwOrld and ICONSIAM
Park Life!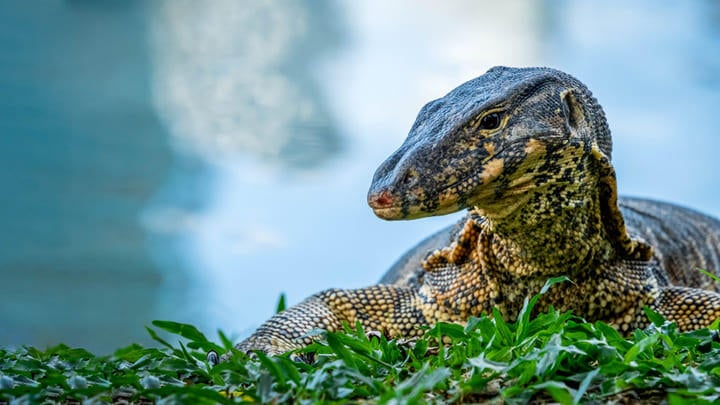 Bangkok is chock-full of splendid green spaces, best explored on October's (usually) dry, sunny mornings. Best-known and most central of the bunch is the mighty Lumpini, 142 acres of skyscraper-surrounded parkland in which giant water monitor lizards share space with dawn joggers, Tai Chi practitioners and street-food carts galore. You can also take a swan-shaped pedal boat out onto the tranquil lake, and grab some essential selfies by the topiary elephant herd. Marked pathways link Lumpini to it's slightly wilder neighbor, Benjakitti Park, where elevated wooden walkways afford views across a network of ponds and mangrove swamps. Look out for resident herons and turtles out on patrol, foraging for their breakfast.
Chatuchak Park sees incurable browsers get lost (quite literally) in Thailand's largest weekend flea market. This labyrinthine maze of stalls hawks everything from kitsch ornaments to the kitchen sink and can be great fun for those who just love to barter. Grab a coconut ice cream and find a spot on the lawns by one of the park's swoonsome bridges to gloat over your plunder. Just next door, Wachirabenchathat Park is home to cool sculptures, black swans and a beautiful butterfly garden and insectarium.
Last but very definitely not least, Bang Kachao is a natural paradise of lush mangrove swamps, vine-strewn forests, picturesque canals and tropical wildlife that sits in a wide loop of the broad Chao Phraya river. A literal breath of fresh air, it's just the most astonishing urban jungle, a place where skyscrapers are eschewed in favor of traditional village-style dwellings and tiny temples, and you're far more likely to run into a push-bike than a tuk-tuk. Rent one of your own to traverse the elevated walkways that meander alongside this great green lung's cute canals.This is also where you'll find Sri Nakhon Khuean Khan Park and Botanical Gardens, with their epic bounty of vibrant plant and flower species.
Take a Tour!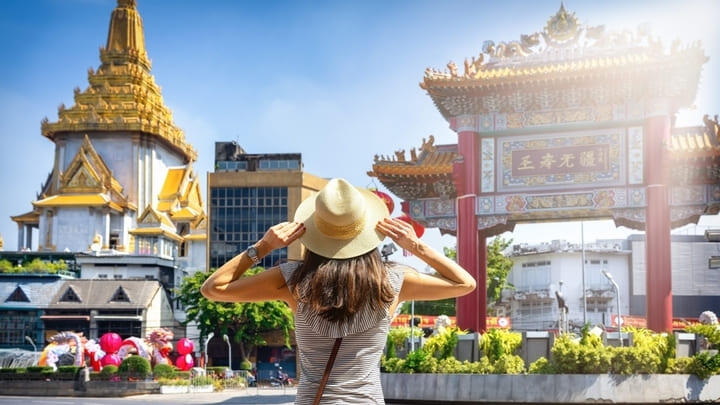 Guided tours are a great way to get a flavor of Bangkok and, best of all, mean you can leave the sightseeing itinerary to the local experts. This epic five-hour guided meander takes in a whopping 30-something Bangkok attractions, making it a great way to tick off some of the city's best neighborhoods, temples and other landmarks. Or join this (slightly) more bitesize stroll around Chinatown, which includes the ornamental Chinatown Gate, zen Siang Kong Shrine and stunning Wat Chakrawat temple, a mesmerizing slice of Chinese-Buddhist architecture with a striking central prang and its own resident family of crocodiles, ideal for those souvenir holiday 'snaps'. Don't miss the chance to gorge on delectable hoi sin duck, umami shrimp dumplings, and sweet Chinese donuts with condensed milk and pandan while you're in the area!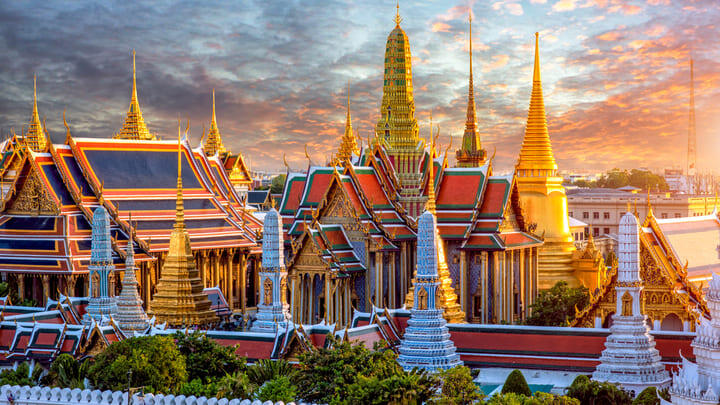 It would be remiss when in Bangkok to not also experience the grounds of the Grand Palace, with its IG-worthy rooftops, fairytale pavilions and twirling golden spires. Join this excellent tour, which includes access to Wat Phra Kaew, Thailand's most sacred temple, and home of the hallowed Emerald Buddha. You can photograph this ancient artifact to your heart's content. Just don't touch it – only the Thai king is permitted, by law, to do so.
Take an October day trip from Bangkok to the famous Damnoen Saduak floating market southwest of the city. Here, traders in wooden boats hawk durian fruits, sticky mango rice and unique local handicrafts from their wooden boats. This tour also includes a stop at Maeklong Railway Market, where vendors (and shoppers) periodically clear the tracks as trains trundle straight through the middle of the market – a uniquely unusual experience for all but the most jaded sightseer.
Bangkok in October: Indoor Highlights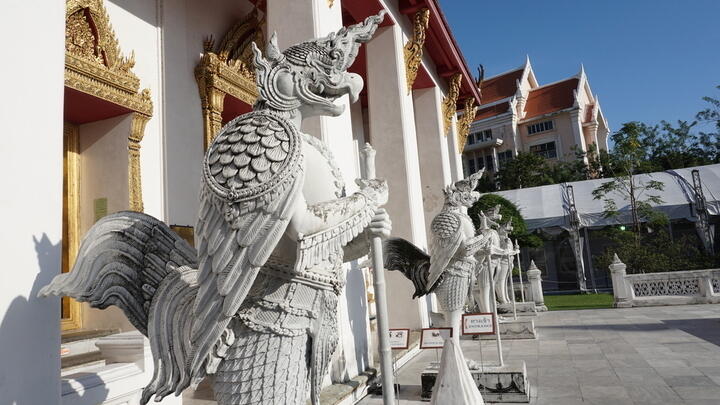 As surely as night follows day, October visitors to Bangkok will need to dodge a downpour or two. Which is where the city's excellent museums, malls and other indoor attractions come in. If Bangkok is like a big open-air museum, crammed with historic temples, palaces and neighborhoods, then the National Museum represents all of Thai history in microcosm. Step inside to experience an eye-popping extravaganza of Thai artifacts that date back as far as the 7th Century. We're talking ancient idols, Buddha statues, decorative pottery, carved masks, intricate old children's toys, royal chariots and more, and that's just for starters. Hit up Patpong Museum for a wild ride through the district's history, from humble beginnings as a rice paddy to one of the planet's most notorious red light areas, via Jean-Claude Van Damme, David Bowie, and the CIA. Or try the riverside Bangkok Art & Culture Centre for some of the hippest contemporary art in town, from avant-garde sculpture and abstract paintings to mind-melting installations and performances.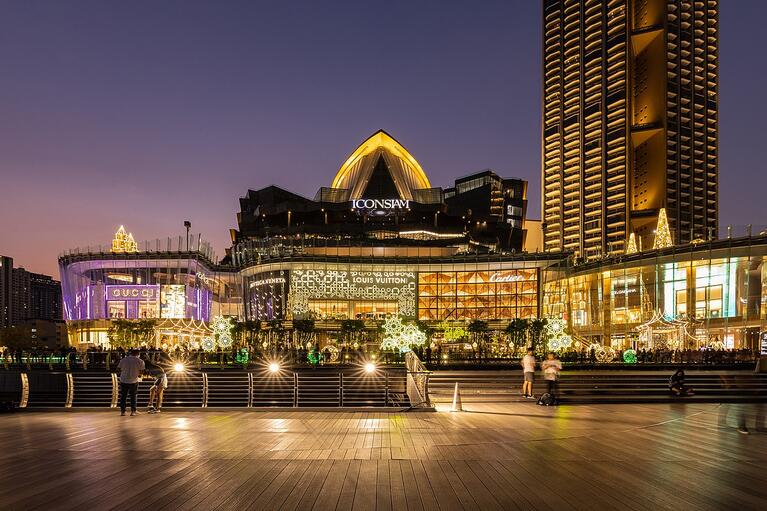 Bangkok is also, rather famously, pretty decent for a spot of retail therapy. Not least because you can so often shop at VAT-free prices. Although the false sense of prosperity this lends you may give your bank manager palpitations, as you fill your boots with luxury goodies at the likes of ICONSIAM, one of the biggest malls and entertainment complexes in Asia (over 700 shops, 100 restaurants, a floating market, a heritage museum, and an IMAX cinema). Or hit up the equally epic centralwOrld mall, where an attraction pass from Go City gets you shopping discounts, food court credit and access to the exclusive VIP lounge. Best of all, these cavernous monuments to capitalism are fully air-conditioned, meaning you escape the October rain and humidity all at the same time. Win-win.   
Save on

things to do in Bangkok in October
Save on admission to Bangkok attractions with Go City. Check out @GoCity on Instagram for the latest top tips and attraction info.