Bangkok is one of those cities that every discerning bucket-lister should visit at least once, whether for the bustling night markets, the adrenaline rush of watching live traditional Thai boxing, or exploring the many historic palaces and temples that jockey for position within the ever-expanding city; glittering jewels in a vast forest of skyscrapers. But what are the top attractions in Bangkok? Dive in to discover Bangkok's most popular tourist attractions in our top 10, including, in no particular order:
The Grand Palace and Wat Phra Kaew

Bang Krachao

The National Museum of Bangkok

Wat Arun

Lumpini Park

Chinatown
Lumpini Park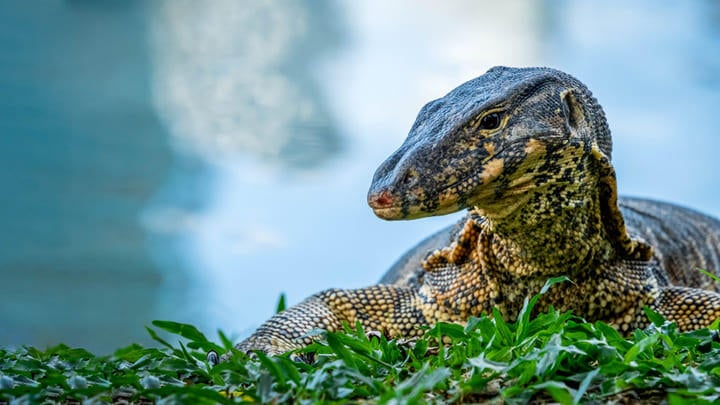 Lumpini Park is that rarest of things in the concrete jungle that is Bangkok: green space. It's big, too, stretching to some 142 acres of prime city-center parkland. Take a stroll (or jog) around its (relatively) peaceful paths at sunrise, when you're likely to spot some of the park's army of water monitor lizards basking in the early morning light, as well as perky local pensioners indulging in a spot of life-giving Tai Chi. Several species of tropical bird can be seen flitting among the treetops and there are spots for swimming, picnicking and simply admiring the colorful flora and fauna and enjoying the city at its most sedate.
The Grand Palace

and

Wat Phra Kaew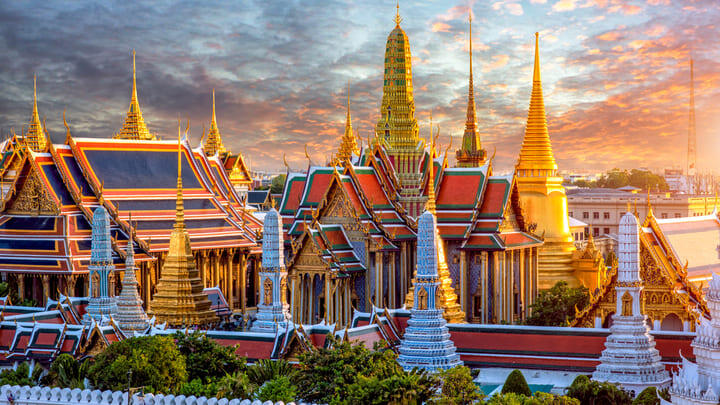 There's more Instagrammable eye candy at Bangkok's Grand Palace than you can shake a very big (and probably diamond-encrusted) stick at. This almost comically opulent complex of gilded palaces and pavilions is pure manna for photographers, not least thanks to its fairytale rooftops and spires. Check out the grand interiors with their intricate detailing and palatial throne rooms, and take a peek at the Buddha statue in Wat Phra Kaew temple. Just don't try to touch this sacred 15th-century artifact – only the Thai King is permitted to do so. 
Jim Thompson House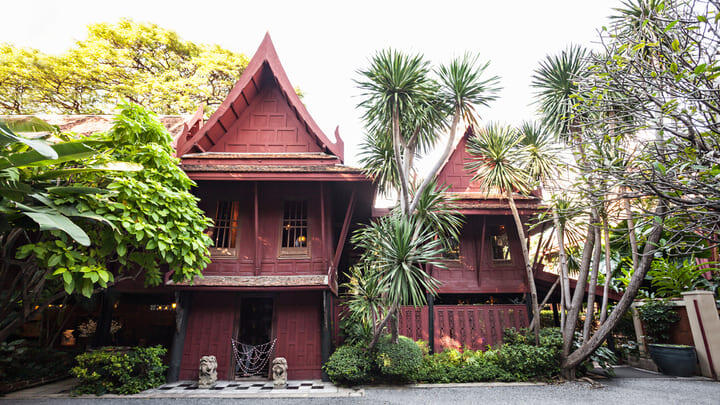 Jim Thompson was an American businessman and architect who, after setting up the hugely successful Thai Silk Company in 1948, went on to become one of the planet's most prolific collectors of Southeast Asian Art. You can explore many of the spoils of the Thai Silk King's adventures inside the collection of traditional 19th-century Thai-style houses he had relocated to Bangkok in the 1960s, specifically for the purpose of housing his wonderful collection of Buddha statues, Thai paintings, Chinese pottery and more.
Chao Phraya Cruise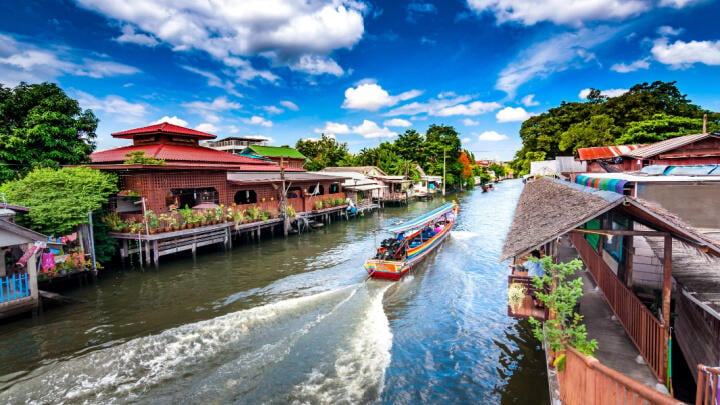 A gentle meander along the wide Chao Phraya river is one of the most popular ways to take in Bangkok's waterside attractions. Book a dinner cruise and not only will you get to experience the stunning spires of the Grand Palace and Wat Arun against burning pink-and-orange sunset skies, you'll also get a traditional Thai show thrown in! Tuck into local and international favorites like papaya salad with salty crab and green curry, followed by chocolate fondue, panna cotta or traditional Thai desserts, as you enjoy the various visual entertainments.
Wat Arun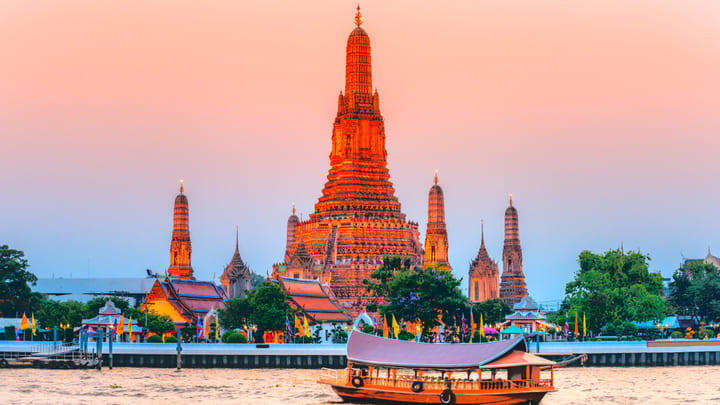 There is a danger, when in Bangkok, of ending up all Wat-ed out by the sheer number and variety of temples to explore. But one that you certainly shouldn't skimp on visiting is Wat Arun, an absolute icon of the city skyline due to its riverside location, spaceship-like appearance and towering central prang. That prang – well over 200 feet of porcelain-encrusted spire – is one of Bangkok's most photographed attractions, but there are plenty more eye-popping features to enjoy here, not least the giant pair of demons guarding the main chapel, and the six Chinese-style pavilions. Cross the river in time for sundown to catch the finest photo ops, as the sky turns from flamingo pink to bruised purple and the temple lights are turned on. Pure fairytale stuff.
Chinatown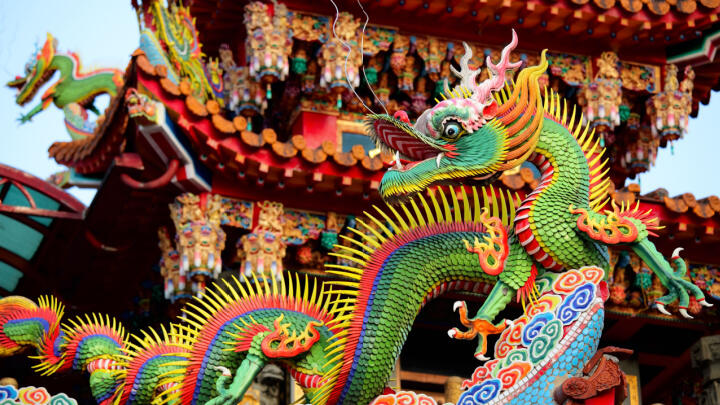 Foodies can't really go far wrong in Bangkok's vibrant Chinatown, where you need only follow your nose to the nearest crispy oyster omelet, steamed-to-perfection shrimp dumplings, roast duck, or sweet Chinese donuts with condensed milk and pandan. It's not all about the food though – landmarks like the impressive Chinatown Gate, Siang Kong Shrine and Wat Chakrawat temple with its resident crocodiles are also all well worth a look. Catch them all on this fun walking tour, or visit at night when colorful neon lights bathe the streets in their glow, street food stalls emit great steaming clouds thick with the aroma of Chinese spices, and hungry locals queue for a cheap and tasty dinner.
The National Museum Bangkok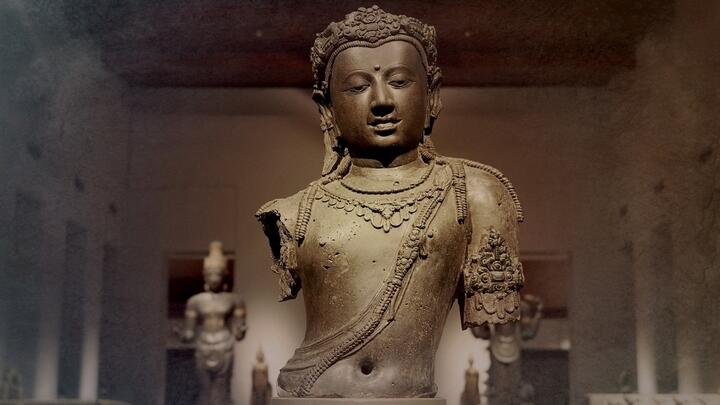 If you're looking to immerse yourself in Thai culture, make a beeline for the National Museum. This vast treasure trove of art and artifacts from Thailand and beyond is presented inside a former royal palace, a fine setting for perfectly preserved Asian pottery and ceramics, intricately hewn Buddha statues and icons, fine paintings and murals, carved masks, musical instruments, and all manner of regal ephemera, including funeral chariots, thrones, and more. And, with the largest collection of Thai art in the country it's little wonder the National Museum is one of Bangkok's top 10 most popular tourist attractions!
Bang Krachao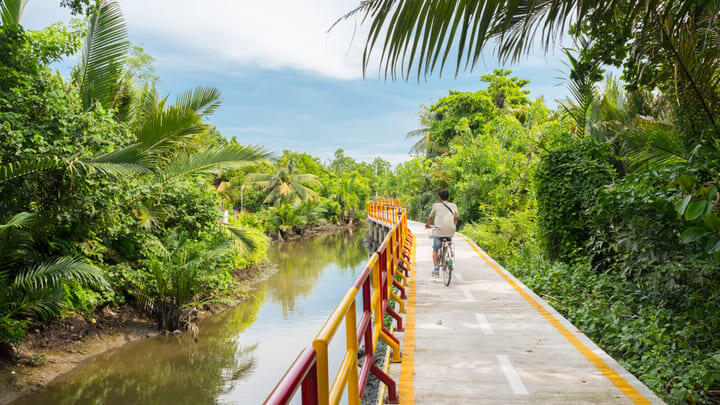 Lumpini Park might be the one everyone's heard of, but Bang Krachao (aka Bangkok's great green lung) gives it a fair run for its money. In fact, it's a different prospect entirely. To get there, board a longtail boat from Wat Khlong Toey Nok temple and within minutes you'll be immersed in the sounds and smells of the jungle. We're talking elevated walkways that weave through lush mangrove forests, alongside peaceful canals and beneath dense green foliage that's alive with the sound of chattering birds of paradise and humming insects. Rent a bike to explore all this glorious greenery at your leisure but be careful along those paths – many are unfenced and some perilously narrow!
Bangkok Art and Culture Centre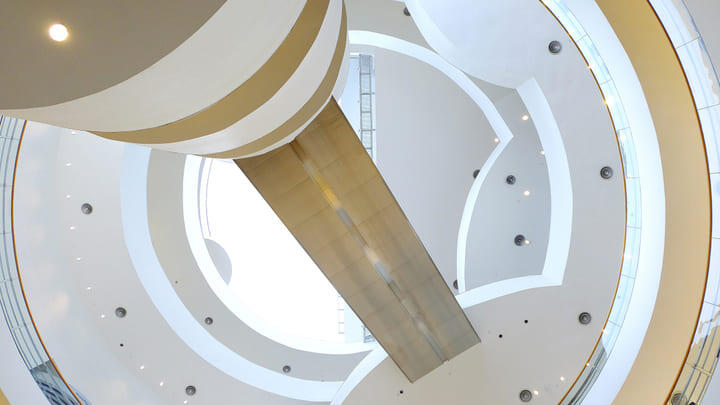 The ever-changing roster of exhibitions make the Bangkok Art and Culture Centre difficult to pin down. But, if you want a flavor of what's hip and happening in the contemporary Bangkok art scene, you can be sure this is where you'll find it. Expect vibrant paintings, avant-garde sculpture and mind-expanding installations, workshops and performances inside this suitably edgy riverside building, which also boasts a quite superb central atrium (pictured). 
Khaosan Road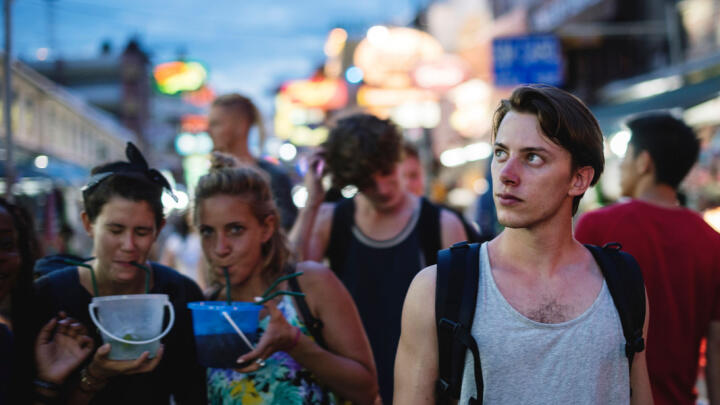 Smack bang in the city center, the relatively short Khaosan Road is Bangkok in microcosm. The city's dazzling melting pot of cultures is writ large across this bustling thoroughfare, where international restaurants vie for the tourist dollar with traditional street-food stalls and shops run the gamut from local artisan crafts to tacky souvenir knick-knacks. Come back in the evening and you'll quickly discover why this unassuming street is one of Bangkok's most popular attractions, a vibrant mini-metropolis of flashing neon lights, pulsating live music and street performers that offers some of the finest nightlife options in town.
Save on

Bangkok's most popular tourist attractions
Save on admission to Bangkok attractions with Go City. Check out @GoCity on Instagram for the latest top tips and attraction info.