If you're heading to Bangkok this spring and want to immerse yourself in the local culture, check out our pick of the best events taking place over the season and get involved!
Including:
Is it worth going to Thailand in April?
What is Bangkok like in April?
Is 4 nights in Bangkok too much?
Bangkok Spring Events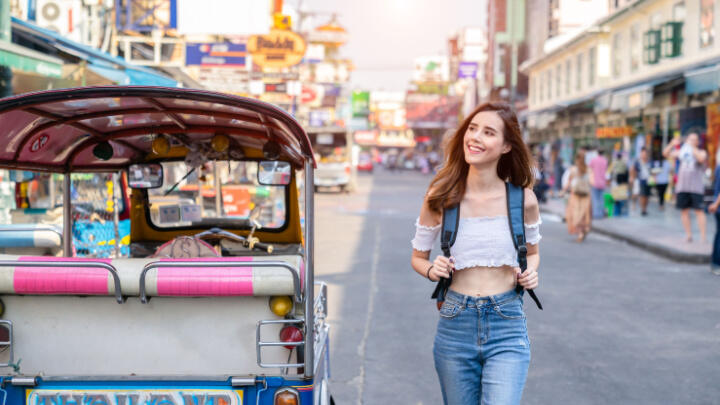 Is it worth going to Thailand in April?
April is one of the busiest times of year in Bangkok, but it's absolutely worth visiting in spring. Time it right, and you'll be in town for the biggest water fight on the planet - more on that later. As it's so busy, it's worth booking your accommodation and travel far in advance, so you don't miss out. 
What is Bangkok like in April?
With average temperatures of about 87°F, Bangkok in April is a hot one. Pack plenty of sunscreen, your coolest, lightest garb, and maybe an umbrella too, as there are typically about eight days of rain throughout the month.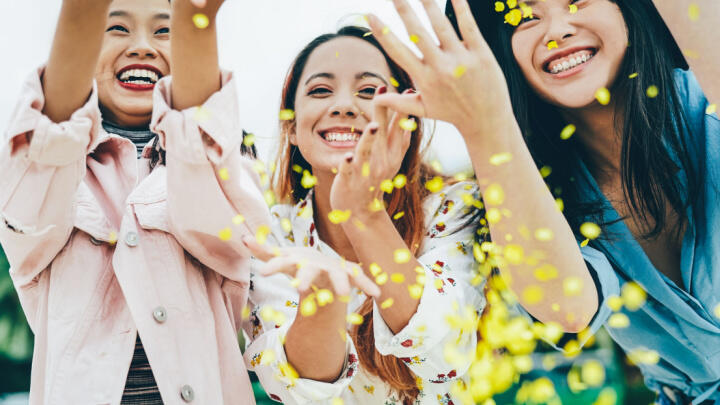 Is 4 nights in Bangkok too much?
If you want to see all of Bangkok's best bits in one trip, four nights in the city is arguably the minimum amount! With the appropriate planning, and a little helping hand, anything from 5-7 days should be enough for you to see everything and head home a happy camper.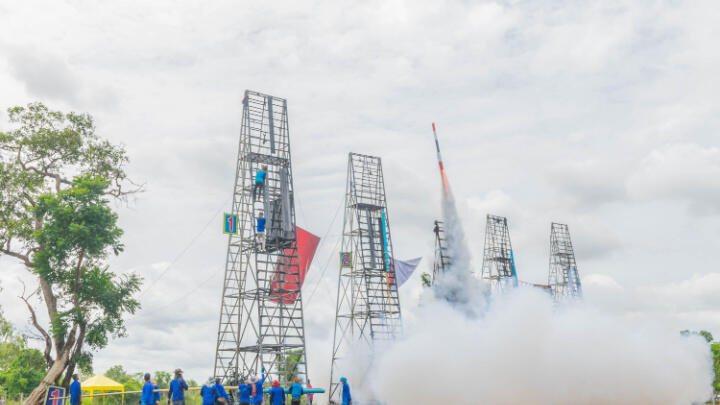 The Bung Ban Fai festival, also known as the Rocket Festival, is a spectacular event in Thailand that goes beyond being a mere fireworks display. This ancient tradition carries deep significance for Thai people, as it symbolizes their hopes for the arrival of rain for the rice harvest.
Bamboo tubes loaded with gunpowder and charcoal and adorned with serpent-like creatures called Nagas are shot into the sky. Some say it's because the rains arrive when the gods are in love. Rockets. Love. You get it. As such, lively celebrations are held throughout Thailand, featuring the launching of enormous rockets, some of which can reach heights of 9 meters or more and contain over 200 lbs of gunpowder. Freud would have a field day.
The festival typically takes place from late April to early June, with the exact dates varying depending on the region and year. So check ahead and find out when it hits Bangkok!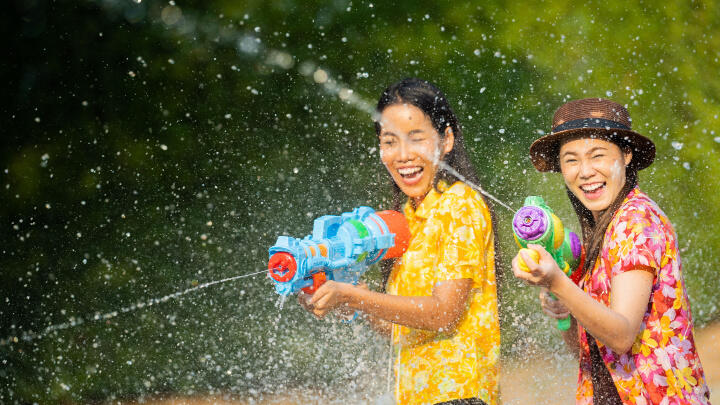 Remember that massive water battle we mentioned earlier? That's Songkran. Appealing to both kids and grown-ups, it's - in part - a celebration of fun, or "Sanuk" in Siamese. We did an in-depth dive into Songkran, so if you want to know more about it, give this link here a click. If you're happy with the shortened version, read on. 
Water is a massive part of Thai culture as a method of cleansing one's body and soul. It makes sense, then, that the modern culmination of this ethos is a huge, country-spanning water fight. Buckets, water pistols, and other liquid-lobbing devices take over, and no one is safe - except older people (if they don't want to) and monks (who do not want to). 
You'll find vendors across Bangkok selling water pistols and other mayhem deliverers, and keep an eye out for free refill stations so you can keep the party going all day long.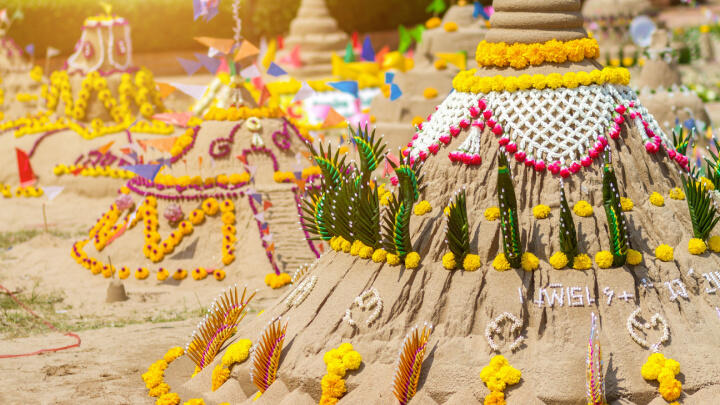 Wan Lai is another remarkable festival that coincides with Songkran. During Wan Lai, Thai people gather sand from their local temples, which they then fashion into ornate chedis or Buddhist stupas (mound-like structures) adorned with decorative elements. 
This ensures that sand from nearby temples returns to its rightful place, as throughout the year, people inevitably carry the sand out of the temple on their feet. 
Held annually from April 16 - 20, this festival transforms Bang Saen Beach into a magnificent sand-sculpture gallery, showcasing some eye-opening structures. Intricate elephants, mermaids, and tuk-tuks are just some of the many creations you'll likely spy during your visit. Teams of artists and sculptors work on these for days to ensure they're ready for judging on the final day, after which, every sculpture is ceremoniously demolished because, as Buddha says, nothing is permanent. Still, after all that work, it's gotta sting.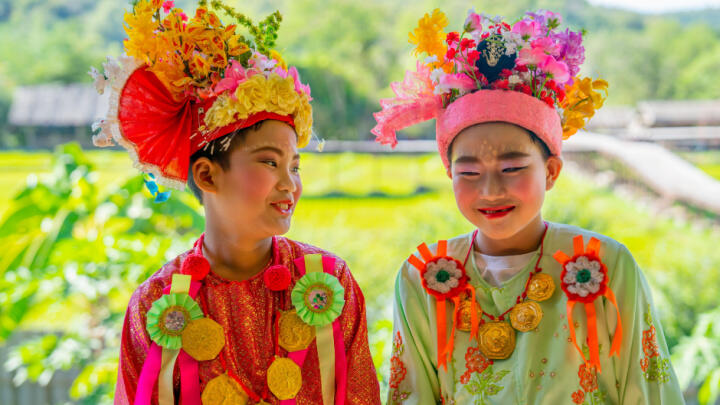 If you're willing to travel out of the city, you'll witness one of the most colorful festivals on the planet. It's called Poy Sang Long, and it takes place in the enchanting "City of Three Mists" - Mae Hong Son. It celebrates boys becoming monks, and it is quite the show.
First, the boys have their hair ceremoniously shaved off, signifying their renunciation of material possessions. The following day, they're adorned with makeup, including lipstick, eye shadow, rouge, and a yellow powder known as Tanaka. Then, dressed to the nines, they sit on their relative's shoulders and are paraded through town beneath golden umbrellas. `
On the final day of the festival, they exchange colorful gifts and shave their eyebrows. All in a day's work for a budding monk!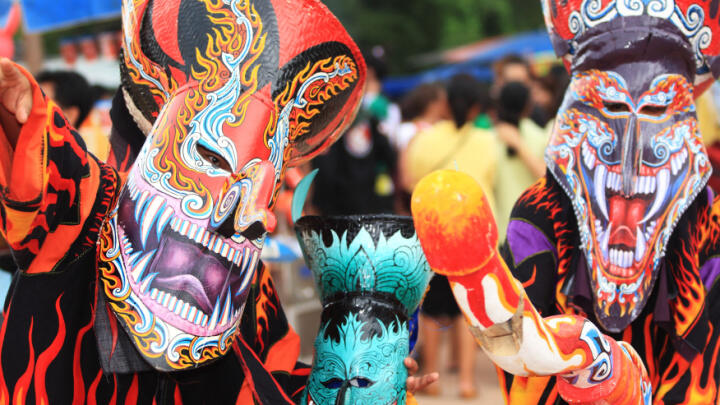 We're cheating a bit here as this typically takes place in June, but there's no reason your spring vacation to Bangkok can't run over a bit! And for Phi Ta Khon, it's more than worth it. 
Thailand's answer to Mexico's Day of the Dead, Phi Ta Khon, which roughly translates to "ghosts that follow us", is a three-day festival where participants don masks to awaken the dead and help them join in on the festivities. Its origins lie in the myth of Prince Vessantara, one of the last incarnations of Buddha, who left his kingdom for so long that his people assumed he was dead. When he returned, they celebrated, and that morphed into the Phi Ta Khon we know today.
You'll also see people trying to beckon rain, because June is unimaginably hot in Bangkok. 
And that's everything you need to know about unmissable Bangkok events in spring! If you're looking for things to do between the festivities, check out Go City! With our All-Inclusive Pass and Explorer Pass, you can see all of Bangkok's best bits for one low price!