When it comes to experiencing the diverse and dynamic city of Bangkok, there's no shortage of incredible neighborhoods to explore. Each district offers its own distinct charm, from bustling shopping hubs to serene green spaces and lively nightlife scenes. So, let's explore the best areas in Bangkok that you won't want to miss during your visit!
Including:
Sukhumvit
Siam
Banglamphu
Pratunam
Chinatown
and more!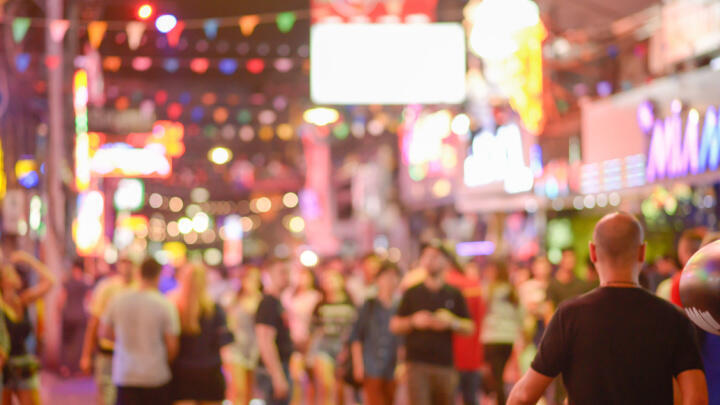 Sukhumvit
Stretching all the way to Cambodia, Sukhumvit is a bustling thoroughfare that serves as the gateway to Bangkok's urban metropolis. 
As you journey through this district, you'll encounter a mesmerizing skyline adorned with skyscrapers that define modern Bangkok. The heart of Sukhumvit pulses with life, boasting a high concentration of hotels, a lively entertainment scene, and a nightlife that goes, well, all night long. The likes of Nana and the infamous Soi Cowboy are famous - or infamous - streets featuring thumping clubs that keep the city alive till dawn. Ekkamai and Thong Lo offer a more sophisticated ambiance, featuring high-end bars and restaurants that cater to refined tastes. The BTS Skytrain makes Traveling along Sukhumvit Road incredibly easy, with stations at key points like Ekkamai, Thong Lo, and more, each accompanied by shopping havens and department stores.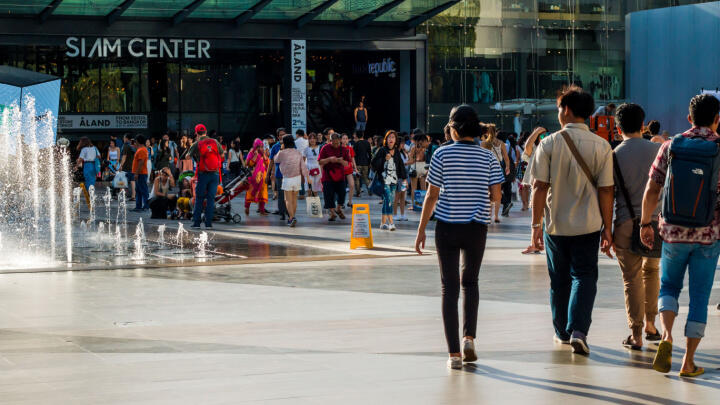 Siam
Siam stands as the unofficial hub of Bangkok and for good reason. Boasting the best shopping opportunities in the city, it's a fusion of vibrant energy and retail therapy. 
Siam Paragon is the beacon of luxury brands, while the bustling MBK Center caters to budget-conscious shoppers seeking fantastic deals. The area isn't just about shopping, though. Explore the allure of Madame Tussauds, immerse yourself in the stylish ambiance of Siam Square, and savor a delectable array of dining options. 
But sightseeing's not really the priority here because Siam's reputation as a Southeast Asian shopping paradise makes it one of the best areas to visit in Bangkok.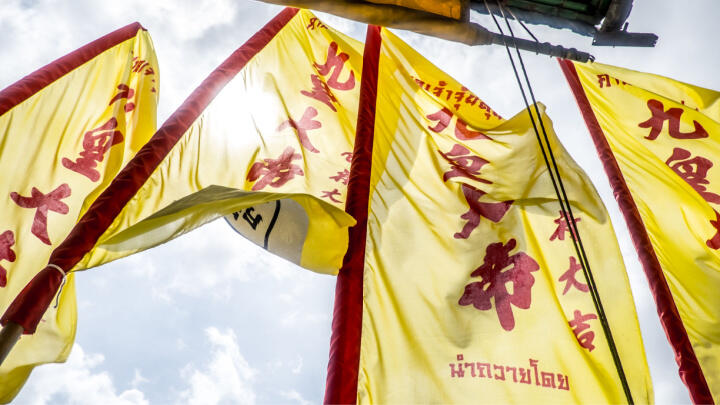 Chinatown
Over centuries, Bangkok's Chinatown has grown exponentially, offering tons of street food, tea houses, and little shops on tucked-away alleys. With so much to explore, it's easily one of the best areas in Bangkok.  
Wander along Yaowarat Road to discover an endless array of tempting food stalls and glittering gold emporiums. Amidst this rich cultural tapestry, the prominent Wat Traimit shrine stands as a testament to the district's allure, showcasing a magnificent Golden Buddha that's worth a bunch of pics. 
Beyond the cultural landmarks, the main tourist draw of Chinatown is arguably the food. If you don't want to risk street food cooked and presented on unbelievably hot days, head to Yim Yim and discover an oasis of home-style Chinese cuisine.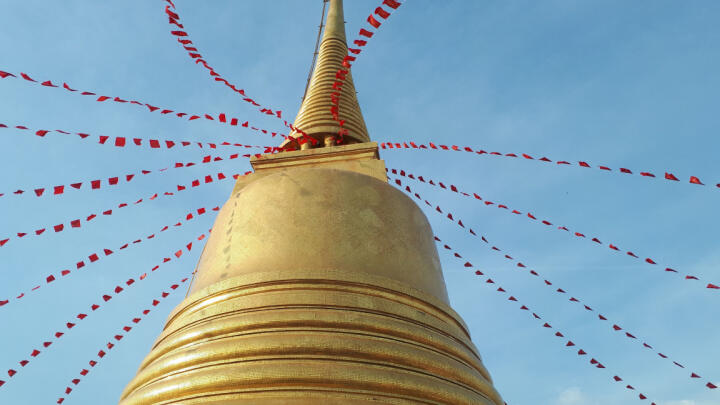 Banglamphu
Home to the beloved Khao San Road, which absolutely comes alive during the Songkran water festival, Banglamphu is also a hub of budget bars, energetic nightclubs, and cheap accommodation all year round. 
As the sun rises, the district unveils its cultural treasures, such as the awe-inspiring Golden Mount and the captivating Wat Suthat. We recommend visiting in the morning before the overwhelming midday heat makes an appearance. This isn't so much of an issue during Songkran, and if you're wondering when to visit, the water festival is the perfect time due to the copious amounts of h20 being liberally splashed, shot, and thrown about. 
Return in the evening to immerse yourself in the vibrant atmosphere of Khao San Road, where you can rub shoulders with both backpackers and locals alike, or the more laid-back, bohemian vibes of Phra Athit Road.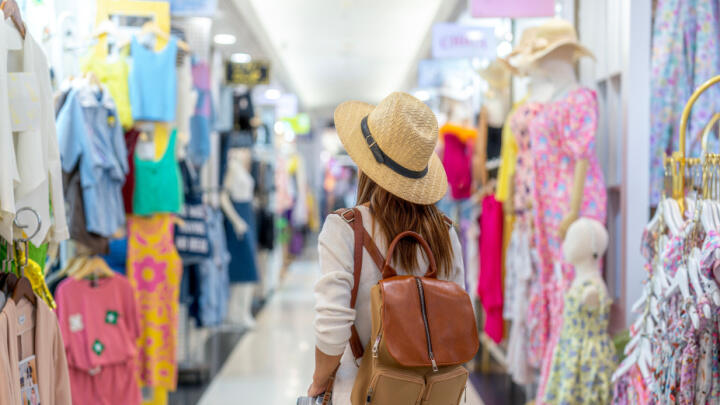 Pratunam
Tucked away from the typical tourist path, Pratunam is a hidden gem that beckons with its bargain-hunting opportunities. 
Pratunam Market is a bustling haven that operates day and night, offering a dazzling array of clothes at wholesale prices. 
While shopping takes the spotlight, don't miss the opportunity to ascend the Baiyoke Tower II, once Bangkok's tallest skyscraper, for panoramic vistas from its 77th-floor observation deck.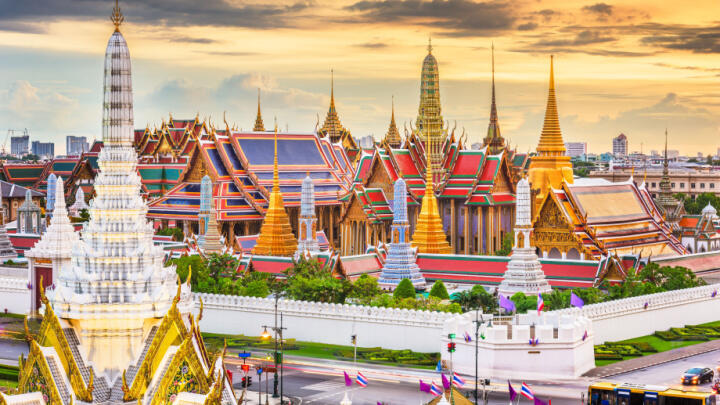 Rattanakosin
Rattanakosin emerges as Bangkok's royal district, a realm of historical significance and architectural wonder. 
The iconic Grand Palace and the revered Wat Pho, housing the reclining Buddha, stand as testaments to the district's rich heritage. The layout and design of Rattanakosin echo the grandeur of Ayutthaya, which is a must-visit testament to the area's ancient culture. 
Embark on a journey through time as you explore this district, accessible via the Chao Phraya River. For a touch of romance, savor breathtaking views across the river and Wat Arun from the enchanting Arun Residence.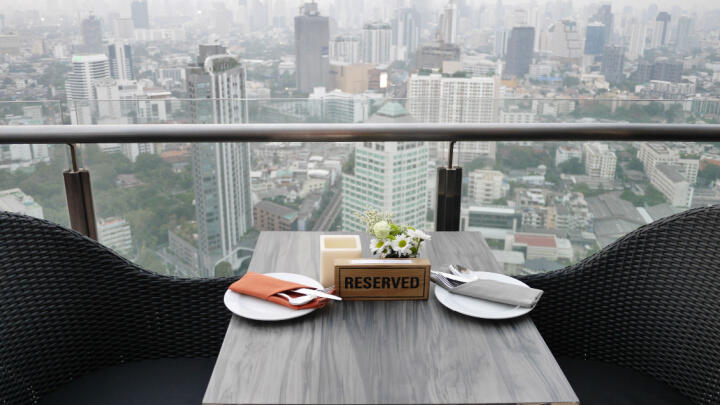 Silom
Silom dons the mantle of Bangkok's financial hub by day and seamlessly transforms into a vivacious nightlife haven come nightfall. If you're visiting for business or simply have the cash to splash, then Silom is one of the best areas in Bangkok. 
Dive into the district's after-hours scene, replete with late-night clubs and LGBTQ+ venues where you can boogie the night away. Silom's culinary landscape is equally captivating, offering diverse cuisines spanning Thai fusion to Greek delights. 
And, if the party at ground level becomes overwhelming, seek solace atop sleek skyscrapers at rooftop bars such as Zoom Rooftop Bar, Distil Bar, and the Mahanakhon Bangkok Skybar.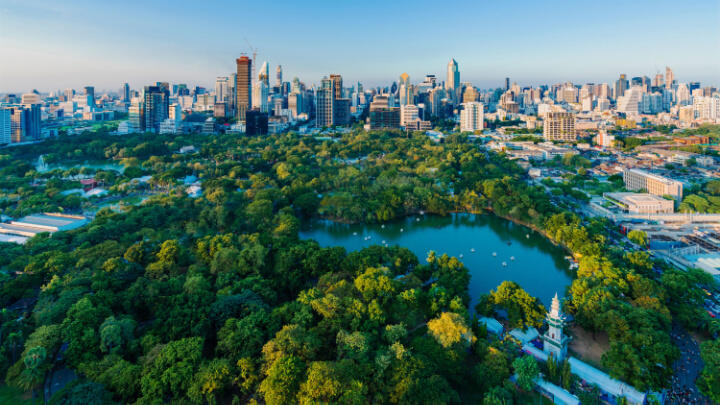 Lumphini
And finally, if you're looking to escape the hustle and bustle of Bangkok's lively metropolis, Lumphini is a serene, verdant paradise that is easily one of the best alternative areas to visit in Bangkok. 
Lumphini Park is the area's epicenter, where one can stroll around its many paths breathing in that good green air, explore the park's hidden areas by bike, or go for a much-needed run. 
But wait, there's more! Lumphini Park also hosts various events, from morning aerobics to enchanting live performances when the sun goes down. When refreshment calls, nearby streets like Soi Ton Son offer an array of bars and restaurants, perfect for unwinding after a day of exploration.
And those were our picks of the best areas in Bangkok to visit on your vacation! If you're spending a few days in the city and need to fill out your vacation itinerary, check out Go City! With our All-Inclusive Pass and Explorer Pass, you can see all of Bangkok's best bits for one low price.