Looking for the perfect spot in Bangkok to sit down and wet your whistle? Check out our picks of the best bars in the city, and see which one becomes your new vacation spot of choice!
Including:
Pub crawls
Zoom Rooftop Bar
Villa Frantzen
The Green Door
Opium
...and more!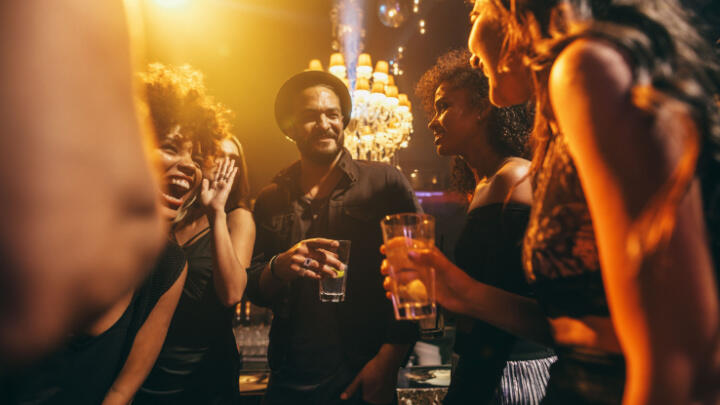 If you're visiting Bangkok for the first time, or are traveling with friends or even alone, then why see one of the best bars in the city when you can visit a bunch, meet some new like-minded people, and paint the town red in the process.
With your party-popping guide in tow, you'll kick proceedings off at Hooters, where said guide will set the group up with some icebreaker games and activities, along with some drinks, of course. From there, your group will move onto 8 on Eleven Bar at the Grand President Hotel for beer pong and some complimentary shots. Then you'll stumble to Score Bar for more of the same before your journey culminates at Insanity, a nightclub. 
There, the crawl officially concludes as the clock strikes 2AM. At that point, your humble guide will take their leave for some much-needed sleep. You, on the other hand, are free to revel on the dancefloor for as long as you like. 
If you're looking to make some travel buddies while visiting some of the best bars in Bangkok, this pub crawl will hit the spot. If you're looking for something more subdued and casual, check out the rest of our picks down below.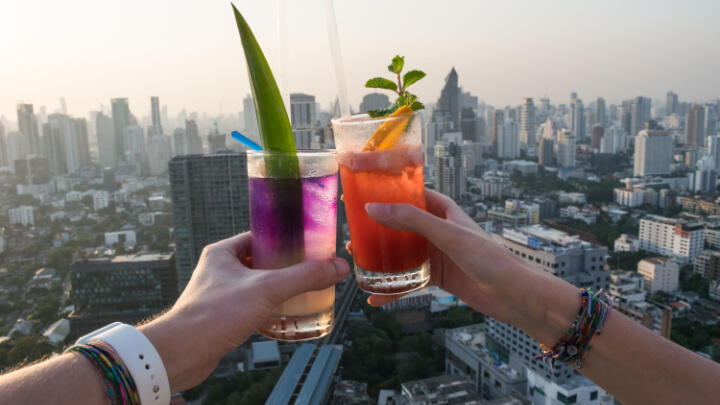 A drink with a view is one of the best things about summer. And, in a place like Bangkok where the summers seem endless, it'll always be ideal weather to sit on a rooftop and sip something refreshing. For one of the best rooftop bars in the city, head up to the 40th floor of the JC Kevin Sathorn Hotel and live it up at Zoom Rooftop Barr.
With Go City, you'll get a complimentary drink when you visit, but if you want to really drink in the atmosphere and views from on high, stick around and take your pick from the generous menu of fruity cocktails, wines, and local beers.
Plus, with views like this, it's the perfect excuse to snap some pics for your socials. 
If you're looking for a classy joint that does astounding cocktails and delicious food, check out Villa Frantzen Cocktail Bar. And hey, as it's connected to the well-renowned Villa Frantzen restaurant, it's also a good place to stop off for a pre-dinner tipple.
Featuring an extensive selection of Swedish spirits, Villa Frantzen Cocktail Bar has a menu full of Scandi-style cocktails made with classic Nordic ingredients. But if those don't take your fancy, pick from a wide selection of other drinks, such as beers, wines, and classic cocktails.
And, if you get hungry but don't fancy a proper meal, get some snacky dishes sent right to your table.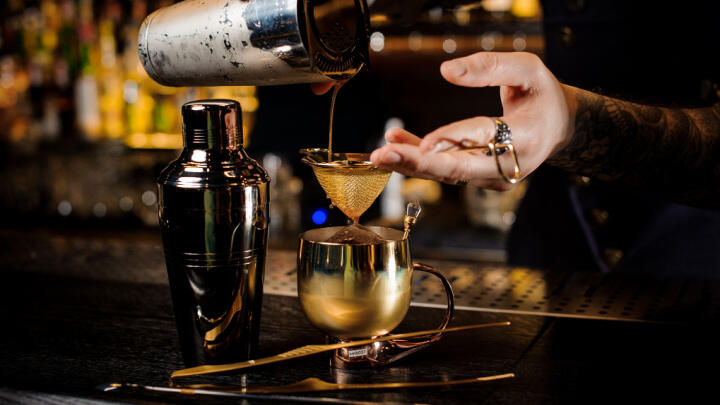 Fancy visiting a Prohibition Era Speakeasy replete with all the wild thunder associated with the roaring 20s? Check out The Green Door, which successfully transports visitors to old Siam with aplomb. 
Using the finest ingredients, the mixologists at The Green Door accurately recreate the biggest drinks of the time period, sometimes throwing in some modern touches to help them stand out. Of course, if you'd rather go with what you know, the staff will be able to rustle together pretty much anything. So, even if you have weird tastes, you needn't worry. But really, make the most of the unusual cocktails - after all, where else are you likely to sip on drinks made with clarified milk punch and Thai tea?
Hungry souls will also delight at the charcuterie and cheese plates on offer. Pretty damn fancy, right? Best dress the part when you go!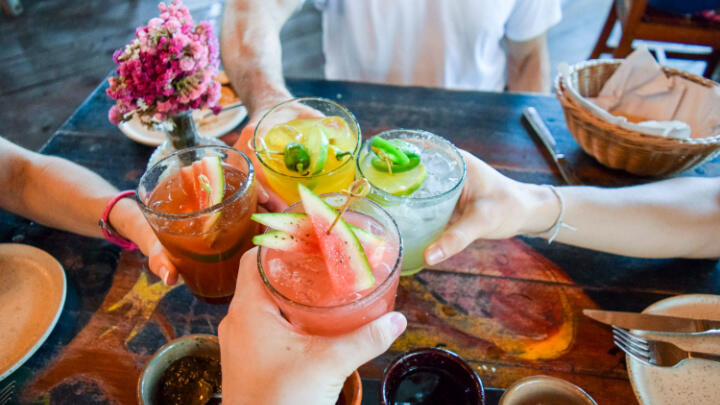 In the mood for some live music? Do you dig drinks made with Mezcal and Tequila? Head on over to Noche for some foot-tapping jams while you sate your taste buds. 
This Mexican-themed joint has live musicians take the stage on a near-daily basis, ensuring that no matter when you visit, you'll catch some tunes. And, with a menu full of Mexican drinks and dishes, it's certainly one of the most unique bars in Bangkok. If all that sounds grand to you, best check it out.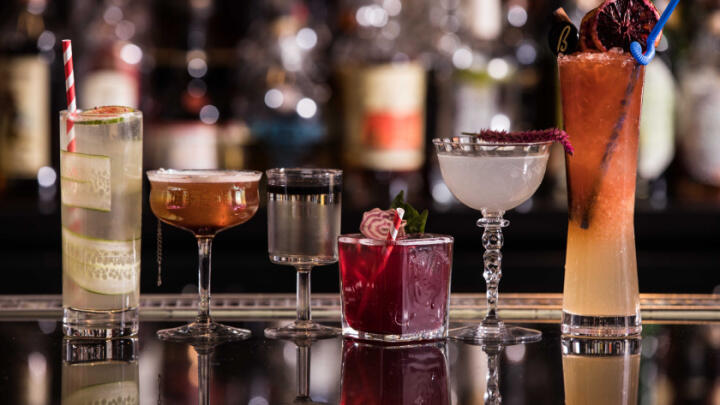 Star signs aren't for everyone. Sure, we all 'land' on a specific star sign depending on our birthday, but really, how likely is it that said star sign really telegraphs our personality traits, or whether we'll find "good fortune" on a week-by-week basis? Still, that doesn't mean Zodiac signs can't serve a purpose; just look at Cooling Tower. 
Their new Constellation Menu brings 12 unique cocktails inspired by each Zodiac sign. So why not go and order your own sign and see whether the ingredients match your personality? And hey, if they don't, you can order any of the others - some are sure to tickle your interest. 
Of course, there are other drinks on their menu, so if the Zodiac concoctions don't appeal, there are plenty more non-astrology offerings to choose from. Oh, and did we mention it's on a rooftop? Cooling Tower is easily one of the best bars in Bangkok!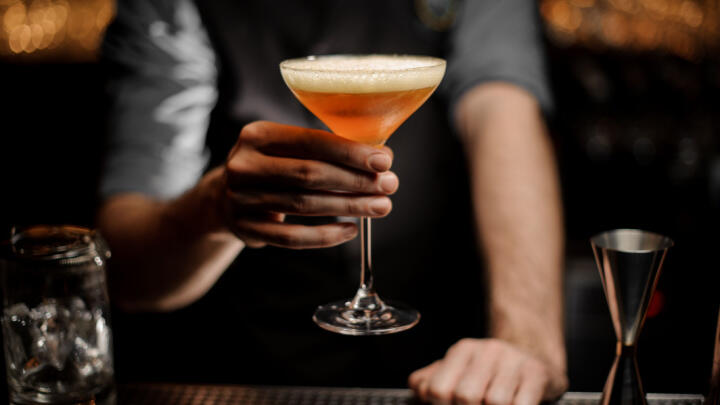 And finally, we'll end our picks of the best bars in Bangkok with the oddly named Opium, a place that intends to offer "liquid surreality". And no, don't worry, there's no funny business going on. This is pure, unadulterated booze heaven, so go take a seat and soak it up. 
Prepare your butt for smooth, delicious cocktails made with eye-raising ingredients, and an atmosphere that's second to none.  
And those were our picks of the best bars in Bangkok! Of course, there's more to a vacation than bar hopping. So, if you want to see the rest of Bangkok's best bits for one low price, check out Go City. With our All-Inclusive Pass and Explorer Pass, you can see the city at your own pace.