If you're planning a trip to Bangkok but have no idea where to pitch your tent, let us help. We've looked at every neighborhood in the city to help you determine where to stay in Bangkok. Check out our picks of the best areas and see which suits you!
Including:
Ko Ratanakosin
Banglamphu
Chatuchak District and Northern Bangkok
Siam Square, Pratunam, and Phloen Chit
and more!
Ko Ratanakosin
If you want to see the sights, you won't find more sightseeing spectacles anywhere else. And it's hardly surprising; Ko Ratanakosin is where Bangkok first began over two centuries ago.
It's also where you'll find tourist heavy-hitters like the Grand Palace and the massive Wat Arun Buddhist temple. Both are ripe for holiday snaps, so if you're the kind of traveler who loves collecting landmarks, it doesn't get much better than this. You could even take a tour of the nearby Chao Phraya River to see them all from the water. 
If you want to be among the landmarks, Ko Ratanakosin is one of the best neighborhoods to stay in when visiting Bangkok.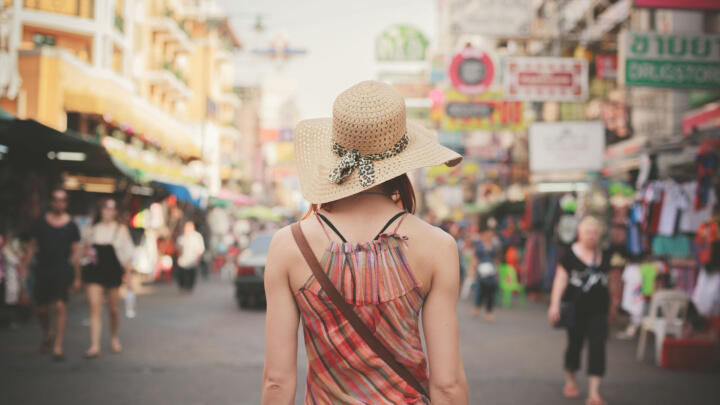 Banglamphu
Sometimes, just traveling to a new place can stretch the budget. Long-haul flights aren't getting any cheaper unless you luck out with a great deal. Budget-conscious travelers should give Banglamphu a go. 
If you're heading to Bangkok for Songkran, it may even be a blessing in disguise. The area is home to the famous Khao San Road, which becomes the epicenter of the water festival's madness. If you stay in a local hotel, you'll be in the thick of the fun as soon as you step outside your door. 
Of course, there's much more to the area than just cheap accommodation and water fights. The Wak Saket and Wat Suthat temples are found in the area, but see them early to avoid the crowds - and the heat. For non-touristy fun, you'll find plenty of brilliant street food, restaurants, and bars nearby, most of which are reasonably priced.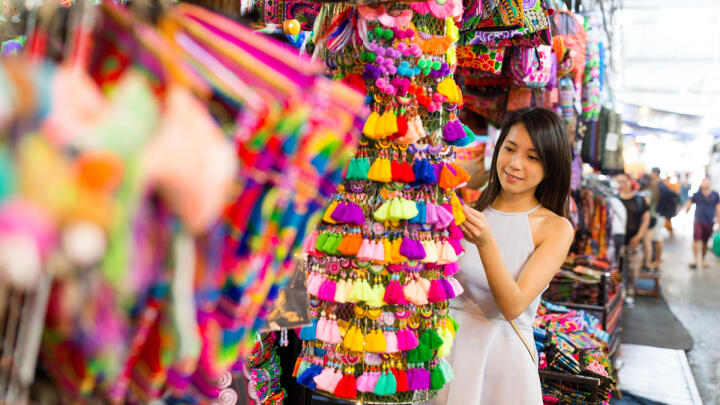 Chatuchak District and Northern Bangkok
One of Bangkok's most popular pastimes is the market scene. People love markets so much there that they even host them on riverboats and live train tracks. If you're willing to stare death in the face to get the best deals, Chatuchak District - and Northern Bangkok as a whole - might be the best neighborhood to stay in when you head to Bangkok. 
Chatuchak Weekend Market hosts countless deal-seekers to its maze of stalls, offering plenty of weird and wonderful offerings to would-be buyers. Astute bargain hunters will find plenty to love if they shop around. Night owls can make the most of their evenings at Talat Rot Fai, a night market where you can feast like a king, drink like a...drinker, and hunt bargains until the early hours. 
Speaking of nightlife, Royal City Avenue (or RCA) is there too, which is one of the liveliest nightlife spots for both tourists and locals. Bars and clubs will often stay open until at least 2AM, so go get your fix.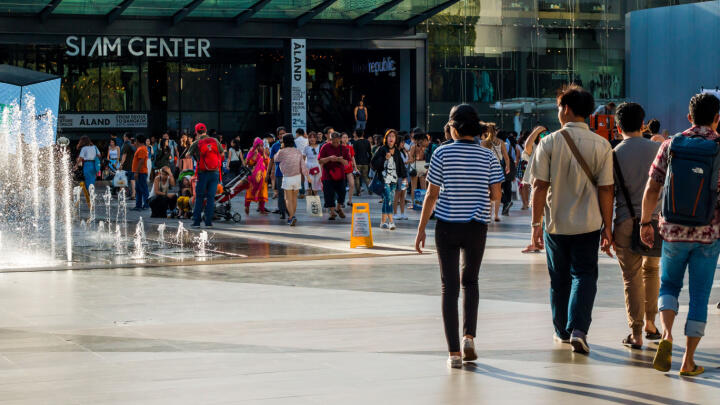 Siam Square, Pratunam, and Phloen Chit
If you love to shop, but the thought of wheeling, dealing, and bartering puts you off Bangkok's market scene, then why stay in shopping heaven? You'll find all that at Siam Square, Pratunam, and Pholen Chit - the commercial hub of the city. 
You'll find massive malls full of international designer labels, electronics stores, and plenty of places to eat and drink. These are often flanked by huge hotels, other outdoor shopping centers, and plenty of other family-friendly entertainment. For instance, you'll find Bangkok's own Madame Tussauds a stone's throw from Siam Square. You'll likely need a decent chunk of time to see it all, so we'd recommend heading there mid-morning at the latest to make the most of it. Plus, if you want to avoid the densest crowds, avoid going on a Sunday. Trust us; it's a bloodbath. 
If you want to be near the shops, or close to kid-friendly activities, Siam Square, Pratunam, and Pholen Chit might be the best neighborhood to stay in Bangkok.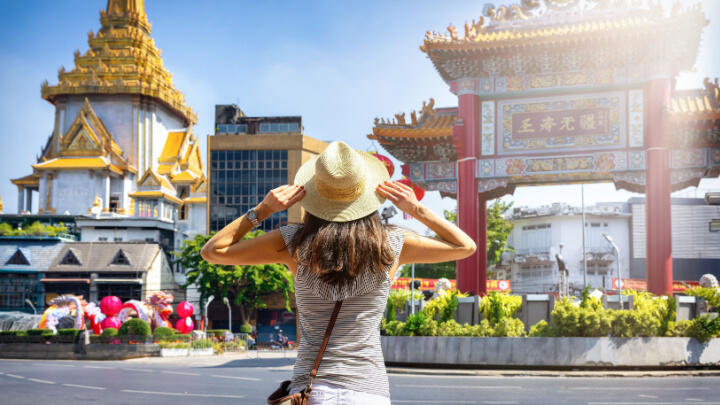 Chinatown
Chinatown is one of the liveliest places in Bangkok, with tons to see, do, and eat. So, if you want to be close to the action and don't mind exploring, it could be the neighborhood for you. 
Ostensibly the facsimile of every Chinese city thrown together, you'll find street food vendors, market stalls, restaurants, and tea houses on practically every corner of Chinatown. You could spend literal days exploring its nooks and crannies to find hidden delights, long-forgotten shop fronts, and other curiosities. And that's before you've even seen the area's most notable landmarks like Wat Traimit, a massive golden temple dedicated to Buddha, and the bigger market areas such as Talat Mai and Talat Noi.  
But really, our best advice is to head off into town and see the sights for yourself, discover the lesser-known corners, and see what you find!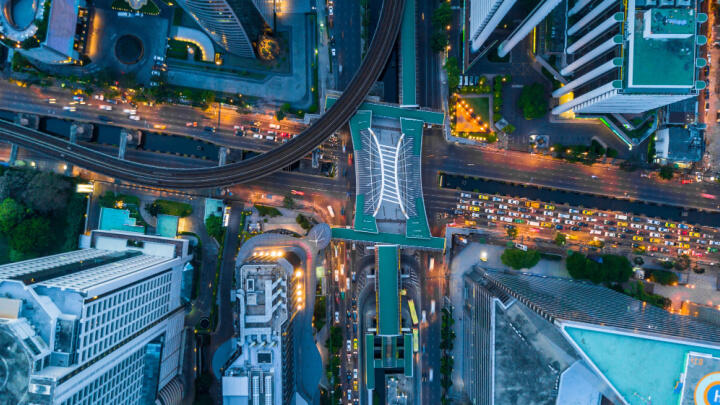 Silom
We've already mentioned the Chao Phraya River, but if you travel along it further up from Ko Ratanakosin, you'll find arguably the best dining district in the city. It's called Silom, and after spending even a few moments in it, it's easy to see why.
See, Silon is the financial hub of Bangkok, with soaring skyscrapers and plenty of suits. In and around here, you'll find a metric ton of top-quality eateries. Foodies planning a trip to Bangkok may already be aware of Saawaan, a Michelin-starred restaurant, and one of the most renowned Thai spots on the planet. Other popular spots include Le Du and Le Cabanon, but you're just as likely to find some lesser-known wonders tucked away in a back alley. Even the street food is supreme here; you're truly spoiled for choice. 
So, foodies beware - Silom is arguably the best neighborhood for you to plan your stay in during your Bangkok vacation!
So, if you were wondering which was the best neighborhood to stay in when visiting Bangkok, hopefully that clears things up! In the meantime, you'll need to plan out your travel itinerary so you miss none of Bangkok's amazing attractions. With Go City's All-Inclusive Pass and Explorer Pass, you can see all the city's best bits for one low price!