Heading to Bangkok and wondering where the best watering holes are? We can do one better. Rooftop bars. They're all over the city, so why not make the most of Bangkok's enviable views? Below, we've curated our picks of the best rooftop bars in Bangkok. So read on, make some notes, and make the most of your vacation!
Including:
Zoom Rooftop Bar
King Power Mahanakhon Tower
CHAR Rooftop Bar
Vertigo & Moon Bar
...and more!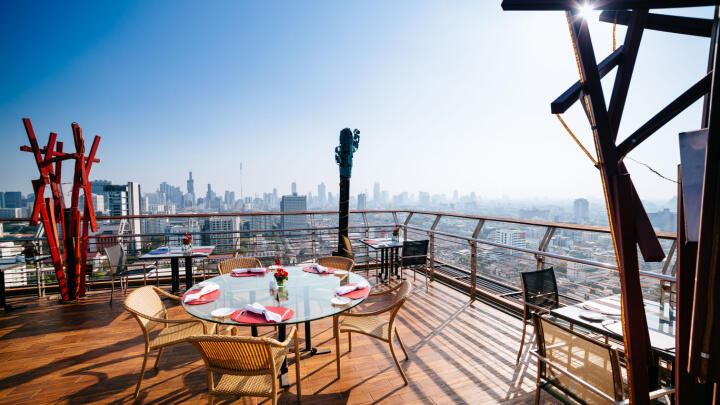 Looking for the perfect rooftop bar to snap some Insta-worthy photos and enjoy a free drink? Look no further than Zoom Rooftop Bar at JC Kevin Sathorn Hotel. 
As you ascend to the 40th floor, you'll feel like you're rising to the top of Mount Everest, but with less snow and more cocktails. Take in the stunning panoramic views of the city, and make sure to get that perfect shot for the 'gram. And the best part? With Go City, your drink is on the house! So, whether you're a beer lover or prefer to sip on something fruity, we've got you covered. 
Sit back on one of their comfy lounge sofas, and let the glimmering lights of Bangkok dazzle you. And don't forget to dress to impress in your smart-casual attire because, at Zoom Rooftop Bar, you'll want to look the part.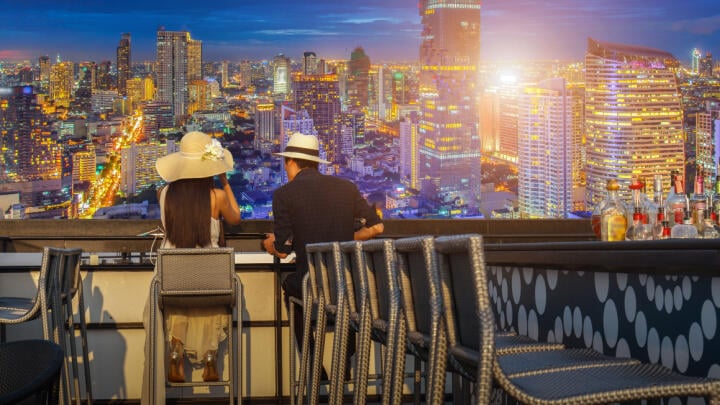 Are you planning a trip to Bangkok? Well, make sure you visit the King Power Mahanakhon skyscraper and its Sky Bar! This tower is so tall you'll feel like you're standing on top of a giant. And if you're lucky, said giant might even buy you a drink.
The elevator ride up to the rooftop terrace is over in seconds, and once you're up there, you'll be treated to one of the coolest views of the city. Seriously, the view is so amazing it almost demands being put on celluloid.
Sure, admission costs around 20 euros per person, but that's a small price to pay for such an incredible experience. And if you're feeling brave, you should definitely try walking across the glass skywalk. It's like walking on air, except the air is made of glass, and you're 310 meters off the ground. But you're made of stern stuff, right?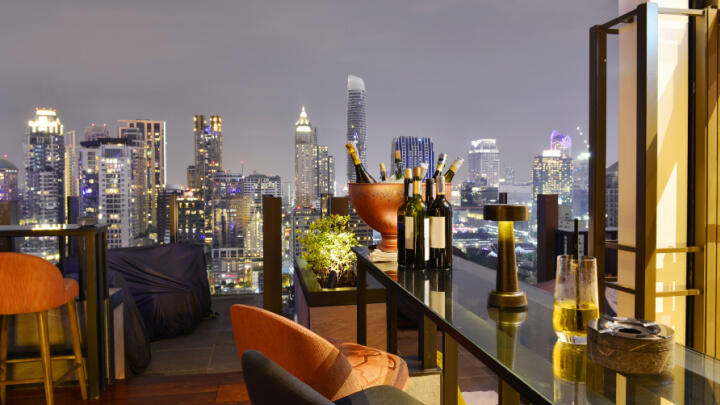 If you're looking for the best rooftop bars in Bangkok, look no further! Introducing Speakeasy Rooftop Bar in the Muse Hotel. This place is so hip and happening, it's practically a secret society.
Perched on the 24th and 25th floors, you'll be surrounded by towering skyscrapers and a beautiful sky garden. The view is so stunning it'll take your breath away faster than a spicy Thai curry. Thankfully, the cocktails are refreshing enough to mitigate that! 
The atmosphere here is inspired by the roaring 1920s. But don't worry, you don't have to dress to the nines to get in as there's no strict dress code. And the best part? The drinks won't break the bank! 
So, if you want to experience one of the best rooftop bars in the city, head on over to the Speakeasy Rooftop Bar in the Muse Hotel and thank us later.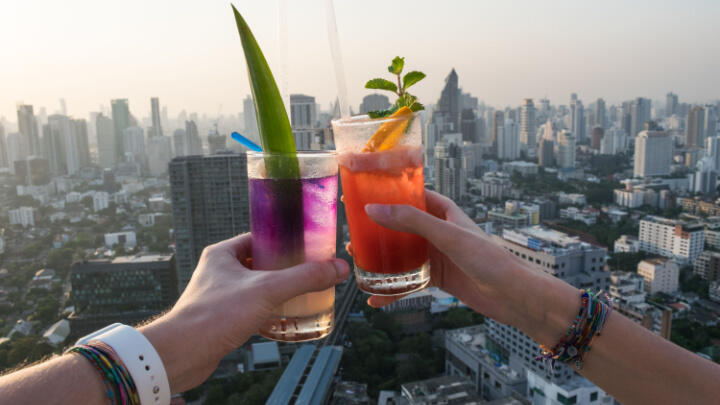 If you're looking for a stunning rooftop bar in Bangkok, look no further than the Vertigo & Moon Bar at Banyan Tree Hotel. It's so impressive that it's received more awards than an international athlete. They receive a lot of awards, if you didn't know. 
The cocktails served at the Moon Bar are nothing short of genius, which is no surprise considering they're crafted in a place that's practically in the stars. And while the prices may be on the higher side, you can't put a price on the experience of sipping a drink while your head's in the clouds.
With a reputation like that, it's no wonder people flock there every evening. As such, you'll want to get there early to bag a good seat at sunset. And if you're in the mood for a romantic dinner, the Vertigo restaurant beside the bar is the perfect spot. Trust us, there's nothing quite like dining on high.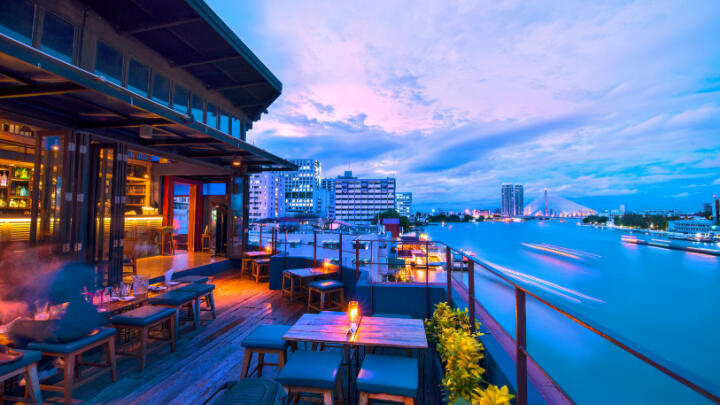 If you're looking for a sky bar in Bangkok with a view that will knock your socks off, then Octave Sky Bar is the place to be. Situated on the 45th to 49th floor of the Marriott Hotel Sukhumvit, it provides a 360° panoramic view of the city. You'll be able to see all the way to the horizon - which is ideal if you ever wondered what the edge of the world looks like.
Even locals flock here to catch the sunset while sipping on cocktails and listening to music. And the best part? The whole menu is affordable, and there's no dress code in sight. Though we do recommend you book ahead if you want to lock a table down. You wouldn't want to miss out on this joint!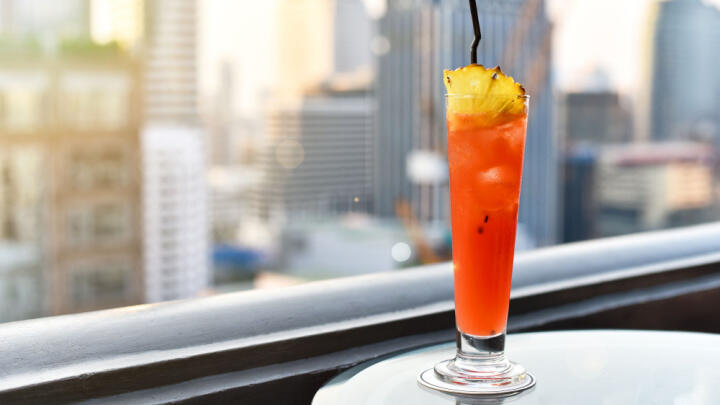 If you're looking for a sky bar with a view that'll knock your socks off, the Lebua State Tower is your place. Its mighty golden dome is so impressive it was featured in The Hangover 2, though we wouldn't recommend replicating the hijinks of that movie during your visit. 
Standing tall over 250 meters off the ground, this sky bar is one of the highest in the city, which means you'll have a bird's-eye view of Bangkok from the 63rd floor. And, while the prices may err on the pricier side, they're worth it for the experience of dining with a view at the legendary Sirocco restaurant.
But we're talking about the best rooftop bars in Bangkok right now, so you'll want to crab walk over to the adjacent Sky Bar or the chic Cigar Terrace. From there, the menu is all yours, though, in the spirit of your visit, we'd recommend the famous "Hangovertini". However, if you wake up next to Mike Tyson and his pet tiger, we never had this conversation. 
And those were our picks of the best rooftop bars in Bangkok! If you're looking for more sober entries in your itinerary, or need some options the following day, check out Go City! With our All-Inclusive Pass and Explorer Pass, you can see all of Bangkok's best bits for one low price!