Do you love animals? Do you also love eating food? Well, you'll be one of those new-fangled vegetarians. Us conscientious munchers ought to stick together, which is why we've created this guide to the best vegetarian restaurants in Bangkok. So, whether you're looking for authentic Thai cuisine, fusion, or veggie spins on meaty favorites, we've got you covered. 
Including:
Broccoli Revolution
Mango Tree
Anotai
Na Aroon
May Kaidee
...and more!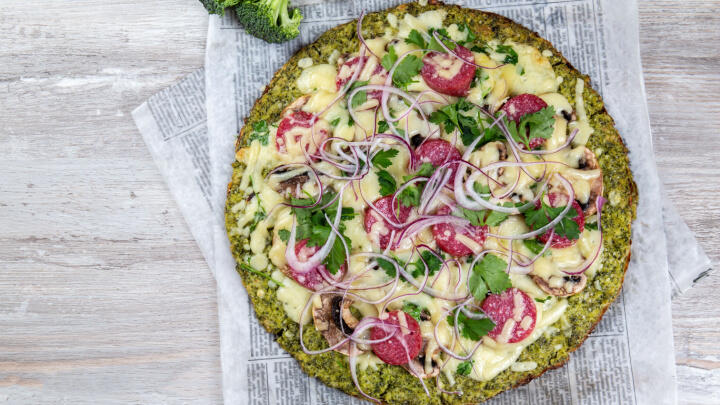 Our first pick certainly has a name to match its ambitions as one of the best vegetarian restaurants in Bangkok. Are you ready for the Broccoli Revolution? Are any of us? 
Priding itself as both a haven for existing veggie enthusiasts, as well as a great place to dip your toe in the meat-free pool, Broccoli Revolution has a whole host of wonderful dishes that mimic or outright usurp their meaty counterparts. Perhaps the spot's biggest draw is the Broccoli Revolution Pizza, which is destined to make you reevaluate your slicey opinion. Combining broccoli (to no one's surprise), a gluten-free crust, tomato sauce, and ooey-gooey mozzarella cheese, it does a lot with a little. 
If you're considering Broccoli Revolution and you're partial to pizza, you have to try it for yourself. Plus, since Broccoli Revolution is close to some of Bangkok's best bits, it just makes sense, doesn't it? Make the most of your day and your meal. Win: win.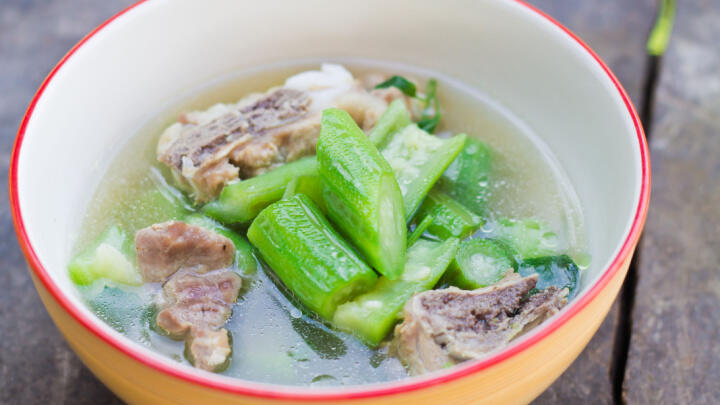 Part vegetarian restaurant, part art gallery, Mango offers some of the tastiest food in Bangkok. And, with a menu that boasts both myriad Thai and international dishes, you're sure to find something tasty to fill that gaping hole in your soul. 
Whether you're pining for Thai classics like curries and spicy soups, or prefer the cooler alternatives like hummus, granola, or salads, you can be sure the ingredients will be fresh, delicious, and meat-free to boot. 
So, don't worry; you needn't climb up a tree to get these mangos. That doesn't make sense, but a meal at Mango Tree certainly does.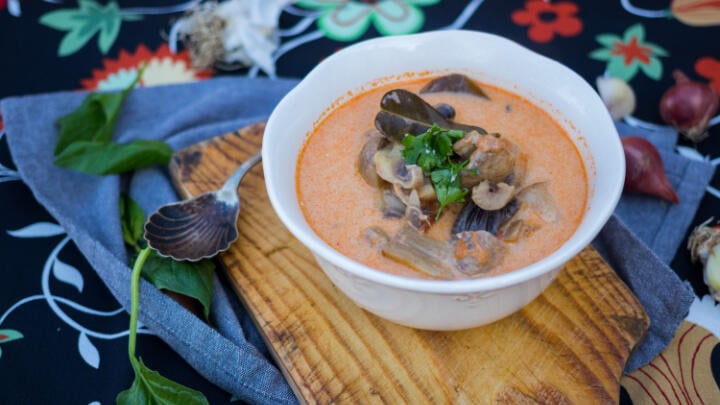 Next up on our list is Anotai, another veggie spot that offers a whole host of delicious starters, mains, and desserts that'll make your mouth water more than Niagra Falls. 
While there are a ton of delicious offerings on the menu, many travel from far and wide to sample Anotai's Tom Yum Goong soup, which mixes eggplant, lemongrass, galangal, kaffir lime leaves, and chili peppers, all soaking in a coconut milk broth that will fill you up no end. And hey, if you're somehow still hungry after that, give the lava cake a whirl - divine. 
Though not the most tourist-friendly spot - not all the servers speak English - it's still well worth a shot if you're willing to go off the unbeaten path.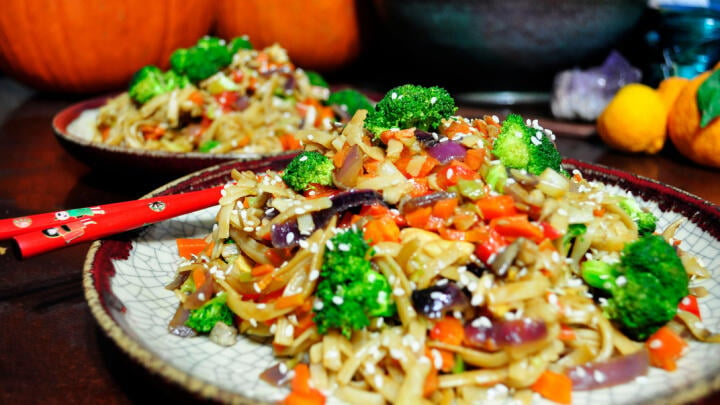 Our next spot, Na Aroon, isn't actually a restaurant but a hotel. But don't worry; even if you're not staying in this luxurious place, you can still visit the wonderful on-site restaurant and chow down on some delicious veggie dishes.
Now be warned - Na Aroon isn't entirely vegetarian. They do serve seafood, though they pride themselves on being completely "meat-free". So, if you're not comfortable with that setup, you might want to skip this one. But if you're okay with that, you're in for a treat. 
Veggie curries, Pad Thai, spring rolls, and tons more are all cooked up to perfection here. Sure, it's a little on the pricier side, but you're on vacation. Time to make it rain, baby.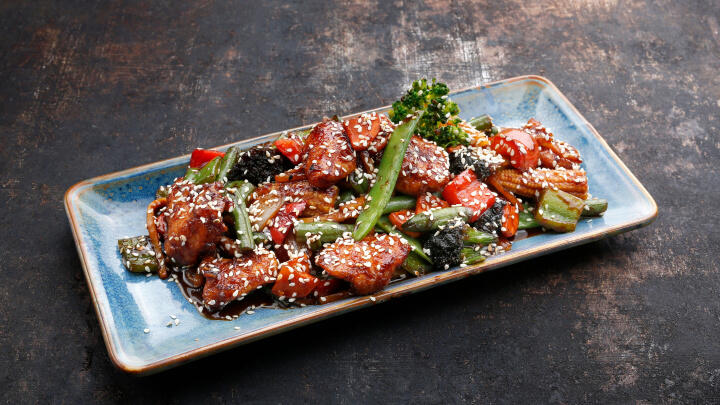 If you're the kind of vegetarian that used to eat meat, seafood, and every other one of god's creatures, then Ruyi Vegetarian might just be one of the best restaurants in Bangkok. 
"But why?", we hear you cry out into the deafening silence that is your life. Well, because Ruyi Vegetarian's unique spin on typical Thai veggie food is their fleshy imitations. Imitation crab, chicken, and duck top the charts, with tons of spicy curry dishes built around each. And some of it is so authentic you may not know the difference. However, if you 'went off' meat, meat-tasting food might not be what you're looking for. 
If it is, we can't recommend Ruyi Vegetarian enough.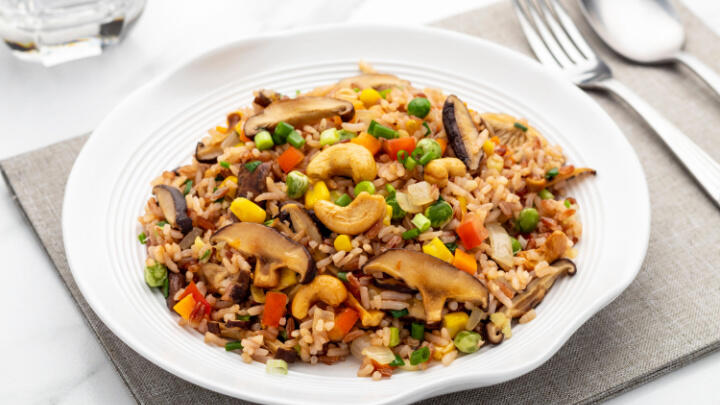 You may not know the name May Kaidee, so let's get a bit more familiar with her. Having spent decades cooking and refining Thai cuisine, she got so good that she's even released cookbooks that spill all her kitchen secrets. However, if you're far from a dab hand in the kitchen, you needn't worry, because she's also opened an eponymous restaurant where you can try it all without the washing up!
With a laundry list of great dishes on the menu, featuring everything from light salads to hefty mains, your tastebuds will be more than sated. And, since it's all meat-free, the only suffering you'll need to worry about is your waistline. 
Having just opened a spot up in New York, it's only a matter of time before May Kaidee takes over the culinary world. So, if you're in Bangkok, go to the source and make the most of it!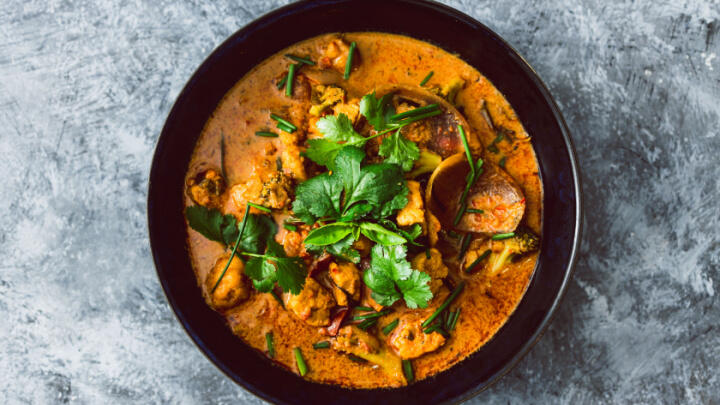 And finally, we'll end our expedition to discover the best vegetarian restaurants in Bangkok with Vistro, an interesting fusion of Thai, Indian, and Italian cuisine. Yes, really. Vistro is also a portmanteau of vegan and bistro, so immediately, you can tell the people in charge are very clever. 
What fusioned delights await you, then? Well, you'll find mushroom burgers, pizzas, and pasta dishes alongside your typical Pad Thai, as well as Indian curries and side dishes. It's truly a hodge-podge of different cuisines, and really, it has no right to work. But work it does, and rather well too. 
So, if you're looking to expand your horizons, and are willing to welcome these three cultures to your table, you're going to have a good time. 
And those are our recommendations for the best vegetarian restaurants in Bangkok! But food is just one part of your vacation experience. If you want to see all of Bangkok's best bits for one low price, check out Go City. With our All-Inclusive Pass and Explorer Pass, you can see the city at your own pace.