Bangkok is one of those cities that could charm the skin off a snake, so powerfully aphrodisiacal is its kaleidoscopic roster of activities and attractions. Perfect, in other words, for romantic date nights, where sharing steamed buns with your other half in Chinatown, watching the sun set over Wat Arun and sipping cocktails on top of a skyscraper are just the start of the fun. Swipe right for our countdown of the 10 best date night activities in Bangkok, including
Rooftop cocktails

Thai massage for couples

Muay Thai martial arts

King Power Mahanakhon Skywalk

Sunset cruises

Night markets

The Lumpini Park swan boats
Mile High Club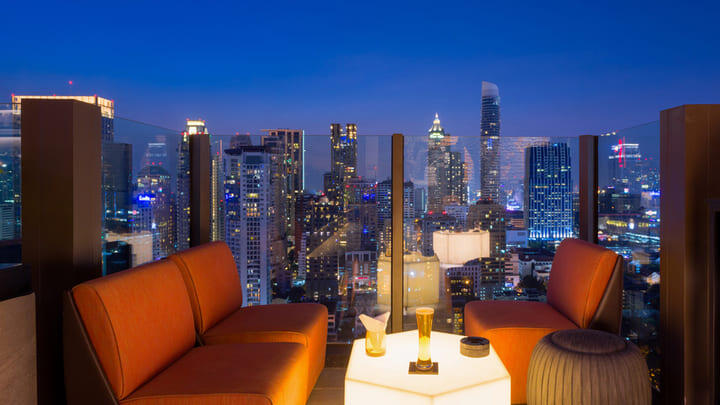 What kind of heart wouldn't be set aflutter by a drinks date on top of a skyscraper? A cold, dead one, that's what. Test your zest for life at one of Bangkok's many, many rooftop bars, where champagne flows, cocktails look like works of art, and the sunsets are enough to make a grown man weep (editor's note: we'll be hearing a lot about sunsets in this blog). Hit up the CRU Champagne Bar, somewhere north of the 55th floor of the Centara Grand, for ultimate wow factor, or go old-school with a signature Vertigo Sunset cocktail (Malibu with tropical fruit juice) atop the legendary Banyan Tree hotel.
Thai Massage for Two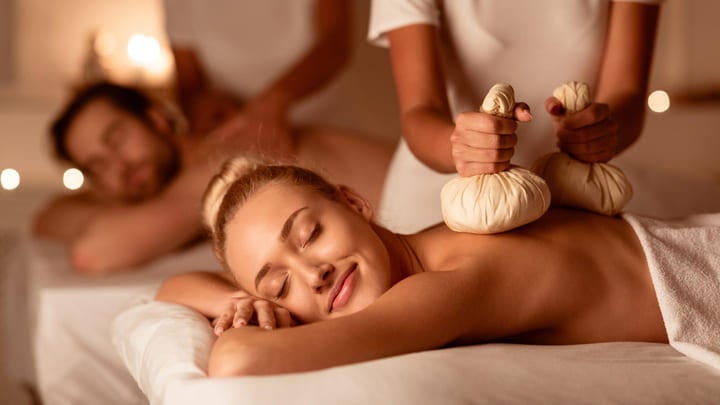 The Thais practically invented massage, so you'd be remiss not to indulge at least once when in Bangkok. There's no shortage of hotel spas and massage studios to choose from but if you want to go high-end for your couples' massage, choose a luxury five-star affair at the likes of the St Regis and Mandarin Oriental. Heck, the Mandarin Oriental even offers Muay Thai massage, which is way less painful than it sounds and brings us neatly to…
See a Live Muay Thai Match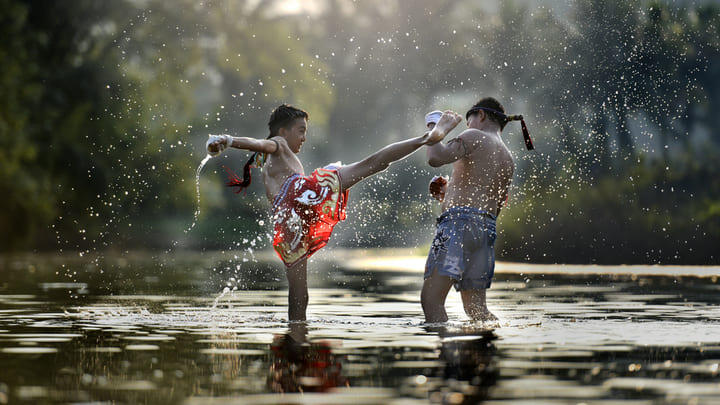 Muay Thai (aka Thai boxing) is the national sport here, and regular spectator events around Bangkok make for great date night activities. And, if watching this majestic martial art at close quarters inspires you and your other half to try it for yourself, there are plenty of classes and training facilities around the city, including in most major luxury hotels. Arguments about whose turn it is to wash up will never be so prosaic again.
Natural Highs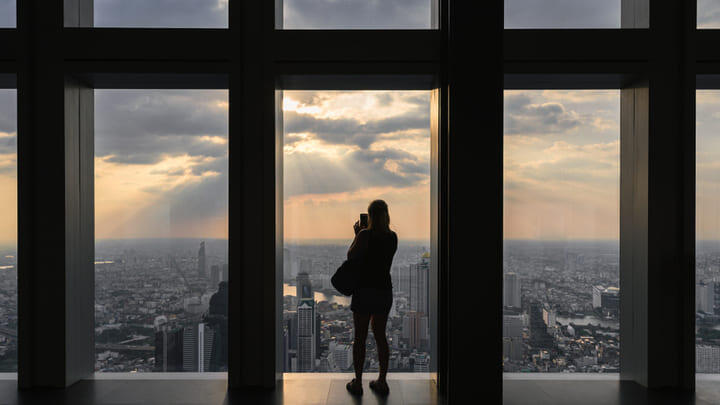 Picture the scene: it's date night, your heart's beating like a drum and your palms have started to sweat. It can only mean one thing: you're at the top of Bangkok's King Power Manakhon building. Up here, some 1,000 feet (and then some) above the bustling streets, you can see right across the city. Assuming you're brave enough to peep through your fingers, that is. Naturally, the sunsets up here are also pretty special, as the sky turns 50 shades of pink and purple over the Grand Palace, Wat Pho, Lumpini Park and other major Bangkok landmarks. Daredevils with nerves of steel can even walk across the Skywalk's  glass platform, a vertigo-inducing experience with the potential to make you (quite literally) swoon.
Chao Phraya Cruise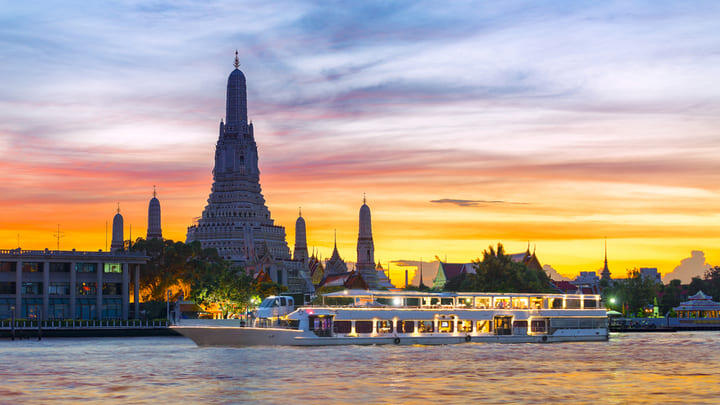 Get your romance on with a dinner cruise along Bangkok's broad Chao Phraya river. Not only does this come with a traditional Thai show and a buffet of local and international dishes on which to gorge, you'll also get – yep, you guessed it – ringside seats for some of the best sunset views in town. If you can be persuaded to tear your eyes away from your belle or beau (and the groaning buffet table), you'll be rewarded with a splendid vista that includes the Khmer-style spires of Wat Arun lit up against darkening orange and pink skies. Magical.
Chinatown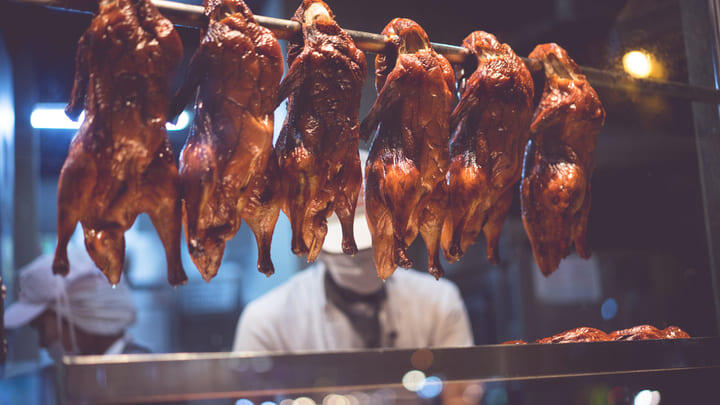 When it comes to romance, a great sunset comes second only to… great food. And food really doesn't get a whole lot better than in and around Chinatown's colorful lanes, where lanterns light the way through great clouds of fragrant smoke and steam that drift in the evening air. Trying to impress your date? Avoid the messy indignity of noodles or the fatal error of garlic breath and opt instead for moreish sharers like steamed pork buns, crispy oyster omelet and sweet Chinese donuts.
It's Showtime!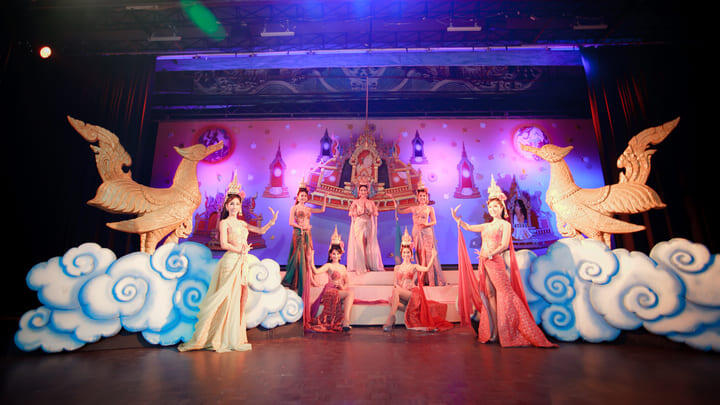 Nothing impresses a date like being treated to a night of high (or even low) culture, and Bangkok delivers on every level. The excellent Thai Cultural Centre is your go-to for classical concerts and performing arts, or you can catch a traditional puppetry show at the Aksra Theatre, where enchanting tales of Thai folklore are told through music and dance. And, if you're in the market for something a little less highbrow and a little more high-kicking, the legendary Golden Dome cabaret has you covered.
Ride a White Swan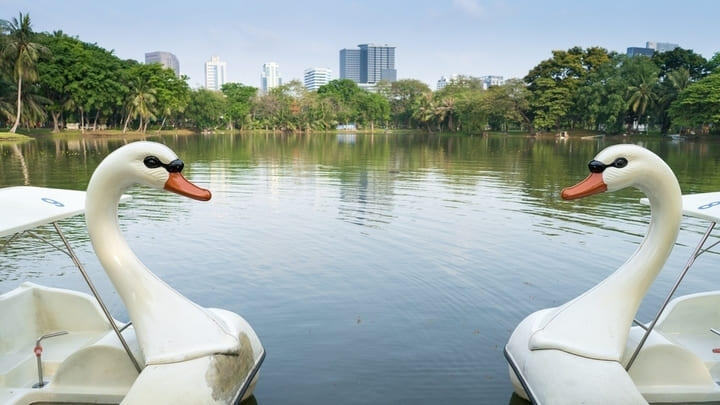 Did you know swans are largely monogamous beasts that tend to stay with the same partner for life? Sweet, huh? So what better way to demonstrate devotion to your date than by ushering them into a giant plastic pedalo swan and pedaling them furiously around the lake in lush Lumpini Park? Paddleboards and kayaks are also available for the less romantically inclined.
Visit a Night Market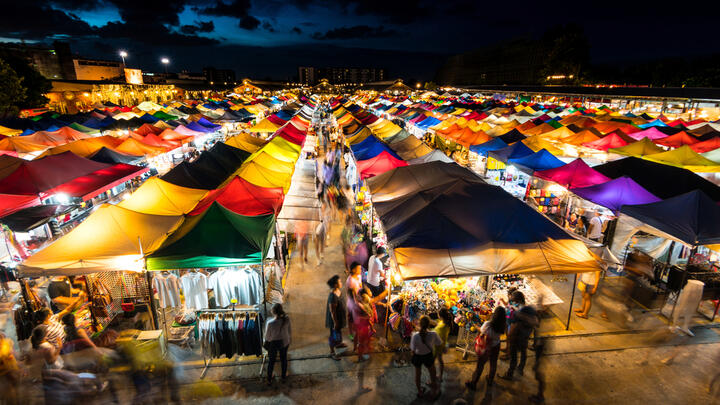 There are few Bangkok activities as atmospheric as strolling through a night market hand in hand, pausing at tempting food stalls and taking cute selfies beneath glowing lanterns. Ong Ang Walking Street is a relatively new kid on the block, a canalside market with cool street art and dozens of excellent food stalls. Or hit up SOOKSIAM at the massive riverside ICONSIAM entertainment complex. Inside this indoor floating market, you'll find hawkers selling vibrant tropical fruits and local handicrafts from their boats, as well as food carts heady with the aromas of fresh roti, fragrant green curry and sizzling pad Thai.
Khaosan Road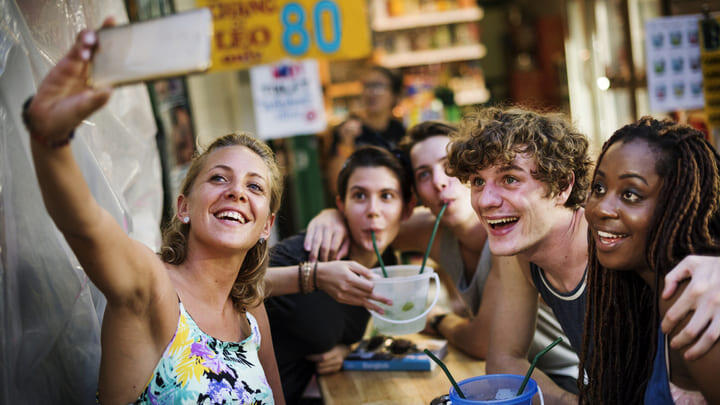 A trip to Bangkok wouldn't be a trip to Bangkok without a blast of that iconic Thai hedonism. Party people should make straight for Khaosan Road, a diminutive city center street that is Bangkok in microcosm. Here international restaurants rub shoulders with traditional street-food stalls and shops vie for the tourist dollar with everything from local artisan crafts to tacky souvenir knick-knacks. Head down there in the evening when the road is transformed into a throbbing mini-metropolis of bright lights, banging live music and noisy bars that spill out onto the street.
Save on

activities and attractions in Bangkok
Save on admission to Bangkok attractions with Go City. Check out @GoCity on Instagram for the latest top tips and attraction info.