For a change of pace and scenery, here are six destinations to consider as either day trips or short road trips from Bangkok. All under three hours away, these sites are the perfect excursion to escape the bustling streets of Thailand's capital city.  
1. Ayutthaya 
Travel time from Bangkok: about 1 hour and 15 minutes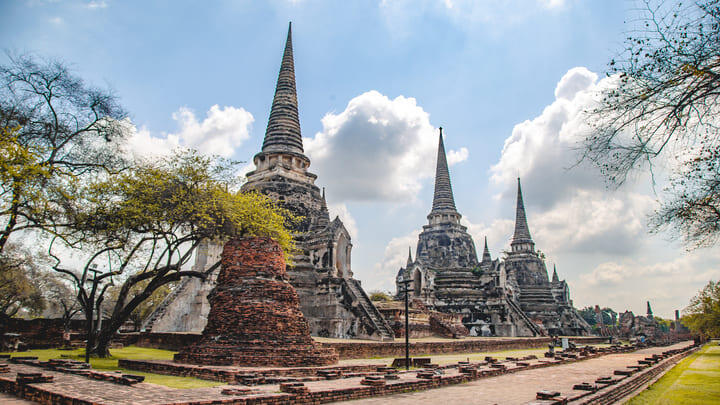 Declared a UNESCO world heritage site, Ayutthaya and its ancient temple ruins are not to miss. Once the capital of the Kingdom of Siam, the city owes its grandeur to its history as a prosperous hub of trade and culture until it was devastated by Burmese forces in the late 1700s. Today, guests flock to the landmark to marvel at the statues and structures locked in time.  
Due to its close proximity to Bangkok (only about 80 kilometers away), many tours offer convenient ways for tourists to visit and explore the temples. For those wanting to see the highlights in a one-day trip, this Ayutthaya Day Tour offers everything from air conditioned transportation, an English speaking guide, and lunch at a local restaurant. 
As a brief preview, some stops on the tour include: Wat Lokayasutha, where you can find the giant reclining Buddha; Wat Phra Sri Sanphet, the most revered temple on site and is instantly recognized by the intricate spires towering from each building; and Wat Mahathat Ayutthaya, where you'll see a statue of Buddha's head woven with vines into a tree. 
2. Dream World Thailand (Thanyaburi) 
Travel time from Bangkok: about 1 hour and 20 minutes  
Less than two hours away from Bangkok, Dream World Thailand is about 40 kilometers away and is sure to entertain both thrillseekers and families. Located in the Pathum Thani Province, Dream World is Thailand's most popular theme park and features different themed areas to explore, such as Dream Garden and Fantasy Land. 
If you're in search of your next adrenaline rush, the theme park is known for stomach-churning rides, like Tornado and Sky Coaster. For families with young children, there's Animal Farm, where exotic animals and birds live, and kid-friendly rides, such as bumper boats.  
3. Pattaya 
Travel time from Bangkok: about 2 hours 
If you're willing to venture just a bit further, Pattaya is 147 kilometers away from Bangkok and has loads to do for guests of all ages.  
First up, Nongnooch Tropical Garden is a 500-acre sprawling attraction featuring various gardens filled with plants, cacti, and…even dinosaurs! With majestic replicas of dinosaurs and other animals, a trip to Nongnooch Tropical Garden is an adventure best for those traveling with curious kids. For ease and convenience, families can ride a sightseeing bus on the property to explore every corner of the park.  
Another family-friendly destination is Ramayana Water Park, where both children and adults can cool down on colorful waterslides, in the lazy river, or in the wave pool.  
Also in Pattaya is the Sanctuary of Truth museum. Constructed out of wood, the structure showcases ornately carved designs on every inch of the building from the stairs, walls, and pointed roof. If you look closely, you'll notice countless hand-carved portrayals of religious figures, including Ganesh, the Hindu god identified by his elephant head.  
Last on our Pattaya list is the Big Buddha Temple, where, among many things, you'll discover gold dragons lining the grand walkway leading up to an enormous golden Buddha. 
4. Kanchanaburi 
Travel time from Bangkok: about 2 hours and 10 minutes  
The town of Kanchanaburi is worth a stop, especially for those curious about Thailand's history with World War II. The Burma Railway, also known as the Death Railway, is famously located in this municipality and bridges Myanmar and Thailand. In the 1940s, prisoners of war were forced to build the bridge under harsh conditions, resulting in the death of about half the workers.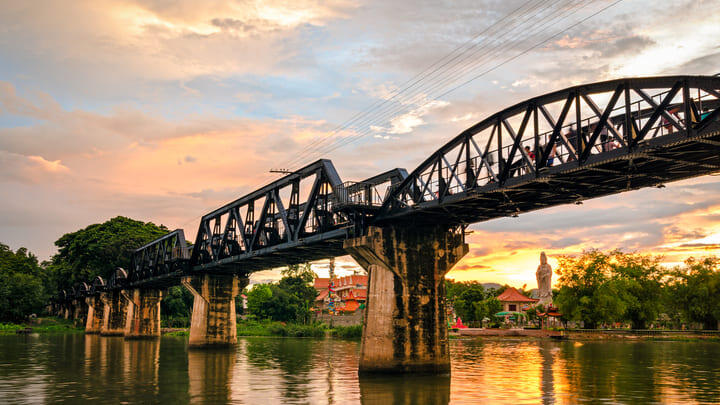 Since then, the iconic bridge has been portrayed in films, such as The Bridge of River Kwai and Return from River Kwai just to name a few. Today, visitors can learn more about the bridge's place in history and its legacy at the Thailand-Burma Railway Centre.  
In addition to the railway, Wat Tham Sua, or Tiger Cave Temple, is a vibrant temple also located in Kanchanaburi. Besides its signature Thai architecture and golden Buddha figures, visitors can climb the colorful staircases to get a sweeping view of the stunning rice paddies and countryside.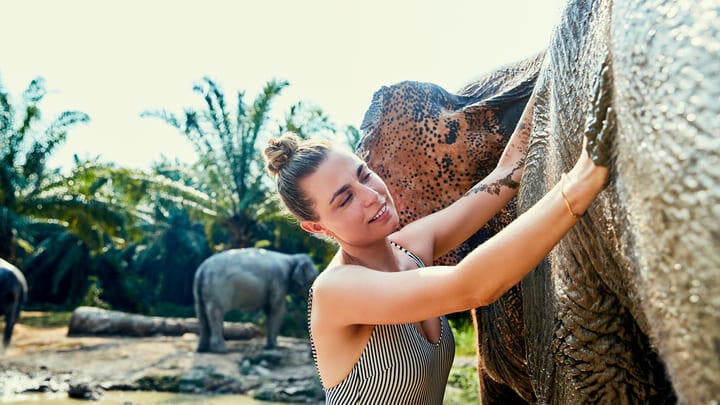 If you want to play zookeeper for a day, Elephants World was originally a sanctuary for sick elephants to recover, but has since opened its doors to visitors to get up and close with these gentle giants. Within the sanctuary, guests have the opportunity to feed and bathe the elephants in their natural habitat.  
5. Erawan National Park and Erawan Falls 
Travel time from Bangkok: about 3 hours and 20 minutes 
For nature lovers, you won't regret a stop at Erawan National Park, which is a 45-minute bus ride from Kanchanaburi's town center and about 192 kilometers away from Bangkok.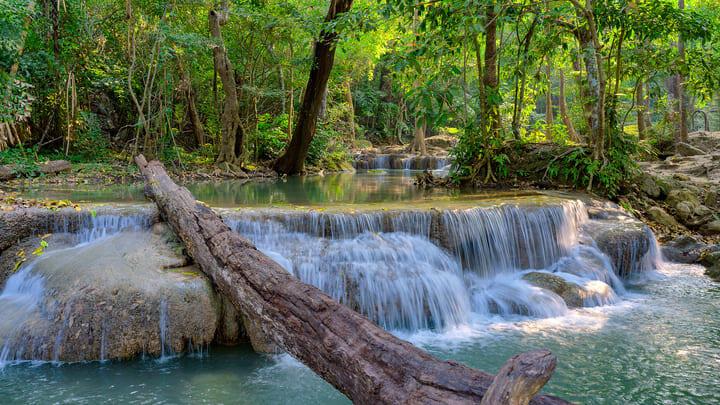 Most guests visit the park to see the breathtaking Erawan Waterfalls. With cascading falls surrounded by lush greenery, visitors can hike and swim in the pools of blue water. With several waterfalls to choose from, there's loads to explore as you take a dip and soak in all the natural wonder around you.  
Many tourists spend a night in the area and bundle together Kanchanaburi and Erawan National Park before heading back to the city.  
6. Hua Hin 
Travel time from Bangkok: 2 hours 45 minutes  
Last on our list is Hua Hin, a beachside town where you'll encounter other city dwellers hoping to unwind and recharge. Similarly to the Kanchanaburi, we recommend spending at least one night in town.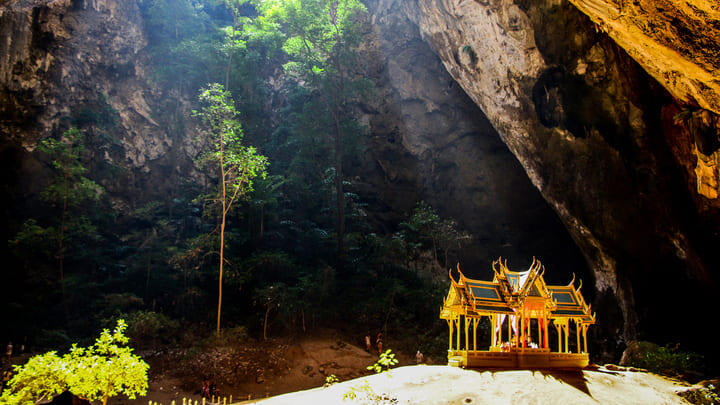 Where water, jungle and mountain meet, Khao Sam Roi Yot National Park is our first stop in the district. We suggest descending into the Phraya Nakhon Cave to see a temple that's made even more beautiful when the sunlight illuminates the area surrounding it. Please be advised that the cave requires a steep climb, so we suggest that guests be physically fit enough to make the trek.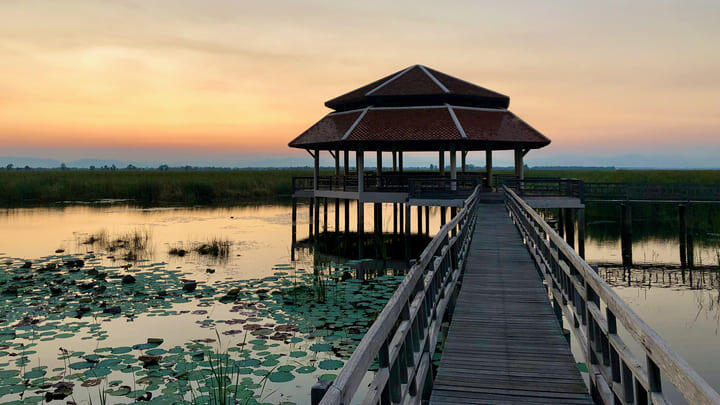 Also within the national park is the Bueng Bua Boardwalk that's built over a freshwater marsh. Here, you can take a boat and see wildlife and sweeping views of the water, lotus plants and mountains intersecting into one.  
In town, Hua Hin Night Market is a flea market housing a variety of stalls offering a good selection of seafood, knick-knacks, and other souvenirs. Other markets to check out include Tamarind Market for street food and live music and Cicada Market for a trendier experience.  
Whether you want to go on excursions and experience life outside of Bangkok or discover the best attractions in the city itself, choose from one of our passes and explore more with Go City.