Bangkok is an absolute mecca for budget travelers; a city where you can pick up unbelievable bargains in the markets, eat like royalty for just a few baht, and experience awe-inspiring temples for, well, nada. Want to get as much bang for your baht as possible? Check out our pick of 10 of the best free things to do in Bangkok, including:
Wat Arun

Lumpini Park 

Chinatown

Bangkok flower market

Bang Kachao

Chatuchak Weekend Market

Bangkok Art & Culture Centre
Bangkok Flower Market
Located on the Chak Phet Road next to Chinatown, Bangkok's premier flower market is as much a feast for the senses as its foodie-mecca neighbor. Wake up and smell the flowers on an early morning visit to Pak Khlong Talat, when truckloads of blooms arrive from the provinces and the air is heavy with the intoxicating fragrances of fresh roses, orchids, jasmine flowers and more. The vibrant floral mountains here are manna for Insta addicts, too; a riot of kaleidoscopic colors that stretch as far as the eye can see.
Lumpini Park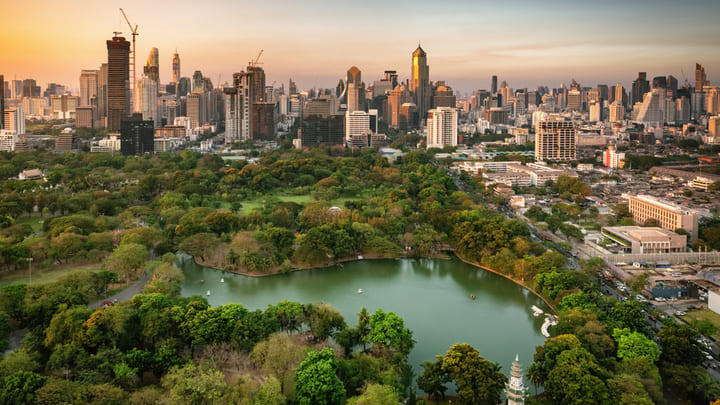 Lumpini Park is a 142-acre oasis of calm in the heart of the metropolis. Nestled amid the soaring skyscrapers of the bustling business district, this expanse of lush parkland is a great spot for people-watching. Here, pensioners take tai chi classes at sunrise, and you can join in with free aerobics classes on the manicured lawns in the evening. Stroll meandering paths, rest in the shade of giant palms, and snap souvenir shots of the resident water monitor lizards basking by the lake. Regular jazz concerts at the bandstand round out this iconic park's eclectic selection of free activities.
Erawan Shrine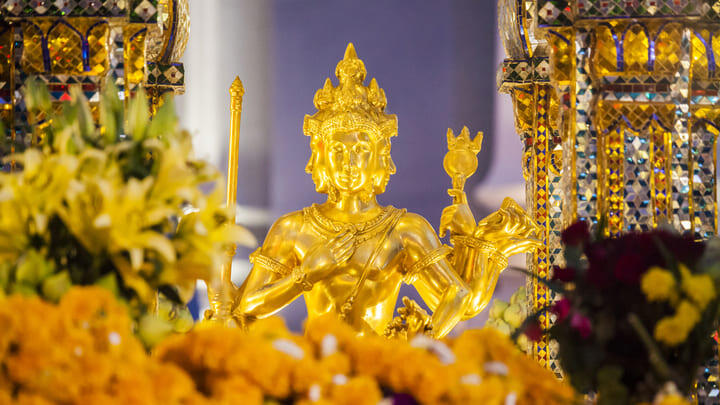 Need a little luck in your life? You could do worse than a pilgrimage to the glittering Erawan Shrine, where the golden, four-faced god Phra Phrom is said to grant wishes and bestow good fortune upon those who pay their respects (and ideally leave an offering – coin, garland, candle – by way of appreciation; after all, nothing truly comes for free, does it?). Yes, it's touristy as all hell here, but locals set great store by ol' PP's powers, so you can expect to witness increasingly elaborate and outlandish attempts to please him, usually in the form of traditional music and dance performances. No wonder then that the Erawan Shrine is one of the most popular free things to do in Bangkok.
The Artist's House
Also known as Baan Silapin and Klong Bang Luang, the Artist's House is an off-the-beaten-track treasure that's tucked away in the winding streets of Bangkok's old capital, Thonburi, by a peaceful canal. The house is chock-full of original artworks, sculptures, masks and puppets, as well as characterful tables spattered with colored paint. Check them out, then go dangle your feet from the dock and take in the views. Perhaps most spectacularly, the house has an old white stupa, where traditional Thai puppetry shows using intricate handmade puppets take place most afternoons. It's all free but donations are surely appreciated!
Wat Arun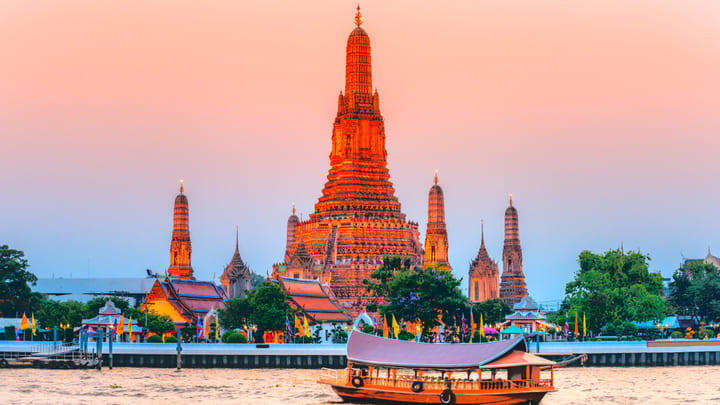 A bona fide icon of the Bangkok skyline, its eye-popping Khmer-style white prangs pointing heavenwards, Wat Arun (the Temple of Dawn) is perhaps best enjoyed at dawn or dusk, viewed from the opposite bank of the wide Chao Phraya river, when the soft light plays on its distinctive porcelain cladding creating a magical glittering effect. If you want to get up close and personal (and you definitely should), it's free to wander the gardens. The 100 baht fee (around $3) to enter the temple is also unlikely to break the bank.
Chinatown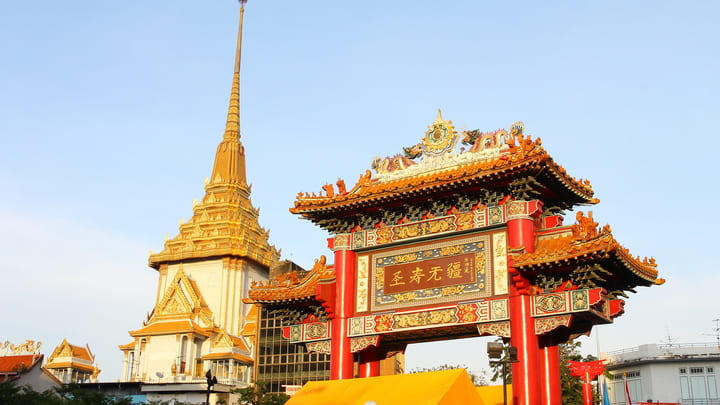 Wandering the neon-lit streets of Bangkok's Chinatown, where lanterns light the way through great fragrant puffs of smoke and steam, is free for as long as you can resist temptation. Aromatic crab-fried rice, umami steamed pork buns, deliciously crispy oyster omelet, sweet Chinese donuts with condensed milk and pandan… we give you no more than three minutes. Appetite satiated (for now), take time to check out some of the neighborhood's fine free attractions. We're talking temples with giant gold Buddhas and crocodile-infested gardens, huge ornately decorated entrances, and the colorful Siang Kong Shrine.
Bang Kachao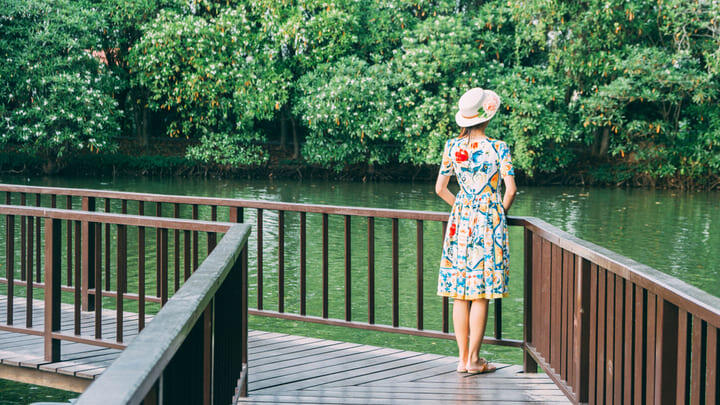 Hidden in a wide loop of the Chao Phraya river, Bang Kachao is known to locals as the city's great green lung. Step off a longtail boat and onto its quiet elevated walkways and you'll soon understand why. The place is a literal breath of fresh air in the heart of the city, where you'll hear no tuk tuk engines revved in anger and spot not a single skyscraper; a rare experience in Bangkok. Instead, lush mangrove forests, scenic canals, vine-strewn forests and abundant tropical wildlife await the intrepid traveler. You might even spot an old temple or two peeping out from between the trees. Rent a bike the better to explore the neighborhood – just watch out for those unfenced canal paths!
Bangkok Art & Culture Centre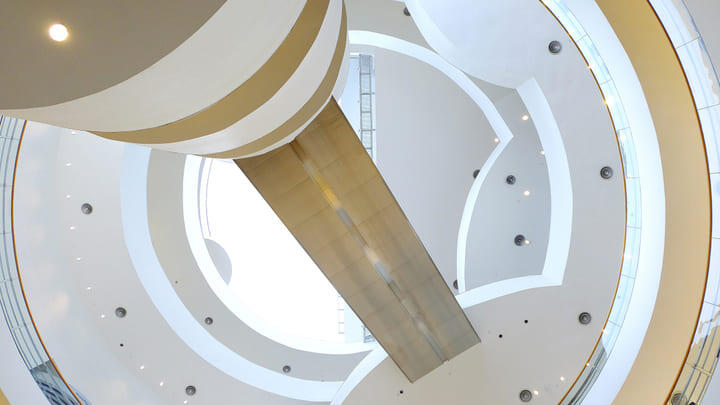 Fancy getting under the skin of Bangkok's contemporary art scene? Then the Bangkok Art & Culture Centre is likely to be right up your alley. An ever-changing roster of exhibitions inside this edgy riverside building make this uber-hip gallery near-impossible to pin down, but you can expect anything from avant-garde sculpture and vibrant abstract artworks to mind-altering installations, workshops and performances. Don't miss the superb, soaring central atrium (pictured), which is practically a work of art in its own right. Best of all, it's absolutely free to visit!
Chatuchak Weekend Market
Thailand's biggest market is a magnet for incurable browsers. Like a miniature city peopled entirely by stallholders and bargain-hunters, this sprawling complex comprises some 15,000 stalls over 35 acres. Looking for vintage jewelry and trinkets? Rare Thai Beatles LPs? Garden furniture? The latest teen fashions? Local handicrafts? The kitchen sink? You've come to the right place. Grab a map at entrance 3 – it may be your only hope of avoiding becoming hopelessly lost in Chatuchak's devilishly labyrinthine lanes. And, when it all gets too much, grab a coconut ice cream and head for a shady spot on the lawns of nearby Chatuchak Park.
Wachirabenchathat Park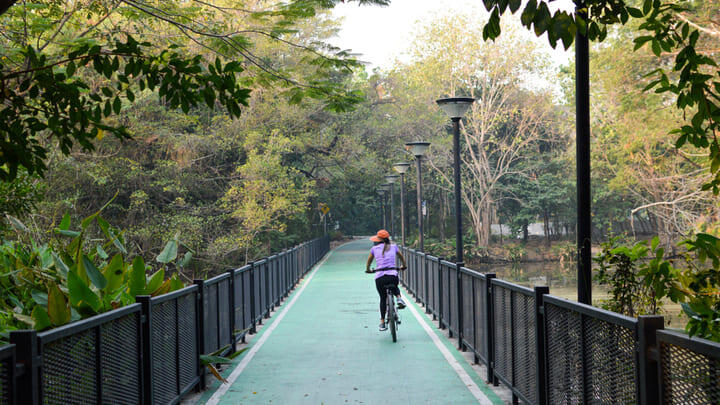 Just one of many fine parks in Bangkok, Wachirabenchathat is home to – among other things – cool sculptures, black swans and the beautiful Bangkok Butterfly Garden and Insectarium. The park is a favorite with locals, who come here for the many shady spots beneath mature trees and rent bicycles to meander gently around its miles of paths. Visit in spring when the park puts on a spectacular display of color during Bangkok's 'cherry blossom' season. Not quite cherry blossom but surely the next best thing, the trumpet-shaped flowers of the tabebuia rosa tree can be seen (and snapped) around the park between late February and late March.
Save on

things to do in Bangkok
Save on admission to Bangkok attractions with Go City. Check out @GoCity on Instagram for the latest top tips and attraction info.