Bangkok is one of those cities where a vacation can be as cheap or as expensive as you want it to be. Stay in a luxury hotel during high season and spend your time shopping designer malls and quaffing cocktails in swanky rooftop bars and it won't be long before you're receiving a panicked call from your bank manager. But follow our guide on how to save money in Bangkok and you'll avoid paying a king's ransom for flights and accommodation, as well as dining like royalty, bagging unbelievable bargains in the markets, and experiencing the very best of Bangkok's free attractions. So here, without further ado is how to get more bang for your baht in Bangkok…
Book Smart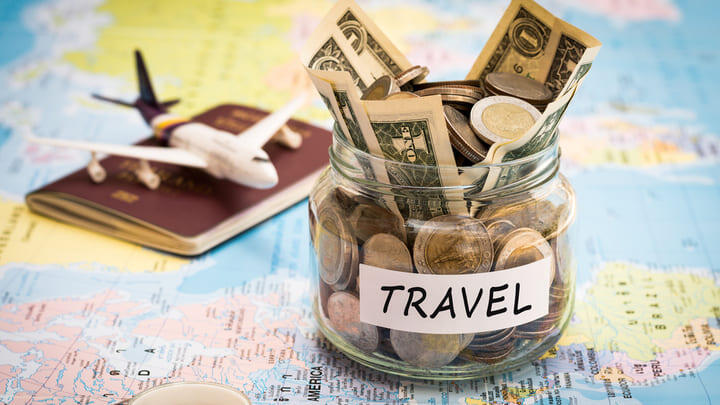 Savvy travelers to whom a little bit of rain is no barrier to a good time flock to Bangkok during monsoon season (June to October), when accommodation prices can drop as much as 50% compared with peak season rates. This is especially true from August onwards, when the rains really get into their stride. Don't let the downpours put you off though – they tend to be isolated, usually sweeping across town in short sharp waves in the afternoon or early evening. Simply arm yourself with an umbrella, waterproof flip-flops and a sightseeing itinerary that includes ace (cheap or free!) indoor attractions like the ICONSIAM floating market, the Bangkok Art & Culture Centre and the city's countless temples for the win. Quite frankly, you'll likely be too busy being smug about the outrageous savings you've made to care about a little bit of water anyway. 
Bonus tip: fly into town mid-week rather than on the weekend and book your flight around seven weeks in advance to bag the best fares. Every little helps!
Get Around on the Cheap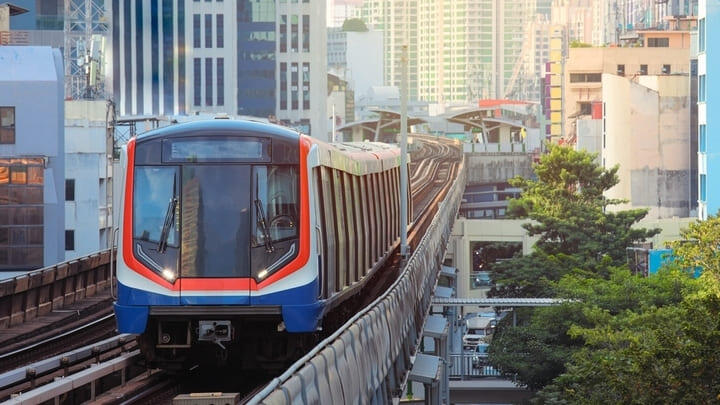 Bangkok is (as you may have heard) a big place, and the cost of zipping from hotel to temple to restaurant to market can soon add up. That friendly cab driver smiling and waving at you as you exit your hotel? A nice guy to be sure, but the fixed rate he's offering to drive you around all day is way higher than using public transport and even metered taxis. You're paying for convenience here, which is great, but treat Bangkok's public transport as part of the fun (because it really is!) and there are huge savings to be made.
You can reach most of the major attractions (and many of the minor ones too) via the BTS Skytrain, a speedy, reliable (and air-conditioned) mass transit system that soars over the city on an elevated railway line. Single journeys start at just a few baht but if you plan to use it a lot, pick up a preloaded Rabbit Card which includes multiple trips at a flat rate and allows you to zip right across town for under a dollar. You should also make liberal use of the ubiquitous riverboats and ferries, from which the views alone are often worth the (low) cost of entry.
Bonus tip: buses are cheap but liable to leave you stranded in heavy traffic. And while everyone who visits Bangkok should ride a tuk tuk at least once, these will often charge tourist prices, even for short journeys.
Eat Like a Local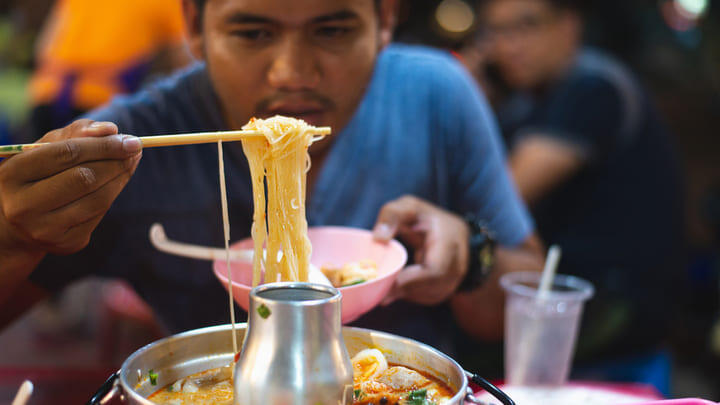 Whaddya mean you can't go more than three days without the guilty pleasure of a Big Mac or Whopper? Western fast food chains are rife in Bangkok, but that doesn't mean you have to squander your hard-earned baht on them. In fact, stick to street food and low-key neighborhood restaurants and you'll quickly find that you can feast like a foreign dignitary for a fraction of the price of a McDonald's, KFC or Burger King. Naturally, Chinatown boasts some of the best (and most bargainous) foodie treats in town. Stroll the sensory kaleidoscope that is Yaowarat Road in the evening – all shooting flames, smoking griddles and great clouds of aromatic steam snaking through the alleyways beneath garish neon lights – and treat your tastebuds a party they won't soon forget. Crispy oyster omelets, zingy wok-fried noodles, vibrant mango salad, umami barbecued pork, fragrant Thai curries… all are available from less than $2 a dish. Yep, you read that right! 
Mall food courts can be cheaper still and have the added bonus of air-con, meaning you needn't sweat your way through that super-spicy tom yum soup. As for proper sit-down restaurants, our recommendation is to avoid around tourist hotspots and instead seek out those that are busy with locals – you'll get better food and service and pay less for your meals if you do.
Bonus tip: tipping isn't expected in Thailand, so don't go crazy with US-style 20% premiums. If you want to show gratitude to staff, a little small change will suffice.
Save Money on Attractions!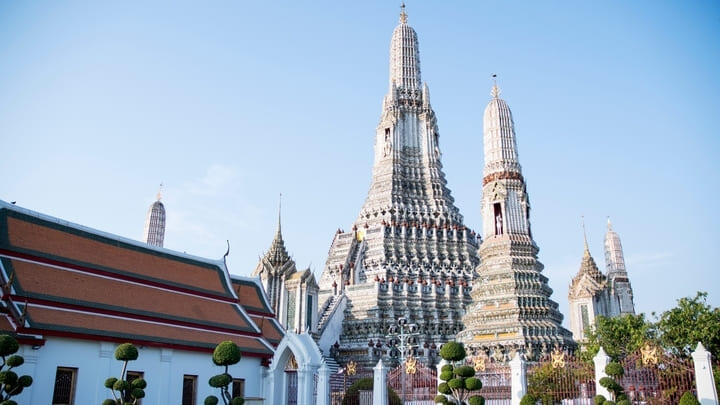 Among the many ways to save money in Bangkok, one of the smartest is to visit the top attractions that cost little or nothing to enter. Here are just a few of our money-saving favorites:
Chatuchak Weekend Market. Thailand's biggest market is a mecca for bargain hunters. Browse thousands of stalls that hawk everything from vintage vinyl to modern fashion and get lost in the maze of lanes on a hunt for that elusive taxidermy owl of your dreams. Don't be afraid to barter for your prize either; there's a markup on prices for tourists and vendors will always negotiate as long as you haggle fairly and with a smile on your face.
Wat Arun. Sensational river views of the Wat Arun temple's soaring central spire come absolutely gratis, but the price of entry to have a poke around inside is also unlikely to break the bank. This is true of the majority of temples and shrines around Bangkok, of which there are several thousand to explore.
The Artist's House. This cute canalside house features cool original artworks and runs a traditional Thai puppetry show in the afternoons. Entry is free but donations to keep this labor of love running are appreciated.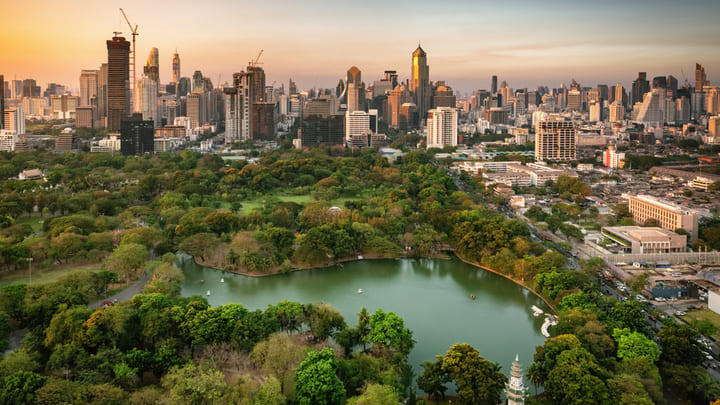 Lumpini Park. Nestled among Bangkok's ubiquitous soaring skyscrapers, Lumpini Park is a 142-acre oasis of parkland, where strolls along meandering lakeside paths, evening aerobics classes on the lawn, bandstand jazz concerts and snaps of the resident water monitor lizards are all free.
Bangkok Art & Culture Centre. Experience Bangkok's contemporary art scene in microcosm at this cutting-edge free riverside gallery, where vibrant abstract artworks, avant-garde sculpture and mind-bending installations are the order of the day.
Go City Attraction Pass. Last but by no means least, it would be remiss of us not to mention our very own attraction passes, which can save you money when visiting multiple attractions around the city. Choose an Explorer Pass to visit up to seven Bangkok attractions within a 60-day window, or go All-Inclusive for a pass that gives you up to five days to experience as many Bangkok landmarks as you like! Attractions include the Grand Palace, Siam Amazing Park, Patpong Museum and the King Power Mahanakhon Skywalk.