Shop Until You Drop: Unveiling Bangkok's Diverse Shopping Scene 
by Mia Russell
Bangkok is a shopper's paradise! Seamlessly blending ancient tradition and modern-day innovation, this bustling metropolis has something for every shopper. From vibrant street markets teeming with local crafts to glamorous high-end malls housing world-renowned luxury brands, Bangkok offers a shopping adventure like no other. 
Shopping in Bangkok is about more than finding great bargains – it's a rich cultural experience! Beyond the enticing products, you'll discover the warmth and hospitality of the Thai people, making your shopping experience all the more memorable.  
Best Street Markets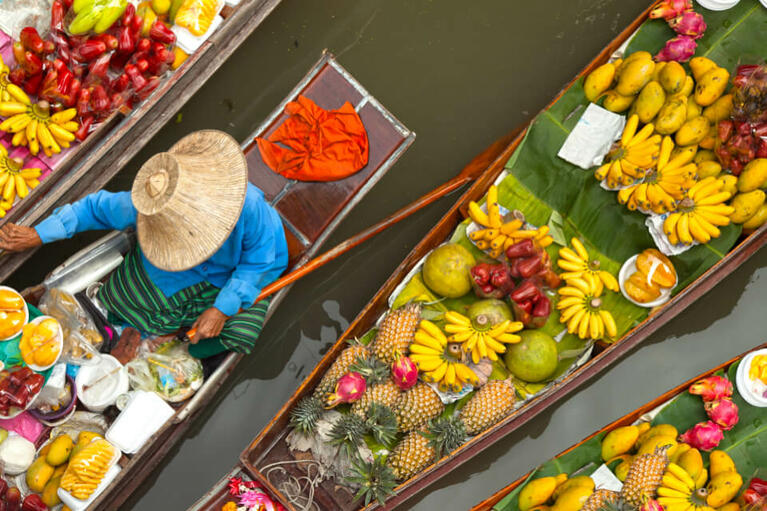 Bangkok's street markets have a rich history dating back to ancient times. They were initially established as places for locals to trade goods. Over the years, they've evolved into bustling hubs for tourists and shoppers alike. The city is peppered with various street markets, each with a unique charm. The most famous include Chatuchak Weekend Market, the Damnoen Saduak Floating Market , and the Maeklong Railway Market.  
Beyond shopping, these markets offer a glimpse into Thai culture. You'll discover an incredible variety of goods, from clothing, jewelry, and handicrafts to one-of-a-kind souvenirs. You can also savor mouthwatering Thai street food, watch live performances, or even get a traditional Thai massage. Exploring the markets is an adventure in itself! 
Chatuchak Weekend Market 
With over 8,000 stalls, Chatuchak Weekend Market is one of the world's largest weekend markets. From fashion to home decor, you'll find it here. Often called JJ Market, this market originated in the mid-20th century as a trading hub for small entrepreneurs. Over time, it has grown into one of the world's largest weekend markets, offering a mind-boggling array of goods. Chatuchak boasts an eclectic mix of merchandise. You'll find everything from clothing, antiques, and handicrafts to pets, plants, and delicious street food. Don't miss the arts and crafts section, and explore the plant market for exotic greenery. Besides shopping, you can enjoy people-watching, sampling Thai street food, and exploring its vibrant, maze-like lanes. It's a sensory overload with colorful sights, sounds, and scents. 
Address: 587, 10 Kamphaeng Phet 2 Rd, Khwaeng Chatuchak, Chatuchak, Bangkok  
Damnoen Saduak Market  
Damnoen Saduak Floating Market is an enchanting market where you can relish Thai culture, flavors, and the age-old tradition of canal-side trading. It's a journey back in time that shouldn't be missed during your stay in Thailand. Dating back to the 19th century, Damnoen Saduak was initially constructed as part of a canal project initiated by King Rama IV to facilitate transportation and trade among locals. Today, it remains a significant hub for buying and selling goods. 
Located about 100 kilometers southwest of Bangkok, this market offers a glimpse into the traditional Thai way of life amidst the picturesque network of canals. Vendors in wooden boats line the canals, selling various items like fresh produce, handicrafts, and local snacks.  Take a memorable boat ride to experience the market from the water, or stroll the walkways to interact with friendly vendors. On the riverbanks, you'll find a bustling scene of market stalls where you can explore even more culinary delights and unique souvenirs. From handmade crafts and intricate wood carvings to traditional Thai clothing and accessories, a treasure trove of goodies awaits discovery. 
Damnoen Saduak Market is most lively in the early morning, so it's worth getting an early start to beat the crowds and immerse yourself in the experience. It's a bit of a journey from Bangkok, but it's well worth it! Remember to use your pass to enjoy a round-trip in air-conditioned transportation and a boat trip to the Damnoen Saduak Market, as well as a local guide who will help you to make the most of your time at the markets.  
Address: Damnoen Saduak, Damnoen Saduak District, Ratchaburi 70130 
Maeklong Railway Market 
The Maeklong Railway Market is an extraordinary destination that combines the charm of a traditional Thai market with the thrill of passing trains. Located in Samut Songkhram province, just outside of Bangkok, this market is a true hidden gem waiting to be discovered. 
The bustling market features narrow aisles with colorful stalls offering an incredible array of fresh fruits, vegetables, meats, spices, and local specialties. But what sets the Maeklong Railway Market apart from any other market is the railway track running right through its center.  
Keep an eye on the clock because, at certain times, the hustle and bustle of the market takes a pause, making way for an approaching train. It's a spectacle like no other as vendors swiftly retract their awnings and make space for the passing locomotive. Witnessing this well-coordinated dance between the market and the train is an experience like no other!  
Once the train has passed, the market returns to its lively state in the blink of an eye. The awnings unfold, and vendors resume their positions, showcasing their goods and beckoning you to explore further. Take your time to indulge in the local delicacies offered here. From freshly grilled seafood and aromatic spices to mouthwatering desserts, the flavors will transport you to a culinary paradise. 
Remember to use your pass to enjoy a round-trip in air-conditioned transportation and a boat trip to the Maeklong Railway Market, as well as a local guide who will help you to make the most of your time at the markets.  
Address: Kasem Sukhum Alley, Mae Klong, Samut Songkhram, 75000 
Best Shopping Malls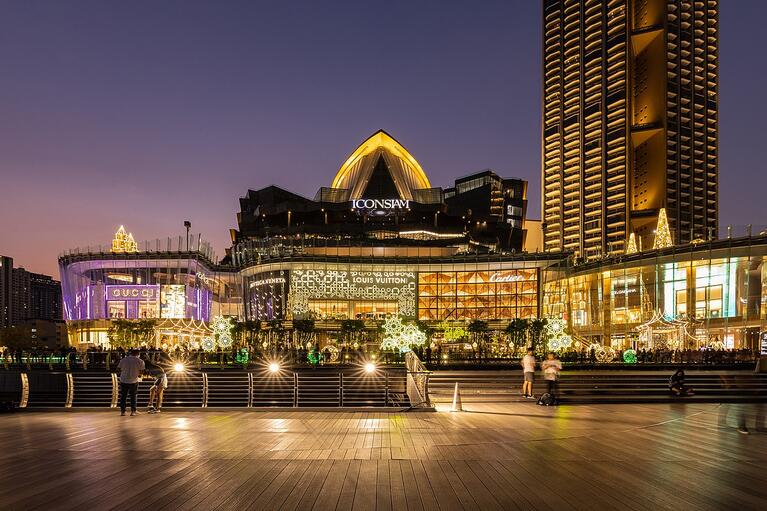 ICONSIAM 
ICONSIAM is a true marvel, seamlessly blending shopping, entertainment, and culture. Its splendid riverside setting and diverse offerings make it an attraction you won't want to miss during your stay in Bangkok. 
Nestled along the banks of the Chao Phraya River, ICONSIAM provides breathtaking views of both the river and the city. The opulent mall houses many luxury brands, international and local boutiques, and exquisite Thai handicraft stores. There is also an art gallery, a multimedia water feature, and the spectacular SookSiam, a Thai cultural village under one roof. 
ICONSIAM offers a multitude of activities. Catch a movie at the colossal cinema, enjoy traditional Thai performances at the amphitheater, or visit the beautiful riverside gardens. The ICONSIAM Observation Deck on the 74th floor offers panoramic views of Bangkok. 
For a unique shopping experience, explore SookSiam, where you can discover artisanal products from different regions of Thailand. Don't forget to try some delicious Thai street food there. The evening brings a captivating multimedia water show at the River Park, so time your visit accordingly. 
Siam Paragon 
Siam Paragon defines Bangkok's luxury shopping scene. This renowned shopping mall in the heart of Bangkok is the epitome of luxury shopping. The mall boasts an impressive array of luxury boutiques, including international fashion brands, high-end electronics stores, and gourmet food outlets. You can even catch a movie at the deluxe cinema or admire exotic cars at the Supercar Hall. 
Apart from shopping, Siam Paragon offers plenty of entertainment options. Dive into the marine world at Siam Ocean World, one of the largest indoor aquariums in Asia, located within the mall. Don't miss the Thai Art Gallery on the M floor, showcasing contemporary Thai art. 
Siam Paragon's Food Hall is a gastronomic delight, offering diverse cuisines. Keep an eye out for special events and promotions, as you might snag a deal on designer goods. From international fashion labels to immersive aquatic experiences, Siam Paragon offers an extravagant shopping adventure in the heart of Thailand's capital. 
Address: 991 Rama I Rd, Pathum Wan, Bangkok 10330 
MBK Center 
MBK Center, short for Mahboonkrong, has been an icon of shopping in Bangkok since 1985. This treasure trove of shopping boasts eight floors of retail outlets and offers everything from clothing, electronics, and cosmetics to handicrafts and souvenirs. The Tokyu Department Store within MBK caters to those seeking high-quality Japanese products. 
Aside from shopping, MBK offers a wide range of activities. Catch the latest blockbuster at the MBK Cineplex, or head up to the sixth floor for an exhilarating experience at the VR1 Virtual Reality Gaming Center. 
Bargaining is common at MBK, so don't hesitate to haggle for a better price, especially at small stalls. If you're shopping for electronics, check the warranty and authenticity of products. Take a break and savor some Thai street food at the fifth-floor food court, offering a variety of delicious dishes. 
Address: 444 Phaya Thai Rd, Wang Mai, Pathum Wan, Bangkok 10330 
CentralWorld 
One of the largest shopping malls in Southeast Asia, CentralWorld is a mecca for shopping enthusiasts. 
CentralWorld is a shopaholic's haven. With over 500 stores, it offers an extensive range of products, including fashion, electronics, cosmetics, and homeware. Don't miss ZEN, a high-end department store known for its luxurious brands. 
You'll also find various entertainment options. Catch the latest blockbusters at the cinema, enjoy ice skating at the expansive indoor rink, or challenge yourself at the Bounce trampoline park. 
Visit during significant events, like the New Year's and Mid-Year sales, for fantastic discounts. The fourth floor houses numerous electronics shops if you're into tech gadgets. CentralWorld also boasts an incredible selection of dining options, from international cuisine to local Thai dishes. 
CentralWorld is a shopping and entertainment paradise. Whether you're in the mood for retail therapy or seeking fun-filled activities, this vibrant mall has it all, making it a must-visit in Bangkok. 
Use your pass to enjoy a VIP shopping experience at CentralWorld with free access to the VIP lounge where you can relax in massage chairs over a coffee after your shopping trip.  
Address: 98/1 Suvarnabhumi 3 Rd, Bang Chalong, Bang Phli District, Samut Prakan 
Best Places to Shop for Specialist Items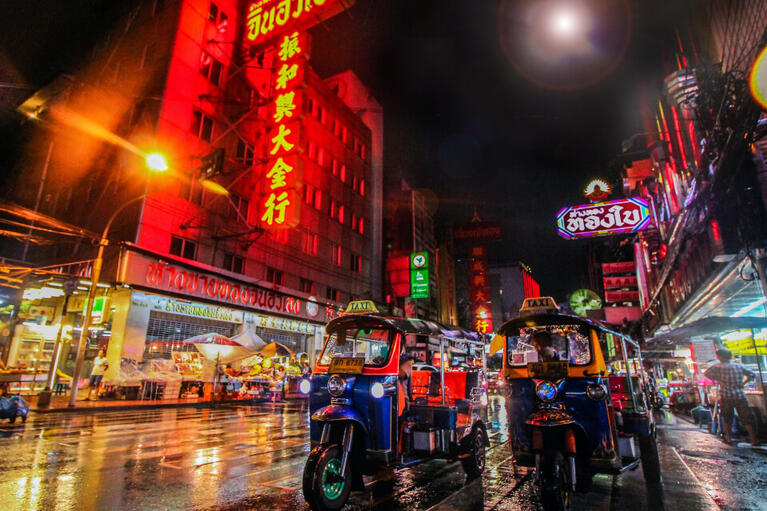 Thai Silk 
Renowned for its exquisite quality and vibrant colors, Thai silk is a must-buy in Bangkok. From scarves and clothing to home décor items, you'll find various silk products that showcase the country's rich textile heritage. 
Jim Thompson House  
The Jim Thompson brand is synonymous with Thai silk. The Jim Thompson House is a museum and retail store that showcases the history of Thai silk and offers a wide range of silk products. Located in the heart of Bangkok, this iconic destination is a must-visit for silk enthusiasts.  
Address: 6 Kasem San 2 Alley, Wang Mai, Pathum Wan, Bangkok 
Handcrafted Jewelry 
Bangkok is a jewelry-making hub, and you can find beautiful pieces crafted with precious stones, silver, and gold. The local jewelry shops offer unique and eye-catching options, from delicate earrings and intricately designed rings to elegant necklaces. 
Gems Gallery 
Located in the heart of Bangkok, Gems Gallery is a renowned destination for gemstones and jewelry. They offer many handcrafted pieces featuring precious stones such as rubies, sapphires, and emeralds. Gems Gallery is a trusted name in the industry, focusing on high-quality craftsmanship. 
Address: 198/23-24 Rama 6 Road, Phayathai, Bangkok 
Traditional Thai Crafts 
Take a piece of Thai culture home by purchasing traditional crafts like intricately carved wooden sculptures, lacquerware, or handmade pottery. These items reflect the country's rich artistic heritage and are sure to add a touch of authenticity to your home décor.  
The Old Siam Plaza 
Tucked away in Bangkok's Chinatown, The Old Siam Plaza is a historic shopping arcade where you can discover a variety of traditional Thai crafts. The shops here offer a mix of antiques, handicrafts, and vintage items. Explore the narrow alleys and hidden corners to find unique treasures such as bronze statues, traditional masks, teakwood carvings, and more.  
Use your pass to enjoy a walking tour of Chinatown and explore the rich culture and history of this area while shopping for souvenirs.  
Address: The Old Siam Plaza, 12 Tri Phet Rd, Wang Burapha Phirom, Phra Nakhon, Bangkok 
Final Thoughts 
Expect a shopping adventure filled with sights, sounds, and aromas that will leave you with incredible finds and unforgettable memories. Whether you're hunting for bargains, luxury items, or unique souvenirs, Bangkok's diverse shopping scene has something for everyone.