White-knuckle enthusiasts rejoice. If you're heading to Bangkok and were wondering if they have any theme parks, you're in luck. Here, we'll explore six of the best, from rollercoaster extravaganzas to kid-focused waterparks. Bangkok has them all. So check out our picks of the best theme parks in Bangkok and see which one suits you best!
Including: 
Dream World
Siam Amazing Park
Cartoon Network Amazone
Fantasia Lagoon Waterpark
And more!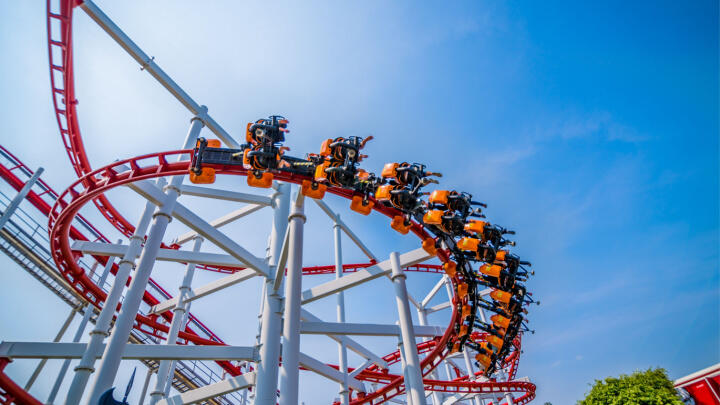 Image courtesy of somdul/Shutterstock
If you're looking for a dream-like theme park where dreams come true, then Dream World is one of the best theme parks you'll find in Bangkok. It's got 'dream' in the name, after all. But why?
First of all, it's so massive you could spend an entire day there and still not ride every attraction. With its thrilling roller coasters, water rides, and family-friendly activities, you're sure to have a great time, whether you're traveling with friends, family, or on your own.
But what sets Dream World apart is its unique attractions. Want to ride a flying carpet like Aladdin? You can do that. Want to visit a winter wonderland and go ice skating? You can do that too. Want to brave a haunted mansion? You guessed it, Dream World has got you covered. And, if you're feeling adventurous, you can even try the Sky Coaster, a ride that will have you soaring through the sky like a cheap Superman knock-off. 
Besides rides, you'll find parades, Hollywood action shows, and magic displays that will have even the keenest skeptic sit up and take notice.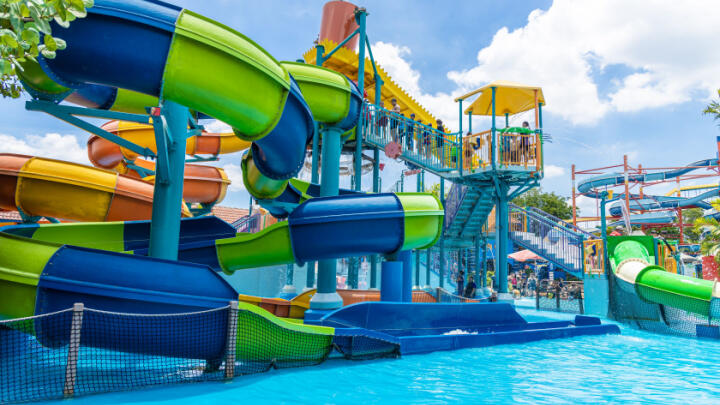 Image courtesy of Quality Stock Arts/Shutterstock
If you're looking for thrilling rides, water attractions, and other activities, look no further than Siam Amazing Park.
What sets it apart from the likes of Dream World is its giant waterslide, which will have you zooming down a steep slope at breakneck speed. If you're feeling daring, you can also try the Super Spiral, a ride that will spin you around and around until your lunch comes up. Best do that one on an empty stomach. 
For those who prefer to keep their feet on terra firma, the park also has a number of other attractions, including a roller coaster and a haunted house. There's a dinosaur-themed area where you can see life-size replicas of prehistoric creatures, and even a dedicated water park featuring a wave pool, lazy river, and other aquatic attractions.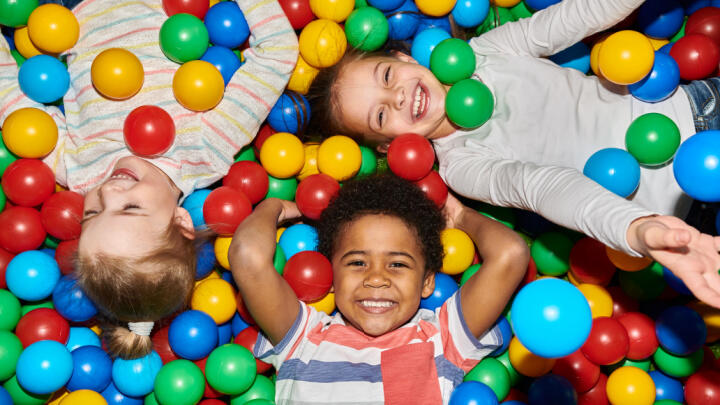 If you've got the kids with you, and the Thai heat is too much to handle, take them to Kidzooona Gateway Ekkamai. This indoor playground is packed with activities that will keep your little ones entertained for hours.
One of the highlights of the park is the ball pit, which comes with thousands of colorful balls that kids can jump into, as well as other things kids do in ball pits. Swim? Sure, why not. 
There's also a climbing area, where little ones can challenge themselves to overcome numerous - yet safe - obstacles to reach the finish line.
In fact, every activity at Kidzooona is designed with safety in mind, so you can let your kids do their thing without fear of hurting themselves.
On top of that, you've got a killer mini-golf course, an area dedicated to trampolines, and even Dress Up District, where kids can pretend their doctors, astronauts, or accountants. Why accountants? Why not?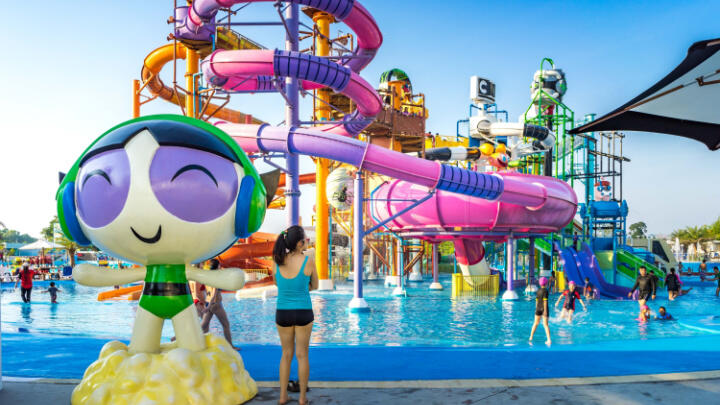 Image courtesy of UKRID/Shutterstock
This one might be a 2-hour drive from Bangkok, but if you love your kids, you'll do it for them. Especially if they watch a lot of Cartoon Network. On a hot day, a trip to the Cartoon Network Amazone waterpark might be just the ticket. 
The park's biggest ride is the Riptide Rapids, a water slide that'll make you feel like you're white water rafting, but safely. And with your body. Brave kids can also try the Omnitrix, a ride that sends you spiraling down a giant funnel. Now, you might be thinking, 'this sounds an awful lot like the rides at Siam Amazing Park'. Yes, it does. Do we have an explanation? We do not. Clearly, someone copied someone else's homework. Naughty.
What really sets Cartoon Network Amazone apart is its theming. The park is filled with bright colors, giant statues of every kid's favorite cartoon characters, and even a replica of Finn and Jake's treehouse from Adventure Time. They even hold live stage shows featuring said characters.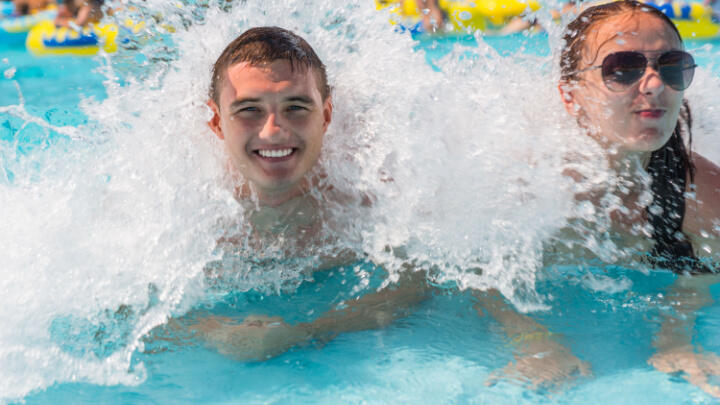 Fantasia Lagoon Water Park
If you're in Bangkok and looking for a fun way to beat the heat, Fantasia Lagoon Water Park is the perfect place to go! Located right on The Mall Shopping Center Bangkae's roof, this water park is packed with attractions and activities that will keep you cool and entertained all day long. And, let's be honest, you've never visited a waterpark on top of a mall before!
Punters flock here for the giant wave pool, which churns up huge 2-meter-high waves which you can actually surf. How cool is that? If you can surf, at least. 
There's also a lazy river, where you can float along and take in the sights.
There are also water slides, an obstacle course, and even less wet attractions like mini golf and rock climbing. It's really got it all. And, when you're all parked out, go shopping! After all, you're right above a mall.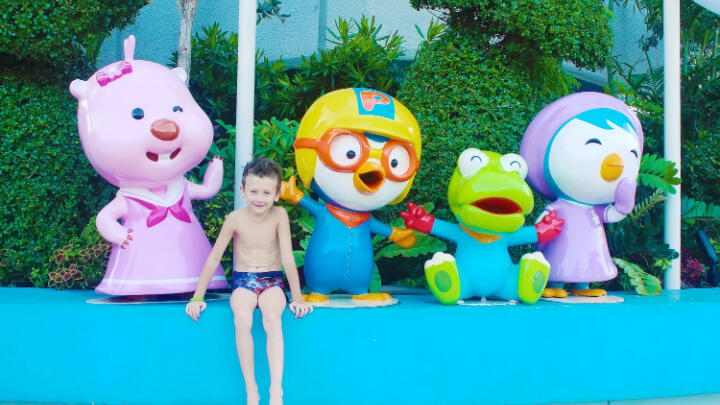 Image courtesy of Elena Serebryakova/Shutterstock
You've probably not heard of Pororo before, but he's quite the star in East Asia. The star of his own children's TV show out of South Korea, Pororo is a cute penguin who goes on adventures with his rag-tag team of animal buddies. Even if Pororo never made a splash in the West, your kids will love this waterpark designed just for them!
As such, none of the water rides are too taxing. You'll find a water playground full of little slides, sprayers, and tipping buckets ideal for little ones. There's a lazy river, shallow pools, and kid-appropriate slides they'll love. 
And sure, it might not be as much fun for you, but it's not all about you. Sometimes, it's about the kids. And this is one of those times. 
And those were our picks of the best theme parks in Bangkok! Looking for some drier activities to enjoy on your Thai vacation? Look no further than Go City. With our All-Inclusive Pass and Explorer Pass, you can see all of Bangkok's best bits for one low price!