Sometimes, traveling by yourself is just easier. There's no need to negotiate the itinerary - you simply do what you want to do, when you want to do it. So, if you're traveling to Bangkok by yourself this year, check out our guide to the best things to do alone in the city and make the most of your freedom!
Including:
Temple tours
Tuk Tuk travels
Cooking classes
Canal cruises
and more!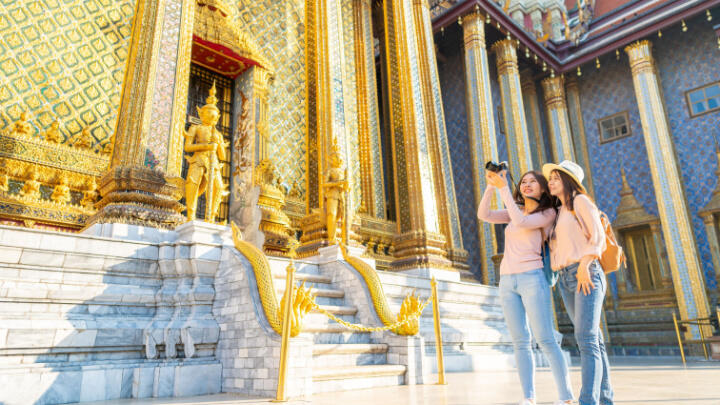 There's no better way to channel your inner explorer than on a solo tour of ancient temples! 
You'll be whisked around the site in style, with transport included and a fancy a la carte lunch at a local Thai restaurant to refuel your energy levels. Your expert guide will give you all the juicy deets behind the history of each temple and throw in some little-known facts so you can go home and impress your friends. But what temples does this tour cover?
First up, Wat Lokayasuth, home to a giant reclining Buddha statue, which is one of the few left standing. Next, the grand Wat Phra Sri Sanphet, which is the most important temple in Ayutthaya, where the royal family performed all their rituals through the generations. Wat Mahathat Ayutthaya used to house Buddha's relic. And finally, Wat Chaiwattanaram, the grand riverside temple that'll leave you in awe of its unique architecture. So, if you're looking for adventurous things to do alone in Bangkok, put on your Indiana Jones hat and get ready for an adventure!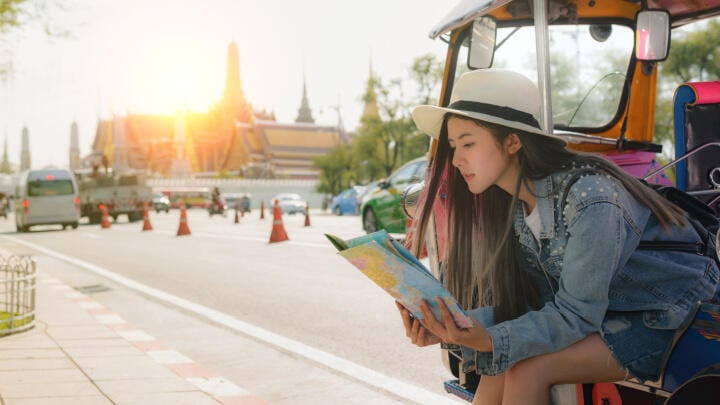 Hold onto your taste buds because we're about to take you on a street food adventure through Bangkok's vibrant Chinatown! Your guide is a foodie extraordinaire who will lead you through the city streets to the best local food stalls.
Starting at the River City Complex, you'll be whisked away in a Tuk Tuk to your first food stop, Lim Lao Now. Here, you'll get to try the fishball egg noodle dish - a match made in food heaven. After that, it's off to Yaowarat Road for some Chinese Pa Tong Go Savoey donuts fresh out of the fryer. Homer Simpson would be proud.
Then, you'll get to try cigar-like noodles at Nai Ek's rolled noodle shop and crab-fried rice while exploring the beautiful Rajadamnoen Avenue. When your concludes, brave Teens of Thailand bar on the edge of Chinatown and keep the night going. After all, you've already lined your stomach!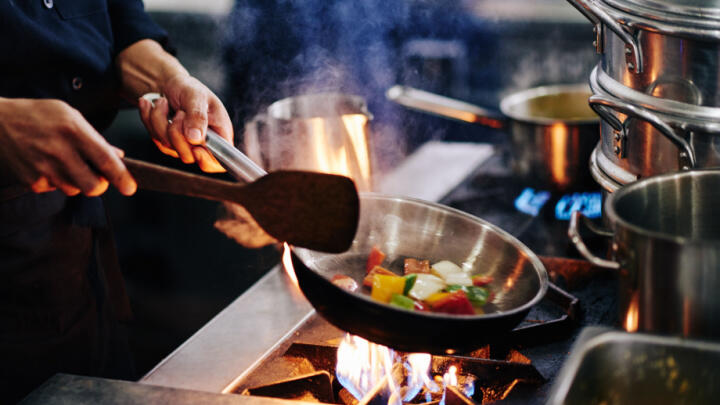 Calling all foodies! If you're big on cooking and happen to be traveling alone in Bangkok, then this cooking school visit is one of the best things you can do in the city! The Go! Thai Cooking School is a must-visit for anyone looking to up their cooking game and learn about Thai cuisine.
Located in the city's oldest fresh food market, you'll be surrounded by the freshest ingredients and guided by a talented chef to create five authentic Thai dishes. And the best part? You get to eat your creations at the end!
With three classes a day, you can take your pick from the morning class, where you'll visit the market and prep ingredients; the afternoon class, where you'll cook ready-prepared ingredients; or the evening class, where you'll make four delicious Thai delicacies. And the menu changes daily, so you can keep coming back for more!
By the end of the class, you'll have newfound knowledge and expertise in Thai cooking - and five dishes that you can show off to your friends back home. If you're wondering what dishes you'll be whisking up, check out the list here.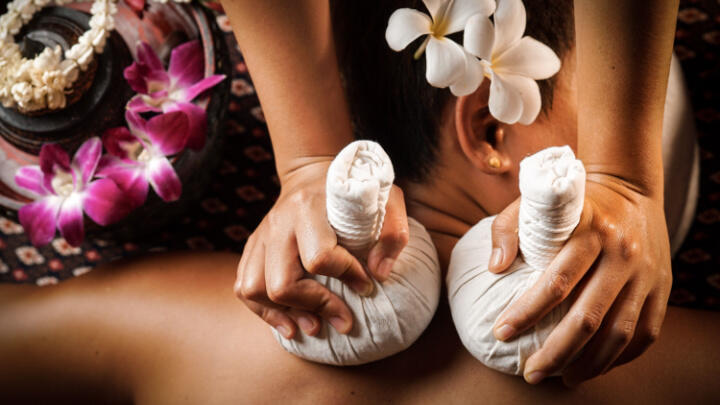 If you're looking for things to do alone in Bangkok, why not focus on the most important person there is? Give your body a break with a trip to Let's Relax Spa's Onsen pools. You'll have access to a range of temperature-controlled pools and treatments, from the muscle-relieving Gero Hot Spring Bath to the refreshing White Ion Pool, enriched with powerful antioxidants. Don't miss out on the Soda Bath, perfect for increasing nutrient flow and detoxifying your skin.
If you're feeling tense, the Whirlpool Bath is the place to be with its relaxing full-body jet streams. For those brave enough, take a dip in the Cold Bath to stimulate your natural energy and tighten your skin. And if that's not enough, the Hot Stonebed Bath, complete with a Himalayan Salt Wall, will help detoxify your blood and improve circulation.
If you're feeling a little too hot, use the cool-down room. And for some steamy relief, head to the glass-walled Steam Room and Sauna to ease your stresses and tensions. Jinbei robes are provided, so all you need to bring is your calmest self!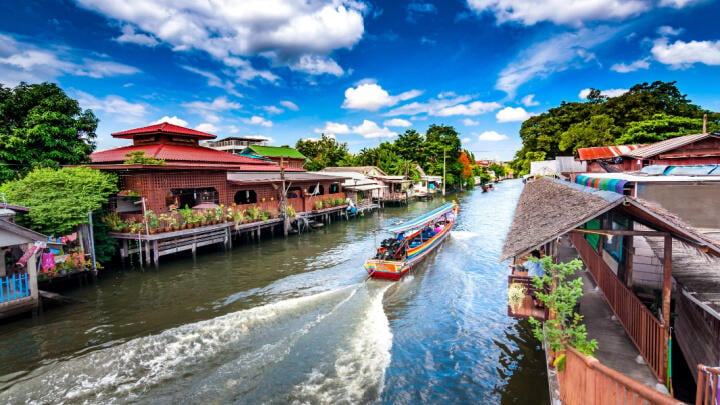 When you're traveling alone, you can take things at your own pace. And that's exactly what you'll do on this canal tour in Bangkok, which is one of the best things to do in the old city! You'll feel the wind in your hair and pretend you're in your own adventure movie. 
Glide through the city's maze of canals on a legendary longtail speedboat with your expert guide. You'll have the opportunity to snap a few photos of Wat Arun - or The Temple of Dawn - which is considered one of Thailand's most stunning temples, and explore the old city of Thonburi, once a sovereign province.
This tour will provide you with a unique glimpse into the local way of life, which is seldom seen in other parts of the city. Why read about the history of the region when you can sail through it and experience it firsthand? Exactly. Just do it.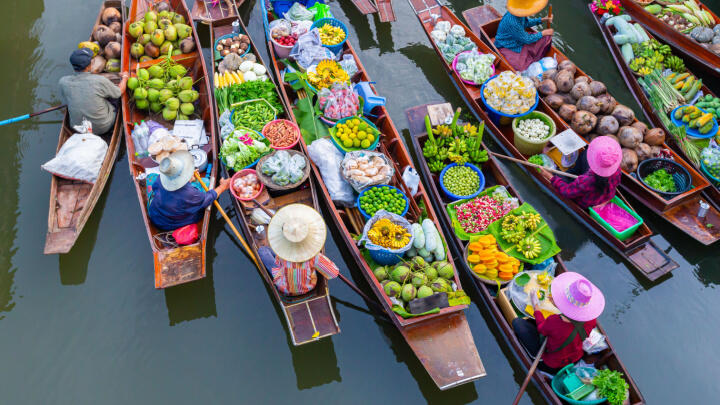 And finally, we'll end our exploration of the best things to do alone in Bangkok with some street food. Get ready for a Thai food adventure with this market tour that will satisfy your taste buds and camera roll. 
First up is Maeklong Railway Market, where you'll witness the ultimate game of 'clear the table' when the train comes through. Because it's literally on railway tracks. Your guide will give you a rundown of the market's history and the tasty treats available.
Then, it's time to board a seafaring vessel and head to Damnoen Saduak Market. Vendors here don't just sell produce here; they sell it on their boats! You can enjoy some local snacks and soak up the lively atmosphere. Just don't rock the boat, or you might end up with some unwanted ingredients in your dish.
And those were our picks of the best things to do alone in Bangkok! If those suggestions didn't take your fancy, don't worry; Go City's got tons of experiences you're sure to love. With our All-Inclusive Pass and Explorer Pass, you can see all of Bangkok's best bits for one low price!