Autumn in Bangkok is when the rainy season hits its peak, reaching up to 18 days of rain in September and October before petering out in November to herald in the warm, dry winter season. Those first couple of months are when traditional sunseekers tend to look elsewhere, meaning the intrepid, umbrella-clutching Bangkok traveler is rewarded with lower prices, shorter queues at major attractions and, well, just a bit more room to maneuver in markets, malls, bars and restaurants. Read on for our expert guide to the best things to do in Bangkok in autumn.
Visiting Bangkok in Autumn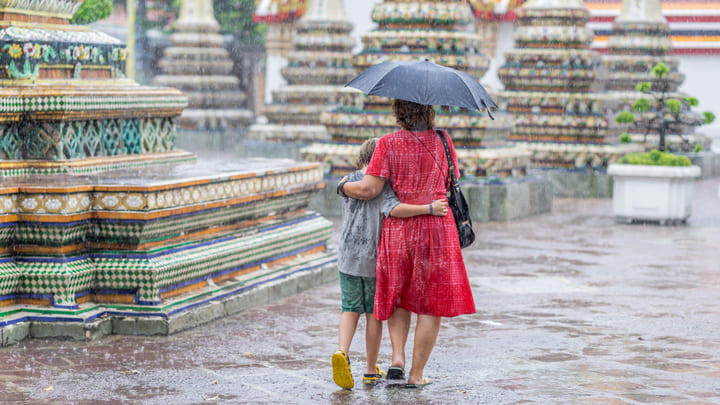 If you're the kind of person who likes to plan a militant daily itinerary when on vacation rather than, you know, just going with the flow, then autumn in Bangkok is the time to relax, prepare to be flexible and plot a range of indoor and outdoor activities that you can switch between quickly, when the weather forces your hand.
That's because September and October are among the wettest months here, when the monsoons are really getting into their stride and you can expect a couple of downpours a day, usually (but not always) for an hour or two in the afternoon and again in the evening.
For that reason, it makes sense to plan your outdoor activities for the morning and stick to indoor attractions in the afternoons. By November, however, the rains have finally relented and the less humid conditions draw the tourists back in droves, inevitably pushing prices north.
It should go without saying that your autumn Bangkok wardrobe should contain a rain poncho and waterproof shoes or flip-flops as a bare minimum, but don't forget it's generally hot and sticky the rest of the time, so loose linens, supersize sunglasses and a wide-brimmed so gigantic it would make Audrey Hepburn jealous are the order of the day. And that's as true of November, when highs are still tickling the mid-80s, as it is of humid September and October.
Things to do in Bangkok on Autumn Mornings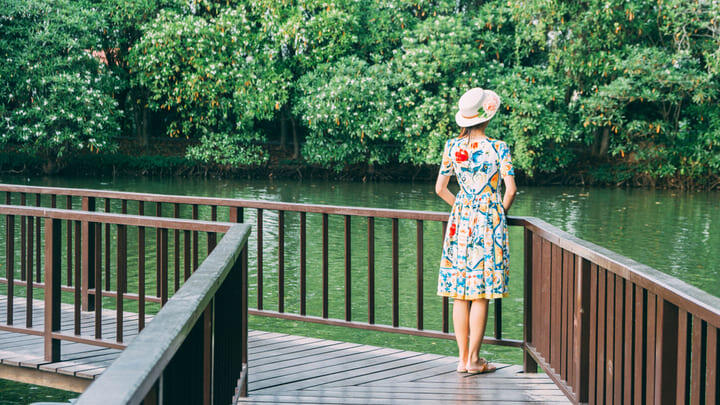 Bangkok's (generally) dry and sunny autumn mornings provide fine opportunities to explore some of the city's excellent parks. Hit up Lumpini Park for your morning fix of elephant-shaped topiary, real-life water monitor lizards and huge swan-shaped pedal boats, and watch the human wildlife indulging in early morning jogs, pull-ups in the outdoor gym and aerobics and Tai Chi classes on the lawns. Chatuchak Park is a good option on weekends, when you can grab some mango sticky rice and an iced coffee from the nearby market and enjoy your plunder on the pretty lawns.
Bang Kachao (pictured above) is another favorite. This virtually unspoilt slice of jungle life can be found right in the heart of the city, tucked away in a wide loop of the Chao Phraya river. Hire a bike to explore long elevated walkways that pass through wild mangrove forests, past peaceful canals and even take in a tiny temple or two. This is also where you'll find Sri Nakhon Khuean Khan Park and Botanical Gardens, with their bounty of picture-perfect ponds and lakes surrounded by thousands of colorful plant and flower species.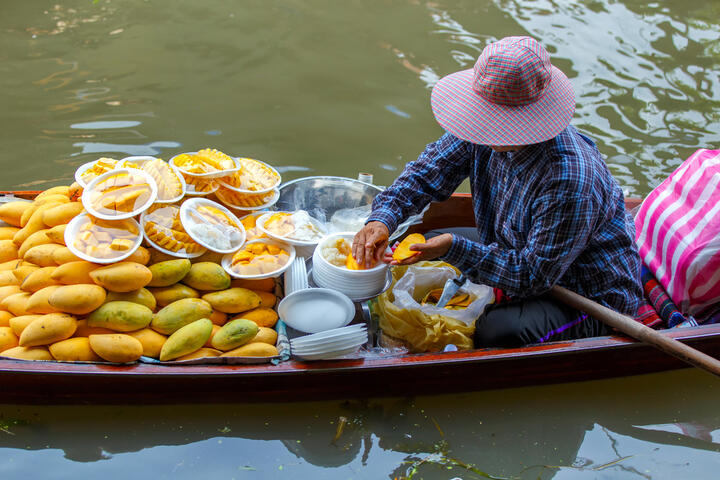 You could also take the opportunity to go on a morning walking tour, or even take a day trip out of town. We're talking this frankly epic five-hour guided stroll that takes in 30 (count em) Bangkok attractions, and a slightly less footsore meander around Chinatown that includes the imposing Chinatown Gate, impressive Siang Kong Shrine and croc-infested gardens of the Wat Chakrawat temple. Don't miss the chance to feast on umami shrimp dumplings, crispy oyster omelet and delectable hoi sin duck on your way around!
One of the most popular autumn day trips from Bangkok is the famous Damnoen Saduak floating market southwest of the city. This bustling market on the water is at its busy best in the morning, with traders hawking everything from prickly (and pongy) durian fruits to unique local handicrafts from their wooden boats. 
Things to do in Bangkok in Autumn Afternoons
Play Russian roulette with the afternoon monsoon on a post-lunch jaunt to Siam Amazing Park, only the oldest amusement park in Southeast Asia. Hit up the frankly terrifying Xtreme World where stomach-churning white-knuckle rollercoaster rides like Boomerang, Vortex and the Giant Drop more than live up to their names. And hey, if you're going to get wet anyway, you might as well lean into it and make for the park's vast Water World, where the world's largest wave pool and a seven-story rainbow slide are just two of the supersize attractions.
Bangkok is also home to some incredible museums, perfect for escaping the humid afternoon air or odd monsoon. Patpong Museum is a wild ride through this notorious district's history, from its humble beginnings as a rice paddy to its status as one of the best-known red light areas on the planet via David Bowie, Jean-Claude Van Damme and the CIA. Meanwhile, connoisseurs of Asian art in all its many forms – ancient pottery, bronze idols, carved masks, modern Thai painting, contemporary audio-visual installations – will find much to enjoy at the National Museum, the Bangkok Art & Culture Centre and the National Museum.
And, if Damnoen Saduak has whet your appetite for floating markets, there's always SOOKSIAM, a lantern-lit indoor extravaganza that's part of the vast riverside ICONSIAM entertainment complex, and where the icy arctic blast of the air-con is as refreshing as the coconut ice cream and ripe mangoes sold from the traditional wooden boats on the water.
What's on: Bangkok Autumn Events
You'd have to go some to tire of the many, many fine attractions Bangkok has to offer. One thousand words into this blog and we haven't even mentioned the Grand Palace, Wat Arun or the Khao San Road. Crazy, huh? Autumn adds some fine festivals to the roster of entertainments, and here are four of the best:
Moon Festival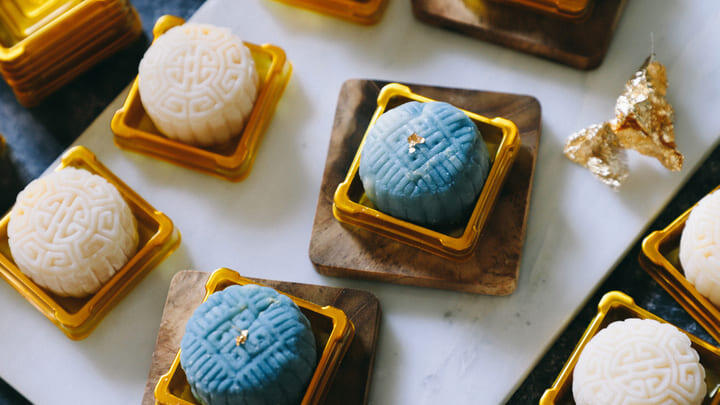 Imported from China, this mid-autumn festival has lost much of its original cultural significance and is effectively just a reason to fill your face with mooncakes, delicious little pastries with any number of fillings, including (but very much not limited to) durian, coffee, chocolate, chestnut, peanut butter and green tea. Hit up backstreet bakeries for some of the best bakes, or dig deep and go luxury with a box from some of Bangkok's most decadent hotels, the Conrad, the Okura Prestige, the Mandarin Oriental and the Shangri-La among them.
Jay Festival
Love Asian vegan food? You're in luck. Another Chinese import, this Taoist celebration takes place for nine days during the ninth lunar month of the Chinese calendar (that's September and/or October to you and me). Unsurprisingly, the festival is particularly big in Chinatown, where yellow flags denote festival participants: restaurants and street-food vendors that are selling only delectable vegan treats. Dive in!
Royal Barge Procession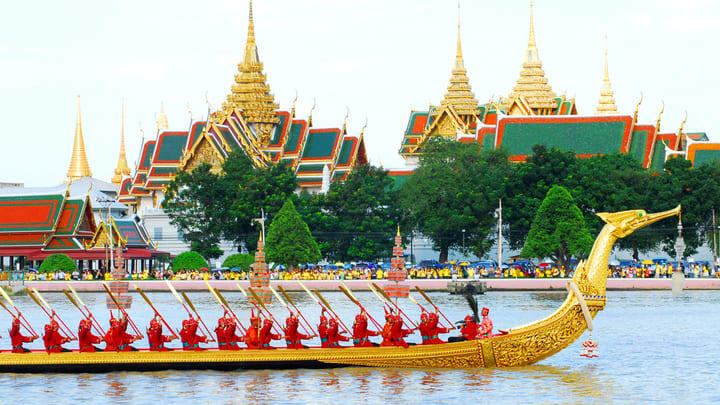 Here's your chance to catch a glimpse of the Thai royal family in this ancient pageant that sees around 50 spectacular vessels crowding the river around Grand Palace and Wat Arun. Dates for this recently revived tradition have varied over the last few years but it's usually somewhere between late October and early December. The spectacle kicks off near the Rama VIII Bridge around 3PM, but you'll need to be out of bed way earlier than that if you want to grab a prime riverside spot.
Loy Krathong
The full-moon night of the 12th lunar month (usually November) sees thousands of krathongs released into rivers, canals and lakes across the country. These lovely lotus-shaped boats made of leaves, paper, polystyrene and occasionally even stale bread carry candles, flowers and incense out onto the water, creating a magical spectacle that carries on well into the night, in brilliant moonlight.
Save on

things to do in Bangkok
Save on admission to Bangkok attractions with Go City. Check out @GoCity on Instagram for the latest top tips and attraction info.