There are bargains to be had in Bangkok's shoulder season, when increasingly wet and humid weather means traditional sunseeking holidaymakers stay away and intrepid travelers are rewarded with (marginally) less busy streets, albeit streets that are occasionally awash with rivers of rainwater. But don't let that put you off! There's fun to be had here even when it's hot and wet, with plenty of indoor and outdoor activities to suit the changeable weather. Read on for our guide to the very best things to do in Bangkok in summer!
Visiting Bangkok in Summer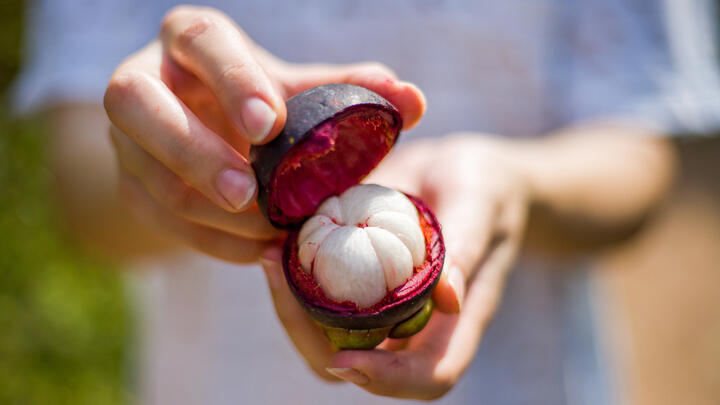 Summer sees the beginning of Bangkok's monsoon season, when temperatures in the high 80s and low 90s can often feel uncomfortable due to the high humidity. Regular rainfall – 14 days in June rising to 16 in August – alleviates the stickiness somewhat, as well as providing the perfect excuse to explore some of the city's finest indoor attractions. We're talking markets, mega malls, massage parlors and more! 
You're going to want to pack sensibly for this season. Huge floppy hats, UV-resistant Jackie O sunglasses and gallons of sunscreen should be considered the most essential wardrobe items for any summer trip to Bangkok, but you'll also want light, loose linens and a backpack for carrying that all-important rain poncho as well as a hoodie or light jacket for long hours spent enjoying/enduring the arctic blast of those industrial air conditioning units inside Bangkok malls, restaurants and, well, pretty much every other indoor attraction.
Prices tend to decrease a little throughout monsoon season as the rains intensify, but summer is generally more expensive than autumn, when the odds of a near-daily drenching reach their peak. Our advice? Book accommodation and excursions as far in advance as possible to take advantage of early-bird offers.
Other reasons to visit in summer? Well, it's when the tempting white segments of the mangosteen fruit (picture above) – Thailand's national fruit, no less – are at their sweetest and juiciest. And if that's not enough to tempt you, we don't know what is.
Things to do in Bangkok in Summer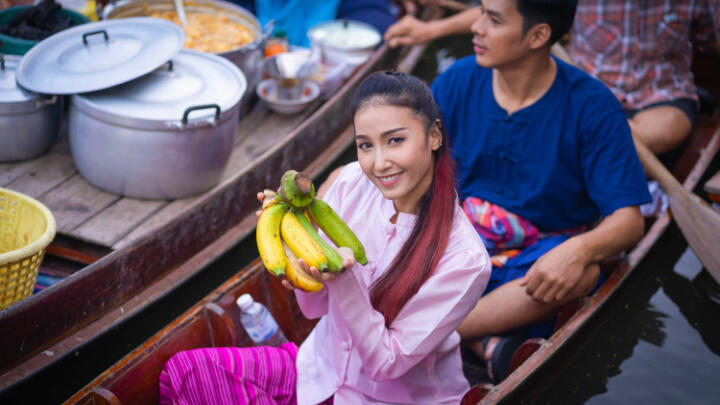 Mangosteens are easily recognizable by their deep purple shell, green stalk and appealing round shape. Dodge the noon heat/downpour and make straight for the indoor floating market at the massive ICONSIAM shopping and entertainment complex. You'll find hawkers here selling mangosteens and other vibrant tropical fruits from their boats in SOOKSIAM, as well as food carts rich with the heady aromas of fresh roti, sizzling pad Thai and fragrant red curry. Stroll beneath glowing lanterns and pause at boats and stalls to pick up unique handcrafted souvenirs like traditional Thai pottery, woven handbags with colorful motifs, delicate locally made jewelry and more.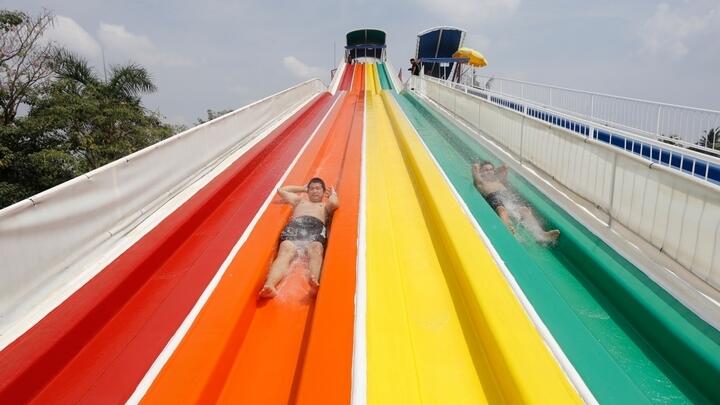 Here's an attraction that's fun come rain or shine because, well, the whole point of at least one of its five zones is that you get wet. Siam Amazing Park is the oldest amusement and water park in the whole of Southeast Asia, but the rides here are anything but old-fashioned. Make hay while the sun shines and ride the epic coasters in the Xtreme World zone, where Vortex, Boomerang and the Giant Drop are every bit as teeth-rattlingly terrifying as their names suggest. There's a family zone with a double-decker merry-go-round and a dinosaur safari, and a cute toddler area with mini boats, motorcycles and more. But Water World may just be the main event here. The largest water park in Asia in its own right, it contains the world's biggest wave pool as well as spiral flumes, a flowing pool and a ridiculously fast rainbow slide that stands at – brace yourself – seven stories tall. Great for cooling off, sure, but otherwise definitely not for the faint of heart!
Further Water-Based Fun in Bangkok
And if flapping around in a pool with four-foot-high waves has inspired you to go and look at creatures more capable of grace and dignity in the water, then look no further than SEA LIFE Bangkok Ocean World. Here's where intrepid explorers can discover the subaquatic critters that live beneath the rainforest canopy, as well as diving with reef sharps and eagle rays, feeding graceful otters and bumbling gentoo penguins, and coming face to fin with the weird and wonderful inhabitants of the coral reef.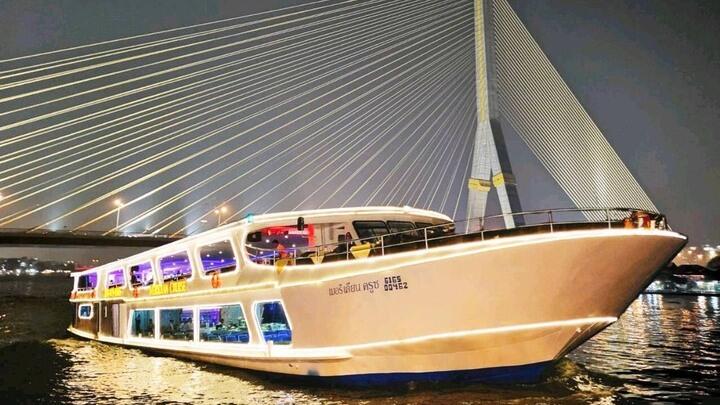 Take in some of Bangkok's most iconic sights on a gentle evening cruise along the broad Chao Phraya river. Bangkok sunsets are particularly spectacular in summer, when the sky blazes red and orange before fading to pink and bruised purple as the city skyline lights up for the night. If you can tear your eyes away from the impressive buffet – all local and international favorites like sushi, spaghetti, green curry and papaya salad with salty crab – you'll spot the fairytale spires of the Grand Palace rising above the riverbanks, as well as the extraordinary alien spacecraft that is the Wat Arun temple, with its five prangs reaching ever skyward, as if beckoning the distant inhabitants of Planet Zog down to Earth.
More Things to do in Bangkok in Summer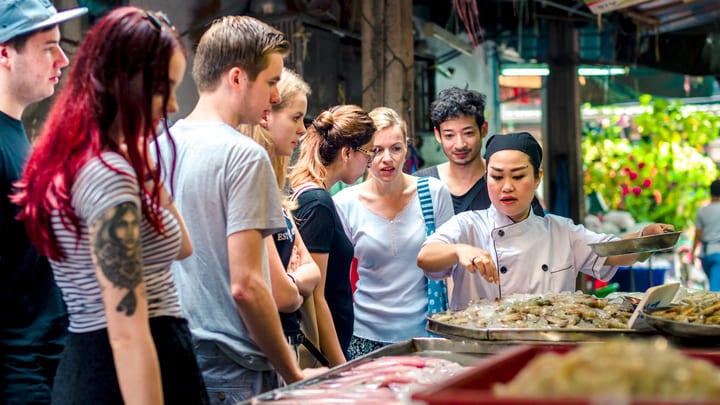 There are oodles more things you can do in Bangkok in summer. You could stick a pin blindfold in a map of the city and you'd likely land within a few feet of another ace summer attraction or activity. Grand Palace? Check. Tai Chi class in Lumpini Park? Sure, why not. National Museum? Scuba-diving day trip to Pattaya? Chinatown street food tour? You bet!
You could also pimp up your own culinary skills with a Thai cookery class that will transform your dull dinner parties into gourmet extravaganzas that are remembered for all the right reasons, i.e. zingy pad Thai and sweet, sticky mango rice rather than your usual biohazard prawn vol au vents and sad soufflés.  
If that sounds too much like hard work (we promise you it isn't!), you could opt instead for one of Bangkok's most decadent experiences: a traditional Thai massage. There are any number of options if you're in the market for a relaxing pummeling, from drop-in downtown practitioners to lavish, must-book-in-advance 5-star mega-spas. Your hotel staff can recommend the best local options as well as highlighting the tourist traps to avoid.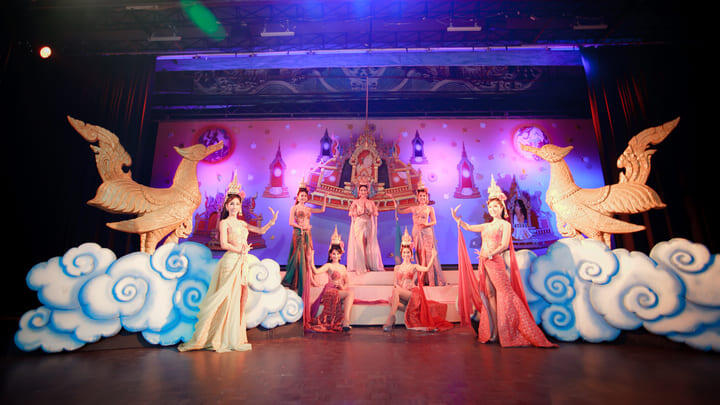 There are also plenty of fun activities to be had as the sun goes down and the air cools (a little) in the evening. This pub crawl for example is a great way to experience Bangkok's legendary nightlife, and maybe even to make a few new friends along the way. The crawl takes in classic Bangkok bar favorites including Hooters (yes, that Hooters), a spot of beer pong, and the iconic Insanity nightclub.
Looking for a more sedate way to spend your summer evening? Take in an enchanting traditional puppet show at the Aksra Theatre, where tales of Thai folklore are brought to life via music and dance. Or opt for a classical concert at the Thailand Cultural Centre. Finally, while not exactly sedate per se, a slice of cabaret at the Golden Dome is still a fine way to while away an evening, whatever the season.
Save on

things to do in Bangkok
Save on admission to Bangkok attractions with Go City. Check out @GoCity on Instagram for the latest top tips and attraction info.