Winter is peak season in Bangkok, when the heat and humidity drop, the monsoons depart for the foreseeable future and, as inevitably as day follows night, the tourist hordes pour into the city. Here's our guide to what to expect and our pick of the best things to do in Bangkok in winter.
Visiting Bangkok in Winter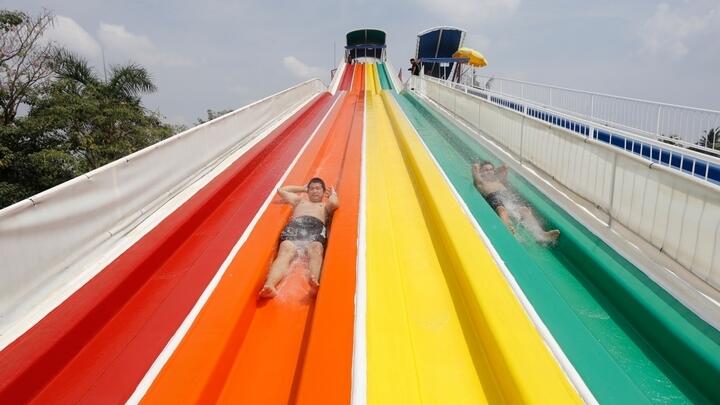 Temperature is a relative thing in Bangkok, where a tropical climate means the kind of year-round heat that would make even the hardiest Westerner wilt. But winter in Bangkok is unquestionably the most comfortable season, with average temperatures in the low 80s, humidity down to 60-70% and as much chance of experiencing a downpour as seeing a pig fly. Actually, that's not quite true. Even monsoons run late sometimes and December downpours are rare, but not completely unknown.
That said, your valuable winter luggage space is definitely better employed in making sure you have plenty of sun cover rather than wasting space packing umbrellas and ponchos. We're talking lashings of sunscreen, sunglasses that cover most of your face, and a floppy sun hat so big you could see it from space. Pair with light cottons and linens, flip-flops (also easier to slip on and off when visiting temples) and light jumpers or jackets for the slightly cooler evenings.
Inevitably, the tolerable winter conditions draw huge crowds to the Thai capital, especially in January and February when the weather hits its Goldilocks moment between autumn's hot and humid monsoon season and the furnace-like temperatures of spring and summer. That means crowds. And crowds mean queues at attractions and soaring hotel and flight prices. 
Our tip: book as far in advance as humanly possible to secure the best rates, and plan to visit attractions in the morning or early evening, when queues are likely to be at their shortest. A pass from Go City can save you money while giving you the flexibility to visit as many top Bangkok attractions as you like, including the Grand Palace, Siam Amazing Park (pictured above) and King Power Mahanakhon Skywalk. 
Things to do in Bangkok in Winter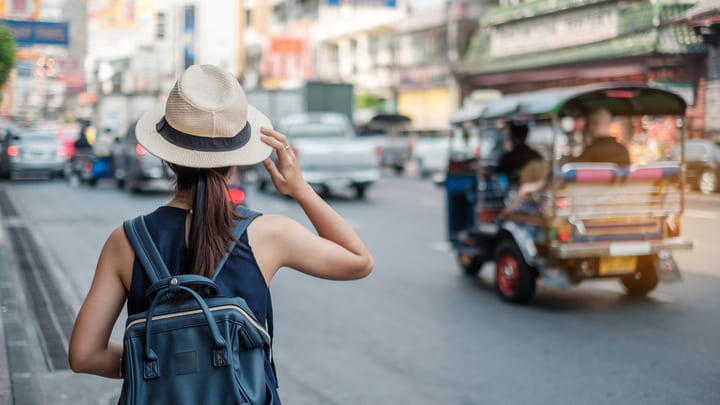 A great way to dodge the crowds is to get (slightly) off the beaten path with a wander that takes you away from the main thoroughfares. There's a network of lanes on and around the Chao Phraya riverside that is generally way less busy than the tourist hotspots, where you can stroll the picturesque back streets of old Bangkok, camera in hand, picking out lesser-spotted colonial-era attractions that will light up your Insta feed.
Inevitably hunger (and the intoxicating smell of sizzling shrimp and roast duck drifting on the breeze) will draw you towards Chinatown for lunch. Other than being one of the biggest and best Chinatowns outside of China itself, one thing you can say about Bangkok's Chinatown is that, whatever the season, it's never not busy. And one taste of crab fried rice or umami pork dumplings will tell you why. Beat the crowds (sort of) on a tuk tuk tour that takes in a number of restaurants and street food vendors so good they've been recognized by the Michelin Guide, or hotfoot it on this walking tour of the district's most photogenic attractions, including China Town Gate, Siang Kong Shrine and the croc-infested gardens of the Wat Chakrawat temple – best pray they're not in the market for lunch too.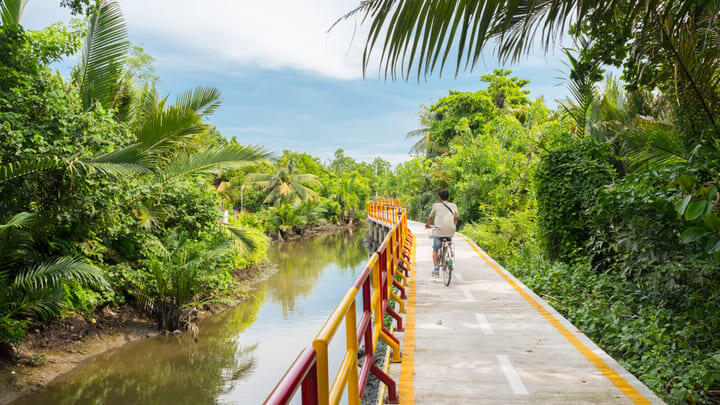 Wat Chakrawat is just one of Bangkok's 30,000+ temples and there are a few more you should probably see. Riverside Wat Arun, with its Khmer-style prangs, is one of the icons of the Bangkok skyline. Likewise Wat Phra Kaew, part of the Grand Palace complex, a fairytale wonderland of dreaming spires and gilded pavilions. It's worth taking a peek inside, too. Check out the palace's hilariously opulent interiors and palatial throne rooms, and say hi to the temple's sacred 15th-century Buddha statue – just don't touch; only the Thai King is legally permitted to do so. 
Winter is also a great time to visit Bangkok's great green lungs. We're talking about Lumpini Park and Bang Krachao, two very different prospects. Lumpini is a vast tract of urban parkland, surrounded by towering skyscrapers on every side. It's here you'll find locals jogging, monitor lizards basking and pensioners putting youngsters to shame with sprightly Tai Chi and aerobics classes on the lawns. You'd struggle to spot a skyscraper from Bang Kachao, though. This stretch of unspoilt jungle in a wide loop of the Chao Phraya provides a snapshot of simpler times, with dense mangrove forests, cute temples and villagers going about their daily business. Rent a bike and hit the elevated walkways for a spot of life-giving exploration.
What's on: Bangkok Winter Events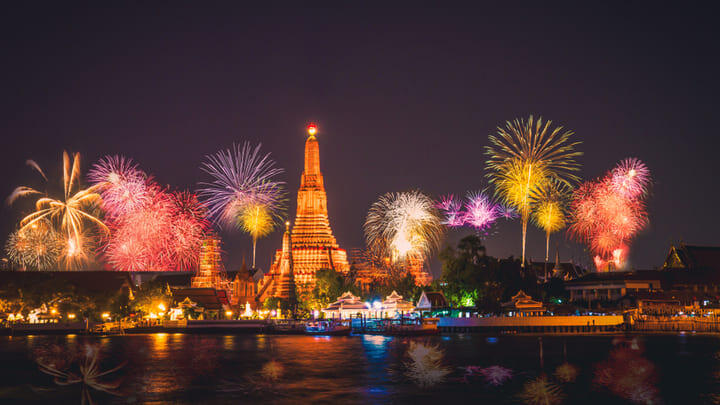 Winter is a busy season for festivals and celebrations in Bangkok, so don't forget to pack your party shoes and a big appetite – food plays a major role in almost all Thai celebrations.
December is the most affordable of the winter months in terms of flights and accommodation, but beware the dent all those Christmas markets and mega-mall sales will inevitably put in your bank balance. Christmas is big business here and only the most irredeemable scrooge could fail to have their heart melted by the city's transformation into a wonderland of twinkling lights. Everything from skyscrapers to tuk-tuks are festooned in fairy lights at this time of year, and the decorations and displays in stores would put Santa's workshop itself to shame.
By New Year's Eve, celebration has reached fever pitch, climaxing with spectacular sound and light shows as the countdown begins across the city. The biggest of these – drawing crowds of several hundred thousand revelers – takes place in centralwOrld Square and features live music, vast beer gardens and more.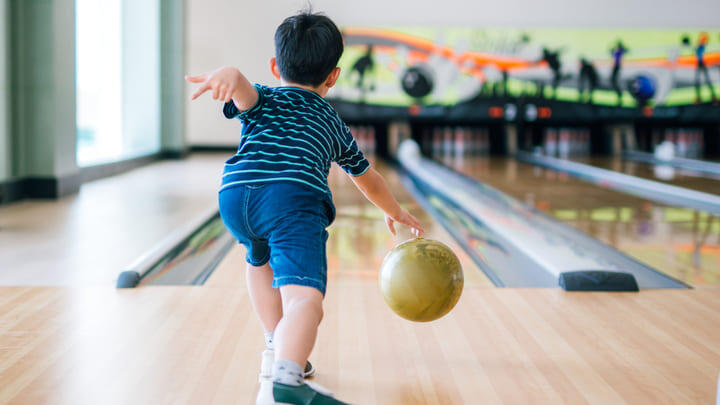 The first big event of the new year is one that's designed specifically to honor and celebrate… kids. Children's Day (or Wan Dek) takes place nationally on the second Saturday of January, with a range of free and discounted kids' activities taking place across Bangkok. This includes rides and activities in malls, free entry to several museums and free rides on the MRT and BTS for kids up to 140cm tall. 
Finally, Chinese New Year takes place in January or February and sees the already colorful lanes and alley's of Bangkok's Chinatown explode in a riot of lanterns, firecrackers, parades and dragon and lion dances. Dress up in lucky red and hit the street stalls for some of the finest Chinese street food this side of Beijing, including steamed dumplings, crab fried rice and classic Peking duck.
Save on

things to do in Bangkok
Save on admission to Bangkok attractions with Go City. Check out @GoCity on Instagram for the latest top tips and attraction info.