For the fourth year in a row, Bangkok is the world's most visited city. And it's easy to understand why. There are so many interesting things to see and do. If you're a culture vulture, you've literally got hundreds of museums, galleries, and historic temples to discover. If you're a foodie fanatic, there are plenty of floating markets, hole-in-the-wall cafes, street food stalls, and high-end restaurants to tempt your taste buds. And that's just the tip of the iceberg. 
With so many things to do, it's no wonder people return to Bangkok time and time again. Visiting for the first time? These are the Bangkok attractions that are not to be missed. 
Explore The Grand Palace
No Bangkok list of must-see attractions is complete without the city's most popular attraction, The Grand Palace. This vast and impressive complex is the former home of the Thai monarchy and is an important site for official ceremonies. Although you cannot enter all of the 100 or so buildings that make up the Grand Palace, there is still plenty to explore. As well as admiring the eclectic mix of traditional Thai and Italian Renaissance architecture from outside, you can venture into four of the buildings to look at the important relics and art inside. 
The most important of these is the Emerald Buddha, housed inside Wat Phra Kaew (Temple of the Emerald Buddha). Dating back to the 14th century, the jade Budhha is one of the most important statues in the country.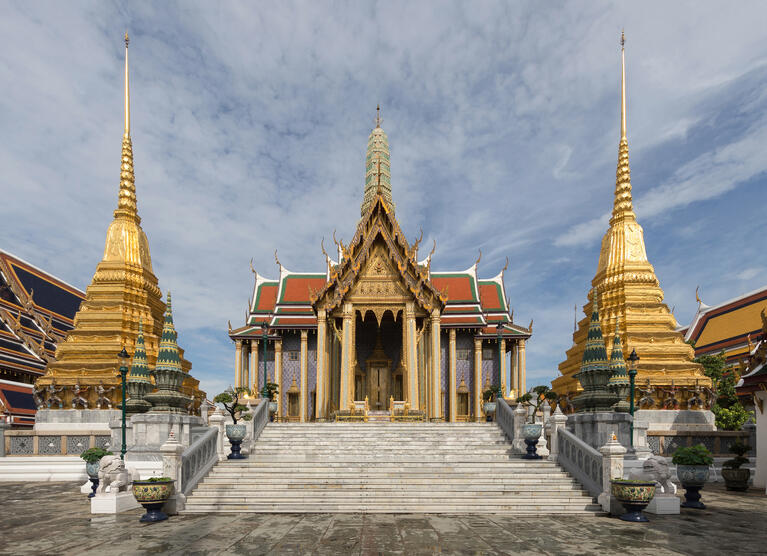 Hunt for bargains at Chatuchak Market
With thousands of stalls and literally hundreds of thousands of visitors, Chatuchak Market can seem like an overwhelming place at first. In reality, however, it's actually incredibly well organized, with alleys grouped in numbered sections that all sell similar products. 
In terms of what you can buy here, it's really more a case of what you can't. From art to food to furniture and seemingly everything in between, you'll find pretty much anything you are looking for. The market is only open over the weekend and is best visited in the morning before it gets too warm and crowded.  
Marvel at Wat Arun
Another one of Bangkok's most famous attractions, Wat Arun sits on the banks of the Chao Phraya River and is one of the best spots to watch the sunset in Bangkok. The temple itself is incredibly ornate and famous for its colorful mosaics. 
Visitors can climb the central spire for views of the 'Temple of the Dawn' and beyond or visit the ordination hall to admire its intricate murals.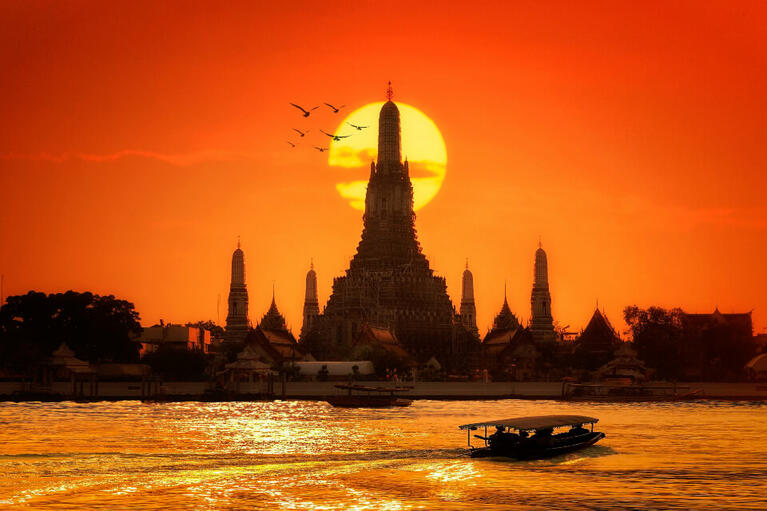 Experience Both Sides to Bangkok's Nightlife
Love it or hate it, spending an evening drinking beer and gorging on cheap street food on Khao San Road is a right of passage for those visiting Bangkok. This famous backpacker hotspot is lined with vendors selling food, souvenirs, ridiculously strong cocktails and (probably), the cheapest beer in the city. Famed for its notoriously wild evenings, it's worth experiencing Khao San at least once.  
But if you're more into bucket list-worthy bars than bucket cocktails, then head in the direction of Soi Nana, where the vibe is a little more salubrious. There are plenty of trendy bars in this neighborhood, which attract a mix of cool locals and savvy travelers. Craft beer bars, classy speakeasy's and pop-up galleries are the done thing around here, with venues all conforming to the unwritten rule that their decor must be effortlessly chic and totally Instagrammable. 
See the Buddha at Wat Pho
This must-see Bangkok attraction is home to the famous giant reclining Buddha. Covered in gold leaf, and measuring 46 meters in length, it's one of Bangkok's most impressive relics. The temple is also home to the city's biggest collection of Buddha images.
The temple's other claim to fame is that it is the birthplace of the Thai massage. There is a Thai massage school on the grounds and it is possible to indulge in one before or after visiting the Buddha.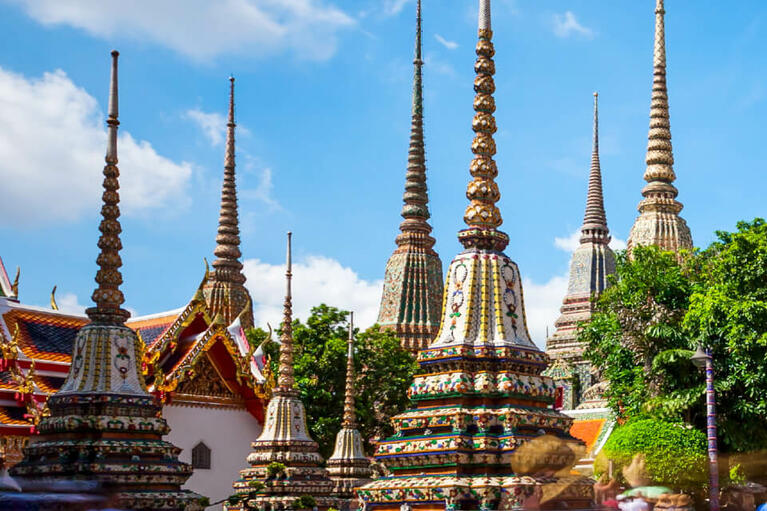 Relax in Lumpini Park
For a relaxing break from Bangkok's busy streets, head for Lumpini Park. This huge green space in Bangkok's center is a popular spot for locals and tourists alike. Wandering through the park you'll spot pensioners practicing Tai Chi alongside groups of student picnicking. Flora and fauna abound but perhaps the most exciting thing to look out for are the large monitor lizards that call the park home. 
Visit the Damnoen Saduak Floating Market
Despite being located 100 kilometers from Bangkok, a visit to this famous floating market tends to be top of most visitor's wishlists when traveling to Bangkok. It's one of the country's most famous floating markets, and although it predominantly caters to tourists, it's still a great place to sample authentic Thai dishes and get some incredible snaps of the famous wooden boats as they pass through the canal to sell their produce.
The best and easiest way to get there is on an organized tour (and it just so happens they are available on the Go Bangkok pass). It's an early start, but worth it to experience this unique market.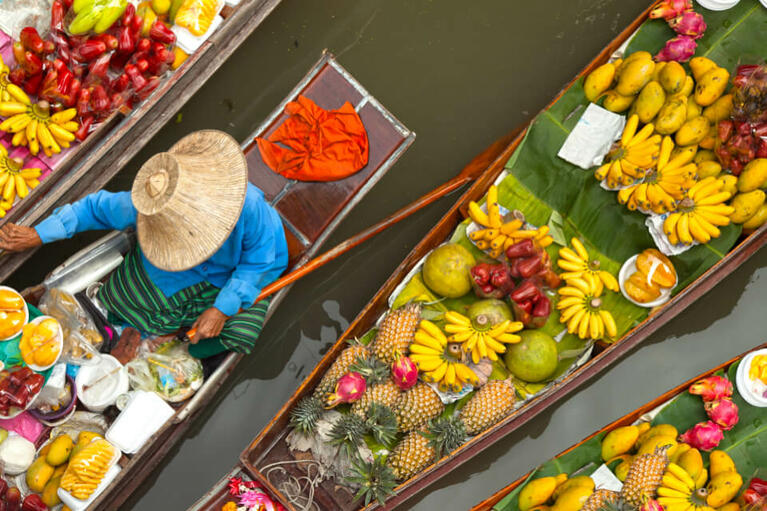 Take a cooking class
When it comes to traveler priorities, sampling Thailand's famous cuisine has to be near the top for most. Once you've had your fill of street eats, what better way to get a deeper understanding of the food you've been eating by taking a cooking class. Along with learning about the local ingredients, you'll learn cooking techniques and try out authentic recipes that you'll be able to eat at the end of the class. We recommend Go! Thai Cooking School, that's located in the oldest fresh food market in the city. And hey, it's on the Go Bangkok pass - go figure.
Get Snap Happy at Wat Pariwat
Bangkok has literally hundreds of temples to explore - from the grandeur of the ones listed above, to the small and modest ones tucked away from plain view. If you're looking for a temple with a difference, take a trip to Wat Pariwat. At first glance, it may appear to be a perfectly normal wat, but upon closer inspection, you'll notice some unusual quirks that have contributed to its nickname - The David Beckham Temple. Amongst the temple's traditional decor, you'll be able to spot several pop culture mosaics and statues - from emojis, to cartoons, to as its nickname suggests, David Beckham and several other celebs.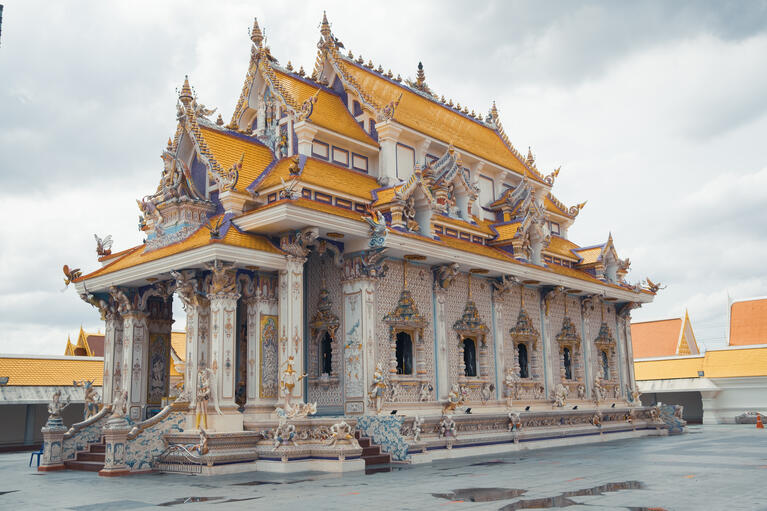 Be Surprised by Museum Siam
Being housed inside a traditional neoclassical building, we wouldn't blame you for assuming that Museum Siam is your usual run-of-the-mill historical exhibition. But, once you step inside, you'll be wowed by modern and technology-centric exhibitions detailing the history and culture of Thailand. Each of its 14 rooms take on an element of Thai life, history, or culture, showcasing the theme through interactive installations, video, or audio. It's a fascinating museum, which truly brings the history of the country to life. 
Heading to Bangkok? Start your planning off right by buying a Go Bangkok pass. Our flexible, money-saving passes are the easiest way to make sure you tick off Bangkok's top attractions and experiences.