Planning a family vacation? Sure, Bangkok might not be the first place you'd think of taking the sprogs, but that would be to dismiss the universal appeal of its soaring space-age skyscrapers, flamboyant fusion food, huge parks and cool, kid-friendly attractions. And, while nothing can ever fully eradicate the cringe factor of going on vacation with mum and dad, our hitlist of the top family-friendly activities in Bangkok is sure to keep the kids' theatrical yawns and dramatic eye-rolls at bay. Well, for a little while anyway. Read on for our favorites, including:
Chinatown

SEA LIFE Bangkok Ocean World

Tuk tuk tours

Siam Amazing Park

King Power Mahanakhon SkyWalk

Muay Thai boxing matches
Cruise Bangkok's Grand Canals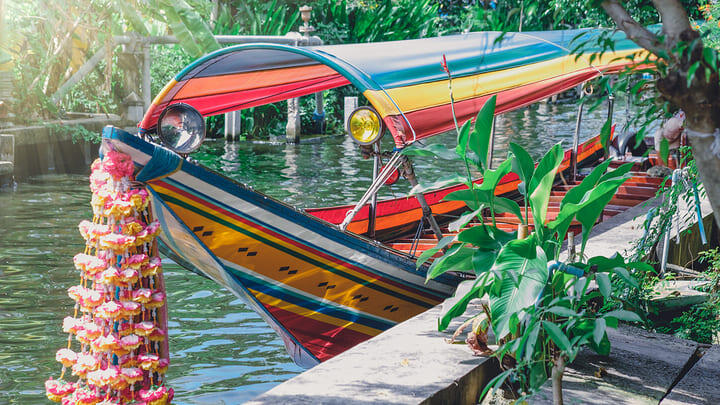 Step aboard a traditional longtail boat for a crowd-pleasing excursion that meets every self-respecting kid's twin requirements of a) not requiring any actual walking and b) featuring tons of Instagrammable eye candy for their social channels. This gentle meander around the 'Venice of the East' reveals awe-inspiring temples, royal palaces and bustling canalside markets. Spot the alien spires of Wat Arun, marvel at the Grand Palace's fairytale rooftops and wave to other boats as they drift on by. Many of Bangkok's canal tours also include stops at the famous flower market and legendary Artist's House, where traditional Thai puppet shows are held most afternoons.
Reach for the Sky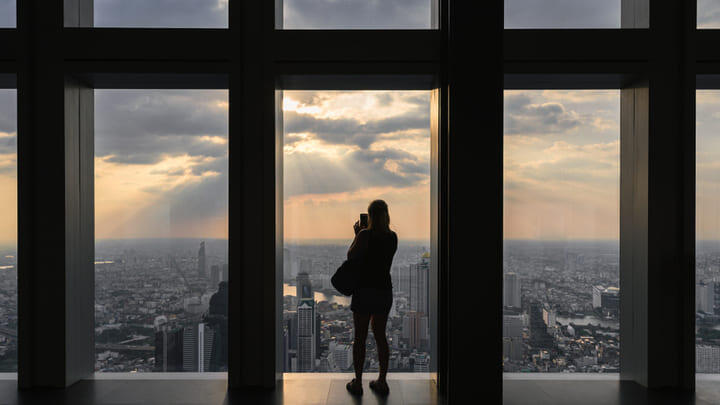 From one extreme to another, the King Power Mahanakhon SkyWalk takes you far above Bangkok's waterways for a true bird's-eye view of the city. Once the tallest building in the country (and still riding high in the top three, fact fans), this futuristic skyscraper stands at a nerve-jangling 1,030 feet tall. Gaze straight down (if you dare) at its curiously blocky spiral facade and at other Bangkok landmarks from the glass floor of the SkyWalk observation platform, way up in the clouds on the building's 78th floor. Kids will love demonstrating how fearless they are, while panic-stricken parents can steady their nerves with a swift G&T in the SkyBar.
Meet the Monsters of the Deep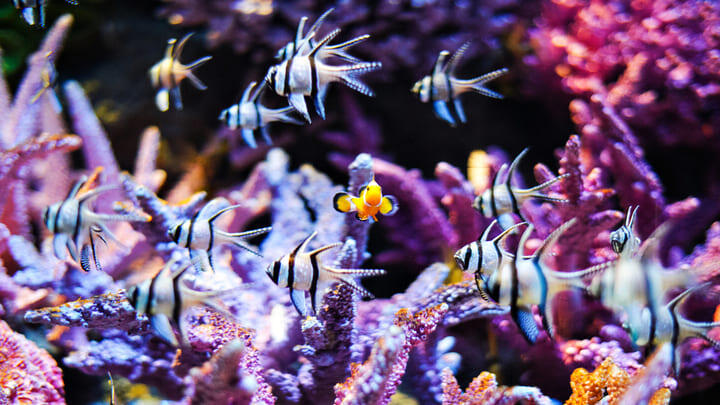 Everyone loves an aquarium, right? Well, SEA LIFE Bangkok Ocean World is one of the world's finest, with several zones that run the gamut from icy penguin playgrounds to dazzling tropical reefs. Here's where intrepid explorers can meet the subaquatic critters that lurk beneath the rainforest canopy, as well as diving with eagle rays and reef sharks and feeding seahorses, otters, gentoo penguins and more. Ride the glass bottom boat and stroll the ocean tunnels for brand new perspectives on the ocean's weirdest and most majestic inhabitants.
Box Clever with Muay Thai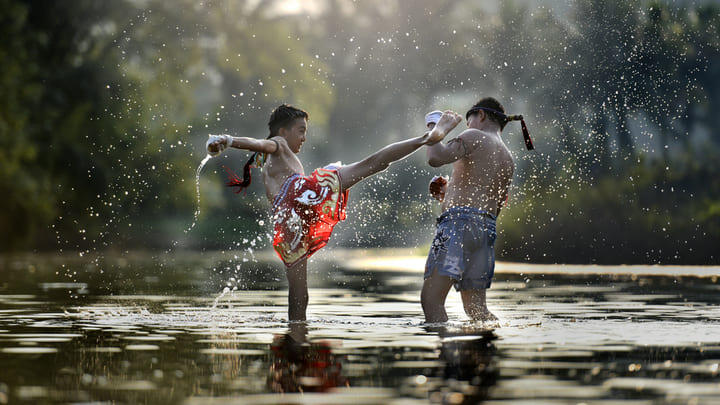 Muay Thai is the martial art of choice in Thailand, and Bangkok is one of the best places to see it up close and live, especially during March's World Wai Kru Ceremony, a festival that honors the national sport's 18th-century founder, Nai Khanom Tom. Book an evening at one of the events around town and the whole family can cheer as combatants demonstrate their very best jump kicks, reverse roundhouses and – yep – superman punches. And, if watching this majestic martial art at close quarters inspires you and yours to try it out for yourselves, there are plenty of classes, camps and training facilities around the city, including in most luxury hotels. 
Go on a Foodie Adventure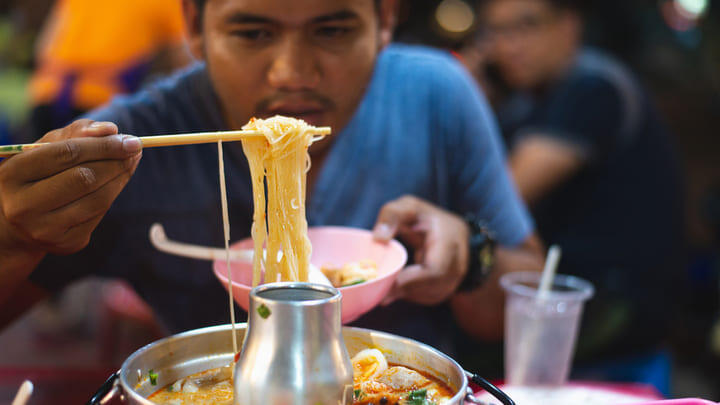 Keep the kids' KFC and McDonalds cravings at bay with an evening outing to the sprawling foodie mecca that is Bangkok's Chinatown. There's something for everyone here beneath the bright neon lights and colorful lanterns, where every narrow alley and freshly made takeaway snack is an Insta addict's dream come true. Wander through bustling streets where balmy breezes carry great clouds of steam rich with the intoxicating aromas of roast duck, pork-crammed bao buns and zingy crab-fried rice. And, if the world-class oyster omelets and perfect pad Thai don't float your kids' boat, the many sweet treats on offer – mango sticky rice, coconut ice cream, Chinese donuts with condensed milk and pandan – almost certainly will.
Hit the Theme Parks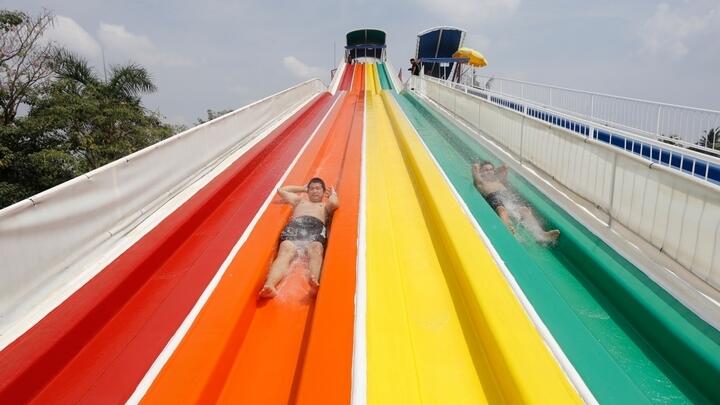 Family-friendly activities in Bangkok don't come much more high octane than the twin delights of Siam Amazing Park and Dream World. Amazing by both name and nature, Siam Amazing Park comes with a raft of gravity defying rollercoaster rides, the names of which alone are enough to strike terror into the heart of even the most thrill-seeking teen. We're talking Vortex, Boomerang and the Giant Drop. Let loose in the enormous Water World with its wave pool, spiral flumes and ridiculously fast *seven story high* rainbow slide. With rides such as Tornado, Hurricane, and the Black Hole Coaster, Dream World is no slouch in the thrill stakes either. Both parks also feature dedicated zones for little 'uns, including merry-go-rounds, mini boating lakes, animal farms and cute miniature towns.
Tuk In!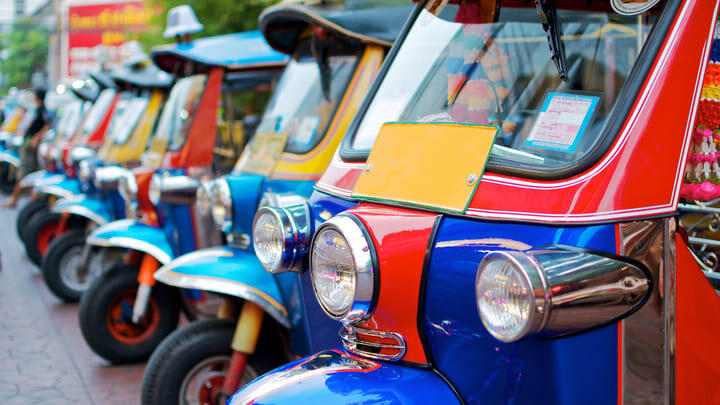 Can you really say you've visited Bangkok if you leave without traveling by tuk tuk at least once? No, dear reader, you cannot. Hop aboard one of these ubiquitous tin-cans-on-wheels and you might just find – short of the excellent BTS Skytrain (a great family activity in its own right) – that they're the fastest and funnest way to get from A to B in Bangkok. A hop-on hop-off pass is a great way to work your way around key attractions including the Grand Palace, Wat Pho and the Asiatique Riverfront complex. Or 'tuk in' to the best Chinatown has to offer with this gourmet tuk tuk tour of Chinatown's Michelin-rated hotspots.
Park Life!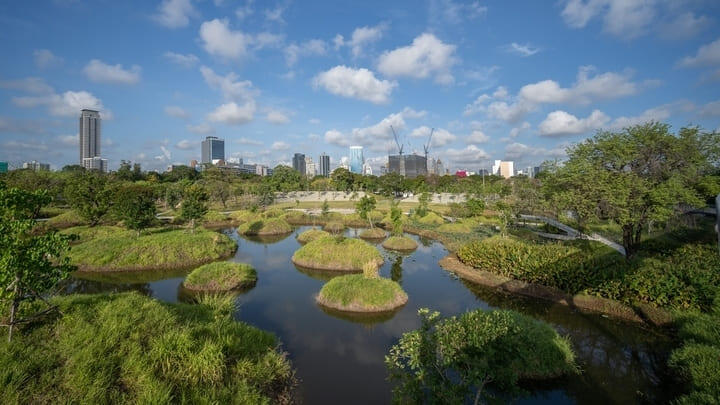 Bangkok's green spaces are the stuff of legend, and there's plenty to keep families occupied in these vast expanses of urban parkland. Hit up Lumpini Park for morning Tai Chi classes and picnics on the lawns, giant swan pedalos on the lake, and lizard-spotting among the palms – the park is home to dozens of resident water monitors. Nearby Benjakitti Park (pictured) boasts a fine network of elevated walkways overlooking ponds and mangrove swamps where herons, turtles and lizards forage, while Chatuchak Park provides some calming, picturesque respite for visitors to the neighboring weekend market, one of the biggest on the planet. Meanwhile, next-level nature seekers make a beeline for Bang Kachao, an unspoiled jungle enclave that's tucked away in a loop of the Chao Phraya river, with not a skyscraper or tuk tuk in sight. Arrive by longtail boat, rent some bicycles and spend a few lazy hours discovering this unexpected slice of rural Thailand in the heart of the city.
Save on

family-friendly activities in Bangkok
Save on admission to Bangkok attractions with Go City. Check out @GoCity on Instagram for the latest top tips and attraction info.