Make a Splash: Experience the Best Water Sports Adventures in Bangkok! 
By Mia Russell 
Are you traveling to Thailand's bustling capital and wondering where you can enjoy some fun on the water? The busy metropolis may not have beautiful beaches and azure waters like on the coast, but the meandering Chao Phraya River offers an exhilarating aquatic playground for water lovers.  
For adrenaline junkies, the city boasts opportunities to ride the waves with activities like wakeboarding, windsurfing, and jet skiing. If your quest involves a more leisurely pace, you'll find plenty of options to relax and unwind while still enjoying the beauty of Bangkok's aquatic surroundings.  
Cruising along the calm waters of the Chao Phraya River provides a tranquil escape from the city's hustle and bustle, offering a unique perspective of iconic landmarks along the riverbanks. Canoeing and kayaking enthusiasts can meander through the labyrinthine canals, known as 'klongs,' which provide glimpses of traditional Thai architecture and local life. 
Ready to hit the water? Here are some of the best watersports to enjoy in and around Bangkok.  
Wakeboarding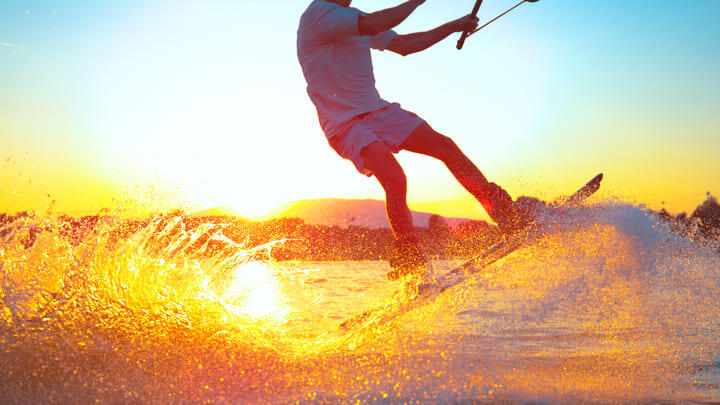 There are two spots where you can conquer waves on a wakeboard in Bangkok: Taco Lake and Thai Wake Park.  
Taco Lake 
Nestled just beyond the city's borders, Taco Lake is a wakeboarding haven that offers a tranquil escape where you can unleash your inner rider. The lake boasts a well-maintained cable park system that propels wakeboarders across the water, making it an ideal spot for both beginners and seasoned riders to hone their skills. 
The cable park setup eliminates the need for a boat, allowing you to maximize your time on the water and focus on perfecting your tricks and jumps. Whether you're a first-timer attempting to stand up on the board or a wakeboarding enthusiast looking to conquer more challenging features, Taco Lake's cable system caters to all experience levels. You'll also find expert instructors on hand to help with any needs.  
What sets wakeboarding at Taco Lake apart is its serene surroundings. Surrounded by lush greenery and clear waters, this idyllic oasis provides a peaceful contrast to the urban landscape of Bangkok.  
Thai Wake Park  
Thai Wake Park is situated in Lamlukla District, north of Bangkok, and features a state-of-the-art cable park system that propels wakeboarders across the water with precision and power. Expert instructors are on hand to guide beginners through their first exhilarating moments on the water and help experienced riders take their skills to new heights. 
Beyond wakeboarding, Thai Wake Park offers a range of amenities. Kick back and relax in the chill-out areas, recharge at the on-site restaurants and cafes, or explore the park's other attractions like skateboarding and paddleboarding. 
Where: Taco Lake and Thai Wake Park 
Kayaking 
Kayaking offers an extraordinary way to explore Bangkok, allowing you to venture through its intricate network of waterways and gain a unique perspective of its urban beauty. 
One of the most popular locations for kayaking in Bangkok is the Chao Phraya River, the lifeblood of the city. Paddle along the river's gentle currents, passing by historic temples, bustling markets, and modern skyscrapers that reflect Bangkok's seamless blend of old and new.  
For a more tranquil and immersive kayaking experience, the city's hidden gem lies within its network of canals, known as 'klongs. These narrow waterways wind through local neighborhoods, offering glimpses into residents' daily lives along the water. Kayaking along the 'klongs' allows you to escape the city's hustle and bustle and enter a serene realm where time seems to slow down. 
One of the well-known areas for klong kayaking is the Bang Krachao Green Lung. Often referred to as Bangkok's 'best-kept secret,' this lush oasis is just a short distance from the city's chaos. Paddle through mangroves, meander along peaceful waterways, and immerse yourself in nature's tranquility. As you explore the Green Lung, you'll encounter traditional stilt houses, community gardens, and a sense of serenity that starkly contrasts the urban landscape just across the river. 
Another kayaking hotspot is Nong Bon Water Sports Center, where you can paddle in the expansive Nong Bon Lake, surrounded by lush greenery and a tranquil ambiance. This scenic lake offers a respite from the urban hustle and a chance to reconnect with nature without leaving the city limits. 
Where: Bangkok Kayak Club / Nonthaburi Kayak Club 
Flow-riding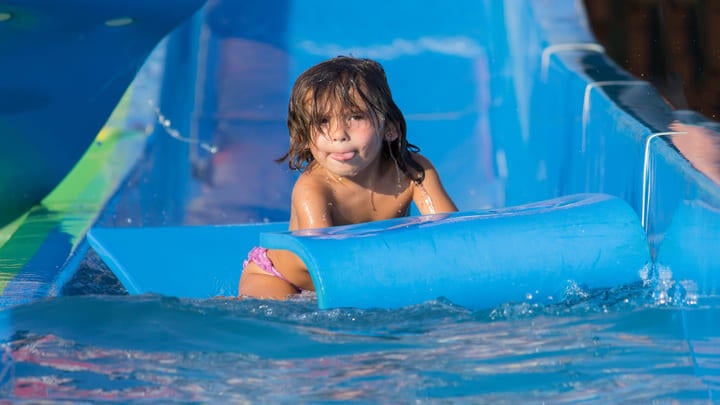 Flow-riding offers the perfect fusion of surfing, snowboarding, and skateboarding, all atop a specially designed wave machine that simulates the thrilling experience of riding ocean waves. And it's taken Bangkok by storm!  
The top spot to try flow-riding in Bangkok is the Flow House in the Asoke district. Central to the Flow House Bangkok experience is its remarkable FlowRider – a cutting-edge machine that produces a continuous stream of water over a soft surface, creating the sensation of riding a natural wave.  
You can go body-boarding or flow-boarding, the latter allowing you to attempt tricks and stunts on a flow board resembling a skateboard deck without wheels. Whether you're a beginner aiming to stand on the board for the first time or an experienced rider looking to perfect your techniques, the FlowRider accommodates all skill levels. 
Beyond the wave-riding action, Flow House boasts a charming poolside area where you can cheer on fellow riders as they showcase their skills and attempt daring maneuvers on the artificial wave. Flow House Bangkok's social and laid-back ambiance makes it a fantastic hangout spot after a flow-riding session.  
Where: Flow House Bangkok, Asoke District 
Sailing & Windsurfing 
While the city's skyline dominates the view, the waters of Bangkok present an alluring invitation to embark on a sailing journey that reveals a whole new side of this bustling metropolis. 
The Chao Phraya River, often called the 'River of Kings,' winds its way through the heart of Bangkok and provides a unique vantage point from which to experience the city's dynamic blend of ancient temples, modern skyscrapers, and vibrant markets. Whether you're an experienced sailor or a novice looking to set sail for the first time, the Chao Phraya offers a mix of currents and conditions that promise an engaging adventure. 
To take sailing to the next level, head to the Bangkok Sailing School, where seasoned sailors and beginners can learn the art of handling a sailboat. This sailing hub, located near the Chao Phraya, offers courses and experiences catering to different skill levels, ensuring you can set sail confidently and professionally. 
You can set sail on gentle breezes on the Bueng Nong Bon (Nong Bon Lake) in Bangkok and enjoy a day of sailing and sunshine. The Nong Bon Water Sports Center is situated on the shores of the 255-acre artificial lake and offers canoeing, kayaking, sailing, and windsurfing. Don't despair if you aren't proficient at these water sports. You can join classes with professional water sports gurus and learn how to master your skills!  
Where: Bangkok Sailing School / Nong Bon Water Sports Center 
River Cruises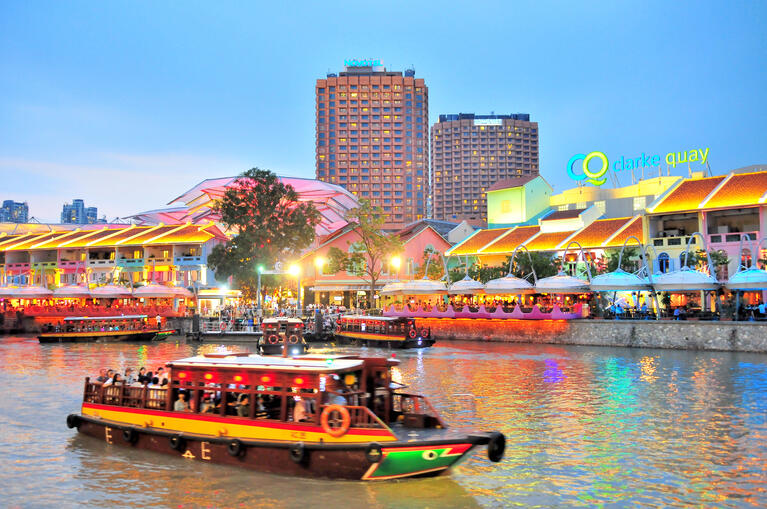 Hop on a traditional longtail boat and cruise along the majestic Chao Phraya River. Use your pass to enjoy a Bangkok Canal Tour and soak up spectacular skyline views of ancient temples and modern skyscrapers as you glide through the heart of the city. 
Another way to cruise the river is to spend an evening on an unforgettable Chao Phraya River Dinner Cruise. Hop on board one of the sleek luxury cruisers and set sail as the sky transforms into spectacular hues of pink and orange.  
As you glide along the waters, take in the breathtaking views of some of Bangkok's most famous sights like the iconic Wat Arun, also known as the Temple of Dawn and the magnificent Grand Palace.  
Another highlight of the Chao Phraya River cruise is the Rama VIII Bridge. As you sail underneath, marvel at its elegant design and admire the panoramic views of the river and the city beyond. Keep an eye out for the picturesque riverside hotels, such as The Mandarin Oriental and The Peninsula Bangkok, which are architectural marvels in their own right. 
While cruising, you'll also witness the daily life along the riverbanks. See the bustling riverfront markets, where vendors sell fresh fruits, vegetables, and vibrant flowers. Take in the sights of traditional wooden houses, river taxis, and longtail boats that navigate these waters. 
If you're feeling adventurous, you can disembark at various stops along the river to explore further on a Chao Phraya River Unlimited Hop-on Hop-off Boat with your pass. Visit the historic neighborhood of Thonburi, where you can discover charming temples, local markets, and a more laid-back atmosphere than the bustling city center. 
Be sure to use your pass and book in advance as these Chao Phraya River dinner cruises are very popular with tourists!  
Final Thoughts 
So, whether you're an adrenaline junkie, a nature lover, or someone who thrives on new experiences, Bangkok's water sports adventures beckon. Strap on your gear, dive into the waves, and discover the aquatic wonders of this captivating city!