At the peak of summertime, August marks one of the two busiest months for Barcelona. Between its highly favorable weather and plethora of world-renowned sights and attractions, it's no surprise that hundreds of thousands pick the city as their summer destination.
While crowds and queues are of course inevitable, these are largely what gives the Catalan capital its famed bustling atmosphere. And given the plethora of festivals and events taking place throughout the month, you can expect those crowds to be electric. If busy and thriving are what you're looking for, then Barcelona in August may be the trip for you.
Tourism in August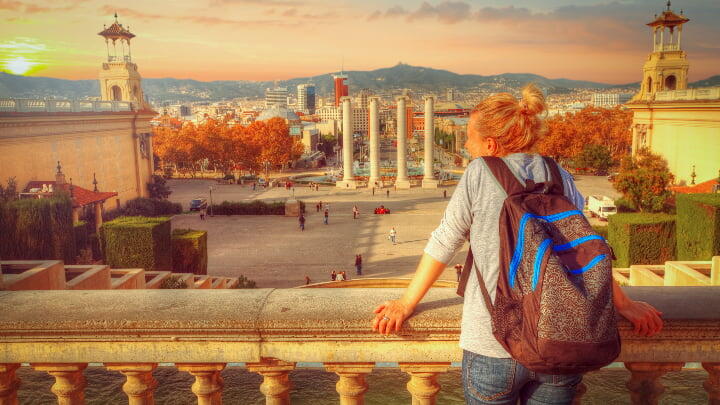 It's no secret that Barcelona in August is busy. Really busy. Alongside July, this is when the city sees its largest throughput of visitors. Hotels tend to get swept up at a moment's notice, accommodation rates are at their highest and the city's attractions are operating at peak capacity.
While to some this may sound like a nightmare, this is the whole appeal to many visitors. Barcelona is famous for its thriving atmosphere, bustling streets and energetic nightlife. And for that, serious crowds are a necessity. Just note that more tourists also means you'll likely need to book your desired attractions well in advance.
The exact reasons behind Barcelona's summertime tourism spike are no challenge to discern. Between its stellar location on the Mediterranean and average temperatures of 80 – 90°F, many come to enjoy the city's world-famous beaches. Pair those with the existing waves of tourists interested in Barcelona's architecture, history, cuisine and nightlife, and it's no surprise that this is the busiest time for the city.
Those who aren't so keen on the crowds may be better off planning a trip during the spring and fall 'shoulder seasons', when the city is still busy enough to maintain its buzz but quiet enough to be able to explore without the need to wade through the crowds.
Festa Major de Sant Roc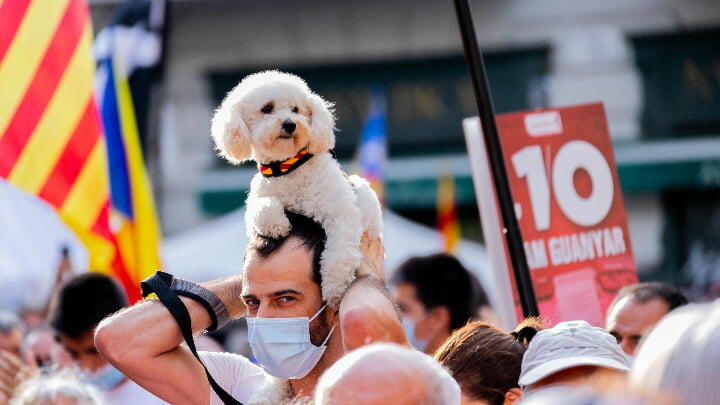 Dating back over 400 years, one of August's largest events is the Festival of Sant Roc. Held in honor of Saint Roch, the celebration takes place each year on Plaça Nova in the heart of the Gothic Quarter, right beside the Barcelona Cathedral.
While it may be contained to a smaller area than many other neighborhood celebrations held around the year, the festival is jam-packed full of activities. Typically taking place over the course of roughly a week, the event sees various games, traditions, processions, performances and dances take place, with something for just about all ages.
One of the most common troupes of the festival is La Cucaña, a greasy, rotating pole which children will attempt to traverse safely in return for a prize. Another is El porró llarg, a bizarre glass drinking vessel with an extremely long spout from which visitors will attempt to drink wine, much to the amusement of onlookers.
Another key part of the celebration is known as the Festival of the Dog. Legend says that when Sant Roc was sheltering within the city's Roman walls while suffering from the plague, the local baker's dog helped nurse him back to health by bringing him panellet cakes to eat. This portion of the festival therefore pays homage to the saint's savior pooch with a canine exhibition. Locals will bring along their own dogs to celebrate, and there are even some dog training shows for those with excess energy.
Festa Major de Gràcia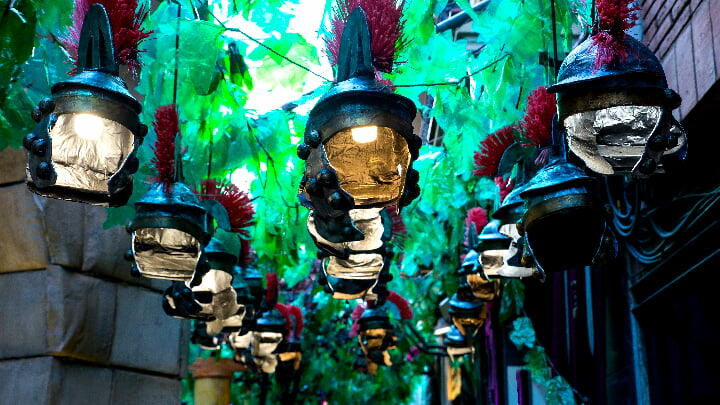 From August 15th to 21st, Barcelona is host to what is widely considered its most festive and most accommodating street festival. The event offers a packed program of live performances, concerts, parades, dances and activities taking place throughout the Gràcia neighborhood.
The festival is perhaps best known for its iconic decorated streets. With each street allocated its own theme for the year, the walkways of Gràcia truly come to life with vibrant and whacky displays. Most decorations will be created using sustainable and recycled materials, and each street competes to offer the most creative display in hopes of winning the annual grand prize.
Festa Major de Sants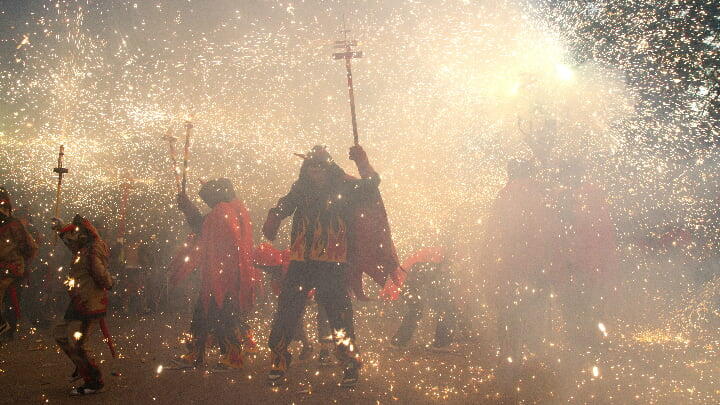 Should you happen to miss out on the Gràcia Festival, fret not – The Sants Festival picks up right where Gràcia leaves off. Host to a wide array of Catalan traditions, this event offers much of the same decorated streets concerts, dances, performances and activities for all ages as its predecessor.
Castells are one of the main traditions of the Sants Festival, with a large number of castellers working together to attempt to build the largest human towers. Correfocs are another, translated literally as 'fire runs', in which performers dressed as devils will parade around with fireworks to the entertainment of onlookers standing at a safe distance.
DGTL Festival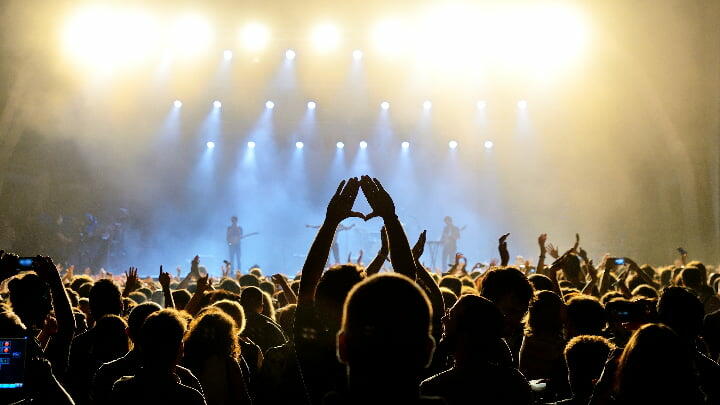 A spin-off of the renowned festival held in Amsterdam, DGTL is an event quite unlike any other. Offering live underground house and techno sets from prodigious artists and DJs, this is not an event to be missed for fans of the underground music scene.
Held each year in Parc del Fòrum, the event is characteristically accompanied by mesmerizing art and light installations, turning all areas of the venue into its own immersive clubbing experience. The event maintains an ethos of sustainability, employing the likes of solar panels, exclusively vegetarian food options, cashless transactions and eco-friendly packaging.
Music Festivals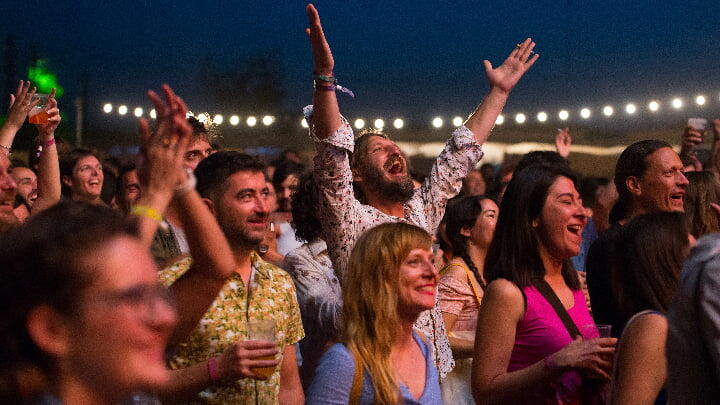 As if Barcelona's nightlife scene wasn't enough, August is a month replete with music events for fans of all genres. Alongside the DGTL festival covered above, attendees come from the world over to revel in the city's impressive musical festivities. Some of the most popular events include the Mas i Mas Festival, the Cap Roig Festival and Brunch in the Park.
Wrapping Up
Whether you're keen to explore the city's unique wealth of architecture and history, relax on its world-famous beaches in prime weather or enjoy the buzz of its nightlife and the many festivals taking place throughout the month, visiting Barcelona in August could be an ideal trip for those who enjoy a more bustling city experience.
While you can expect to have to fight crowds and make advance booking for your attractions of choice, not to mention your hotel or apartment, you'll be rewarded with the opportunity to experience a city positively thriving with life. Barcelona is never quite as alive as it is in summer, which you're bound to discover for yourself should you choose to visit in August.