When planning your trip to Barcelona, you'd be forgiven for not considering visiting in winter. With the city seeing its peak levels of tourism in the summer months, it only seems right to follow suit and experience the city in its warmest and most bustling period.
But should you happen to take a chance on Barcelona in February and brave the slightly cooler and possibly wetter weather, you may find yourself pleasantly surprised by what the city has to offer.
Not only will you be able to experience a more authentic side to the Catalan metropolis without having to fight the summer crowds, but you'll also get the chance to observe some of the region's most hotly-anticipated cultural events.
Tourism in February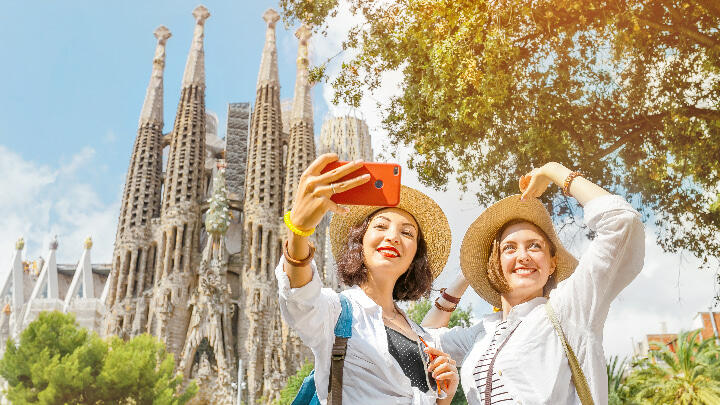 If you happen to visit Barcelona any time outside of the summer period, you'll very quickly notice a huge difference in the overall feel of the city. In the wake of or lead-up to the peak tourist season, the city sees far lower numbers of visitors.
This is especially true in the late winter months, when even the additional mini waves of Christmas have all run dry. In the absence of peak visitor numbers, you'll find Barcelona far less crowded, and that can make a whole lot of difference for your trip.
You'll have the opportunity to visit just about any of the city's key attractions without having to battle crowds, and most of the time you should even be able to book admission the very same day. What's more, you're likely to get the pick of the litter in terms of flights and accommodation, along with some pretty hefty discounts to boot.
While it may not be the perfect weather for taking a dip in the Mediterranean, with temperatures typically falling between the low-40s and high-50s, this could be the prime time to plan your dream Barcelona itinerary. Explore the likes of the Sagrada Familia, Park Güell, Montjuïc and the Barcelona Zoo in their quietest and most authentic state.
Barcelona Carnival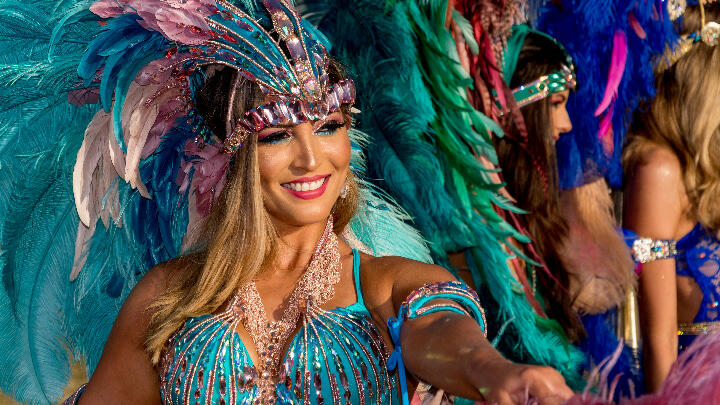 We promised you near-zero crowds throughout Barcelona in February. Well, that may not be strictly true for the whole month. While most tourists may indeed be waiting for the summer months to pay a visit, the locals come out in force for a week in mid-February to celebrate Carnival.
In the lead-up to lent, when families would traditionally begin fasting to tribute the final sacrifice of Jesus Christ, the city indulges in a week of lavish eating, drinking and partying.
The celebration begins with Dijous Gras, or Fat Thursday. As per its double-entendre name, this is a day full of indulgence in mighty communal feasts filled with greasy, fatty foods. Head to any independent bakery or café, and you'll likely find traditional treats such as coca de llardons (a flat wheat pastry) and botifarra d'ou (pork and egg sausage).
Sometime over the weekend, often on the Saturday, the Carnival King will then arrive among the traditional carnival parade before making his grand speech to commence the rest of the festivities. This is a huge event in which many locals and tourists alike will gather to hear the King poke fun at the year's most poignant events.
Throughout the Carnival period, you'll find countless street parties and events to join where you'll be able to indulge in your fill of festive foods and alcohol. Most attendees typically dress up in costume, often as celebrities, famous characters or animals. If you're really looking to party, you can easily grab yourself a costume from a number of stores in the city center.
Llum Festival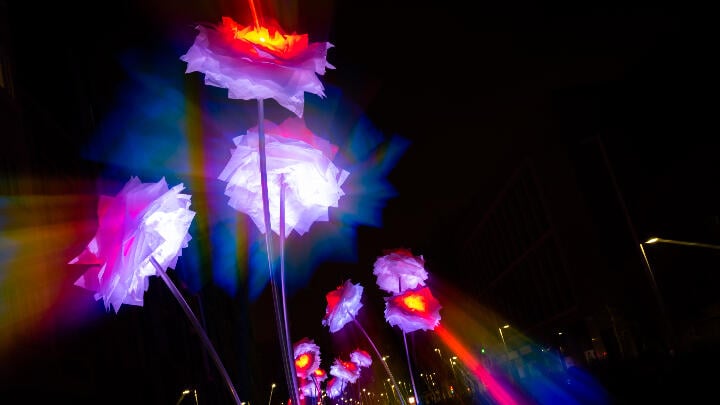 February also offers up one of the most highly anticipated events on Barcelona's cultural calendar. For three nights a year, the Poblenou district offers up an almost unparalleled light show for the Llum Festival, using many of the district's most iconic buildings as a canvas on which to project various different stunning art displays.
Should you find yourself exploring the trendy bars, cafés and retailers throughout this district in the evening, you'll be treated by all manner of spectacles. Highlighting the skills of both local and A-list artists, installations can be anything from neon walkways to immersive 3D illusions to entire buildings animated by light.
Chinese New Year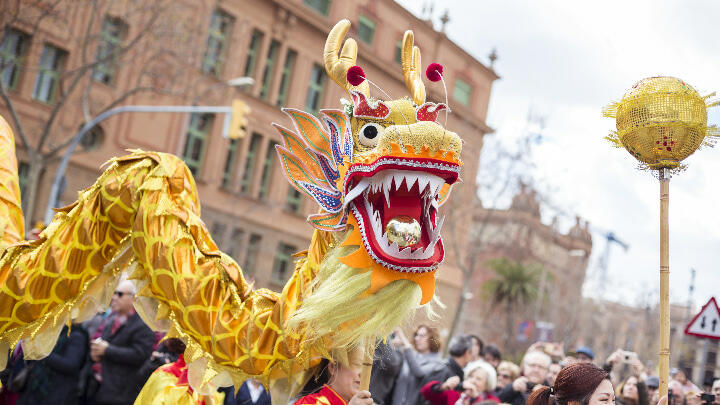 While the Lunar New Year may occasionally fall in January, it most often takes place in February. Just about every major European city will offer some form of celebration, but some go above and beyond to offer something truly special.
Barcelona is one such location, as it has adapted its Chinese New Year celebrations to incorporate both traditional Chinese and Catalan symbolism and culture. A procession of dancers, musicians, martial artists, human towers, Chinese dragons and Catalan giants typically makes its way through some of the city's major streets, eventually ending in a grand performance at its final destination.
To accompany the celebration, you'll also find a number of smaller events and displays taking place throughout the city. Many streets are taken over by vendors selling all manner of traditional treats and gifts, and you can often find a number of cultural workshops offering everything from language classes to art to cookery.
Wrapping Up
Whether you're a more budget-minded traveler looking for the cheapest and quietest time to experience the heart of Catalonia or a fiend for parties and festivities, visiting Barcelona in February can be incredibly rewarding.
Minimal crowds, cheaper accommodation rates and some of Catalonia's most exciting cultural events are but a few of the treats you can expect from a visit throughout this period. Grab yourself a plane ticket and make sure to pack for the weather, and see what Barcelona's winter really has to offer.