Seeing out summer, September marks the beginning of a transitive period for Barcelona. Offering the best of both worlds of summer and the coming low season, the city is widely considered to be at its best in this period.
No matter your travel preferences, you're bound to find that the Catalan capital delivers. From fantastic weather to bustling nightlife complementing the cultural, historical and gastronomic feast on offer year-round, there is an endless array of things to do in Barcelona in September that are guaranteed to offer you a rewarding experience on all fronts.
Tourism in September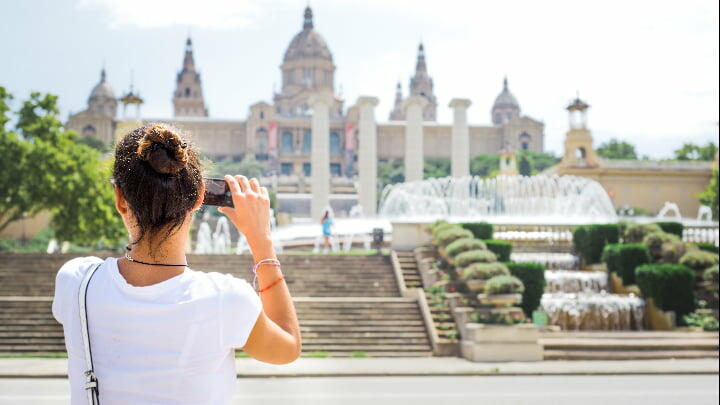 For Barcelona, September offers an experience that combines the appeal of visiting both in summer and in fall. With summer break drawing to a close, the family-dominated waves of peak-season tourists decline throughout the month, making way for other types of travelers.
As such, the city typically isn't quite as busy as during previous months, but it certainly isn't quiet either. For many, that's exactly the benefit of visiting in this period. A healthy influx of visitors is precisely what gives Barcelona its world-renowned bustling atmosphere – particularly when it comes to nightlife.
That does, however, mean that you should expect large crowds at some of the city's top attractions. Be sure to plan accordingly and book your visit in advance should you want to include the likes of Park Güell and the Sagrada Familia in your trip.
Weather in September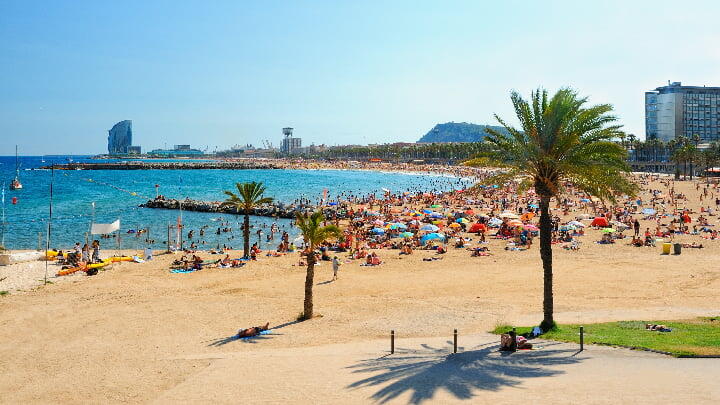 September offers something of a sweet spot when it comes to weather. Working somewhat in parallel to the tourism rate, temperatures drop just slightly from the summertime peak and rest typically between the mid-60s and high-70s. In essence, that makes for ideal summer temperatures without the higher highs and more imposing humidity of July and August.
Combine that with the fact that many schools and colleges start their new academic year in September, and you get the best of Barcelona's sunshine and heat without quite the same droves of summer break tourists. Why not take yourself for a pleasant dip in the Mediterranean and bask in the sun on Barcelona's famous beaches or in its many renowned green spaces?
Best Attractions in September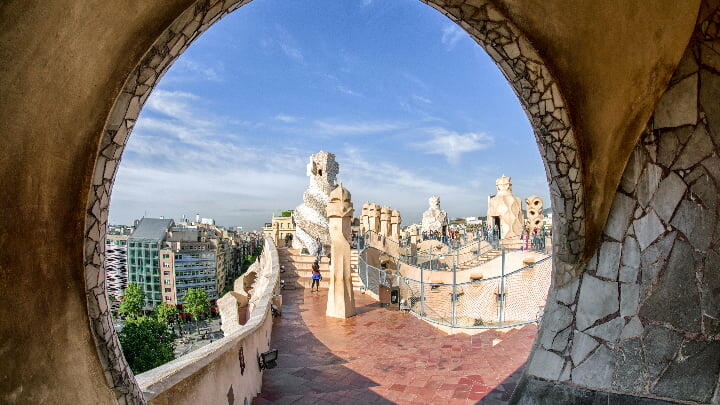 September is one of the few times throughout the year when just about all of Barcelona is at its best. Aside from making the most of the idyllic weather, this is a great time to visit the city's best attractions and cultural sites. No matter your travel style, you're sure to find the city catering to your preferences.
For those interested in Barcelona's rich architectural diversity, this period serves as a fantastic time to take a tour of some of the city's most iconic buildings. Explore the likes of Casa Milà, Illa de la Discòrdia and the Gothic Quarter to see how the Catalan capital brings together both traditional Gothic and contemporary Modernist styles with surprising grace.
Should you be looking for your share of cultural inspiration, then the city's wealth of celebrated museums has you covered. Discover the life and work of Barcelona's most honored artists at the Museo Picasso and Fundació Joan Miró, or take a stroll through history at the Museo de Historia de Barcelona or the Museu d'Història de Catalunya.
If you're in the market for more of a culinary experience or want to get in on Barcelona's famous nightlife scene, be sure to explore the many bars, restaurants and charming squares throughout the Gothic Quarter in particular. In the evening, make your way toward the seafront and La Barceloneta for some of the city's best clubs, bars and live music venues – or simply take some drinks to the beach!
Local & Cultural Events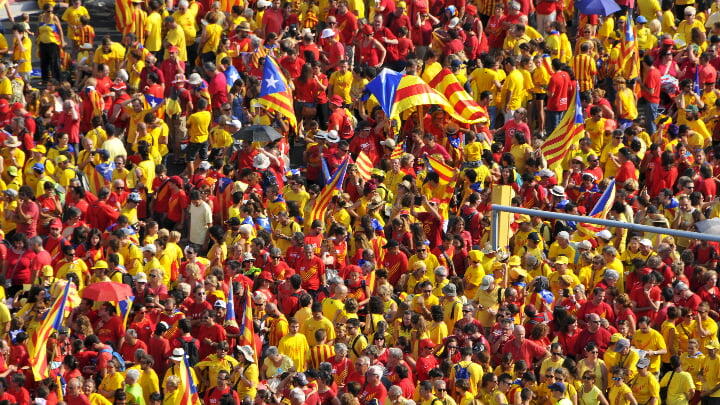 Festes de la Mercè – Toward the end of September, a number of areas throughout Barcelona become host to various combined celebrations in honor of the Virgin of Grace, Mare de Déu de la Mercè (Our Lady of Mercy). Typically taking place over the course of a few days to a week, many key streets and parks come alive with live music performances, street art, cultural activities and light displays.
As with many street festivals held throughout the year, you can expect processions of giant characters and religious figures, along with 'devils' performing correfocs (fire runs) throughout the week. Beginning on September 24 with Día de la Mercè, a public holiday, many independent stores and businesses will be closed for the day.
Held in conjunction with this celebration is the BAM Festival. Short for Barcelona Acció Musical (Barcelona Musical Action), this is an alternative musical festival hosted to bring an even greater diversity of music to the Mercè festivities. Big names in the local and international music scene from a vast array of genres offer concerts and performances over the course of a week.
Diada Nacional de Catalunya – September 11 in Barcelona is a celebration of all things Catalan. Held in commemoration of the fall of Barcelona during the War of the Spanish Succession, the day is often split between cultural events and independence movement demonstrations.
For those with an interest in Catalan culture and local politics, this could be a great opportunity to see a deeper side to Catalonia, while also benefiting from free entry to the likes of the MNAC and the Museu d'Història de Catalunya. For everybody else, it's best to avoid the city center, as it can become very crowded with demonstrations, and being a public holiday, many stores and businesses will also be closed for the day.
Festa Major de la Barceloneta/del Poblenou – Much like the Festes de la Mercè, these festivals transform their respective neighborhoods into a lively street party, complete with live music, street food, art displays, cultural activities and high spirits all around. And, of course, both also offer their own parades of giants and devils, saints and sinners.
Wrapping Up
If you're looking for a fantastic summer trip to Barcelona, September offers a slightly different experience from the peak season months. In the absence of families on summer break and the plethora of music festivals taking place throughout the preceding months, September instead offers idyllic weather and a whole host of local and cultural events.
Whether you're looking to tick off all of the city's key attractions or want to join in on its famed nightlife scene, or even just want to take a load off and sunbathe on its popular beaches, a trip to Barcelona in September is the perfect opportunity to see the city at its best.