Heading to Barcelona this year and interested in the city's deep connection to the Catholic faith? Or just looking for somewhere to chat to the big man upstairs? Check out our guide to the best churches in Barcelona, and see which best suits you!
Including:
La Sagrada Familia
Basílica de Santa María del Mar 
Basílica de Santa María del Pi
La Catedral de Barcelona
Templo Expiatorio del Sagrado Corazón de Jesús
and more!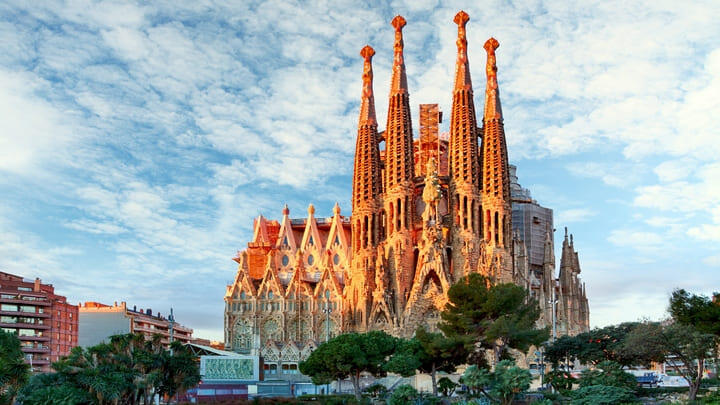 La Sagrada Familia isn't just one of the best churches in Barcelona - it's one of the most unique and eye-catching buildings on Earth. Designed by renowned Catalan architect Antoni Gaudí and only nearing completion 120+ years after work began, it's one of the most prominent jewels in Barcelona's crown. 
Each element, from the spires to the interior façades, was meticulously designed around themes of Christianity. Every inch holds meaning. There's nothing quite like it in any other place on the planet, making it an absolute must-visit for anyone visiting the city, Christian or otherwise. 
To make the most of your visit, and to uncover all the church's secrets, take a guided tour and get the low down from a learned guide. This is the way.  
A 14th-century gem, the Santa Maria del Pi is named after a large pine tree that faced the church during construction. Widely considered one of the best churches in Barcelona, it mimics the Catalan Gothic style of Basilica de Santa María del Mar, with its less extravagant design and large, beautiful windows. 
In fact, the Santa Maria del Pi contains one of the world's largest rose windows, which is a magnificent sight to behold! Beyond the church's undeniable beauty and calm praying space, you'll find a small museum and treasury, which claims to contain a piece from Christ's crown of thorns. Whether that is the case or not has yet to be determined, but why not go and see for yourself?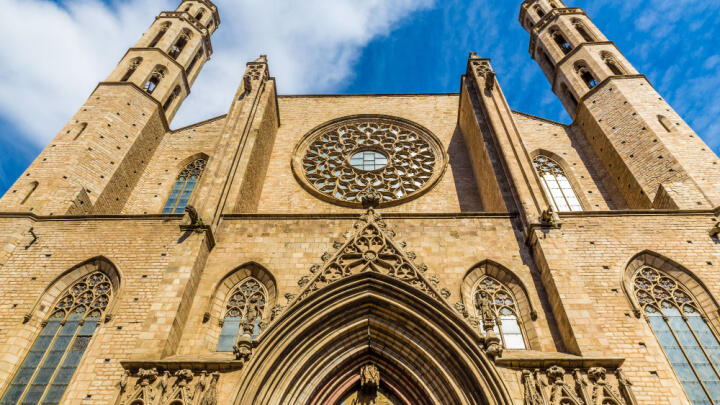 Built back in the 1300s, the Basilica de Santa María del Mar is a testament to the beauty of the Catalan Gothic style. And what a style it is, with simple symmetry accentuating harmony. Its massive, stunning windows bathe the interior with light, which perfectly contrasts the weighty and somewhat daunting exterior design. A calm, quiet space in comparison to the loud, awe-inspiring Sagrada Familia, it's the perfect place to visit if you're not one for crowds.
Sitting atop Barcelona's Tibidabo Mountain, the tallest hill in the city, you'll find the Templo Expiatorio del Sagrado Corazón de Jesús. One of the more recent creations on this list, having been built between 1902 and 1961 by father and son Enric and Josep Sagnier, it's no less beautiful and deserving of a visit. 
With elements of Neo-Byzantine, Neo-Romanesque, and Neo-Gothic elements, it's a wonderful and unique mix you won't find anywhere else. On the outside, you'll admire its intricate spires and the statue of Jesus that looks out over the city. On the inside, gaze up at its massive dome.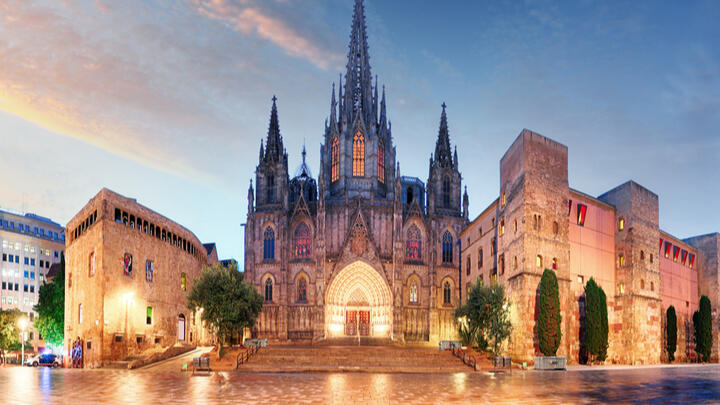 Arguably Barcelona's second most recognizable church, the Catedral de Barcelona is one of the city's largest tourist attractions. Standing tall in the city's delightful Gothic Quarter, only something as unique and alien as the Sagrada Familia can overshadow its beauty. You can even ascend to the top of the cathedral and look over the district from up on high. 
Built over the course of 150 years, you can see the different eras and styles within its design. Make sure to visit the crypt of Saint Eulalia, a prominent Christian martyr and the namesake for the church's alternative name, the Cathedral of Santa Eulalia.
Tucked away from Barcelona's tourist-heavy center, you'll find the Reial Monestir de Santa Maria de Pedralbes. Another of the city's 14-century creations, its simple design was ordained by the king at the time, Jaume II. 
Its Catalan Gothic trappings mimic the other churches on this list built during the same period. However, what Reial Monestir de Santa Maria de Pedralbes does boast is beautiful gardens surrounding the entire building. 
So, if you want to add a nice, green stroll to your visit, it's worth checking out.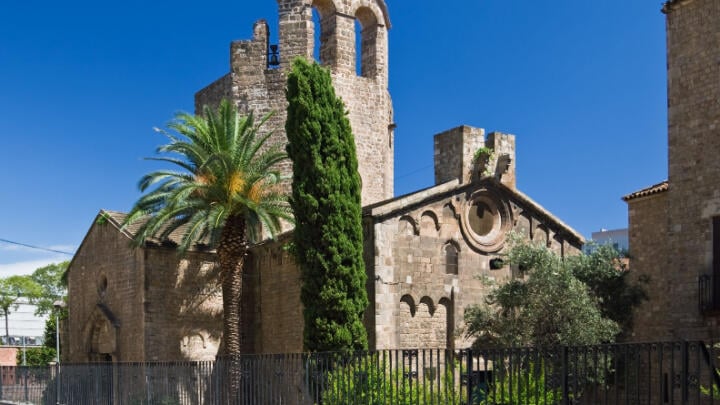 In the free-spirited district of El Raval, you'll find the oldest church in the entire city. Built over 1200 years ago, the Sant Pau del Camp started life as a Benedictine monastery, but has since become a place of worship for many in Barcelona. 
Given its age, it's the only church of its kind in the city, and has been restored multiple times. Having witnessed civil war, conflicts, and invasions, it's no wonder the church has needed some TLC over the years. It might not top this list for its fancy design or prominence, but it's absolutely one to visit for its history. 
This final entry might be a bit of a cheat as it's not technically in Barcelona, but just a short trip away, the Santa Maria de Montserrat absolutely deserves to be seen. You can make your own way there on public transport, but we'd recommend taking a stress-free guided tour up the mountain. 
Santa Maria de Montserrat is a monastery founded in the 11th century and rebuilt between the 19th and 20th centuries. Today, it still functions with over 70 monks and is notable for enshrining the image of the Virgin of Montserrat.
You can head inside and look around, though, given its popularity, you may be waiting some time unless you get there early. There's also a nearby museum, where you can learn about the church's history. Easily one of the best churches in Barcelona, if you allow a little wiggle room on the subject. 
And that's our list of the best churches in Barcelona! Looking for more things to do and see on your vacation to the Catalan capital? Check out Go City. With our All-Inclusive Pass and Explorer Pass, you can experience all of Barcelona's best bits when and how you want.