It can be easy to stay in our comfort zone - it's warm, reassuring, and predictable. But sometimes, it's great to break out of that bubble and explore the world outside. For instance, you book a vacation to an amazing and exotic new place. You go exploring and discover new foods and culture. But after a few days, you might feel like you've seen the things you want to see. You may have checked every box on the itinerary. What do you do then? Well, you break out of that bubble and take your explorations further afield! Even a city as beautiful as Barcelona has some must-see places outside its walls. So hop on a train, slide into your slickest automobile, or put your hiking boots on for a serious jog. Here are some of the best day trips you can take from Barcelona!
Featuring:
Girona
Ruins of Empuries
Montserrat
Costa Brava
Andorra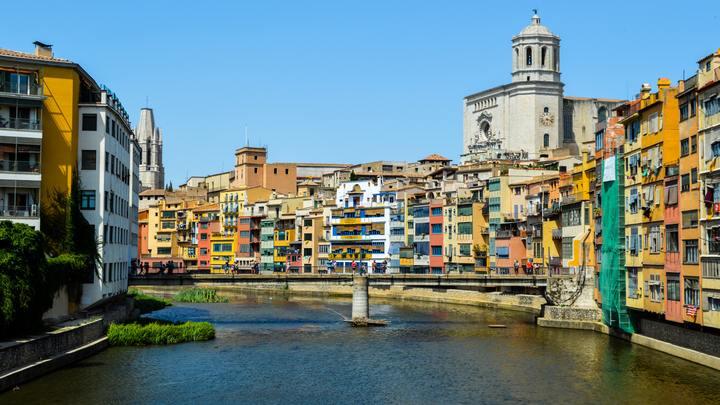 Girona
Just an hour outside of Barcelona, you'll find Girona. In fact, you might already recognize parts of it, as it was the location of 'King's Landing' in the Game of Thrones TV show! Appropriately, it's an interesting mix of medieval and modern architecture. One unmissable highlight is Girona's old town, where you can explore cobbled streets and ancient surroundings frozen in time. Beyond it is Girona's Cathedral, which was built back in the 11th Century, though not much of the original stonework remains. Since it towers over the city, it will be tough to miss! Inside, you'll be treated to stunning baroque facades, ancient artifacts, and timeless artwork. 
When you're done, make sure to see the Banys Arabs, or Arab Baths, for another slice of medieval life. And if that isn't enough history for one day, there are a few museums that chronicle the town's history, both good and bad. Then, once you've thoroughly explored, you'll find plenty of lovely restaurants to eat and drink, including the world-famous and rather pricey El Celler de Can Roca.
How to get to Girona
From Station Barcelona, in the heart of the city, rains run throughout the day and take between 70-80 minutes. Alternatively, it's a 30-minute drive.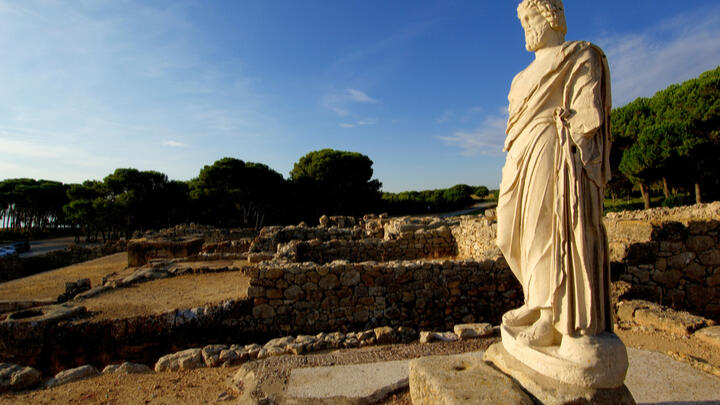 Ruins of Empuries
Just a little further than Girona you'll find something amazing. Empuries was an ancient city founded by Greek travelers over 2000 years ago! Later the Romans set up shop, but by the Middle Ages, it was a ghost town. This is likely because it was a difficult place to defend and, as such, was a constant target of pirates. For the next 1700-odd years, nature swallowed it up. But in 1908, it was rediscovered by archeologists. In fact, they haven't finished uncovering the city's secrets yet, over a century later!
Don't let that stop you. The Ruins of Empuries is still a fascinating place to visit. A literal trip back through time, you'll see mosaics and architecture from millennia ago, before entering the ancient amphitheatre. Imagine the plays and talks that would have taken place back then. Then, visit the site's museum for some sweet spoon-fed knowledge. Definitely one of the most fascinating day trips you can make from Barcelona! 
How to get to the Ruins of Empuries
Hop in your favorite four-wheeled machine, ideally a car, and you'll make it in an hour. Alternatively, you can get a bus or train to Girona, and a connecting bus will get you straight there.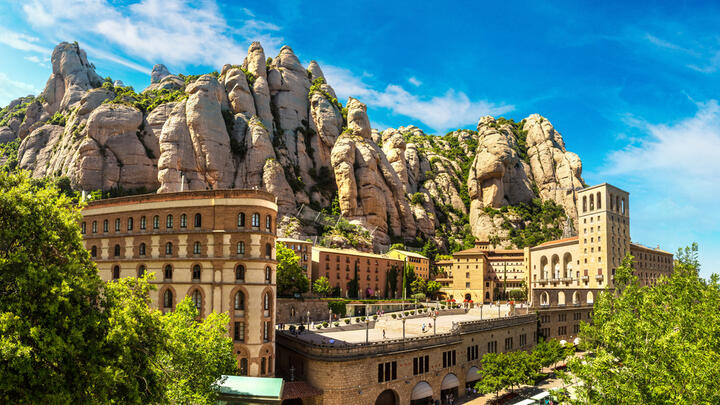 Montserrat
North of Barcelona is stunning Montserrat, or Serrated Mountain, a beautiful mountain range near the Catalan capital. And believe us, its jagged peaks are quite a sight! Its tallest peak, Sant Jeroni, stands tall at over 4000ft. But really, the reason you'll want to go there is the Santa Marie de Monserrat, a Benedictine Abbey nestled atop one of the peaks. It dates all the way back to medieval times, but is still in use to this day. 
While trying not to bother the monks, you'll be able to explore the abbey's church in all its splendor. Gaze up at the Dome of the Altar and you'll see stunning restored artwork depicting angels and other Christian iconography. Everywhere you look, you'll see beauty. Then, if you want to do a deep dive into the abbey's history, head to the on-site museum and fill your brain with delicious information. If you'd like to fill your stomach too, there's also a restaurant, cafe, and even a hotel if you're feeling sleepy!
How to get to Montserrat
Montserrat is about an hour's drive from the city center. Or, at just over two hours, trains are another option. If you want to travel up to the peaks in style, you can take the Aeri de Montserrat, a cable car that'll take you from the foot of the mountains all the way up! At 4000ft, the views are one of a kind. And best of all, it will also take you to the Abbey!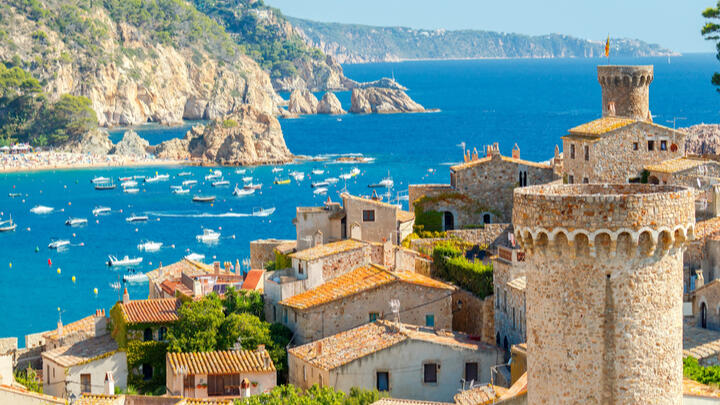 Costa Brava
Want to get out of the city to chill out and stretch out? Then Costa Brava might be the most perfect of all the day trips from Barcelona! Featuring three beaches that stretch out over 4000ft of beautiful golden sand, it's the perfect excuse to get out of the city! Each of the three beaches has its own unique vibe, so choose wisely. Llevant is the busiest, so expect plenty of sunbathers and party people similar to Barceloneta. If you're looking for a quieter time to max out your relaxing, check out Caldetes. Fewer people, fewer problems. Or, if you want to get your blood pumping with some sweet watersports, check out Dunes, where you can try your hand at scuba diving and windsurfing, among others. 
Once you're done lounging, you can head into Santa Susanna. It's a historic seaside town with a plethora of seafood restaurants, bars, and cafes. It was built back in the 1400s, so expect a good mix of old and new architecture to explore!
How to get to Costa Brava
You can make the journey to Costa Brava by car, which will take you just under 2 hours. Or, if you prefer to travel by train, you're looking at just over 3.5 hours. It's a bit further away than some of the others on this list, but it's definitely one of the best day trips from Barcelona that you won't want to miss!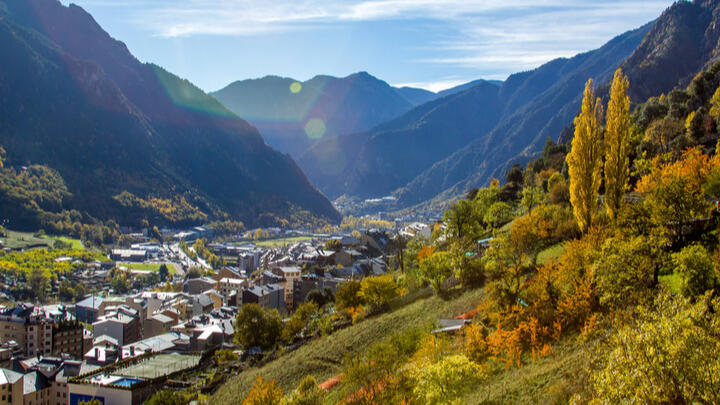 Andorra
And finally, we end this list with another state entirely. And that state is the Principality of Andorra! Replete with its own flag and coat of arms, this microstate is situated northwest of Girona. There, you'll find Europe's highest capital city, Andorra La Vella, sitting at a mighty 4000ft! Nestled in the picturesque Pyrenees, you'll find churches, chapels, and medieval architecture. There's also duty-free shopping, something most cities can't boast about! 
It becomes a popular skiing destination in winter. That's, presumably, because it's so high up. Or, if you prefer using your feet, there's hiking trails, and UNESCO protected spaces to explore. 
How to get to Andorra
Andorra is a solid 3.5-hour drive from Barcelona. Surprisingly, the train takes the exact same time. So, pick your poison! 
And that's our list of the best day trips from Barcelona!