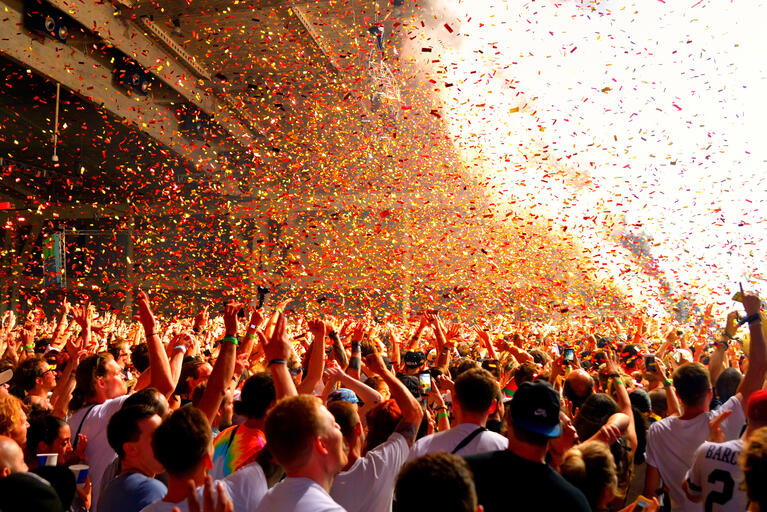 If you love to party then Barcelona is the place to be. As well as being home to increasingly popular international music festivals, the city's seasonal traditions and saints' days will have you whirling through the streets all year long.
From parades, costumes, music and dancing to more unlikely spectacles like human pyramids, papier måché giants and fire-runs, there's nothing the Catalan people like more than a celebration. 
Whatever time of year you plan to visit, we've everything you need to know about some of Barcelona's biggest festivals including:

• Festival traditions 

• Summer music festivals like:
  - Primavera Sound
  - The Sónar
  - The Grec
  - Cruïlla de Cultures
• Barcelona festivals including:
  - Epiphany (January)
  - Carnival (February/March)
  - Sant Jordi (April)
  - Sant Joan (June)
  - Neighbourhood festivals
  - Feste de la Merce (September)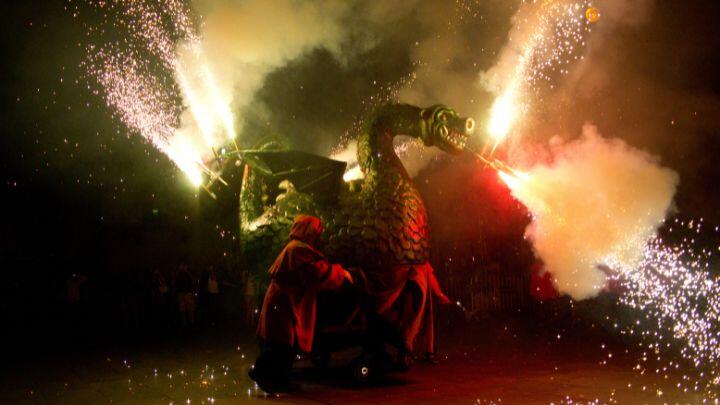 Barcelona festival traditions
'Festes' (in Catalan - or 'fiestas' in Spanish) are a part of daily life in Barcelona. Some have Pagan or Roman origins, others were adopted as Christian festivals. Either way, since every barrio (neighbourhood) celebrates its own saints' days with processions and street parties, you'll often find a carnival atmosphere around town.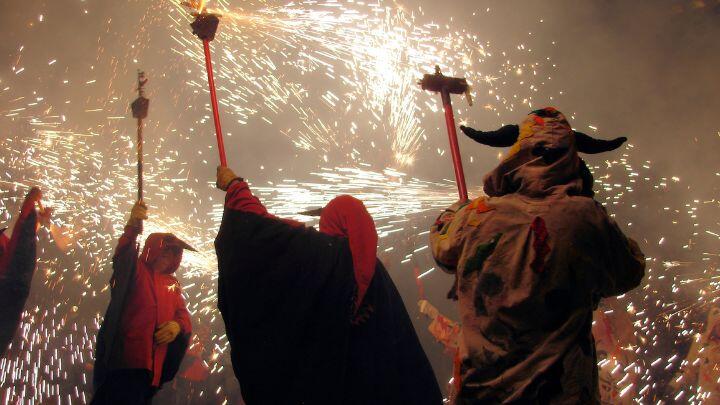 Fire
One theme common to many festivals is fire. Feel the glow of bonfires, fireworks or the 'correfoc' (fire run) when 'devils' parade through the streets waving pitchforks that release firecrackers and shower sparks.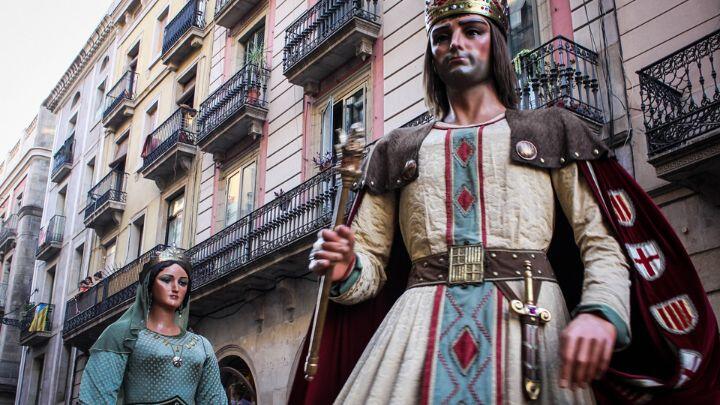 Giants
Giants - or gegants - are another feature of many festivals. Larger-than-life characters with papier måché heads bob through the streets alongside fantastic animals and Capgros (big heads). They originated in the Middle Ages when theatrical figures and animals were used to demonstrate Bible stories to an illiterate public. When they're not on parade, drop in and see them for yourself at the super quirky (and free) La Casa dels Entremesos (Giant Museum) in the old town.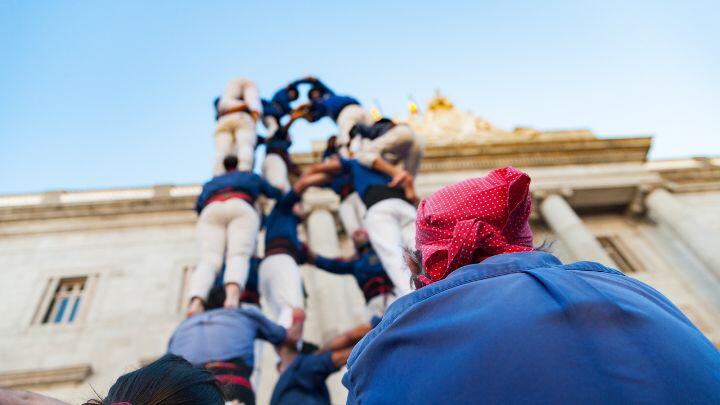 Castells
Also look out for human towers - or castells. Originating in the 18th century, individual groups (or colles) compete to build hair-raising towers of people (castellers) up to nine levels high. In 2010 the sport (or art, depending on who you ask) was declared an 'Intangible Cultural Heritage of Humanity' by UNESCO.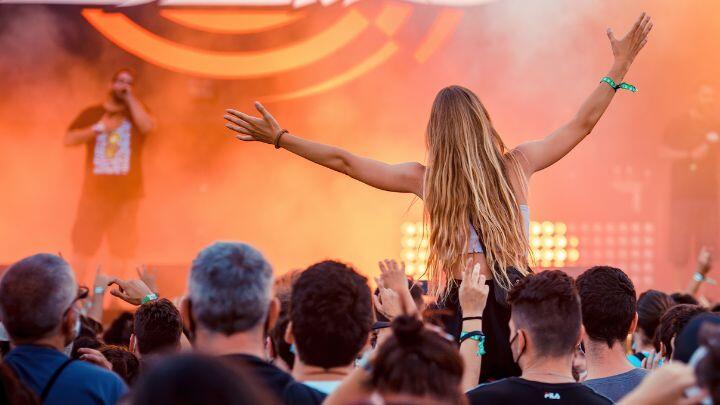 Barcelona music festivals
But before we get lost in too many time-honoured traditions, let's first lose ourselves in music, because, from baroque to techno, Barcelona boasts some of the best music festivals in Europe.
The Primavera Sound Festival is one of the most hotly anticipated festivals on the international circuit. Whatever you're into, groove on down to the Parc del Forum where, for one week in spring, you'll find big names and independent artists across diverse genres - from folk to jazz to hip hop, though mainly rock, pop and electro. Also keep your eyes on the side programme of gigs and performances taking place in clubs and public spaces across the city.
 

Hot on its heels is the Sónar Festival, one of the oldest and most well-known European music festivals, which attracts fans of electronic and experimental music from across the continent. Over a weekend in mid-June you can experience Sónar de Dia (day time performances) or catch some of the biggest names in the electronic scene as Sónar de Noche takes the event into the evening. Sónar+D offers an accompanying programme of creative technology experiences including digital workshops, and virtual-reality activities.
From June to August The Grec Festival (which began in the seventies in the Grec (Greek) Theatre) brings together the best of theatre, music, dance and circus in a lively series of events that have become a huge summer attraction.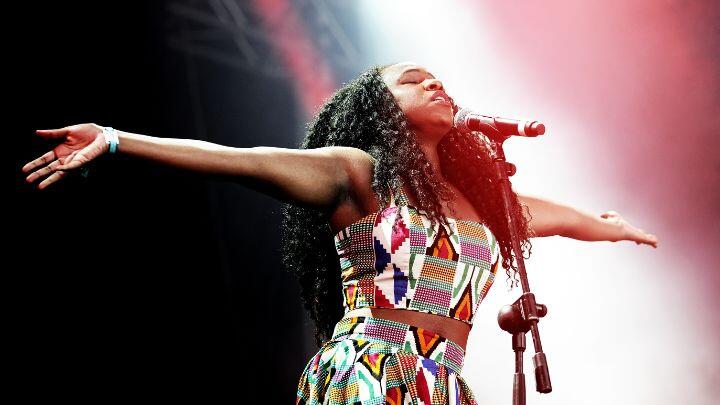 Or you can celebrate multiculturalism at Cruïlla de Cultures. As well as a music festival for genres as varied as ska, pop, hip-hop, reggae, folk and rock, it has grown to be a wider meeting of cultures, involving immigrant associations and neighbourhood groups.

Don't miss the series of open-air concerts that take place throughout July, when the clubs and public spaces of Poble Espanyol play host to national and international artists.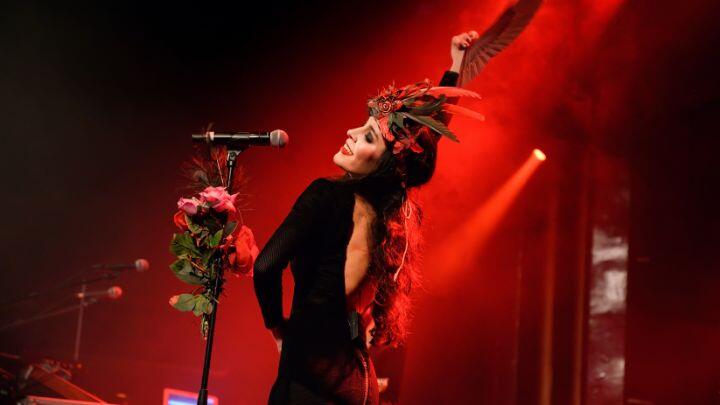 Get ready to mosh as Rock Fest Barcelona attracts rock and heavy metal bands from across Europe. Or grab your castanets as the De Cajón! Flamenco Festival gets the city whirling and stamping. Meanwhile the Barcelona Guitar Festival welcomes Spanish and foreign artists to celebrate that versatile instrument for a month every springtime.
It's official - whatever your music vibe, Barcelona is where it's at!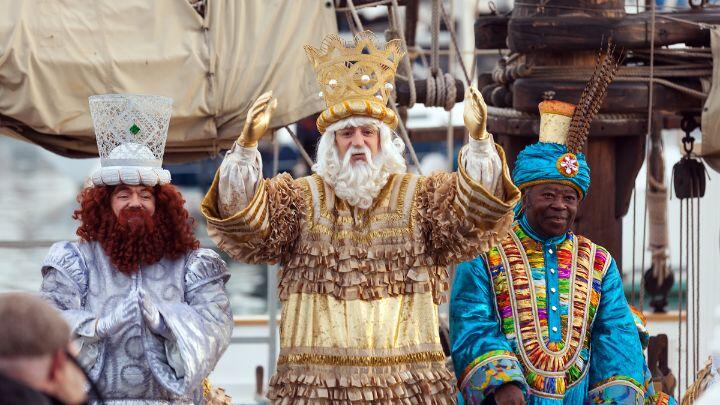 Barcelona festival calendar
Epiphany (January)
The first big event in the traditional festival year is Epiphany. On 6th January, Spaniards and Catalans exchange gifts, whilst commemorating the gifts given to the baby Jesus by the three wise men (or magi). The evening of 5th January is a great time to be in the city, as the wise men arrive by boat at Port Vell. The extravagantly dressed kings then set off on the 'Cavalcada del Reis', a parade of floats, which travels from Parc de la Ciutella, through the city streets, with clowns, elves and acrobats distributing sweets to children along the route.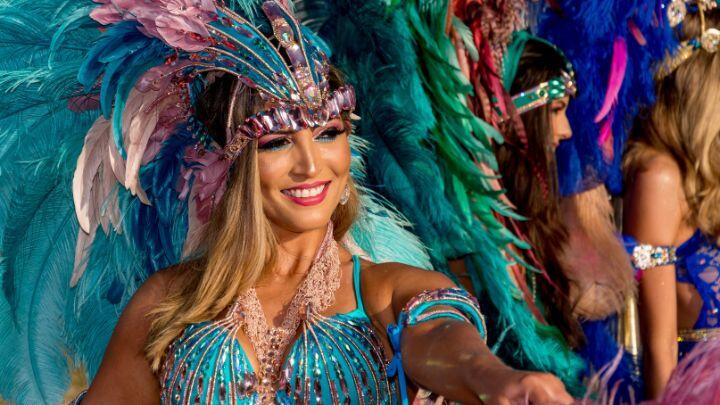 Carnival (February/March)
Or, if you time your visit just a few weeks later you can kick back at Carnival, both a religious celebration and a popular party, featuring more floats, fancy dress and lots of fun. Lent is observed across much of the world as a period of abstinence in the 40 days leading up to Easter and, in Spain, rather than 'Mardi Gras', it is 'Carnaval' (or Carnestoltes in Catalan) that traditionally marks the last party before the fast and frugality.

If you're lucky enough to be in Barcelona on the Saturday before Ash Wednesday, don't miss the many local parades that honour the arrival of the Rei Carnestoltes (Carnival King) who rouses the crowd to mischief and laughter. Since food is fundamental to festivities, many local markets also organise tortilla-making competitions!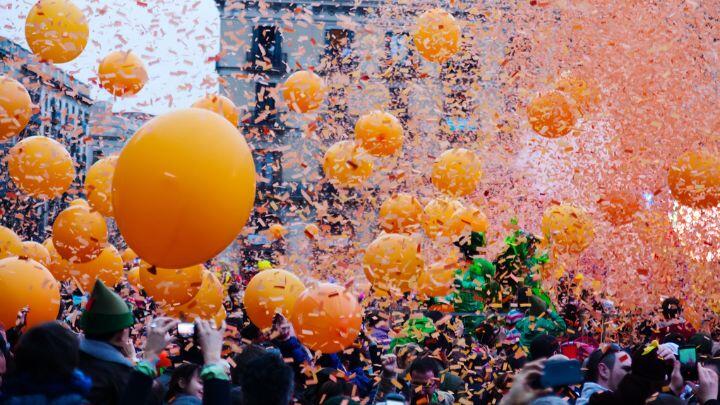 On the Sunday the streets of the city turn orange for the Taronjada, a colourful 'battle' that takes place on the Plaça Comercial in El Born. In the past the public would throw actual oranges at one another but today you can just revel in a riot of orange balloons and confetti. Join adults and children that evening in traditional dancing at the Sarau, a grand masquerade ball.
The celebrations come to an end on Ash Wednesday with (weirdly) the 'Burial of the Sardine' signifying farewell to fun and feasting and the beginning of Lent. The Carnival King is also symbolically condemned to death. Switch your bright colours for black and head to nearby Sitges where drag-queens and glamorous 'widows' mourn the death of the party - all night long!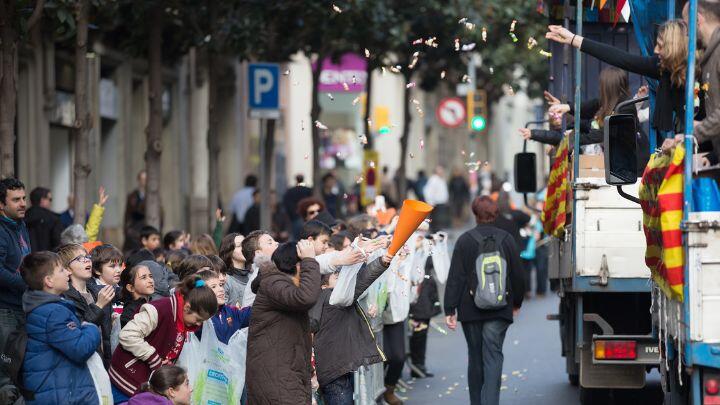 Sant Medir (March)
If you love sweets you might want to join the crowds in the Gràcia district on 3rd March for the dolça festa (sweet festival) dedicated to Sant Medir.
According to legend the ancient saint's broad beans flourished immediately after they were planted (though he was subsequently taken prisoner and martyred). In the 1830s a baker from the district made a pilgrimage in his honour, throwing beans to the public along the way.
Today the beans have been replaced with tons of sweets and toffees, thrown from a parade of floats and horse carriages that take to the streets in the afternoon after the traditional pilgrimage. To make like a local take along a bag, bucket or open umbrella to catch your own share of treats!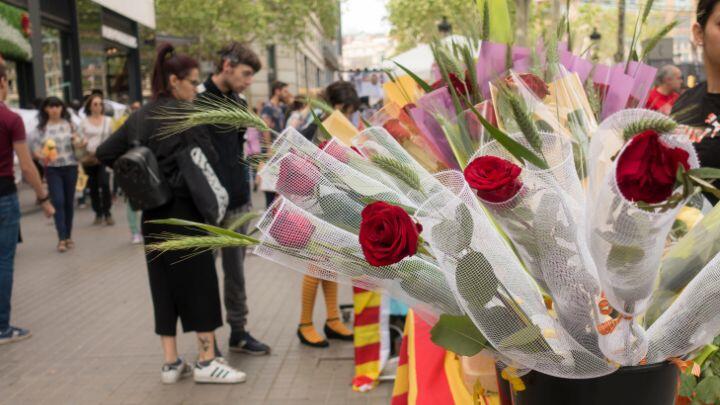 Sant Jordi (April)
Not content with slaying dragons to become the patron saint of England, busy St George is also patron saint of Catalonia. Apparently he saved a princess by taking on another dragon there, from whose blood grew a red rose…
Consequently the custom is for gentlemen to purchase roses for their own damsel. In return ladies bought a book, although, in these enlightened days, it's now usual for either partner to buy both!
Even though it's not a national holiday, join the Catalan people in taking to the streets to celebrate. Watch sardanas (traditional dances) and castells (human towers), take part in literary activities like workshops and signings; and stroll the stalls on La Rambla and Paseo, laden with books and colourful blooms.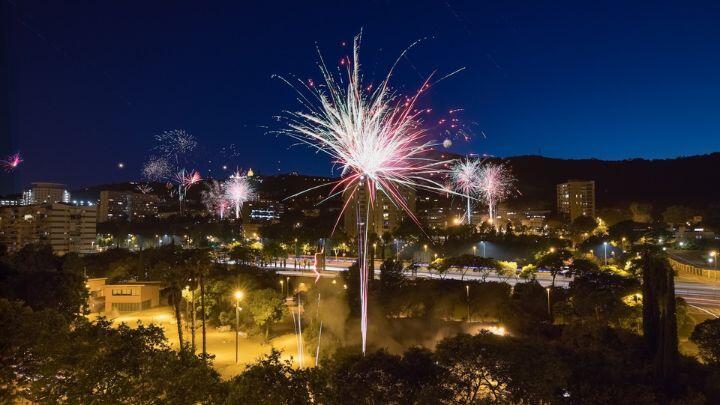 Sant Joan (June)
Don't miss the mad midsummer celebrations on Sant Joan (St John's Eve), one of the biggest events of the year, when incredible firework displays light up the shortest night and beer and sangria flow freely.
Often known as the Nit del Foc (Night of Fire), locals welcome summer with fireworks and bonfires in the street. Join them as they eat pastries decorated with candied fruit and pine nuts and drink Cava all night long! Because June 24th is a national holiday it feels like the whole city hits the street or beach to party until sunrise.
 



Neighbourhood festivals (July - September)
Whilst the bigger festivals are celebrated all over town, some are local to particular districts or barrios.
The edgy El Raval neighbourhood is a great place to explore and, in July, the Festa Major del Raval celebrates its multi-cultural roots. Stroll among ethnic food stalls and flea markets, dance to world music and marvel at the obligatory procession of papier-måché giants.
You can see more parading giants, human towers and fire devils later in July at the Festa Major de Poble Sec
Or join the throngs of people who pack the bars for singing and Sangria for a week in August, at the Festa Major de Gràcia, one of the most famous barrio festivals. Amid the giants, correfocs, coloured lanterns, dancing and music, the neighbourhood streets compete to be the best decorated. And, should you miss that, The Sants Festival follows immediately afterwards with more decorated streets, performances and Catalan traditions.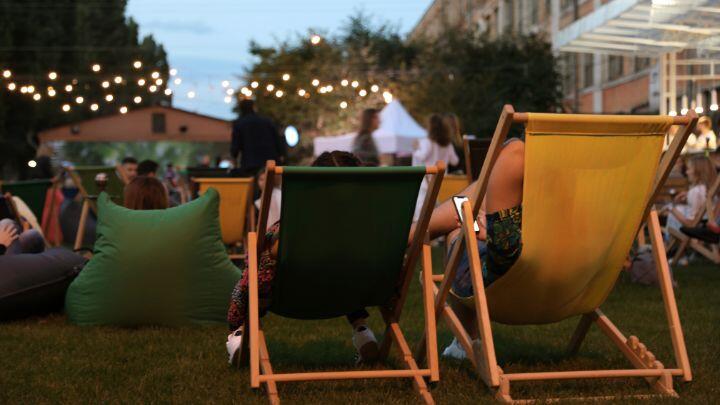 Sala Montjuïc (July/August)
Whilst not strictly a festival, you can make the most of Barcelona's balmy summer weather at one of the picnic concerts or open-air cinema showings at Montjuïc castle. Maybe spend the day exploring the mountain on foot or by cable car. Then load your hamper with cava and jamon and treat yourself to a night of classic cinema. We recommend you buy a ticket in advance and get there early for a good spot.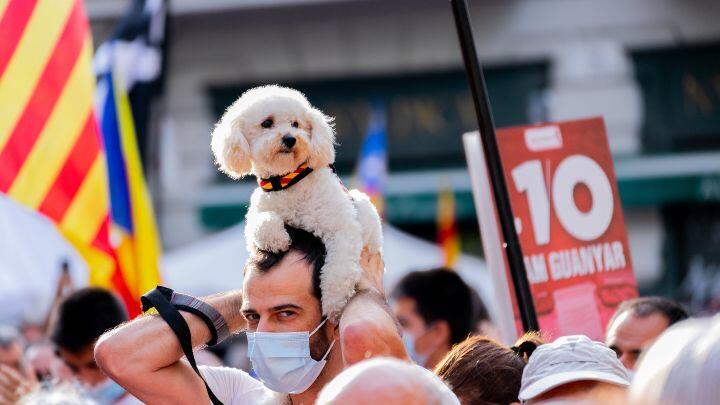 Sant Roc (August)
You an even bring your four-legged friend to help celebrate the Festival of Sant Roc, held on Plaça Nova, in the Gothic Quarter and one of August's largest festival events. Legend maintains that Sant Roc was saved by a dog that brought him food whilst he was suffering from the plague, so locals bring their own dogs to join the festivities. Our advice is to spectate but not attempt another attraction of this festival - La Cucaña, a greasy pole that partygoers must cross to win a prize.
 



Feste de la Mercé
Barcelona's patron saints day - Feste de la Merce - marks the end of summer and sees one of Europe's biggest street parties. 

The city has two patron saints - Santa Eulalia (for whom the cathedral is named) and the Mare de Déu de la Mercè (Our Lady of Mercy), also known simply as La Mercè. Having originally appeared to Catalan King Jaume 1 in 1218 and encouraged him to found a religious order, the Virgin allegedly reappeared in 1687 to save the city from a troublesome plague of locusts. It's said that it always rains on 24th September as Sant Eulalia sheds tears of jealousy over the appointment of her 'co-patron'.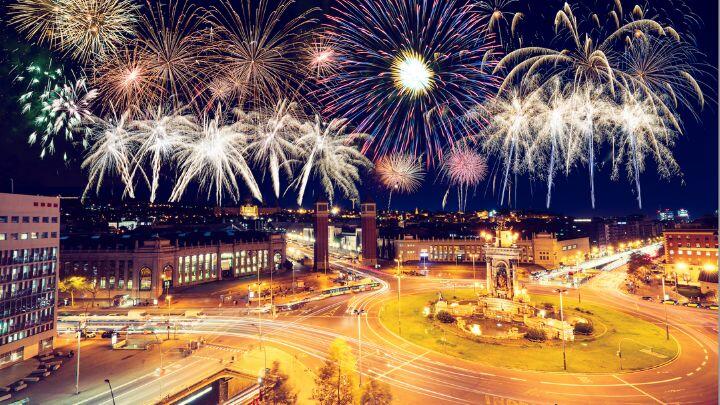 Nevertheless 24 September is a national holiday so, if you're lucky enough to be in the city, look out for performances, street art, live music, open air concerts and the city traditions of castells, devils, fire-runs and parades of gegants and Capgrossos.
Then see the festival season out with a bang, with light shows in Ciutadella Park, laser displays on the facade of the city hall, pyrotechnics on Barceloneta beach and the awesome firework finale beside Montjuïc's Magic Fountains.
As we've seen, with festivals all year round, it's always a good time to visit Barcelona. And an All-Inclusive Pass or Explorer Pass will ensure you can make the most of your time whilst making savings on your sight-seeing. So get ready to party because, with Go City, there's always something to celebrate.