Alongside its rich cultural heritage, thriving nightlife and globally-celebrated football team, Barcelona is famous for its wealth of stunning architecture. Offering up a unique mix of baroque, Romanesque and modernist architecture, a walk through its streets is enough to know how much the city celebrates its architects.
But very few architects can boast as prolific and accomplished a portfolio as Barcelona's very own Antoni Gaudí. Known above all for his highly individual modernist style, Gaudí designed and oversaw the construction of a plethora of buildings throughout Barcelona.
Drawing equal inspiration from nature, local tradition and often mysticism, many of his works now sit among the ranks of Barcelona's best attractions for their often bizarre and mesmerizing designs. UNESCO has dubbed seven particular examples of his work as World Heritage Sites, which are referred to collectively as the Works of Antoni Gaudí.
Sagrada Familia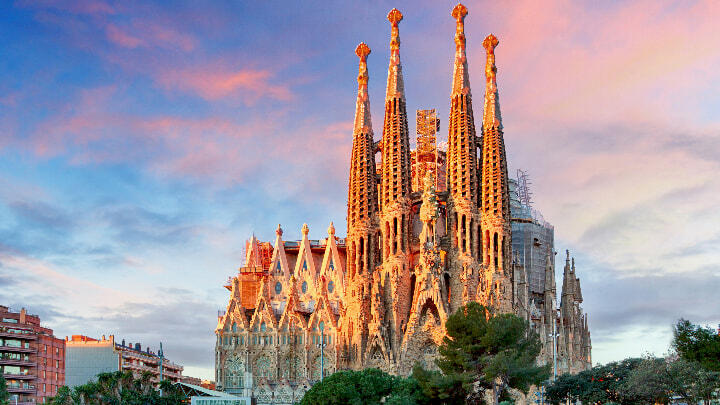 Location: Carrer de Mallorca, 401
A guide to Gaudí's finest work would be woefully incomplete without first covering the architect's magnum opus, Barcelona's famous Basilica de la Sagrada Familia. One of the most famous religious sites in the world, the church began construction in 1882, when devotees of St. Joseph sought to build a place of worship in his honor.
Gaudí took over as chief architect of the project in 1883, adapting the original plans of his predecessor and introducing Art Nouveau elements to merge with the intended Gothic style. He is credited for having designed and overseen the construction of the basilica's famous nativity scene, interior apse and crypt during his time on the project.
Intricate models of the church put together in his workshop allowed him to experiment with his plans, and would later form the blueprint for the remainder of the works. Gaudí would come to work on the project for the remainder of his life, and was buried in the crypt alongside its first architect.
The Sagrada Familia now serves as Barcelona's most visited attraction. While construction continues on the basilica, its planned total of eighteen spires are intended to represent the twelve apostles, the Virgin Mary and the four Evangelists, with Jesus Christ towering above them all.
Park Güell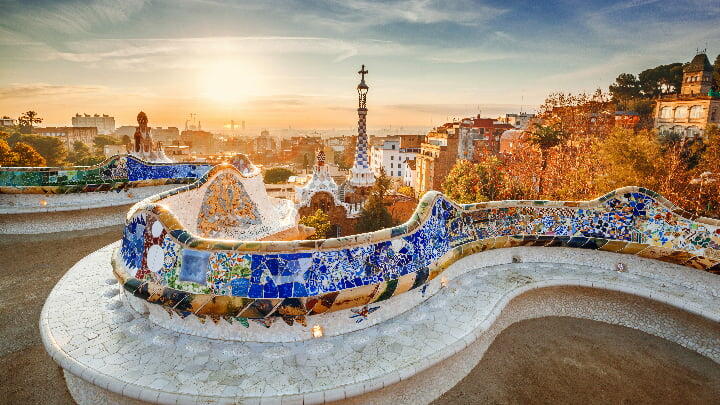 Location: 08024 Barcelona
Second only to the Sagrada Familia, Park Güell is another of Barcelona's most visited attractions. While the majority of the park consists of tranquil green space, its main feature is the interior Monumental Zone. Commissioned by Spanish entrepreneur Eusebi Güell, the park was originally built to serve as a stylish social space for Barcelona's aristocracy.
Gaudí designed this space to serve as a tranquil area from which to enjoy the park's surrounding beauty, ensuring its features were eccentric while still incorporating naturally into their environment. Much of the park's symbolism draws inspiration from a combination Catalan nationalism, religious mysticism and ancient poetry.
From the iconic mosaic salamander at its entrance to the sea serpent bench encircling the main terrace which offers panoramic views over the park, the Monumental Zone is best characterized by its somewhat surreal installations.
La Pedrera / Casa Milà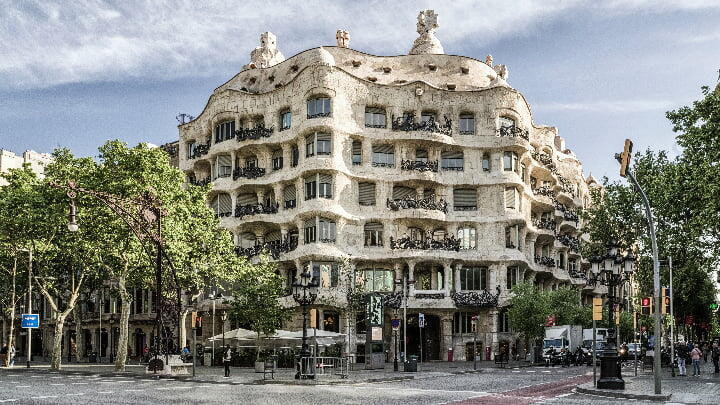 Location: Passeig de Gràcia, 92
Translated literally as the 'stone quarry', La Pedrera is best known for its rough-hewn limestone façade, somewhat resembling an open quarry. This titan of a residence was designed and built for the aristocrat Pere Milà i Camps and his wife Rosario Segimon between 1906 and 1912.
Entrancing both inside and out, La Pedrera is composed of two apartment blocks spread across nine stories and constructed around two large, interconnected courtyards. Gaudí, together with his partner Josep Maria Jujol, designed everything from the exterior façade to the individual apartments and the furniture within to incorporate with one another in the duo's iconic modernist style.
Crowning the residence is the 'garden of warriors' rooftop terrace, named after the 28 imposing chimneys that resemble twisted, standing soldiers. The terrace is decorated in a mosaic of marble, broken Valencian tiles and shards of broken champagne bottles and offers almost unparalleled views over the city.
Casa Batlló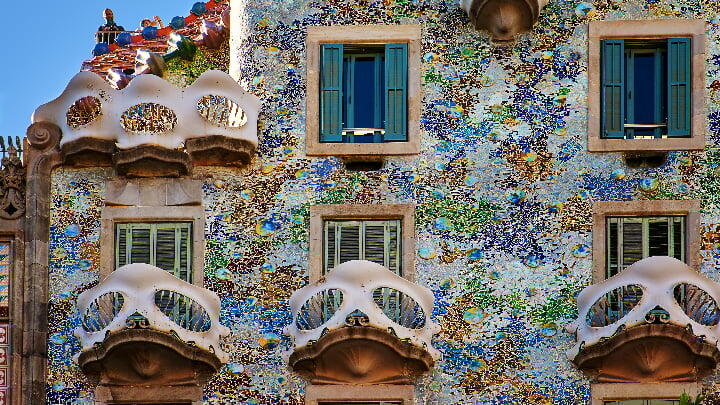 Location: Passeig de Gràcia, 43
Famous for its somewhat visceral, skeletal exterior, Casa Batlló is known locally as la casa dels ossos, or the 'house of bones'. While not originally built by Antoni Gaudí, the property's owner, Joseph Batlló, commissioned the architect to redesign the home in 1904.
While only broadly identifiable as a modernist structure, the residence joins Casa Amatller and Casa Lleó to make up the Illa de la Discòrdia, or 'Block of Discord', which stands as a celebration of Barcelona's most prolific modernist architects.
Palau Güell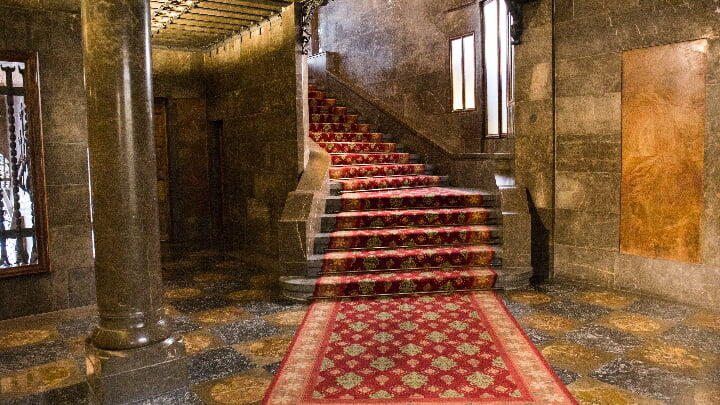 Location: Carrer Nou de la Rambla, 3-5
Palau Güell was the first of what would come to be many works commissioned by tycoon Eusebi Güell. Designed as both a residence and a venue at which to host high society guests, the urban palace served to offer every conceivable luxury possible of a building. Its opulent interior appears in stark contrast to its relatively undecorated exterior façade.
The mansion is constructed around a central hall and its accompanying receiving rooms. Incorporating towering, ornate walls and pillars, this party hall served as somewhat of an interior courtyard, offering a source of natural light during the day. In the evening, lanterns would be hung from small holes in the domed ceiling to mimic a starry sky.
Casa Vicens
Location: Carrer de les Carolines, 20-26
Considered Gaudí's first significant masterpiece, Casa Vicens was the first building in Catalonia to stray entirely from standard architectural norms and practices. With inspiration drawn from the orientalist and Neo-Mudéjar architectural styles, Gaudí's design incorporated a mixture of Catalan, Islamic, Japanese and English techniques and symbolism.
Commissioned by the Vicens family to serve as a summer residence, Gaudí designed the home to provide a balance of private quarters, social spaces and areas for quiet reflection. Much of the interior furniture was also by his own design in order to compliment the surrounding architecture.
Church of Colonia Güell / Gaudí Crypt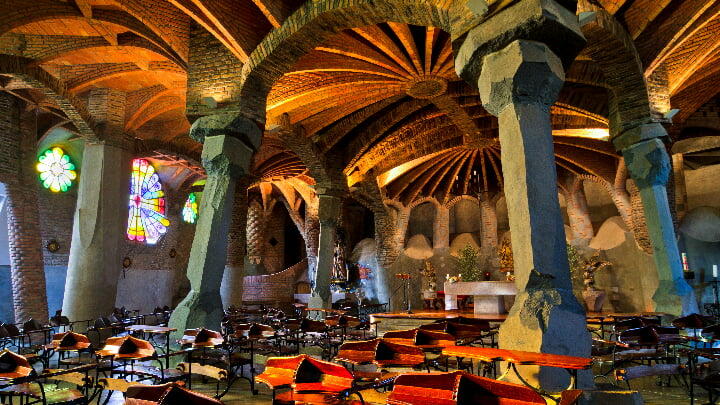 Location: Carrer Claudi Güell, 08690 La Colònia Güell
Sitting a short distance outside Barcelona, the Church of Colònia Güell was designed to serve as a place of worship for the workers of Eusebi Güell's industrial colony. Although Gaudí had drawn up plans for the construction of a full church, various complications meant that the structure was ultimately left unfinished.
The church's crypt stands as the only completed section of the project. Built partially below ground due to its hillside location, Gaudí designed the crypt to incorporate with its natural surroundings. His use of basalt, brick and stone gives the crypt a more muted, earthy appearance.
Between the use of natural-looking colors and the rough-hewn pillars holding up the ceiling, the crypt has been likened more to a forest grotto or cave. A number of stained glass windows help to provide some vibrancy to the otherwise dim, almost ancient-looking interior space.
Other Works
Although UNESCO dubs these the collective works of Gaudí, they certainly weren't his only projects. Throughout his professional career, the architect worked on over a dozen major sites throughout Catalonia. His most celebrated works are those that employed the extent of his skills, often straying largely from architectural norms.
For those looking for the full Gaudí experience, some other notable examples of his work throughout Barcelona include Pavellons Güell, the Teresian College, Celler Güell, Casa Calvet and Bellesguard.