Barcelona is a city blessed with having it all. From blissed-out beaches and otherworldly architecture to great food and a pumping cultural scene overflowing with parties, festivals and events. If you need a city break that will impress on every level, you have just found the ultimate destination. 
But with so much to keep you occupied in this world-class city, it helps to have a few insider tips to help you pin down the absolute essentials – places you simply cannot miss from your Barcelona bucket list. Which is why we've knocked up our ultimate list of things to do in Barcelona. Use it wisely, and you'll be on the road to a perfect adventure in the stunning Catalan capital. 
Make sure you don't miss...
La Sagrada Familia –

Antoni Gaudi's iconic basilica

La Pedrera –

a masterpiece of Art Nouveau architecture

Casa Vicens –

a psychedelic mansion

Park Güell –

Gaudi's serene public park

The Old Town and Gothic Quarter

– the city's historic cultural heart

Museum of Contemporary Art

– home to world-renowned contemporary artworks 

Barceloneta Beach

– a fine slice of city sun, sea and sand 

Parc de la Ciutadella

– park perfection

Aire de Barcelona Ancient Baths –

a hidden refuge

 

Castle Montjuïc

– breathtaking skyline views
Antoni Gaudi's Architecture
Barcelona owes a lot of its good looks to Antoni Gaudi, the famed Catalan architect who designed some of its most spectacular and stylish landmarks. Perhaps the most famous of these is La Sagrada Familia, a towering unfinished basilica that must be seen to be believed. View the building's elaborate neo-Gothic towers before stepping inside to view the gob-smacking geometric ceiling, which feels like you're looking into a colorful kaleidoscope.
La Pedrera
Next up on your Gaudi architecture to-do list is the lavish La Pedrera, a striking UNESCO World Heritage Site built between 1906 and 1912. As another fine example of Gaudi's unique Modernisme style, you'll experience a fascinating façade that twists and turns its way upwards towards a fine roof-top terrace featuring striking city-wide views. You won't forget the roof's 28 radically designed chimneys that look more like chess pieces than air vents.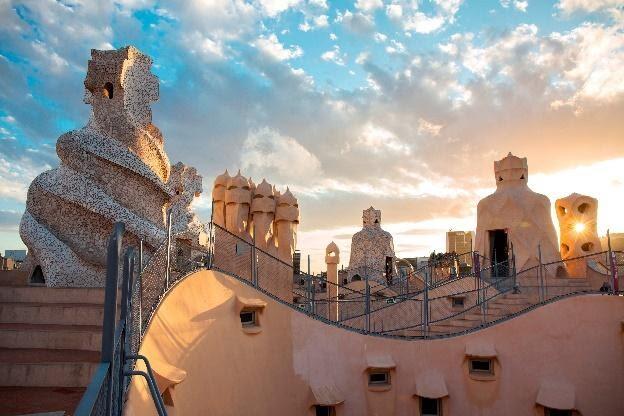 Casa Vicens
This magical multicolored mansion is one of Gaudi's more overlooked creations, but certainly shouldn't be missed thanks to its ornate orientalist designs. One of the first-ever houses that Gaudi designed, you'll be overwhelmed when you see how vibrant it is. The outside looks like a fortress from some sci-fi fantasy film, whilst inside, you'll be faced with palm-tree painted walls and ceilings that could have easily been transplanted straight from a Marrakech riad. 
Getting in: tickets for La Pedrera and Casa Vicens are included on a Go Barcelona pass.
Park Güell
Round off your Gaudi galavant with a walk in his picturesque park, created in 1900 and filled with his typically extravagant designs. First, take a well-earned breather in the landscaped gardens, before weaving your way through a maze of mesmerizing buildings, decorated in colorful mosaics and fine tilework. Don't miss the cheeky dragon sculpture at the park's entrance.  
City Living
Hitting the Old Town and Gothic Quarter
Take a break from Gaudi's gorgeous designs by delving into the old town and checking out some local haunts. Head to the city's history-drenched Gothic Quarter, where you could easily get lost down one of the quaint alleyways, filled with Medieval architecture. A great way to prevent this from happening is opting for a fascinating walking tour, where a knowledgeable guide can help explain the importance of some of the area's notable attractions, like the ruins of the Roman Forum in Plaza de Sant Jaume, or the saintly Cathedral of Santa Maria del Mar. A Go Barcelona pass gives you access to a great one that covers all of the area's major attractions.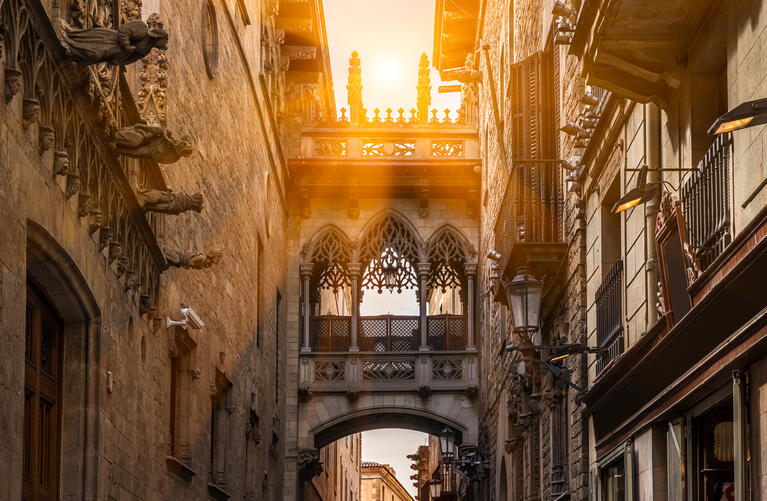 Museum of Contemporary Art
Next up, get your creative fix at Barcelona's massive Museum of Contemporary Art, a futuristic artistic haven in the heart of the city's ancient Chinatown district. See a vast collection of over 5,000 artworks from heavyweights like Jean-Michel Basquait, Alexander Calder and Juan Muñoz. It's the perfect place for some peaceful reflection, and if you head outside afterward, you can take a coffee in one of the cute cafés along the side streets while dodging the skateboarders who love hanging out in the area. All in all, it's a pretty cool place to chill. 
Getting in: tickets to the museum are included on a Go Barcelona pass. 
Barceloneta Beach
Spain wouldn't be Spain without its sensational coastline, and Barcelona offers a surprisingly slick patch of it at Barceloneta Beach, a beautiful 4.5km stretch of sweeping sands backed by busy restaurants, sunbathers, roller-blading locals and palm trees. The huge sail-shaped W Hotel stands proudly at the end of the beach and sparkles like magic when the sun is shining on it. Don't miss a cocktail at its slick rooftop sun-terrace. 
Alternative Barcelona
Once you've covered all of Barcelona's big hitters, from beaches and bars to the Gaudi buildings, why not uncover some of the city's hidden gems and adventurous activities? A great starting point is a visit to the Ciutadella Park, with its grand fountains, tropical palm trees and fanciful follies. A great way to explore this 19th-century jewel is by hopping on a snappy Segway scooter, where you can scoot around the park's scenic sites in speed and style. A Go Barcelona pass gives you free access to a one-hour Segway tour, where a guide will show you everything you need to see, including the Barcelona Zoo and the striking red-colored Arc de Triomf, which was designed for the Barcelona World Fair in 1888.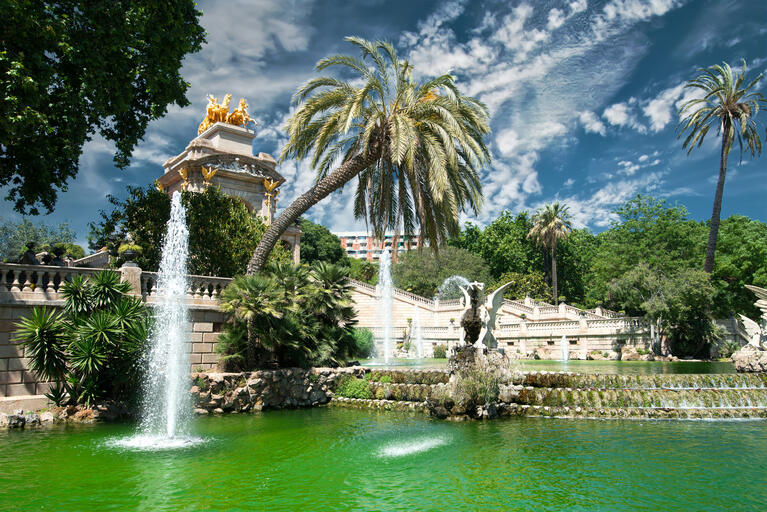 Aire de Barcelona
After whizzing around the park, you might need a lie-down, or perhaps even a relaxing massage, so head straight across the road from the park into the tranquil refuge of Aire de Barcelona and forget that you're in one of Europe's most action-packed cities. These ancient thermal baths will transport you to a world of total relaxation as you dip yourself in the spa's warming pools. The atmosphere is truly dreamy and will remind you of being in a traditional Turkish bath – think flickering candles, aromatic scents and endless helpings of mint tea. Book a botanical oil massage and you'll be good to go for another round of city sightseeing. 
Montjuïc Castle
Top off your Barcelona top ten with some wonderful panoramic views of the city from the hilltop military fortress of Montjuïc Castle. This imposing building offers the perfect vantage point to enjoy spectacular views out to the sea and across the city's rooftops as you stand on the castle's rustic ramparts. Don't miss the manicured gardens around the fortress, which only add to its charm. 
Save on admission to top Barcelona attractions
Explore the best things to do in Barcelona with the Go Barcelona pass. Select from top attractions with our All-Inclusive and Explorer passes, where you'll enjoy access to must-see museums, exciting river cruises, fun tours and much more. 
Share Your Adventure with Us
Tag @GoCity in your vacation photos and we'll feature you on our page. Follow the Go City Instagram and Facebook channels for exclusive competitions, special offers and events to help you make the most from your travels.